Here's what you need to pack for a two to three week mountain trek where you'll be at altitude. Described is what I took for a three week mountain trek in the Zanskar region of the Indian Himalayas. Temperatures ranged from 20 – 25°C during the day and got to -10°C at night. There were multiple stream and river crossings, plenty of dust and numerous high altitude passes to deal with.
A lot of thought needs to go into packing for a mountain trek like this. Although the company we are going with provided a list, I fine-tuned it based on my previous trekking experiences. This list is for those of you who only have to carry a day-back during the day because the rest of your gear is transported by mule, horse, llamas, camels or sherpas.
Here is the ultimate list for a multi-day to multi-week trek in the mountains.
Clothes for a mountain trek
Underwear: Under Armour makes a great product for women that weighs nothing and dries quickly. Quantity – 5 pairs; 3 if you're trying to go ultralight. A few quick-dry sports bras should do the trick.
Socks
To me the type of socks you wear for a trip like this boils down to experience. I ONLY like light-weight socks no matter what the temperature is for hiking but in camp I want warmer, thicker socks for hanging around. Many people like ones with padding in the heel and a reinforced toe. My two favourite brands are IceBreaker for a fine gauge sock and Smartwool for a heavier sock. Quantity: 3 pairs of IceBreaker and 2 pairs of SmartWool
Tip: Put talcum powder on your feet at night to keep them dry.
Gaiters
You want to keep small stones, water and snow out of your boots. I like the ones with Velcro that that open at the front.
Footwear
On a trek comfortable feet are key. Full grain leather boots with a vibram sole are durable and stable in rough terrain. I've got mixed feelings about whether to go with my old leather boots or my durable synthetic boots made by Salomon with GoreTex. Both are comfortable and both have performed well in adverse conditions so it may boil down to weight. No matter what boots you choose, they should be comfortable with ample room for toes, especially as feet can swell a bit when you trek all day.
Read: How to Break in New Hiking Boots
Bring a pair of running shoes and/or sandals for around camp. I will probably bring both as the sandals when paired with neoprene socks work well in stream crossings.
Thermal underwear
This is your base when it's a cold hiking day. And on cold nights long underwear is perfect for sleeping in. Bring two pairs of underwear tops and bottoms – both a lightweight/mid-weight and the warmer expedition weight. I am a big fan of Icebreaker's merino wool underwear as even after a week it doesn't smell. I also like the cut of the Icebreaker bottoms.
Fleece Layer
I'm a big fan of fleece. I'd recommend one fleece top as it's good for general wear in cold conditions. Some fleece is wind-proof which can also be very beneficial. I love the feminine profile of the Arc'Teryx fleece but I've also been a longtime fan of Patagonia. Invest in a piece and it will be faithful for years.
A down vest is also great for layering.
Warm Jacket
I always carry a down jacket in the mountains as you never know what weather is going to be thrown at you. I'm partial to those with a hood like the one made by Patagonia pictured below. Stop for lunch and throw one of these on and you won't get chilled. Truly one of my favourite pieces for the mountains.
Your rain jacket should be waterproof, breathable and very durable. It needs a storm hood and should at least partially cover your butt. Consider it an investment in your long-term safety as this is one of the most important pieces you need in the mountains. It also doubles as a windproof layer. My favourite pieces are those made by Arc'teryx with Patagonia a close second.
Rainproof pants with a full length zipper
Buy a pair of rainproof pants that have a full length zipper and plenty of room in the crotch and rear so you have a full range of movement. If a storm rolls in you don't want to have to take your boots off. They should be breathable and durable – eg you should be able to get on your butt downclimbing without tearing the fabric. Arc'teryx makes the Zeta LT pant – a splurge and worth every penny. Sporting Life has a full range of outdoor layers.
Trekking pants and shorts
Pants with zipoff legs are ideal for trekking. I also love shorts even on cold days so I'll be bringing a modest pair that are quick drying. In total for three weeks one pair of shorts, 1 pair of capris and 1 pair of quick dry pants is what I will take. I'm also including tights that could be worn around camp or put under a pair of the waterproof pants.
Hats and Mitts
The white hat made by Burton pictured below is a mix of wool and acrylic so you can pull it down well over your ears and it offers plenty of warmth. The North Face sunhat is fantastic for keeping sun off both your face and neck – and at altitude that is especially important. A buff adds warmth around your head and neck, helps out in dust storms and hides dirty hair. It weighs almost nothing but has loads of other uses.
You don't want to compromise on warmth when it comes to mitts. I'm including a pair of quick-dry gloves for minimal protection but I can also use them in my old ski mitts for extra warmth.
T-shirts and long-sleeved shirts
Bring quick-dry t-shirts made of synthetic fabric or merino wool. Quantity: 3 – 4
Longsleeve t-shirts – one medium weight and one heavy weight, both made by Arc'teryx are great for when the thermometer dips.
Accessories
Two one litre water bottles
Camera with one or more lenses, several spare batteries especially as they drain quickly in the cold
Cleaning supplies for camera so you can blow out dust
Hand sanitizer
Two pairs of sunglasses
Two pairs of reading glasses
One headlamp with extra batteries
Toiletries with bio-degradeable soap and shampoo, lip balm, sunscreen, quick dry towel and washcloth, skin cream, toothbrush and toothpaste
First-aid kit
I have the usual Band-aids, gauze, Neosporin, Advil and tape in my first-aid kit. But for a trip like this that requires four to eight hours of hiking a day I have included KT tape (useful for sprains) and compression wrap material with safety pins in case I sprain my ankle.
I am taking with me Diamox (for altitude), Cipro (broad spectrum antibiotic that is also good for diarrhea) and Tylenol 3 for pain. My go-to suggestion for blisters is a Band-Aid product called Advanced Healing Blister Cushions. Five of these Band-aids retail for about $8 and they are worth every penny. Include throat lozenges for high-altitude coughs.
Thermarest
Buy a thickness that provides adequate comfort. Consider bringing a repair kit.
Trekking poles
If weight is a consideration pick up a pair of C-3 Carbon Power Lock Komperdell trekking poles. You won't believe how little they weigh. There are other brands like Leki which also make great poles but once you touch these you'll want a pair. They are invaluable for steep descents and stream crossings.
Miscellaneous
Clothes Line
Hard candies
Energy bars
Several books
Pack of cards
Small sewing kit
Swiss Army style knife
Binoculars
Drink powder like Gatorade
Silk inner sheet for sleeping bag
Down booties for camp
Spare boot laces
Small padlocks
Earplugs
Packing cubes for organization
Waterproof bag for camera
Moneybelt
Extra Ziplock bags
Stuff sacks for dirty clothes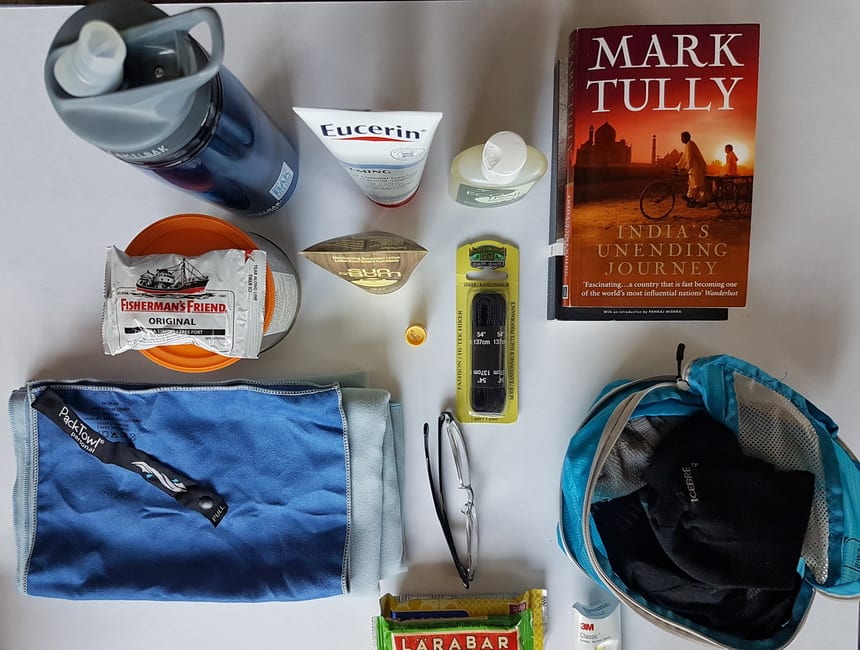 Further reading on mountain multi-day hikes