I left you in a snow covered tent beside Divide Lake deep in the Tombstone Mountains of the Yukon Territory. Today, I'm going to get you back to the trailhead and comparative civilization.
It won't be an easy day – and it's not always safe. In fact with steep snow and ice covered slopes, I wasn't sure it was even a great idea. This is the story of our third day of backpacking from Divide Lake via Glissade Pass, down to Grizzly Lake and back to the trailhead in the Tombstone Mountains in snow.
Tombstone Mountains – morning at Divide Lake
On the morning of our third day out, we woke to a frigid -15°C and this was early September. Skies were threatening and it looked like it might snow again – and that was part of the reason I wanted to get going. I wanted to be over the pass before a full-blown snowstorm showed up.
We shared the campsite with a group from Sea to Sky Expeditions. They were debating whether to head for Grizzly Lake or stay put for the day. In the end, they opted to spend another night at Divide Lake. Secretly, I'm relieved not to be them – as I'm already imaging hot showers, a glass of wine and a comfortable bed in Dawson City.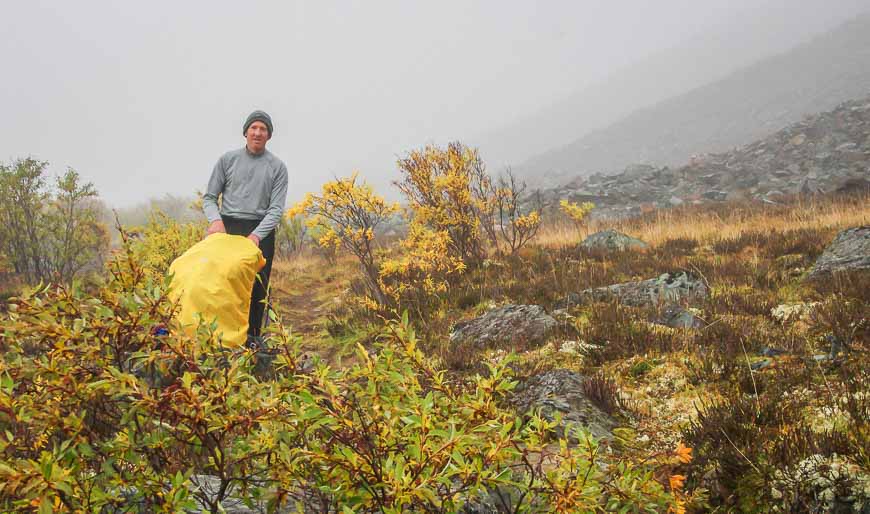 Gorgeous backpacking from Divide Lake to the trailhead
Despite the frigid temperatures and lack of visibility, the hiking was still incredibly beautiful – almost more so with a dusting of snow on the vegetation.
The snow held off until we started to climb to Glissade Pass. Getting up a steep slope is usually not nearly as difficult as getting down – and that was the case here. Once at the top of the pass I figured we'd have to really watch our footing as the vegetation was super slick.
Home free at the bottom of Glissade Pass
The hike down took perhaps 40 minutes – and wasn't anywhere near as difficult as I'd imagined. Once at the bottom, I felt like we were home free, even though we still had 11 kilometres to hike over rough terrain. The hiking was glorious for the rest of the day. It was prime time for fall colours.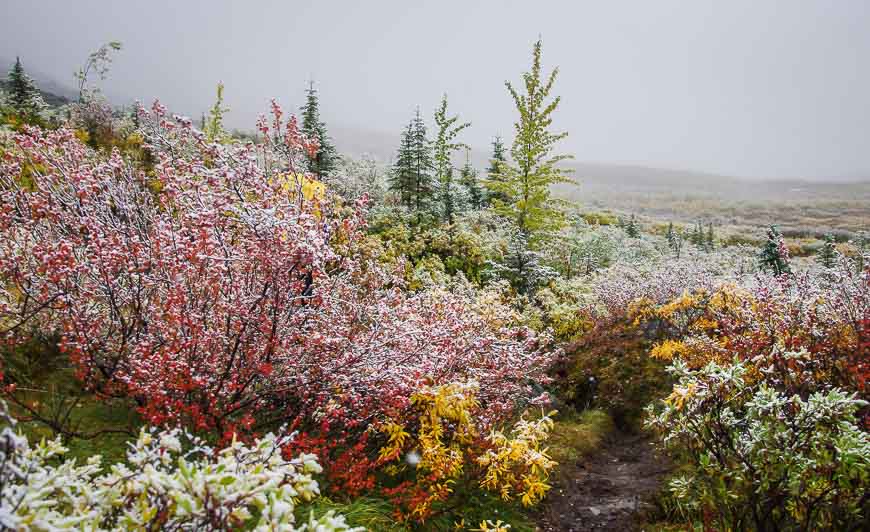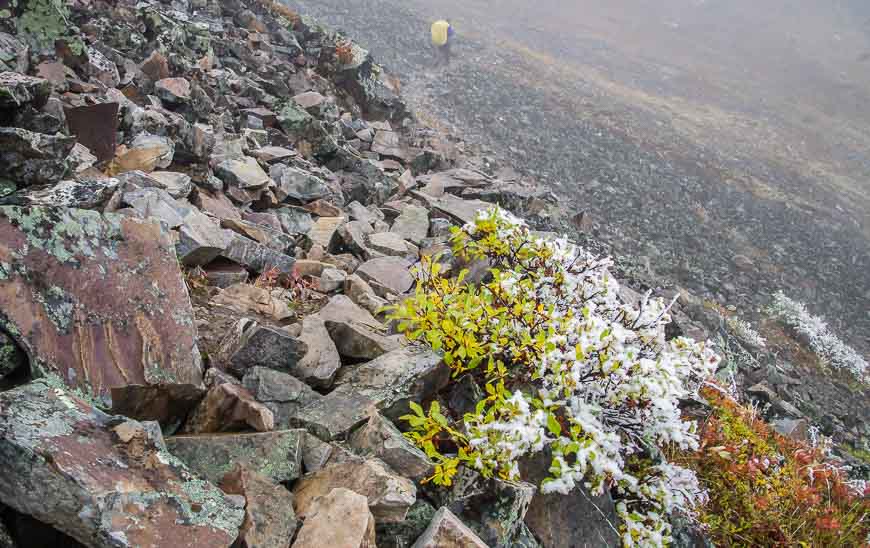 Time needed to backpack from Divide Lake to the trailhead
In total it took us about eight hours with breaks to backpack the 17 kilometres. If it wasn't snowy and slippery you could shorten the time a bit.
The three day backpacking trip, despite less than ideal conditions, was one of the highlights of my summer. Even if you're not a backpacker, there are a couple of day hikes that aren't difficult – and you'll get a chance to enjoy the glorious views.
Visit the Tombstone Territorial Park website for more information.
Further reading related to adventures in the Yukon
Click on the photo to bookmark to your Pinterest boards.