Before you even get a whiff of the Long Range Traverse, the premier backpacking trail on Canada's east coast, you must pass a serious navigation test and get a full orientation by staff at the Gros Morne National Park Visitor Center. And you need to be mentally and physically prepared as the Long Range Traverse is no ordinary multi-day hike.
The Long Range Traverse is a three to five day unmarked wilderness hike through world-class scenery that includes awe-inspiring views of fjords and rock-covered plateaus, rolling hills and numerous lakes, ponds, streams and rivers.
Long Range Traverse summary
Reservations open on January 30, 2023. Call 1-709-458-2417 to make a reservation.
The peak time to hike the Long Range Traverse is from mid-July until September. There can still be snow on the trail from mid-June until early July.
There are no marked trails so you need to be very good at navigation.
The Long Range Traverse is 35 km one way. It is typically hiked over 3 – 4 days. There are backcountry sites with wooden tent platforms along the route.
There is the option to do a guided day hike to the top of Western Brook Gorge with Bontours. Allow 7 – 8 hours.
In the summer there are lots of blackflies, so you need to go prepared with a head net and a bug-proof jacket. Insect repellent is a must.
A navigation test
The navigation test is nothing to sneeze at. You must understand declination and know how to take a compass bearing from the map.
Although you can take along a GPS, and it might help in foggy situations, it's your map and compass skills that are of utmost importance. It's the only place in Canada that I am aware of that requires you to pass a navigation test.
I guess what happened in the past, is too many backpackers set out, only to get lost – as there is no marked trail – and ended up needing a rescue.
You are given a location device before you leave the Visitor Center. If you have a real emergency, one press of the button will bring on a helicopter. Don't do what one fellow did a few years ago though.
He pressed the button when he saw a moose, figuring that constituted an emergency. You should expect to see moose on this trail – and possibly black bear and caribou as well.
Insider tip: Visit the Gros Morne National Park website for all the details and timelines for reservations.
How to get to the start of the Long Range Traverse
The trail begins with an easy 3 km walk from the parking lot to the boat dock at Western Brook Pond. From there, you can organize a shuttle with Bontours – if you have enough people – or join a tour group, but that's the slower option.
The boat ride is such a highlight, especially on a sunny day when the water sparkles. It took us less than 30 minutes to reach the end of the fjord and the start of the Long Range Traverse.
Once the boat pulls away you are good and truly on your own with the way out two to five hiking days away.
You won't find signage on the Long Range Traverse hike
The Long Range Traverse hike is never signed and there is no official trail. Much of what you follow are game trails, but they can take you off course if you're not paying attention. But on the first day, because of heavier use, there is an obvious route to follow.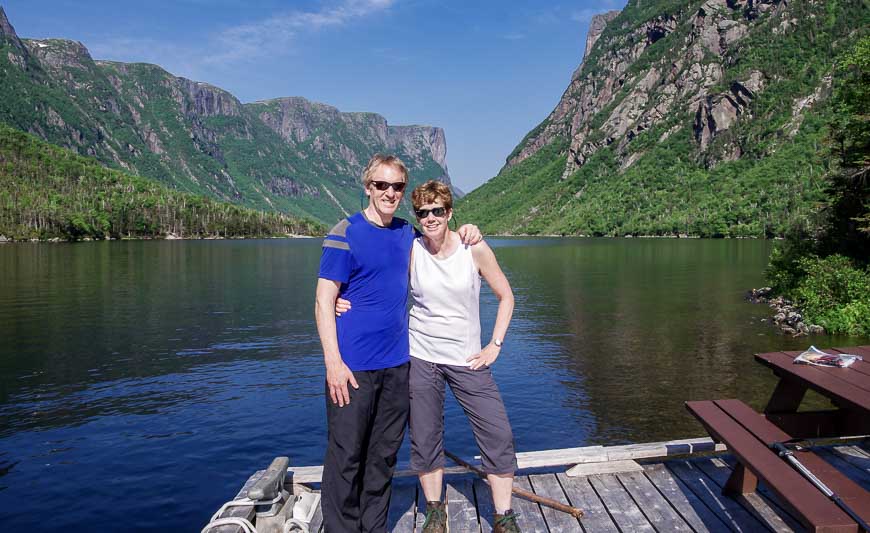 he route up the Western Brook Pond Gorge
Initially it's flat hiking and you can dispatch with this part quickly. Next up is a section filled with house-sized boulders. This can be very slow going and in places there were yawning holes – where you certainly didn't want to get a leg stuck. I had to have John pull me up several times and on more than one occasion I was on my hands and knees.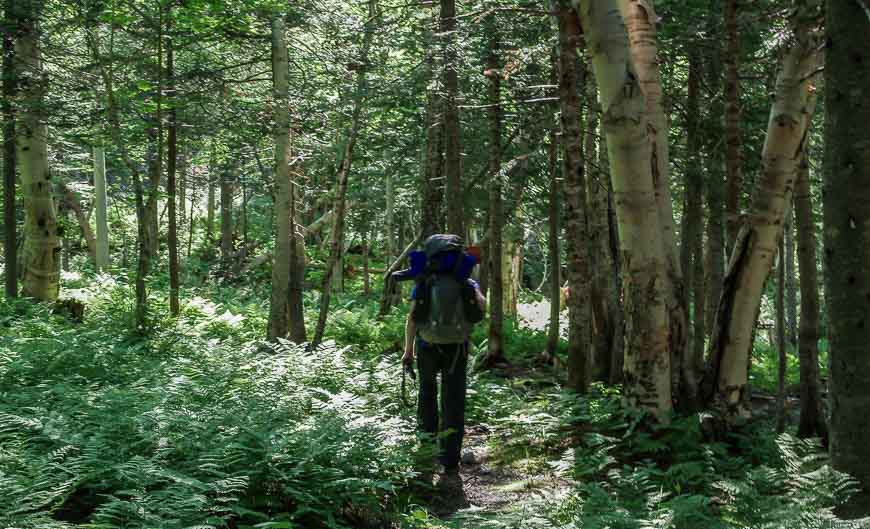 The one word of advice from the park staff is stay right off the waterfall. That wasn't so hard to do; mind you we had a clear sunny day so navigation was never an issue. The waterfall is a delightful spot for lunch.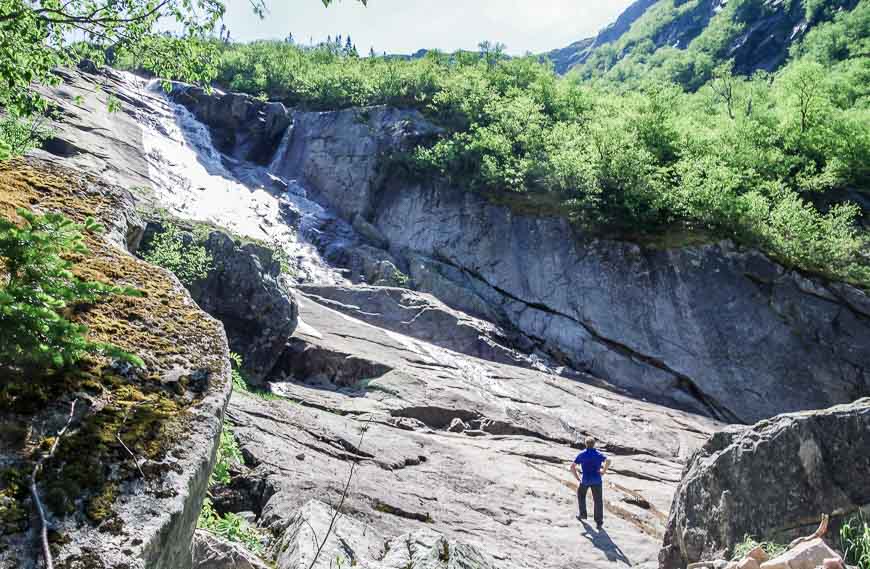 And then the climbing begins
From there the climbing starts in earnest. From the dock to the top of the gorge, there is a couple of thousand feet of elevation gain – all while carrying a backpack. But in short order, the first of the classic Western Brook Pond views appears in your sights – and that spurs you on.
We marveled at the view and took plenty of photos before continuing on and up. When you get out of the trees, you're still not at the top of the gorge. There is more steep climbing ahead, this time with better and better views to reach the "trail" at the top of the waterfall pictured below.
From there, the only way I can describe the hiking is as delightful. The scenery was one of outcrops and small lakes with big time vistas. Arctic cotton was a beautiful addition the landscape.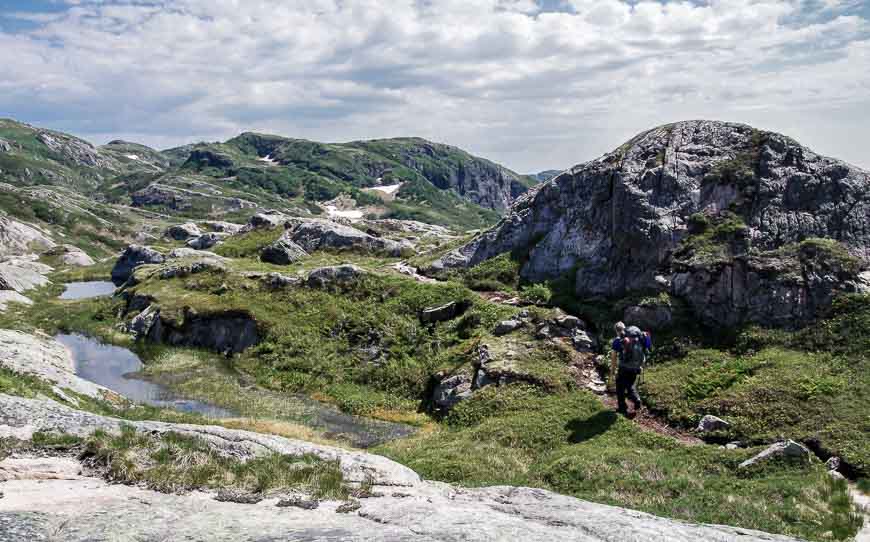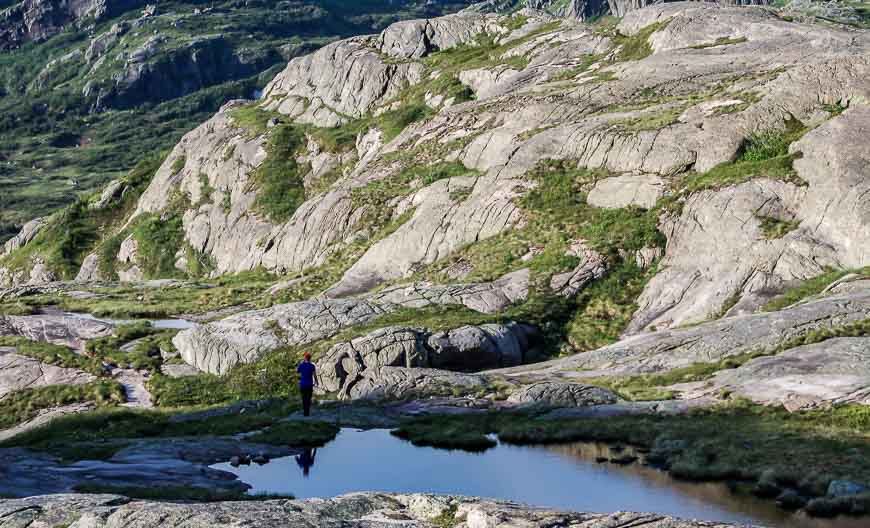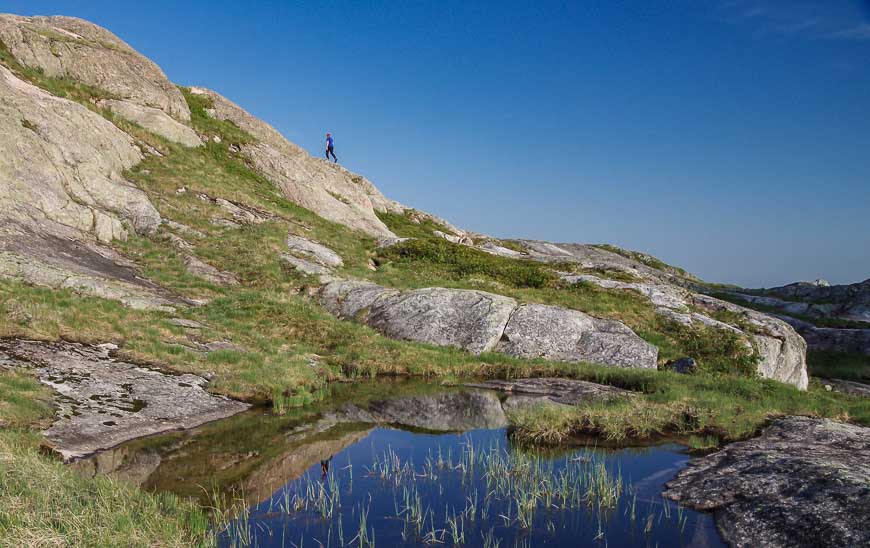 Camping on day one of the Long Range Traverse
The campsite most people head for on the first day is at Little Island Pond. Its buggy in June and many of its' tent platforms were destroyed in a storm. Because of that, we had permission to camp at the top of the gorge.
It shortened our day, which was fine with me – and where we camped ended up offering one of the best views from any campsite I have ever stayed at. We had the entire place to ourselves. It was absolute magic. And although there were some bugs, they weren't bad as we had a breeze because we were up high.
The first day, though physically tough, partly because of the heat, far exceeded my expectations. And I felt very fortunate that the weather cooperated. Normally you make a reservation well in advance, so you need a dose of luck in this part of the world when it comes to weather.
Hiking lasts until late September most years – and there are no bugs in the fall. Descriptions of the other hiking days are in the links below.
Further reading on hiking the Long Range Traverse
Click on the photo to bookmark to your Pinterest boards.