The popular Baldy Pass trail is one of the closest trails to Calgary in the mountains, so it's popular from that standpoint alone. It's a short and easy hike, though it will be moderate for those who don't hike often. Most people will be able to knock off the 7.4 km (or 8.6 km depending on who does the counting) return hike in two – three hours. With only 422 m of elevation gain, it's also a great choice for families.
I have done the Baldy Pass Trail in both summer and winter – and find the winter hike to be more beautiful. I think for those of you who are looking for an outing in the hills, that doesn't take the whole day, the Baldy Pass trail is ideal. It offers a bit of everything – pretty forest walking, nice views of Nakiska Ski Resort, no navigation challenges, and a lovely view down the valley to the prairies from the pass itself. In summer, there is also the option to continue to Mount Baldy, but it requires some scrambling.
Baldy Pass trail summary
Be sure to purchase a Kananaskis Conservation Pass before starting to hike.
The return hike is 7.4 km or 8.6 km depending on what map is right with an elevation gain of 487 metres or 1598 feet if you start on Highway 40. There is another longer option to Baldy Pass. It's 13.7 km return and it starts at the Lusk Creek Day-use Area on Highway 68 (Sibbald Creek Trail). Yet another option is a 15.9 km hike from Wasootch Day Use Area to the Lusk Creek Day Use Area via the Baldy Pass trail
Baldy Pass Trail can be made into a loop if combined with Highway #40.
Dogs are permitted on a leash.
Allow 2.5 to 4 hours for the return hike.
I would label it an easy hike unless you are an infrequent hiker.
Always go prepared with the hiking essentials and carry bear spray most of the year.
From Baldy Pass you can climb Midnight Peak and Mount Baldy.
Check Alberta Parks trail reports before you go.
This post includes some affiliate links. If you make a qualifying purchase through one of these links, I will receive a small percentage of the sale at no extra cost to you. Thank you for your support.
Baldy Pass trail description
After crossing the highway, pick up the trail in the trees. In 0.7 km, reach a signed junction. Go left for Baldy Pass. If you go right, you'll end up at the Wasootch Creek Day Use Area. (See the map below.) There's an excellent hike up Wasootch Ridge but it's best done from spring to fall.
In summer, there is lots of evidence of the 2013 flood. It's less apparent in winter. The path these days is boot- beaten and obvious. In winter, it's equally popular so it's easy to follow providing you're not the first one out after a big snowfall. If that's the case, you'll also want snowshoes.
From the open area at the end of the easy hiking, in the second photo below, you get good views looking west, of Nakiska Ski Resort.
When you reach the large cairn, about an hour into the hike, head into the forest and start climbing more steeply. In about 30 minutes you'll top out at Baldy Pass. In winter, I think there are a few short avalanche paths crossing the main trail so exercise caution and move through the area quickly. When I did the hike in winter, people seemed completely unconcerned. BUT if you have any misgivings, turn back, or take a course and learn how to travel safely through avalanche country.
Once at Baldy Pass enjoy the views out to the prairies. There are some rocks at the pass that are perfect for a lunch time stop. Then retrace your steps. Hiking out is fast.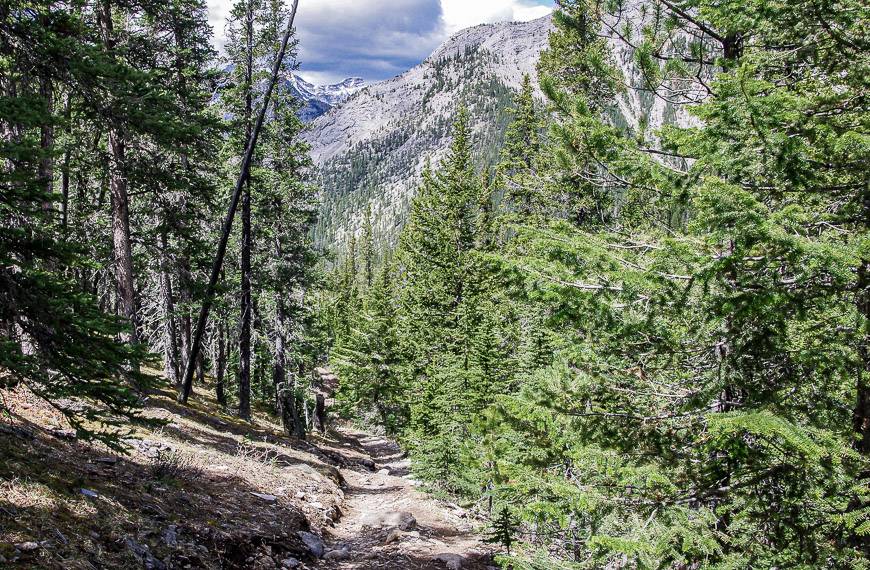 Hiking options from Baldy Pass
In the winter we hiked southeast (heading right if you're coming up to the pass) from Baldy Pass, climbing up the slope until the snow got too deep for the dogs to go any further. There were some nice views as we got higher. In summer, you could continue up the ridge and finish with a scramble up Midnight Peak.
If you head left at the pass, you can climb the ridge for about 25 minutes. Again, this is best done in summer. From there, it's a scramble to the top of Mount Baldy. From what I understand, if you contour right of the first vertical block, "it's dangerously exposed" says Craig and Kathy Copeland in their book The Premier Trails in Kananaskis Near Canmore & Calgary. Instead, they suggest that you go through the more protected chimney. You will have to use your best judgement if you're comfortable scrambling to the summit.
If you look at the map, you'll also see a trail dropping off the summit and heading north for 9 km to the Lusk Creek parking area. It's supposed to be mountain bike friendly. I have yet to do any of the trails from the pass, so please let me know your thoughts on them in the comments section.
Baldy Pass trailhead location
If you're coming from Canmore or Calgary, turn south off the Trans-Canada Highway onto Highway 40 at the well-signed Kananaskis interchange. Drive south past Barrier Lake. At 14.8 km turn right (west) into the signed parking lot. If you're driving north on Highway 40 in the summer, zero the odometer at the Kananaskis Village turnoff. Continue north for 8.5 km to reach the parking lot on your left (west).
The trail starts on the other side of the highway. Be sure to use the pedestrian crossing. Judging by Kananaskis traffic during COVID on the weekend, I would consider this to be the crux of the hike. Be incredibly careful crossing the highway.
Baldy Pass trail map
Note the Baldy Pass trailhead south of Barrier Lake. I always recommend taking a photo of the maps at the trailhead so you have something to refer to. A detailed topo map is always the better choice but a photo has helped us out on many occasions.
Don't forget these items
Go prepared with the 10 hiking essentials no matter what the season. Take bear spray in an easy to access holster.
In winter, I'd recommend icers or microspikes. You'll be able to use them on many of the winter hikes in Kananaskis and Banff National Park. Some people may find hiking poles helpful, no matter what the season.
Be sure to dress in layers. Take an extra pair of warm socks and gloves, a few hand warmers and a thermos of something hot to drink.
Where to stay near the Baldy Pass Trail
If you're into camping, read A Complete Guide to Camping in Kananaskis.
If you want to spend a weekend doing several hikes in the area, there are a couple of good choices for accommodation nearby.
At the higher end, you can choose from Kananaskis Mountain Lodge or Mount Engadine Lodge – though Mt. Engadine is a further 45 minute drive away. The Kananaskis Wilderness Hostel is just a short distance from Kananaskis Mountain Lodge.
Another option, and the closest to the trailhead but available in summer only, is Sundance Lodges. They offer tipis, trapper's tents and campsites.
Further reading about nearby Kananaskis hikes
Click on the photo to bookmark to your Pinterest boards.