Biking in the Shuswap area of south central British Columbia is a great way to spend time outdoors. The biggest difficulty lies in choosing which trail to bike. That's because the Shuswap area boasts over 675 kilometres of biking trails. They range from the all-day epic 40 kilometre Larch Hills Traverse to mellow hour-long trails in some of the local parks.
Biking in the Shuswap on the route I chose took me up and down along the north side of Shuswap Lake – a huge lake with over 1,000 km of shoreline that is fed by melting snow and glacier ice from the Monashee Mountains.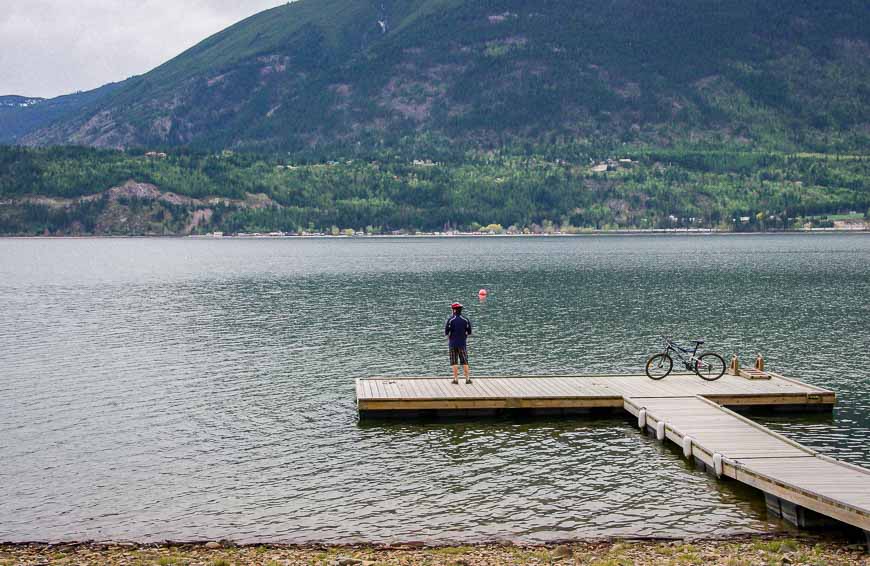 Biking the Sunnybrae – Canoe Point Road
I chose to do a 36 kilometre out and back bike ride on the Sunnybrae – Canoe Point Road.
I picked this route to cycle as the road follows the shores of Shuswap Lake and offers a few side trips – including an easy walk to Margaret Falls, a side trip to Sunnybrae Winery, beaches for picnic and swim breaks and picturesque Canoe Point Farms.
I brought my own bike but you can rent from Skookum Cycle and Ski in nearby Salmon Arm. Parking was easy – just a pullout on the side of the road before Sunnybrae Park. I was with photographer Darren Robinson from Shuswap Tourism on this bike ride. We started off biking through Sunnybrae Park on single track trails.
All but the first five minutes of the bike ride were on paved or hard packed road. Initially the road is quite flat and there's a bit of traffic as there are quite a few homes and cottages to pass early on in the ride. In the summer road traffic is more of an issue but from what I hear the locals are courteous drivers and give you some space.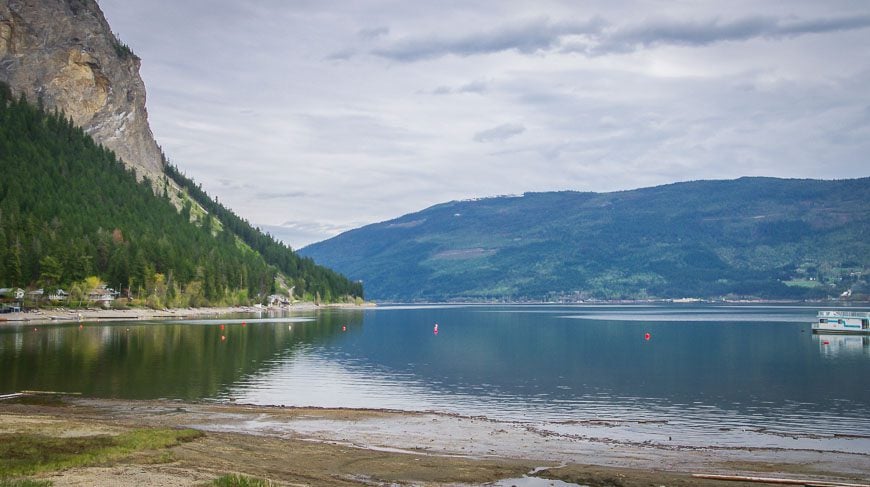 Biking in the Shuswap with a stop at Margaret Falls
After nine kilometres and a few hills that got our blood pumping we arrived at the trail to Margaret Falls. It's a fantastic place to explore and perfect for families. Both Darren and I agreed we could have spent hours in the woods and around the falls taking photographs.
Once at the trailhead for Margaret Falls, lock your bike and take the short trail to the falls where another world greets you – a green, mossy wet world full of monster sized fir trees. If you have energy to burn and you want a bird's eye view of the falls, do the hike on the steep Upper Canyon Trail, accessed from nearby Herald Provincial Park.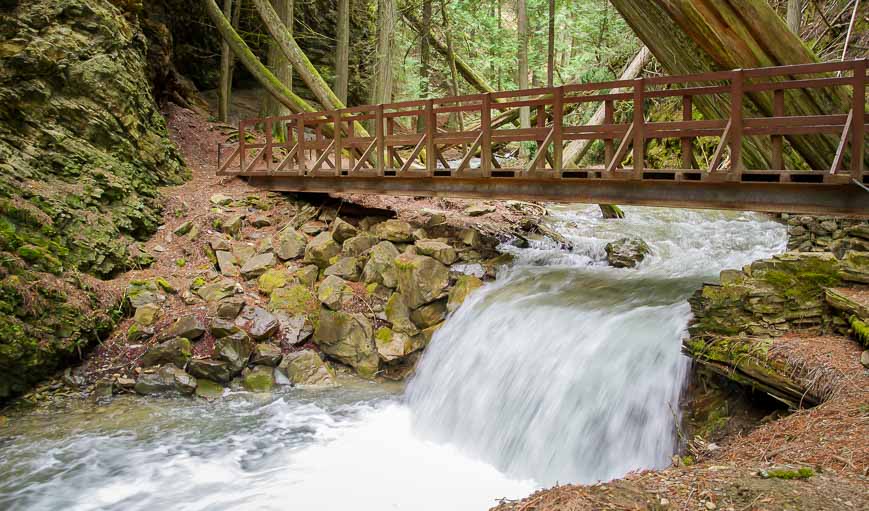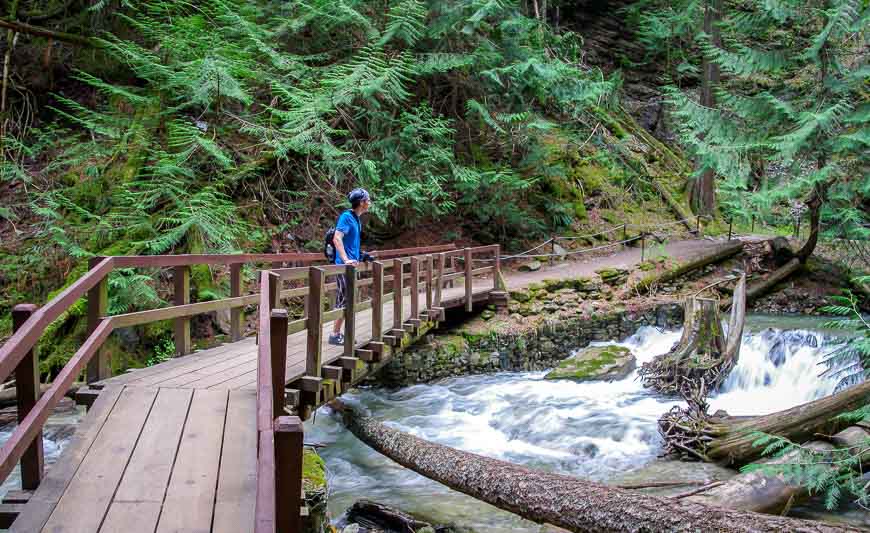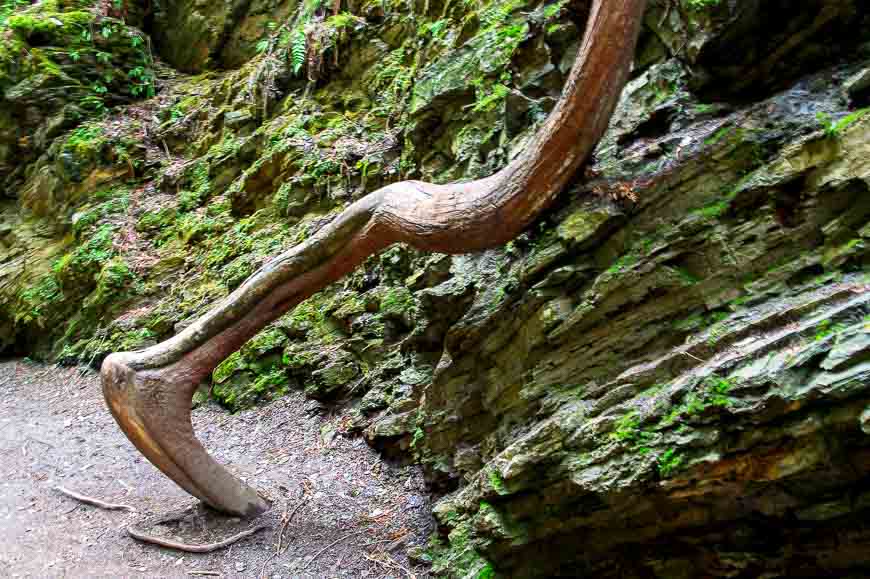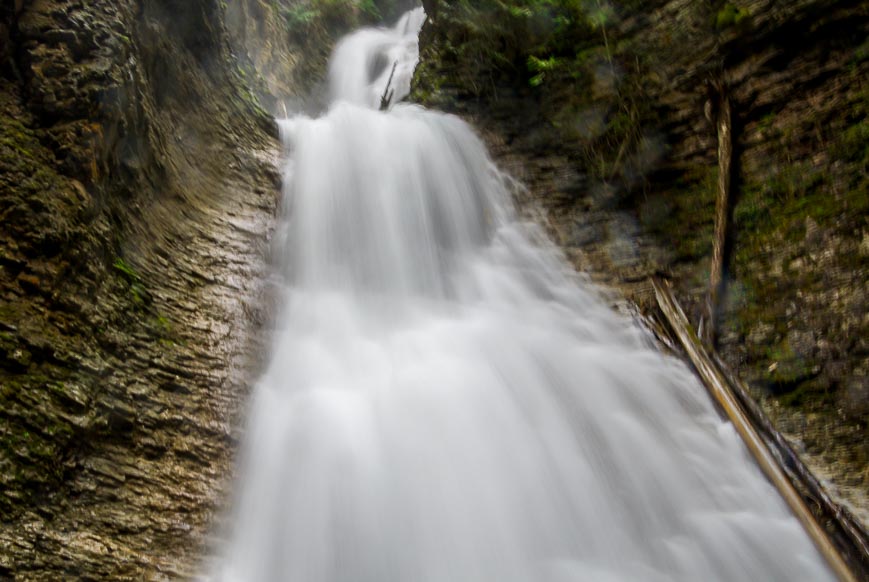 A beautiful beach stop
From Margaret Falls it felt like we started to do a lot of hill climbing – and some were bloody steep. I think Darren would concur with that sentiment.
After many more kilometres we spied a side road to a beach and figured it would make a good lunch spot. Be sure to pack food and water with you as there isn't anything to buy along the road. On a hot summer day include a bathing suit. Chances are you're going to want to swim in Shuswap Lake.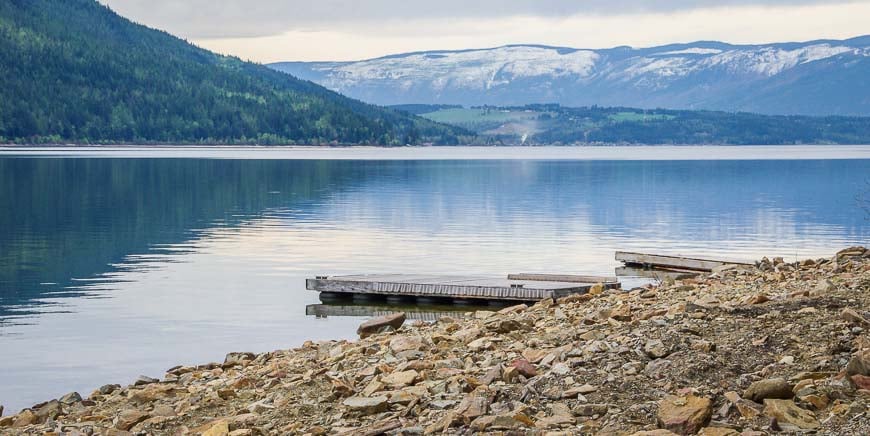 The further you bike the prettier it gets
After lunch we continued along the Sunnybrae-Canoe Point Road to within a kilometre or two of its end point. The character of the road changed as we got further out – becoming more rural. Cars disappeared. It was just us, the cows and fields full of dandelions.
On the return we stopped by a few colourful spots we'd noticed on the way out – like the bank of phlox and the flowers in front of the Ashby Point Vineyard in the photos below.
We didn't end up having the time to stop in at Sunnybrae Winery – one of the most northerly wineries in the world – but that just gives me an excuse to return.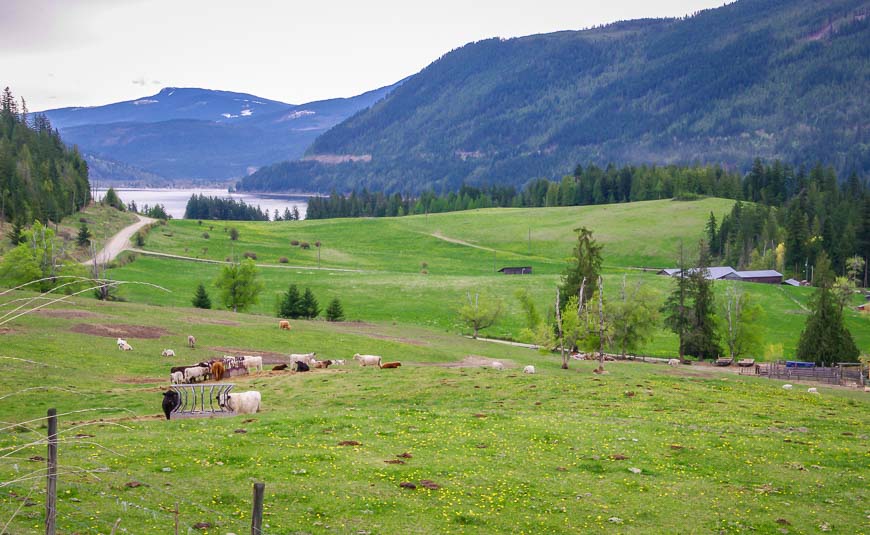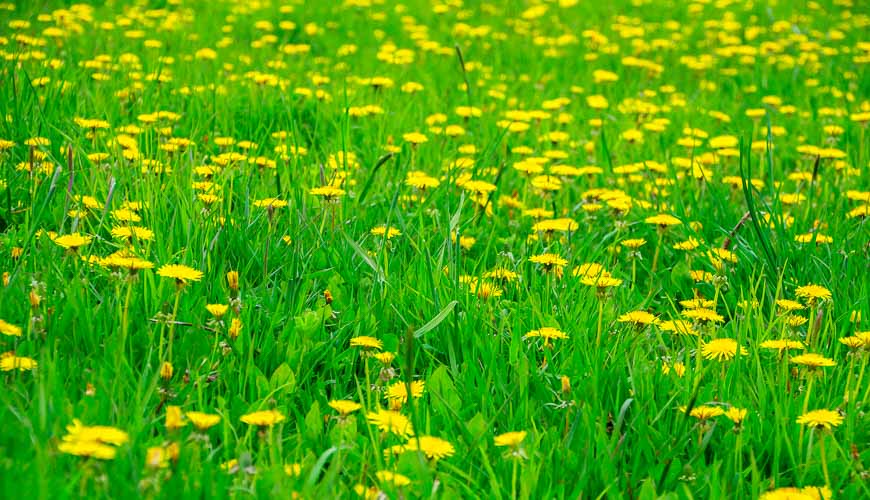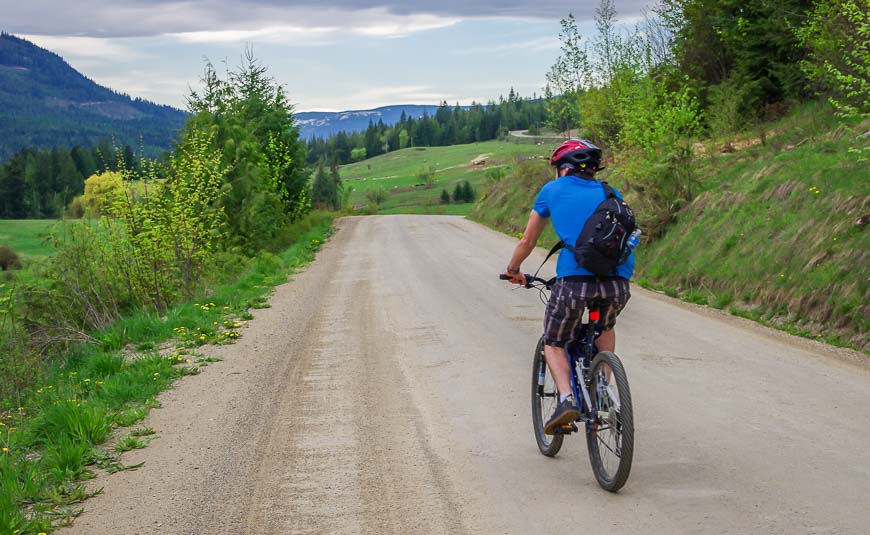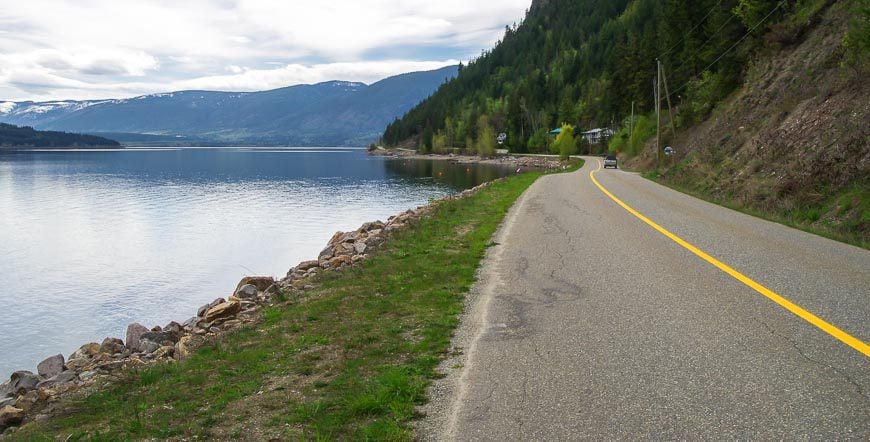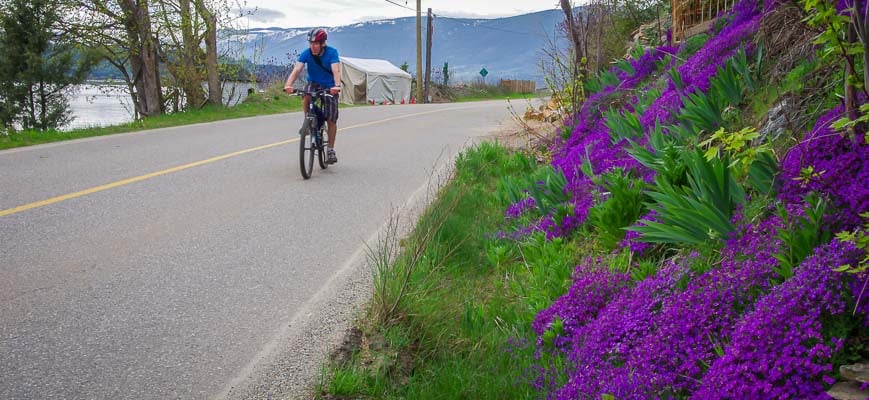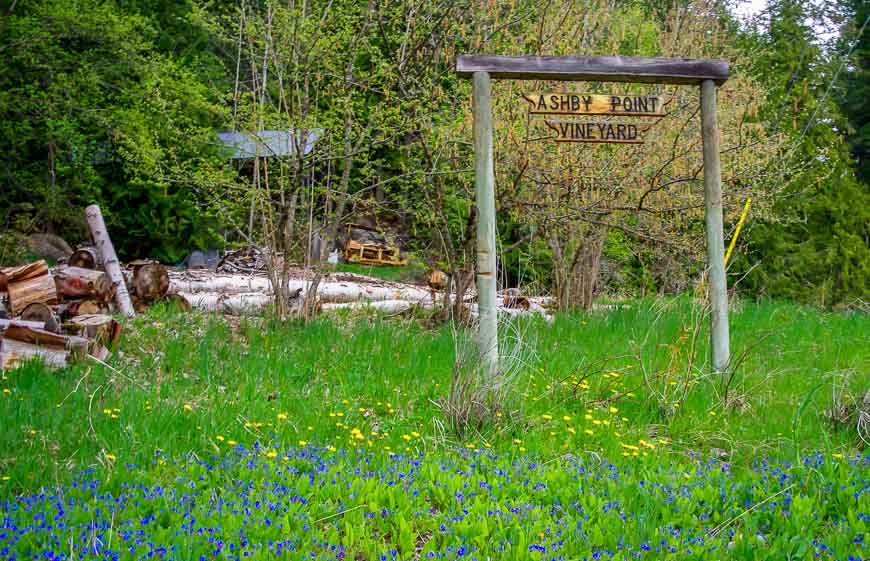 Our final stop at the end of the day was in front of some birch trees in Sunnybrae Park that Darren had noticed on our ride out in the morning. He thought they'd be a great candidate for a vertical pan – and so I ended the day with a photography lesson.
If you have half a day this is a great bike ride. There's a lot to see both on and off the bike.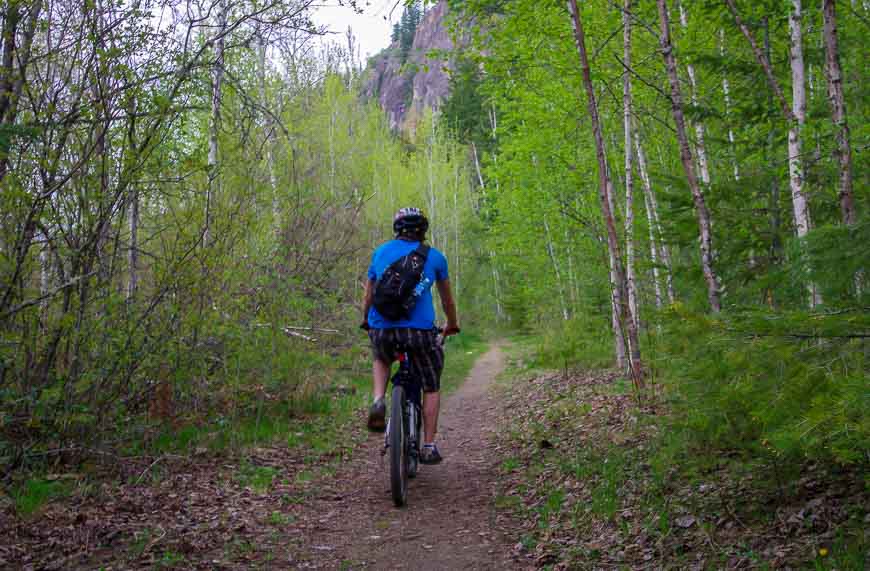 Further reading on things to do in BC
Click on the photo to bookmark to your Pinterest boards.