I always love visiting my Seattle friends – not just for their great company but because I get a dose of the west coast. Over this past weekend, not only was I in crab heaven – as we went crabbing and caught enough Dungeness crab to have salads, crab cakes and sandwiches, but we did a fantastic day trip to Blake Island State Park via motorboat.
With its stellar location in Puget Sound, about eight miles from downtown Seattle, Blake Island State Park is a great destination for day and even overnight trips if you arrive via human or wind-powered boats. The Marine State Park with a 1,127-acre, marine camping park sits on 5 miles of ocean beach shoreline.
Blake Island State Park – Tillicum Village
Our day started at Tillicum Village. After paying dock fees ($13 for a berth for the day) we proceeded to the restaurant and onsite gift shop. Our plan aside from lunch (lots of fish chowders, salads and salmon sandwiches) was to hike a five mile loop around the outside of the island.
The hiking is first rate. Wide trails with beautiful ocean views take you past towering trees with enough shade that you don't overheat in summer. All told there are eight miles of hiking trails with several crisscrossing the interior of the island. There are also 7.5 miles of bike trails.
Will you marry me?
Part way along the trail we came across a couple of chairs – set up as a site for a marriage proposal later in the day.
Camping on Blake Island
About 40 minutes into the hike we came to the beach pictured below. I hadn't realized until this point that camping was indeed allowed on the island. (Fees are $12 for a primitive or water trail campsite.)
All of this is part of the Cascadia Marine Trail, a 140 mile water trail on Puget Sound offering kayakers (and non-motorized boaters) places to stop between Olympia and the Canadian border. Ultimately the goal is to have campsites located every five to eight miles.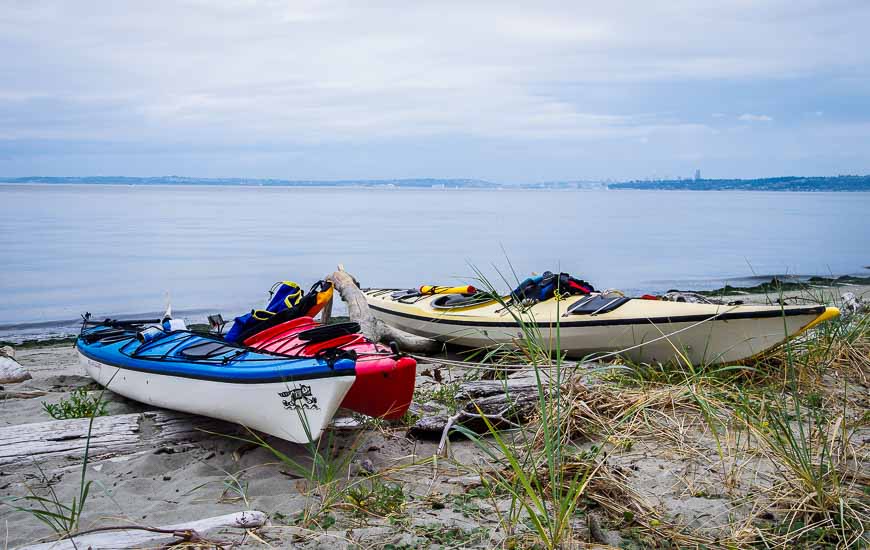 We didn't end up hiking around the whole of the island because of time constraints. But from what I saw this island merits another visit. In fact it's got me thinking about paddling at least some sections of the Cascadia Marine Trail.
Book a boat tour to Blake Island State Park
For those people who don't have a kayak, sailboat or motorboat, you too can visit Blake Island via a boat tour from downtown Seattle. Boats are regularly scheduled by Tillicum Village between March and October.
Book with Argosy Tours and enjoy Native American dancing, a salmon bake and time to explore the beaches.
And just to give you a taste of what it's like to crab; don't wear good clothes, be prepared to get an upper body workout pulling up the traps and expect to get wet. The reward is more than worth it.
Location map of Blake Island Marine State Park
For more information on Blake Island State Park, visit their website.
Further reading on things to do in the western United States
Click on the photo to bookmark to your Pinterest boards.