Book Review: United Breaks Guitars by Dave Carroll
Dave Carroll, the talented writer and performer behind one of the most watched You Tube videos of all time – United Breaks Guitars – recently added the title of author to his bio. United Breaks Guitars – The Power of One Voice in the Age of Social Media is an engaging and highly readable account of his frustrating experience with United Airlines customer service after they broke his guitar en route to a concert he

was giving back in 2008.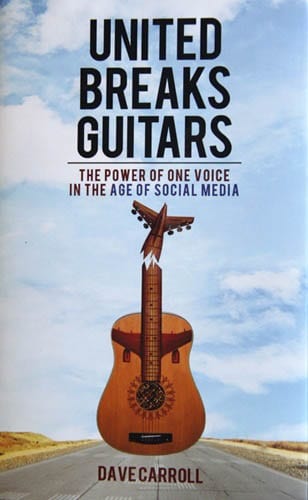 I asked Dave why he bothered writing a book given his success not only with the video but in its' aftermath as a keynote speaker and songwriter for companies.
Dave tells me that it was Dr. Wayne Dyer, a #1 New York Times bestselling author who encouraged him to write the book. He says Dr. Dyer was so impressed at how he handled a frustrating situation in a non-confrontational manner that his experience should be presented in book form. And so armed with a background in songwriting and music and obviously a talent for words, Dave was able to snag a deal with Hay House, Dr. Dyer's publisher.
Dave breaks the book "United Breaks Guitars" into four sections:
Setting the Stage provides the background of his musical career, the guitar breaking incident and his ongoing but fruitless conversations with United Airlines.
The Making of the "UBG" Trilogy details the fun he and his friends had in putting together three videos and what he ultimately hoped to accomplish by doing it.
Social Media and Our Connection to Each Other speaks to the power of one individual and his thoughts on why it's so important for business to listen.
Career Impacts Following the Frenzy delights and charms us as he relates the novelty of his new found success as a keynote speaker, corporate song writer and consumer advocate. He shares the lessons he learns along the way.
Dave succeeds with his book in the same way he succeeds with his video. We can all relate to his experience because we have all felt his frustration with companies that don't listen. He keeps the writing clean and simple. Facts are presented. So are solutions. Ultimately he shows us how one individual, through humour and with creativity attempts to change the rules of business engagement.
Towards the end of the book Dave writes about a new interest – Gripevine.com. Its goal is to bring the gripes and complaints of consumers to the attention of business and to facilitate conflict resolution before it escalates. It's another way for Dave to as he puts it – satisfy his mission statement of improving the world, one experience at a time.
I highly recommend this book. It's a particularly good read for anyone involved in business and for those of you who love a good story of David versus Goliath.
The book is available via Amazon in Canada for $US33.75 or via Amazon in the US for $US13.15. Wow – I think I'd be buying it from Amazon.com.
And as a bonus should you buy the book, you'll find an access code to download six free songs.
Are you one of the twelve million plus viewers that have watched Dave's United Breaks Guitars video?
Leigh McAdam