The Brahmaputra River Cruise as you'll see when you read this guest post by my friend Judi Cohen, is truly an out-there adventure kind of adventure. For those of you who don't think of yourself as cruising types, this post might change your mind.
Cruise ships have a reputation for being predictable. While fixed itineraries and tight schedules appeal to some travelers, neither are deal breakers for me. Fortunately there are cruises that are adventurous and at-times unpredictable – like the Brahmaputra River Cruise, and these are the ones I've found the most rewarding.
I have done a number of small-ship cruises in places like Cambodia, Vietnam, Burma, Antarctica and Alaska, but by far the most "out-there" was the Brahmaputra River Cruise aboard the MV Mahabaahu in Northeast India.
Although the words 'unique' and 'authentic' are overused in characterizing travel experiences, I can confidently say that my 7 nights on this cruise to the untouristed region of Assam were both unique and authentic by every measure!
Brahmaputra River Cruise in untouristed northeast India
Following a few days in Varanasi, I flew to Kolkata and then took a short flight to Guwahati. It took an additional hour by car to get to the banks of the Brahmaputra River, near where the country meets Myanmar and Tibet.
The Brahmaputra, is the largest river in India, one of the fastest-flowing rivers in the world, and passes through several countries. While it has different names in each country, in India it is called the Brahmaputra or "Son of Brahma".
Tourism is only just emerging in Assam, and for the duration of our cruise eastward we didn't pass a single other tourist class boat. Even trade is minimal due to the shifting water levels and the dense fog that can settle in for days.
On our cruise, this caused the crew to make regular changes to our route. Due to the rapid river current, the landscape changed almost hourly.
One night when we tied up to a sandbank for an "island dinner and celebration", and as we pulled away, we watched as the sand washed into the river as if it was melting before our eyes!
The Mahabaahu – Unremarkable, Informal and Comfortable
The boat was industrial in comparison to other riverboats I have been on in Asia that were wood and low profile. It was designed for ocean voyages with portholes and raised door seals in heavy gauge steel. It was purpose-built for the Brahmaputra River.
I boarded the boat on a makeshift bamboo walkway and was welcomed by Neena, dressed in colourful traditional Indian clothing. She was the CEO of Adventure Resorts Cruises (ARC), and directed the all-male crew during our sailing. The interior of the ship was unlike any ship that I had been on before with its traditional Indian wood carved trims and silk fabrics.
With only 23 guests on our sailing we got to know our fellow passengers rather well. Most were well-travelled and adventurous coming from Australia, Singapore, England and Canada, with six guests from India exploring this remote part of their country for their first time. We all enjoyed the Ayervedic treatments, Assamese and Indian meals, and the opportunity to be dressed in traditional Assamese clothing.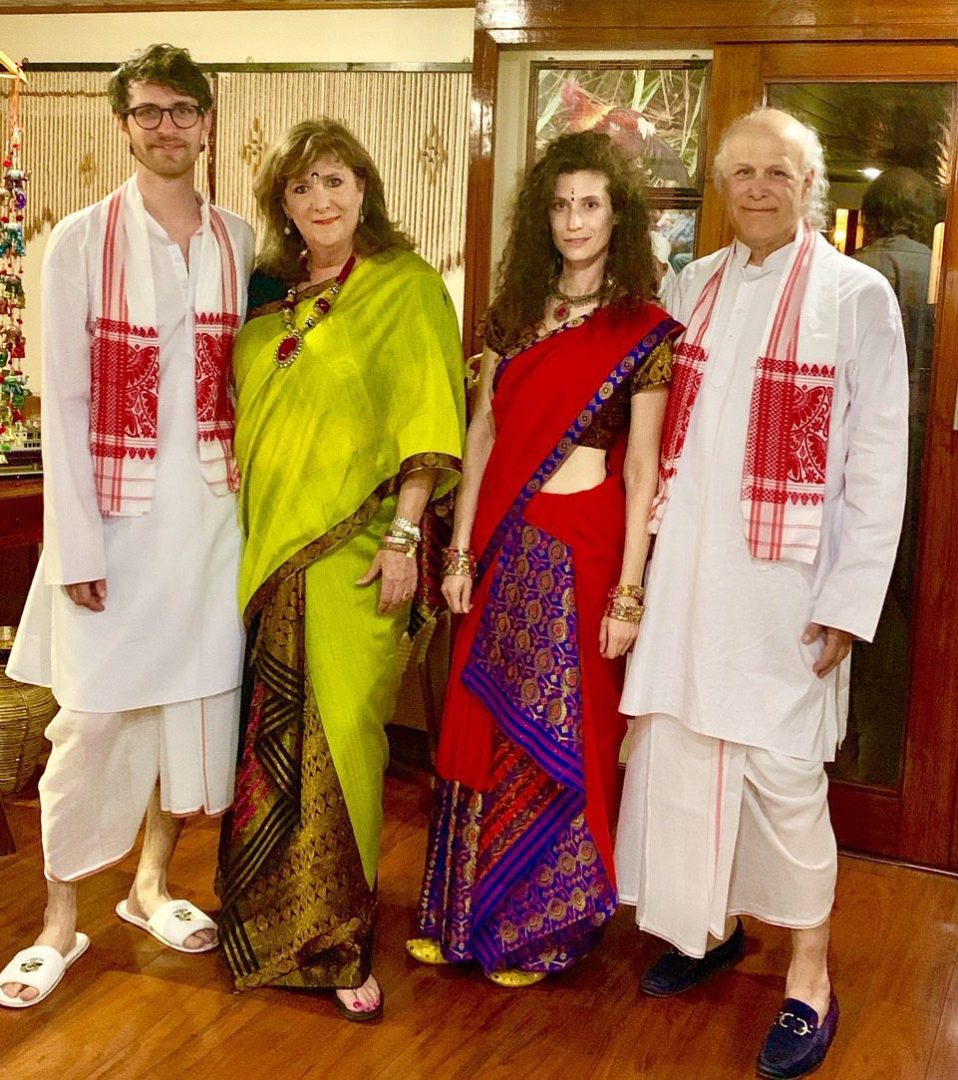 Rare White Rhino Safaris in Kaziranga National Park
The highlight of this Brahmaputra river cruise was without a doubt waking up at 3 a.m. to do an elephant-back safari before sunrise in the tall grasses of Kaziranga National Park, a UNESCO World Heritage site. Watching the baby elephant calves scampering happily around their mothers as we made our way past clumps of pink rhino flowers until the rare one-horned white rhinos came into our view was a memorable once-in-a-lifetime opportunity.
Only two rivers in the world provide direct access to a National Park, the Brahmaputra and the Zambezi in Zambia. With two full days of wildlife adventure and three kinds of safaris (elephant-back, Jeep, and small wood tender boat in search of elusive tigers along the shore) I can only describe our experience as remarkable and unlike anything we've done, even in Africa!
Visits to remote villages on the Brahmaputra River Cruise
As we made our way upstream from Guwahati towards Jorhat we made stops in several small villages. Using wood tenders, with the pilot relying on long bamboo poles to measure the depth of the water and gauge the speed of the current, we carefully approached the shore.
At each stop, we were welcomed by the village children as we climbed unstable sandy slopes. I am not sure who enjoyed our visits more, the local villagers or the passengers on the cruise.
I have been on a number of cruises where stops at villages have felt "canned", and rehearsed in advance. This felt very different. There was clearly a great curiosity and a sense of joy at our arrival.
As we passed a local ferry loaded with people, trucks, motorcycles and produce on its way to Majuli Island (the world's largest river island), the locals were very excited and all had their cameras out.
It was hard to tell who the tourists were! It is interesting being in a part of the world where there are still very few tourists and the warm welcome by the residents is truly authentic.
A glimpse into life in Assam
The unique villages and tribespeople living in stilted homes, the factories and tea plantations, operating unchanged since their inception, and the old and new temples with ritual dances and music offer a raw and real opportunity to see Assamese life.
On Majuili Island it felt like we had stepped back in time seeing how the people lived off the land, watching traditional mask dancing called Mukha Bhavana, and visiting a white-painted monastery called Satra, to marvel as Monks performed the Matia Khora, a traditional dance.
If you have a spirit of adventure and are willing to embrace an authentic, at-times unpredictable river cruise to see wildlife, culture and nature in motion, you should give a Brahmaputra River Cruise a try.
Judi Cohen (TravelingJudi on Instagram) has traveled to more than 80 countries in search of unique experiences. Writing about her off-the-beaten track adventurous journeys by train, helicopter, plane and small quirky cruise ships is her passion. Judi is an inspirational storyteller and a successful social media influencer. Her goal is to die with memories not dreams!
For another type of adventure, this time on foot, head to the fabulous Zanskar region in the Himalayas. Here's what a 3 day trek in the Markha Valley looks like – the busiest section of a 16 day hike John and I did in the fall of 2017.
Click on the photo to bookmark to your Pinterest boards.