I enjoyed a two night stay in June at Buffalo Mountain Lodge in Banff National Park. My sister-in-law joined me for a girls getaway and the only thing we both had to say when we left yesterday, was that our visit was way too short.
Although I'd heard of Buffalo Mountain Lodge before, it wasn't until we actually had to find the place that I appreciated its location. You'll find it on Tunnel Mountain Road, about three minutes by car from the main street in Banff, tucked into a grove of trees in the mountains. We both loved the location away from the hustle of bustle of the downtown. Yet, if you were to walk into town, it would only take about 15 minutes.
This post includes some affiliate links. If you make a qualifying purchase through one of these links, I may receive a small percentage of the sale at no extra cost to you. Thank you for your support.
You won't hear much noise, other than birds chirping, when you curl up with a glass of wine and a good book on your own private balcony either. At night time, we were lulled to sleep with the haunting sound of a train whistle way off in the distance. It was far enough away that it only added to the ambiance.
Rooms at the lodge
Walking into our room, we both stopped and said at the same time – do you smell that? It was a lovely woodsy smell that speaks to me and tells me I'm on a holiday.
Throwing open our door to our room we were greeted with a couple of comfortable chairs around a wood-burning fireplace, two queen-sized beds, a desk and chair as well as an over-sized bathroom, complete with a soaker tub and shower. We also appreciated the private balcony and opening windows.
Dining at Buffalo Mountain Lodge
We enjoyed a couple of breakfasts and dinners at the lodge. The Sleeping Buffalo Dining Room has a homey yet airy feel about it – with lot of windows, wooden beams and high ceilings. Tables are far enough apart that you feel you can enjoy a private conversation – a good thing as the hotel is a great destination for couples.
For breakfast you can do a continental buffet, full buffet, or choose à la carte from the menu. It's standard fare – but served with a big dose of genuine friendliness.
The restaurant shines when it comes to dinner
On the first evening I enjoyed a piece of salmon though I think my butternut squash ravioli was even more delicious – and sumptuously presented on the second evening. Since we'd spent the better part of the day cycling, we figured dessert was also in order.
My sister-in-law loved digging through her black-forest-cake-in-a-mason-jar digging for kirsch flavoured cherry bombs. My apple strudel, presented in tart form was equally delicious and beautifully presented with a strawberry compote.
There is also a bar for pre and post dinner drinks and conversation as well as an outdoor patio – which at this time of year is where you really want to have your glass of wine.
Activities near Buffalo Mountain Lodge
If you need to recharge, this is a great lodge to visit. Between a super-comfortable room, a giant sized hot tub and the bar/dining room, it would be easy to hole up and not leave the premises for a couple of days.
But you are in Banff National Park so in my opinion you should take advantage of at least a few of the nearby activities.
Just up the road from the lodge is Tunnel Mountain and it's web of hiking and mountain biking trails, including the scenic Hoodoo Trail.
The lodge does have a couple of bikes you can rent and after biking the Hoodoo Trail, I think it's the way to go – more fun than hiking. Some of the cycling is easy and some may require that you get off and walk your bike. Beware of the fact that bikes share the trails with hikers and horseback riders.
You can also hike up Tunnel Mountain for superb views of the whole valley including the Bow River and Mt. Rundle. Anne Ness, a local resident wins the award for hiking Tunnel Mountain more times than anyone else – an astonishing 8,000 times over 40 years.
Just a short drive away is Two Jack Lake, which is perfect for paddling or just enjoying a picnic. Also nearby is Lake Minnewanka. Both are accessible by bike from the lodge.
You can drive as well and then explore the Lake Minnewanka area, either on foot or via a boat tour. It's also an area where wildlife sightings are as close to being guaranteed as it gets. This past week we saw a grizzly bear off in the meadows – my first bear sighting ever in Banff National Park.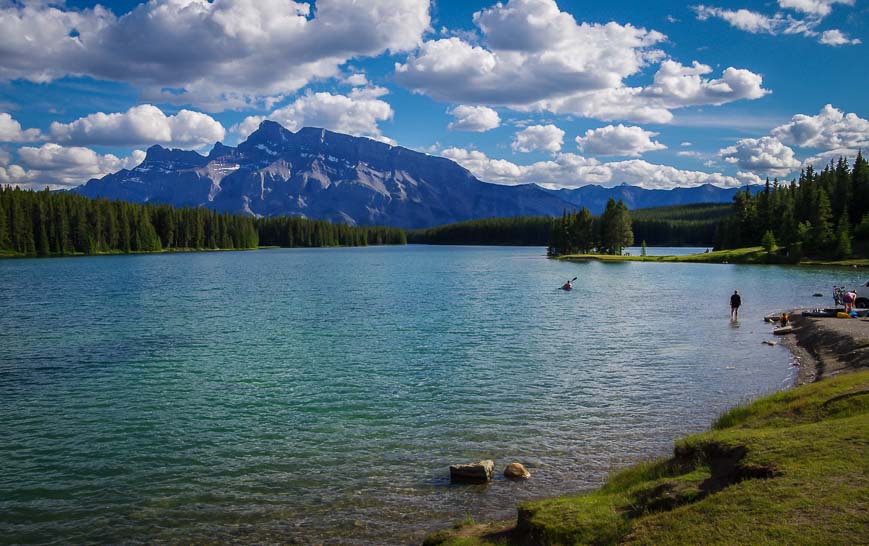 If they could change one thing
The only thing I think that needs a little work at Buffalo Mountain Lodge – and my sister-in-law concurred, is the room lighting. Even with all the lights on, it's a bit dark. I think a few higher wattage lamps are in order. However, I did like his/hers bedside reading lights.
Although my stay at Buffalo Mountain Lodge was comped, this is one place I'd definitely return to and I can wholeheartedly recommend.
I like the fact the lodge isn't too big, the parking is free, rooms are amazing, and the location is first-rate. It's open year round so it would also make a great base for skiing in the park. For more information visit their website.
Booking a stay at the lodge
Book a room at the lodge here. Just so you know the cancellation policy is good too – though who'd want to do that?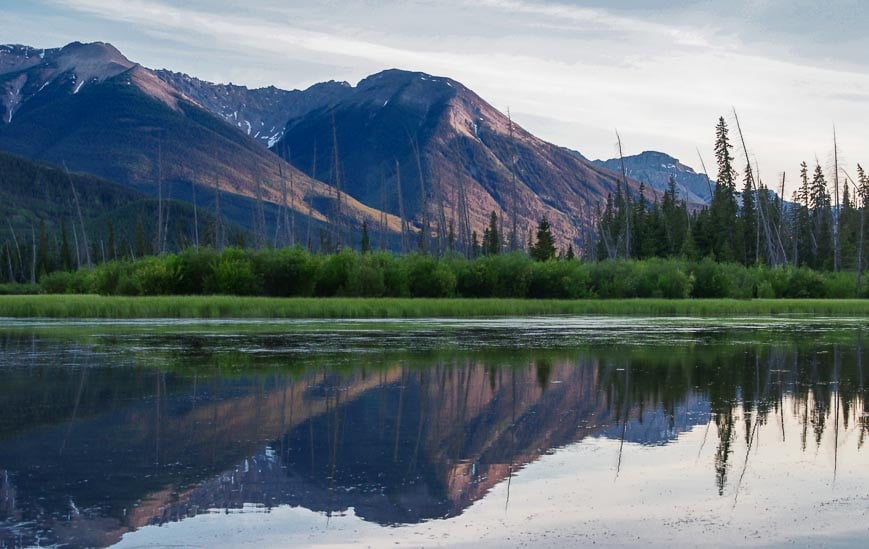 Further reading on things to do in the Banff area
Click on the photo to bookmark to your Pinterest boards.