How many of you know that you don't have to hit the mountains to have fun outside in Calgary in winter? I confess that I have been one of those people who equate winter in Calgary with skiing or snowshoeing in the mountains. It wasn't until I started exploring Calgary in winter that I had more than a few ah-ha moments. It's been fun scouring the city looking for fun things to do. Here's what I've found. Some are old favourites, some new.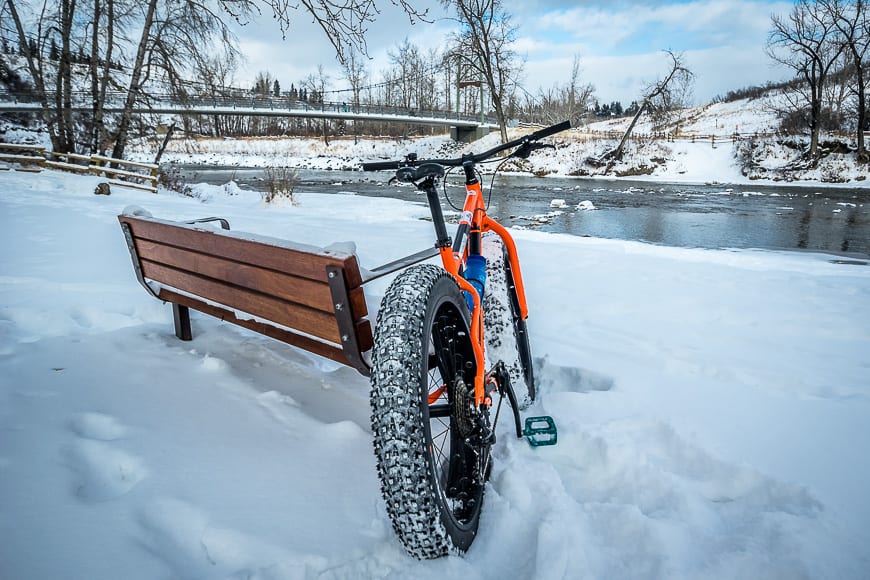 Things to do in Calgary in winter
Visit WinSport at Canada Olympic Park
Head to COP – Canada Olympic Park and take advantage of all the great winter activities available through WinSport. Outdoors choose from skiing and snowboarding, bobsledding, luge, and tubing.
Go tubing
The tubing park is wildly popular. As the biggest in western Canada it boasts 10 lanes, some as long as 200 metres. The park is open 9 AM – 5 PM on weekends and 10 AM – 9 PM on weekdays beginning January 1st. Family prices start at $59.99 for two hours.
Only go if you want to have a whole lot of fun. For more information visit their website here.
Try skiing and snowboarding at COP
Who says you have to leave Calgary to ski or snowboard? Head on over with your kids to Calgary Olympic Park and take advantage of family friendly prices.
Pop on some boards or skis, find a hill to suit your ability and let the kids try the progression or terrain park. Watch the athletes strut their stuff at the Under Armour Super Pipe – the largest in western Canada! Starting in January the slopes are open until 9 PM weekdays.
For more information visit the WinSport website.
Get an adrenaline rush aka bobsledding
As one fellow at WinSport said to me, despite the price tag, bobsledding is incredibly popular. You must reserve in advance – and it's not offered every day.
From personal experience I can tell you it's a huge thrill speeding down a narrow tube at over 90 km an hour – though not one I need to repeat.
Try the luge in Calgary in winter
Are you at least 9 years old? Do you weigh less than 275 pounds? Are you less than 6′ 5″? If you said yes you're good to go. Last question – can you count to 40? That's how many seconds the luge ride is. And you're the driver.
Good luck. Book here and learn all the scary details.
Go tobogganing
There are loads of hills scattered throughout Calgary that are perfect for tobogganing. If it's a city maintained park, the City of Calgary has strict rules on where you can go sledding. Apparently my favourite is not on the approved list. That list is here. And kids – don't forget your helmets.
Try cross-country skiing in Calgary
Cross-country skiing is best done after a fresh dump of snow before an icy crust sets in. Top places to cross-country ski in Calgary include the Shaganappi Point Golf Course, Confederation Golf Course, Maple Ridge Golf Course, Lakeview Golf Course and Bowness Park.
Two other parks are worth checking out – South Glenmore Park and Canmore Park which often goes by the name North Capitol Hill Park.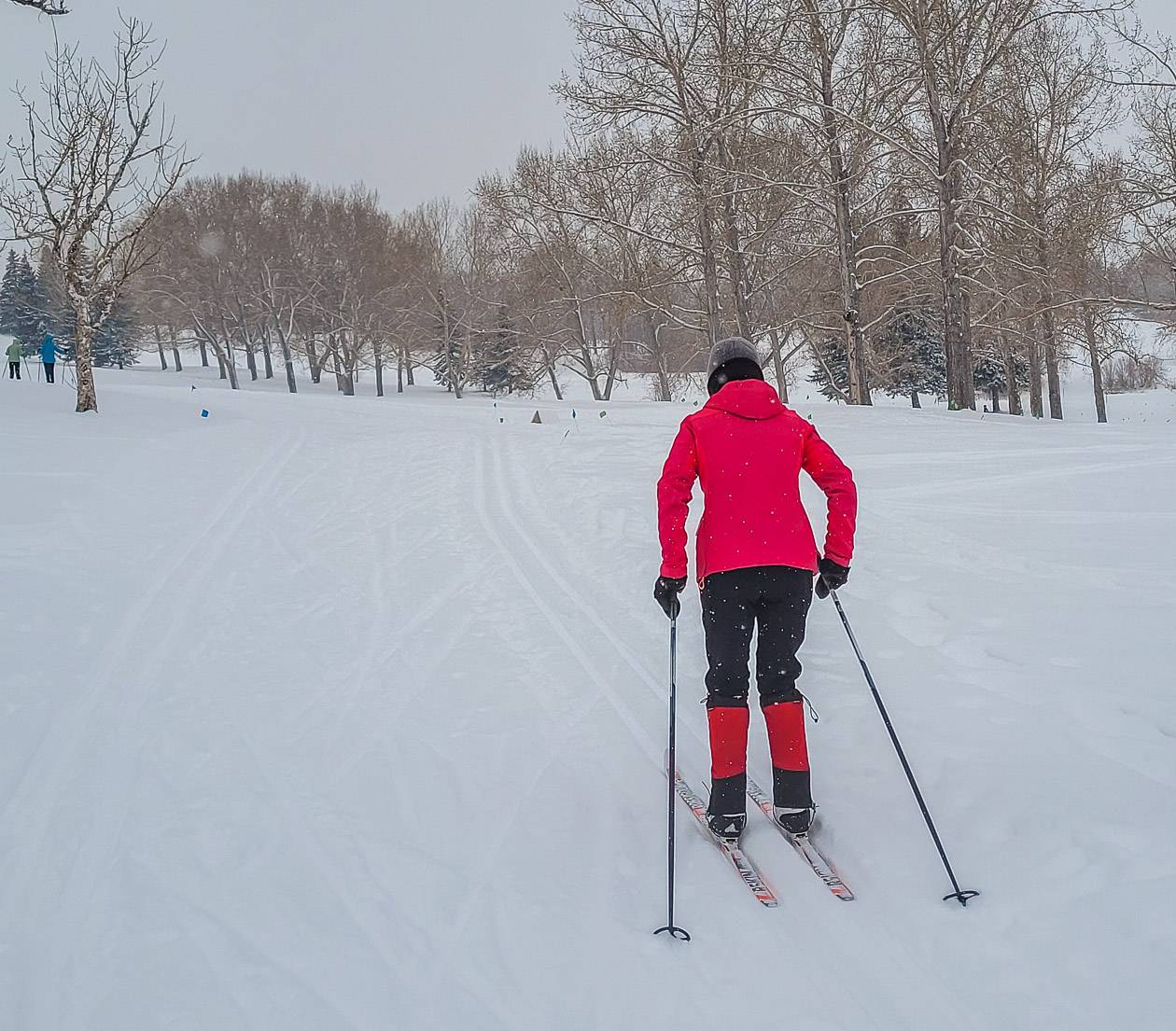 Go snowshoeing in Calgary
If you can walk you can snowshoe. After a fresh snow hit some of your favourite parks. I love both Nose Hill Park and Fish Creek Provincial Park for the sheer number and variety of trails they offer. In the case of Nose Hill, the city and mountain views get top marks too.
You might also want to read: 7 Places to Snowshoe within 2 Hours of Calgary
Go skating outside in Calgary in winter
If Mother Nature cooperates there are loads of family friendly places around Calgary for skating. Many of these rinks would also be perfect for a date night – especially the first four listed.
My new favourite is the Bowness Park Lagoon. Until recently I didn't appreciate its size – or the fact it's got free parking, warming fires and an onsite restaurant and café. Apart from the 35 volunteer rinks, the following offer a superb skating experience, weather permitting of course.
Prince's Island Lagoon – 4th St. & 1st Ave SW
Bowness Park Lagoon – 8900 48th Ave NW (Rentals are available Friday nights and weekends starting December 25th.)
Carburn Park – 67 Riverview Drive SE
Olympic Place – 228 8th Avenue SE (Skate rentals are available.)
Big Marlborough Park – 755 Madeira Drive NE
Rosemont Rinks – 2807 10th Street NW
Prairie Winds Park – 223 Castleridge Blvd. NE
Thompson Family Park – 1236 16th Avenue SW
Spruce Meadows – The pond at Spruce Meadows is open from 10 AM – 4 PM during the holiday season, weather permitting.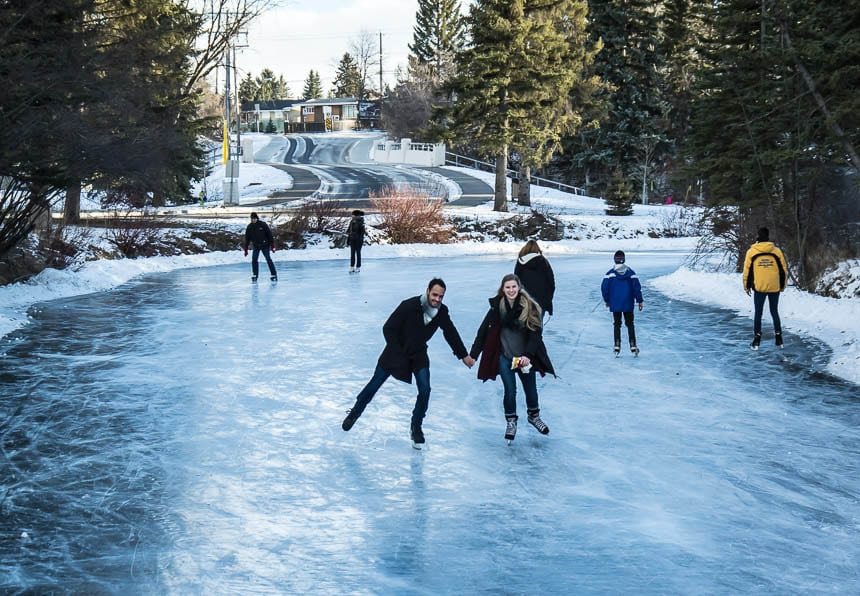 Play shinny in a Calgary winter
Shinny is fun no matter what your age. I love watching little kids play alongside adults at the community rinks scattered around the city.
This list of skating rinks will get you going.
Winston Heights-Mountview Community Rink & Oval – 520 27th Avenue NE
Sandstone MacEwan Community Association – 1100 Berkshire Blvd NW
Rosemont Rinks in Confederation Park – 2807 10th Street NW
Hidden Valley Association Community Association Rink – 10504 Hidden Valley Drive NW
Ramsay Community Association Rink – 1136 8th Street SE
Deer Ridge Outdoor Hockey Rink – 137 Deermont Way SE
Edgemont Community Association Rink – 33 Edgrevalley Circle NW
Elboya Heights Community Association Rink – 416 Park Avenue SW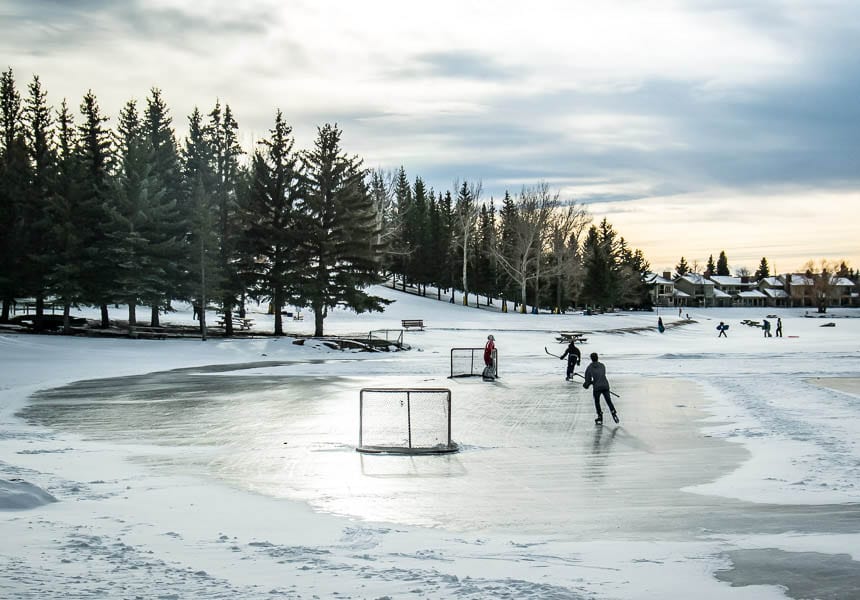 Go for a winter run in Calgary
Do you need a race or an event to motivate you to run? With hundreds of kilometres of cleared trails in Calgary, you should have no problem training for one of these winter road races.
Frozen Ass Fifty is a winter ultra-race with two distances – 25 and 50 km. It's put on by Gord's Running Store.
Run for L'Arche features a half marathon, an 8 km run and 1 km fun walk, all along the Bow River. Proceeds from the race go to helping five Calgary L'Arche homes for adults with developmental disabilities.
Original St. Patrick's Day Road Race Join 1,000 of your closest running buddies in either a 5 km or 10 km race with the proceeds going to benefit The Canadian Diabetes Foundation and The Calgary Road Runners. The race snakes through the communities of Lakeview and North Glenmore.
XCountry Races Sign up for one the Calgary Roadrunners six cross-country races. Each race explores a different part of Calgary including Nose Hill, Weaselhead, Fish Creek, Nose Creek, 12 Mile Coulee and Silver Springs.
Go for a bike ride in the dead of winter
Calgary has a very active and dedicated group of winter cyclists – in part because hundreds of kilometres of trails around the city are cleared of snow within 24 – 48 hours of a snowfall. The City of Calgary website offers loads of good advice on exactly what to wear and what paths are cleared. In fact you can download an app and get the information on the go.
If you don't own a fat tire bike or one with studs you can rent from Bow Valley Cycle. Favourite city destinations are Fish Creek Park and the city bikeways.
Read: Crazy and Fun: Winter Fat Biking in Calgary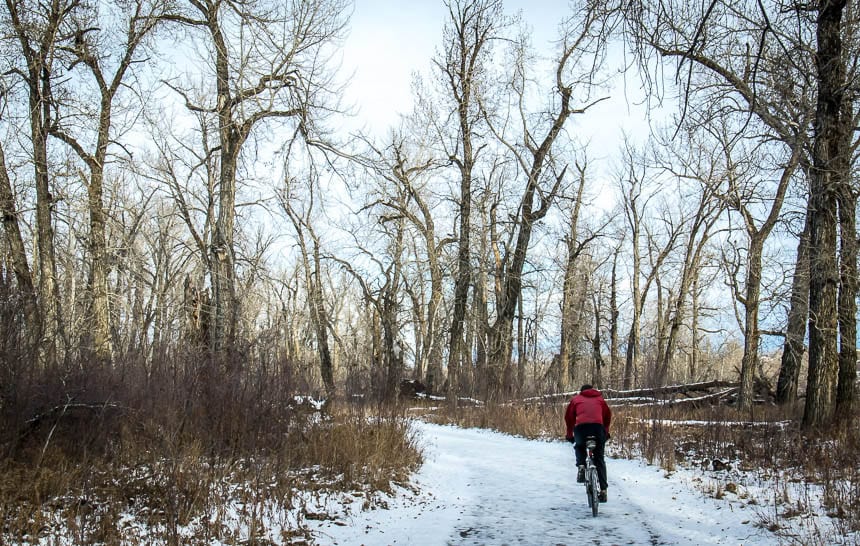 Catch a fish on the Bow River
If the Bow River is flowing in winter you can be out fly-fishing – though it's usually best when the temperature is above zero for a couple of days and the slush in the river has disappeared.
Go for a walk during the Calgary winter
Fresh air and sunshine is good for the soul. Hit the trails and the parks around Calgary. In Fish Creek Provincial Park there are 80 km of trails alone. One of my favourites is the Elbow River Pathway and the trail around Glenmore Reservoir. The City of Calgary makes these recommendations.
Birding in Calgary in winter
Birding doesn't stop in the winter. Take a pair of binoculars and walk the trails and visit the parks. Check out the Inglewood Bird Sanctuary and Nature Reserve or join a guided nature walk.
Check out one of the Calgary winter festivals or special events
There's an incredible amount to do outdoors in winter including a couple of winter festivals, two of which take place outside.
Calgary Icebreaker Polar Drop Do you dare? On 1 PM on New Year's Day jump into a hole in the ice at the lake by the Elbow Valley Resident's Club. All proceeds go to a good cause.
YYC Hot Chocolate Fest Drink hot chocolate in February – creatively prepared – and help choose the best in two categories – regular and with booze. Proceeds support Meals on Wheels.
New Year's Eve Outdoor Celebration From 7 PM until midnight you can join the annual party to welcome the New Year. Filled with family friendly events, live music, skating and ice carving, it ends at midnight with a firework's display.
Zoolights at Calgary Zoo Featuring 1.5 million lights and running until January 8th, a winter trip to the zoo is a time-honoured tradition for many a family.
Block Heater Festival Going into its 7th year in 2022, this Inglewood based music festival is winter's answer to the popular Calgary Folk Festival.
Chinook Blast Warm up your winter in Calgary over the month of February with block parties, skating, live music, The Beacon, the Asian Night Market and more. Programming changes from year to year.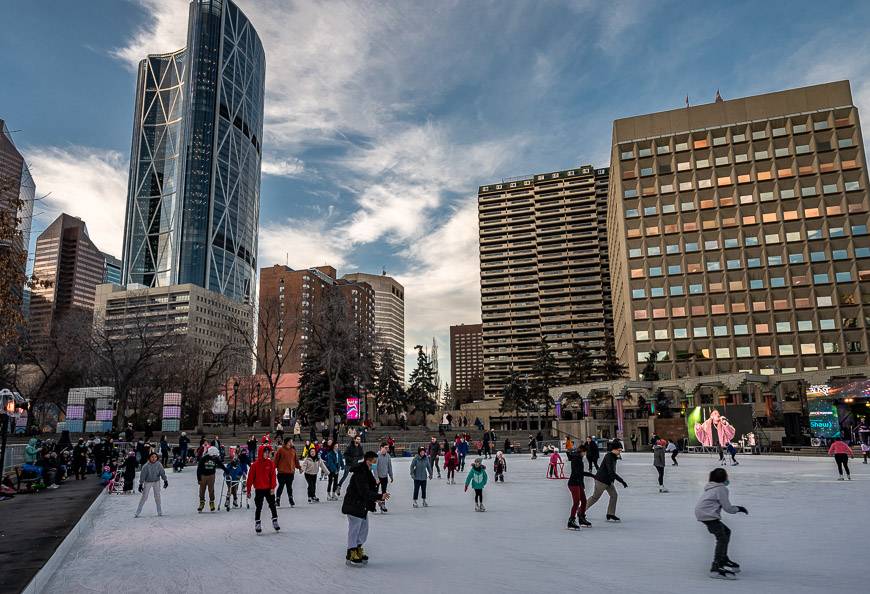 Further reading on things to do in Calgary
Click on the photo to bookmark to your Pinterest boards.
Thank you to Travel Alberta for making this post possible.