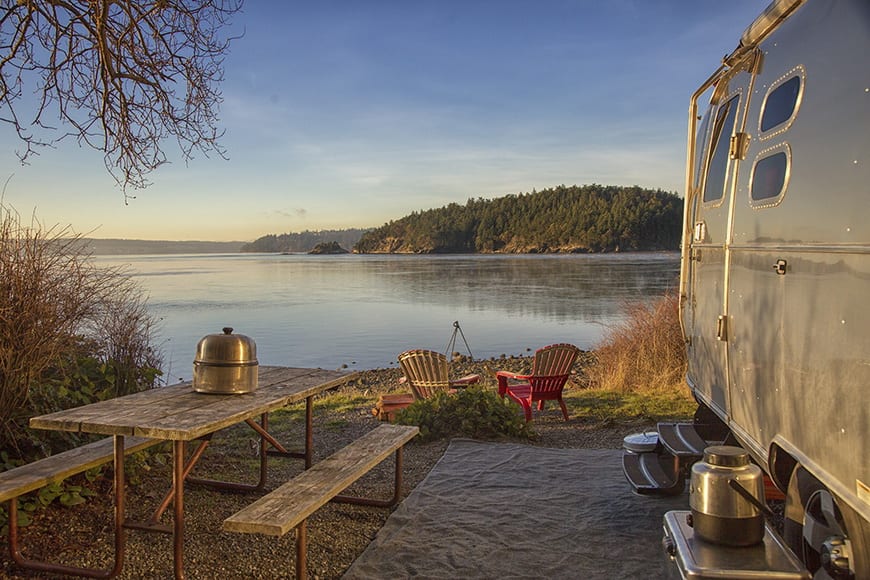 Camping Hacks: How to Rent Your Neighbour's Trailer
Most of my friends understand my love of the outdoors but can't wrap their heads around sleeping on the ground in a tent which may or may not leak and may or may not have a bear sniffing around it late at night. Eating dehydrated food cooked on a one burner stove and forgoing a cold glass of white wine has even less appeal. Mention the word black fly, horsefly or mosquito and their eyes roll back in their head. Faces too take on a pained expression when you explain that you can never fully stand up and if the dog comes, you may be sleeping with your face pressed against a tent wall.
I could go on but anyone who hates camping can relate.
However, if you want to try camping without a tent and have a more indulgent experience, I've got a camping hack you'll love, one that's already disrupting the half a BILLION dollar RV rental business just the way AirBnB did to hotels.
What's the camping hack?
Wheel Estate, an Alberta based company connects people online like your next door neighbour who has a trailer sitting unused in a driveway with people who would like to try camping, RV style. It's a win-win situation with the RV owner putting money back in their pocket (and the local economy) so you can now eat s'mores in front of a campfire before retiring to a comfortable, perhaps even air-conditioned bed. And you can sleep well knowing each reservation comes with a one million dollar insurance policy. Sounds sweet doesn't it?
At its heart Wheel Estate cares more about connecting people offline than it does online. The couple behind Wheel Estate are serious about building communities. They want the renters to feel so good about their experience that they hi-five the RV owner upon return.
Some head-turning stats
Did you know there are over one million RV's in Canada alone and on average they are only used 14 days a year? There's a lot of money – some 1.4 billion dollars' worth – that gets tied up in insurance, maintenance and insurance every year. With Wheel Estate some of that money can get recouped by the owner. Already they have 600 RV's available to rent with prices starting at $60/night and topping out at $250/night. Wheel Estate reports that on average people rent for six nights, thereby getting a weekly rate.
Wheel Estate's website is easy to navigate whether you're an RV owner or a wannabe renter. Type in your postal code and the list of nearby RV's pops up. From there you can scroll through until you find one you like – perhaps based on towing capacity, number it sleeps or even its age. Then you make a request to book and you'll know in 24 hours or less if you've got the booking. It's that simple – and if you're an RV owner it's free to add your listing.
Camping with Betty-Lou
My daughter and her fiancé Michael decided that renting Betty-Lou, a vintage camping trailer beat tent camping this coming August long weekend. They're super excited because although they had lots of other choices as you'll see on the website, the retro yet modern take on an RV sold them. Described by the owner as a classic 16 foot Shasta in Sea-Foam Green that is lean, keen and dying to meet you! She's got a 12 V battery, power hookup, and propane. With a fridge (with freezer), a furnace, air conditioning, 3-burner stove, microwave, a blue-tooth stereo with inside and outside speakers, she's all set to make memories that you'll never forget.
How about you? Can you picture yourself in Betty-Lou?
I haven't slept in an RV since I was a kid but I do love the sound of Betty-Lou and I'm a huge fan of creative thinking and disrupting economies. Go check out Wheel Estate and see if there's something for you.
This post is in collaboration with Wheel Estate. You know the drill. All thoughts are mine and I love what Chad and Cherie Ball, the owners, have done and continue to do. All photos are theirs as well.
Don't forget to share and bookmark this post on Pinterest.
Leigh McAdam