One of the best places for cross-country skiing in the Banff area is the Cascade Fire Road. It's an easy to moderate out and back ski so it's a good one for younger families. Many people ski to the Cascade Bridge spanning the Cascade River, approximately 7.4 km from the Lake Minnewanka parking lot. For those that want a longer day, you can continue on track-set trails all the way to the Stoney Creek ranger cabin – a further 8.4 km from the bridge.
All told that makes it 15.8 km one way to the ranger cabin from the parking lot. There are no big hills to climb like you'd find on the Skogan Pass trail, but there is definitely some elevation gain as you ski north up the Cascade Valley.
This is a popular trail, but the further you go the more likely you are to lose people. Only a small fraction of skiers seem to continue past the bridge. I have always skied the Cascade Fire Road when there's been a perfect combination of safe driving conditions, blue skies, sunshine and great snow. But if it's such a day, go early so parking isn't an issue.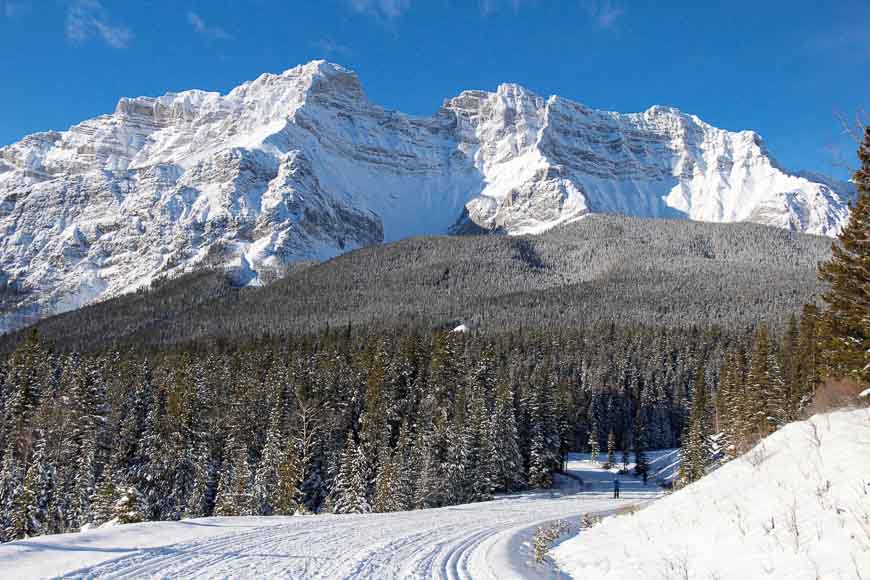 This post includes some affiliate links. If you make a qualifying purchase through one of these links, I will receive a small percentage of the sale at no extra cost to you. Thank you for your support.
The Cascade Fire Road is exactly that – a fire road from the Lake Minnewanka parking lot that doubles as a track set cross-country ski trail in the winter. It gets great early season snow and it's one of the first in the area to be track set, often by sometime in late November.
The Cascade Fire Road goes to a warden's cabin
The Cascade Fire Road is an easy cross-country ski unless you elect to ski out and back to the warden's cabin – and that's 15.8 kilometres up the road one way. Then you've got a long day on your hands. I'd say allow 4 – 6 hours if you're planning to do that.
Otherwise there is only one major hill near the beginning of the trail but it's gradual and swiftly dispatched. The rest of the trail is either flat or on gently rolling hills.
The trail is skied by both classic cross-country skiers and those on skate skis. There were one heck of a lot of fit bodies that blew by me when I was out.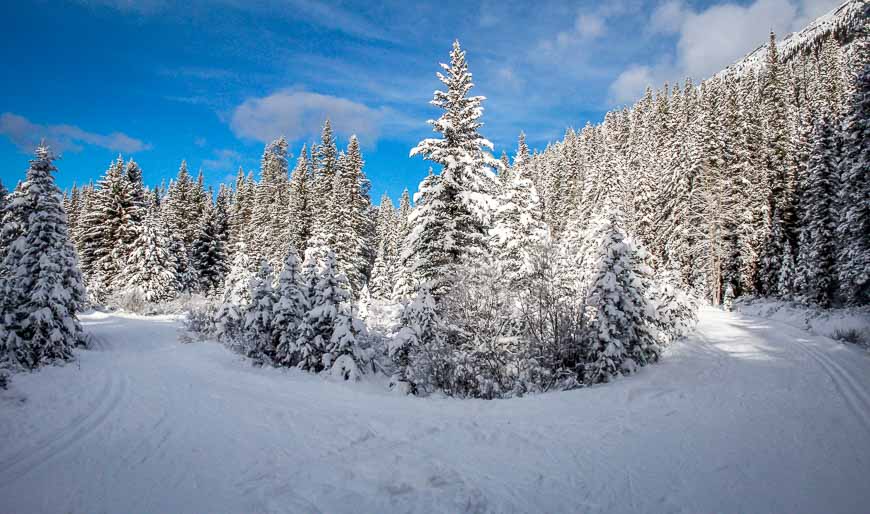 The Cascade Fire Road from the bridge to Stoney Creek Ranger Cabin
The 8.4 km section of cross-country skiing from the bridge to the cabin is gently rolling and easy skiing – just long. There are a couple of places with nice views along the way, but mostly its kilometre after kilometre of skiing through the trees.
There is an intersection about a half kilometre shy of the cabin. If you go left you can ski down a fairly steep narrow trail and be at the cabin in a few minutes. If you're not good on narrow descents, continue up the road for about a kilometre. Look for a trail on your left and take it. After about half a kilometre you reach the gates marking the entrance to the cabin area. Carry on and in a few minutes you'll be there. (Photos below show what that looks like.)
Someone has thoughtfully put a few logs in a sunny place that are ideal for sitting on at lunch time. There is also a picnic table.
Retrace your steps to return to the parking lot.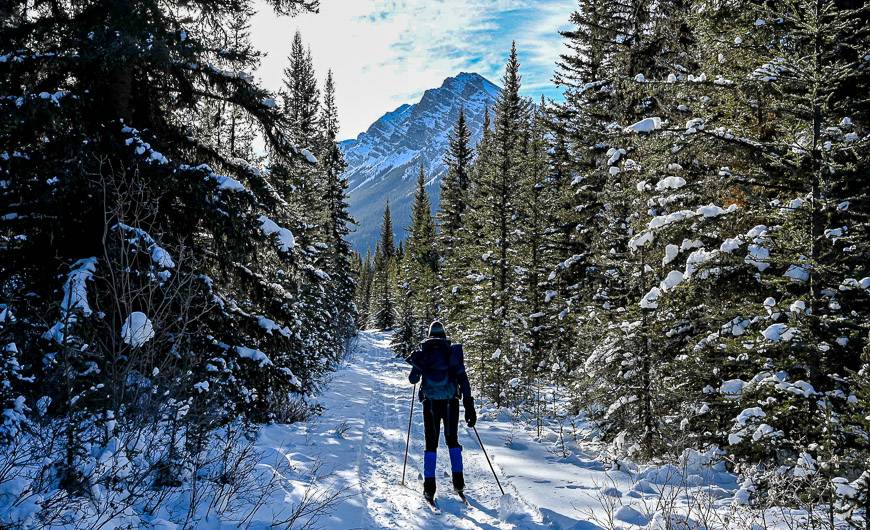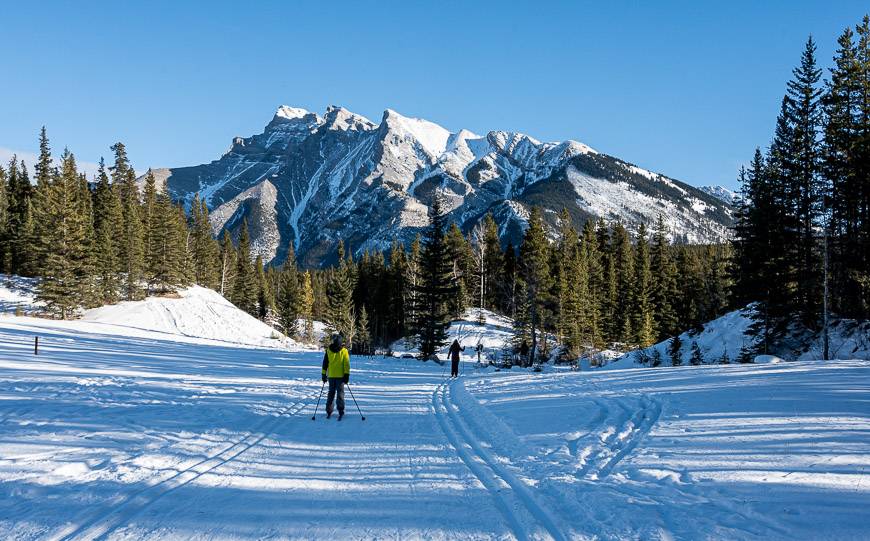 What to take cross-country skiing
It was -24 °C on one occasion that I skied this trail. You don't want to have anything go wrong when it's like that – especially if you're skiing to the Stoney Creek Cabin. I'd suggest the following – in addition to the 10 essentials.
Look for wildlife on the road up to Lake Minnewanka
On the access road to the trailhead you almost always spot wildlife. The day we visited was no exception. We saw elk and big-horned sheep going in and coming out.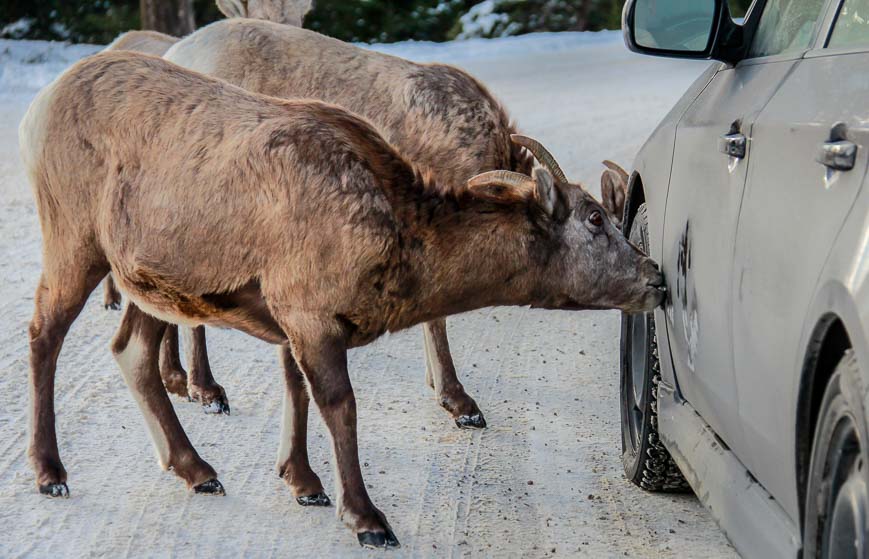 The Cascade Fire Road is a wonderful trail. It offers occasional mountain and meadow views plus easy entrance to the back-country. The trailhead is accessed via the Lake Minnewanka Road. And it's perfect for an hour or a day – because it's an out and back ski you can turn around at any time.
Visit the Banff National Park website for more information.
Getting to the Cascade Fire Road trailhead
To reach the Lake Minnewanka Road drive east from Banff under the Trans-Canada Highway. Continue about 10 kilometres up a winding road. I would consider snow tires a necessity.
Parking and skiing are free but you do need a Parks Canada pass to be in Banff National Park. It's $9.80 per adult though you can buy a family pass good for a year for $136.40 – and that gets you into 27 National Parks and 77 National Historic Sites.
Location map
Further reading on winter adventures in Alberta
Click on the photo to bookmark to your Pinterest boards.