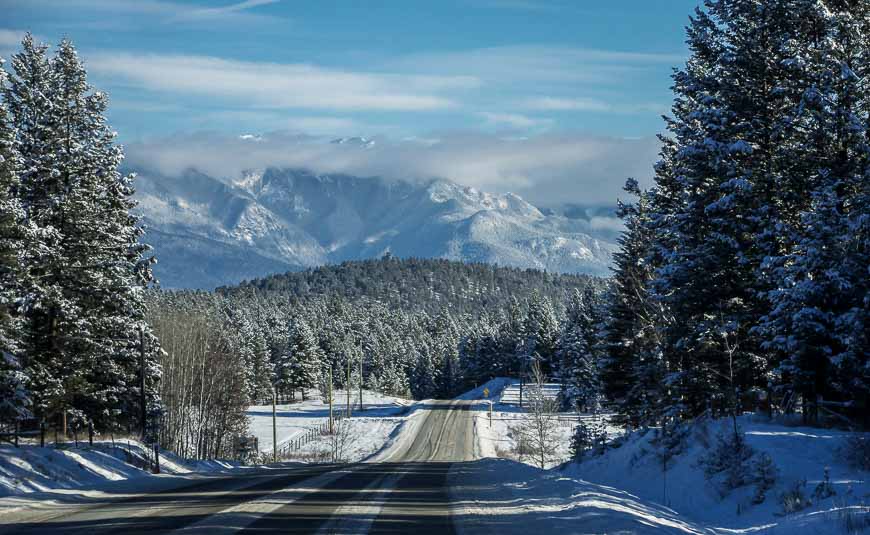 Columbia Valley BC for a Winter Break
Head to the Columbia Valley BC in the winter for skiing, skating and long soaks in the Radium Hot Springs. It's only a three hour drive from Calgary – and an unbelievably scenic drive at that through Banff and Kootenay National Parks.
Columbia Valley BC, located between the Rocky Mountains and the Purcell Mountain Range, is not just a winter recreation paradise. It's got something for every one on a year round basis especially with a hot springs, Invermere Lake, mountain trails and some vibrant communities.
Updated April 2020. This post includes some affiliate links. If you make a purchase via one of these links, I may receive a small commission at no extra cost to you.
Columbia Valley BC – accommodation options
We elected to stay at Bighorn Meadows Resort – a luxury condominium complex in the town of Radium Hot Springs. From the comfort of our room we enjoyed awesome views of the Columbia Valley.
Other places in the Columbia Valley to consider are as follows:
In Radium Hot Springs Prestige Radium Hot Springs Resort would be another great choice.
In Invermere the Copper Point Resort offers well-appointed rooms.
In Fairmont Hot Springs check out the Fairmont Hot Springs Resort.
Meet the sheep
When you drive the Columbia Valley always keep a close eye out for bighorn sheep. They're abundant and blend into the landscape unbelievably well.
We had a chance to get up close to the bighorn sheep at our Bighorn Meadows condo There were plenty of them around with many of them busy licking the salt off the cars. We'd hoped for a thorough cleaning of our car but it wasn't one of the chosen ones.
Ski at Panorama Resort in the Columbia Valley BC
On Saturday morning we drove up to Panorama Mountain Village for a day of downhill skiing. It was a decidedly cold start to the day – about -21°C at the base. Fortunately after lunch it warmed up – and on the sunny slopes it could almost be described as warm.
It was the first time I'd downhill skied at Panorama and what a treat it was. Granted it was a bluebird kind of day but nonetheless I'd rank the mountain scenery in the top 10 of all ski resorts that I have downhill skied (at least 30 of them).
Vistas were exceptional and the hill itself offers lots of vertical – 4,000 feet in total – and a wide variety of runs. There is a bowl you can climb to if you're into hard core double blacks.
After skiing we decided to head right for Radium Hot Springs. The 14 km drive down from the ski resort (and up for that matter) to Invermere is a very scenic one. On a snowy day it could be treacherous – so don't even think about driving it without good snow tires.
From Invermere it's another 20 minutes to reach the Radium Hot Springs. The hot springs are actually located in Kootenay National Park so you need a park pass too.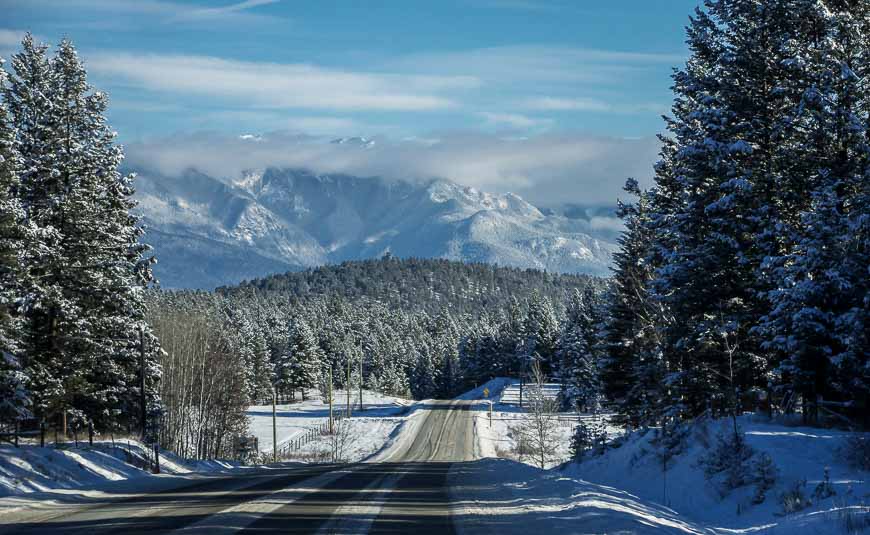 Radium Hot Springs
I always get chilled after a workout no matter what the temperature is outside, and looked forward all day to the thought of immersing my body in a very warm pool.
We spent about an hour lounging in the water – looking for hot spots and checking out the 43.3°C/ 110°F hot tub for 10 minutes – the maximum time suggested. The outside temperature in the shade late in the afternoon was about -17°C (1.4°F).
We were cooked by the time we left Radium Hot Springs.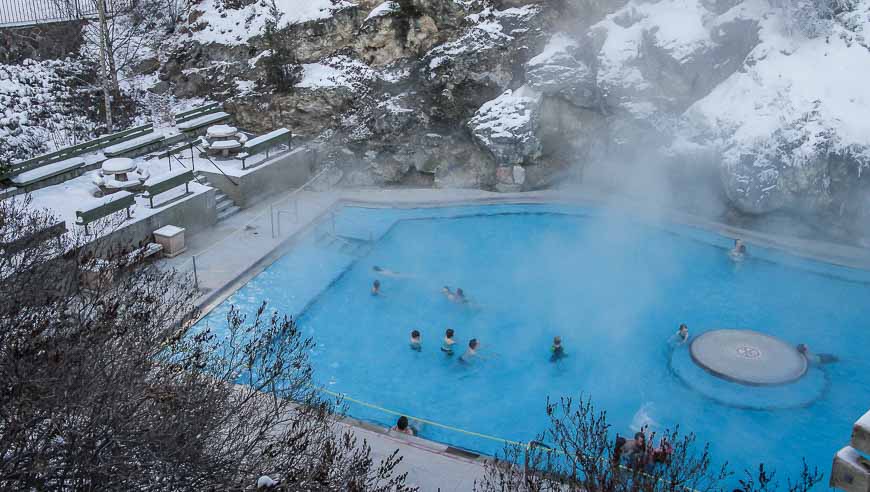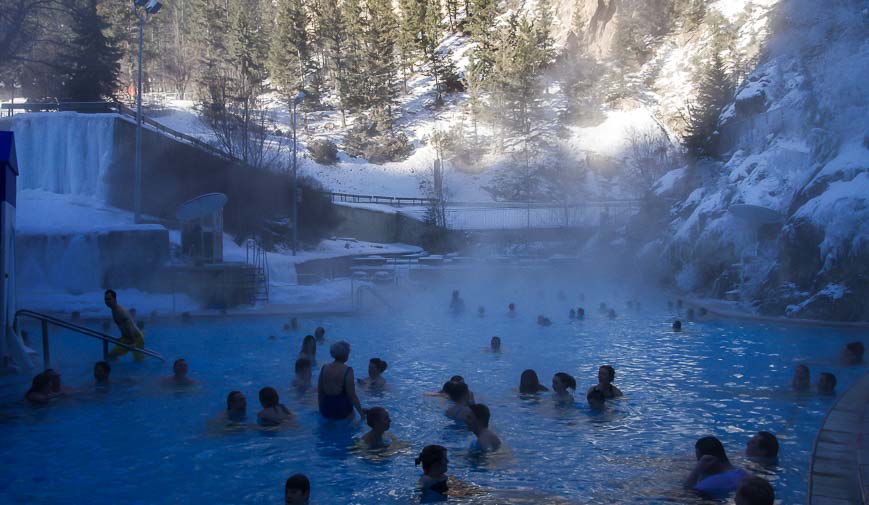 Cross-country skiing (or skating) the Whiteway
The next day we traded downhill skis for cross-country skis. The plan was to meet up with Penny, the owner of Columbia Kayak and Canoe for a guided tour of the Whiteway.
Both John and I were very impressed with the Whiteway. It's a skating rink for one – and about to put the boots to Winnipeg and Ottawa to become the world's largest and longest skating rink. (They got certified by the Guinness Book of World Records).
It boasts 30 km of cleared ice. Basically it's a giant loop around the entire lake with some shorter loops you can do as well.
Alongside it are track-set ski trails. The snow removed from the ice is piled up on one side to allow for cross country skiing. So not only can you skate but you can ski for 30 km. You can also fat tire bike the loop. A lot of hard work went into the planning of it but it's become hugely popular.
After a few hours spent skiing a 12 km loop it was time to call it a day and head for home.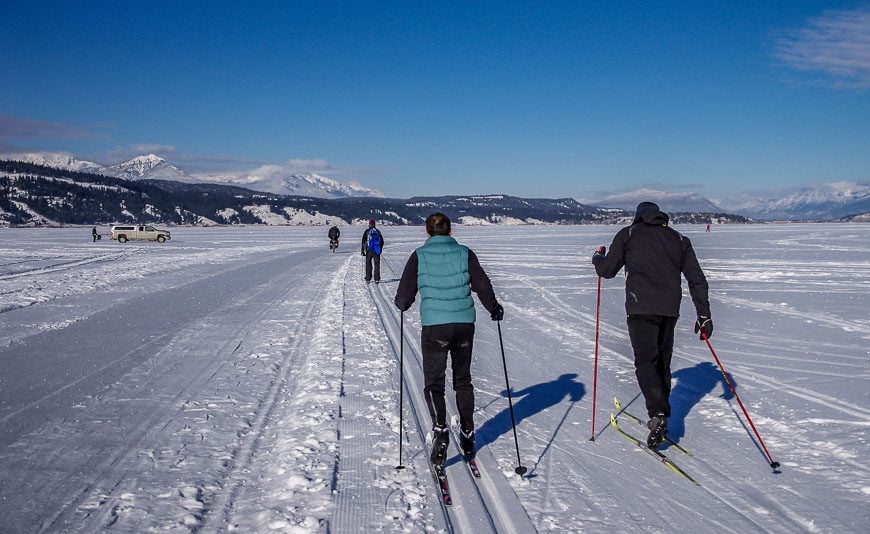 We found that the weekend went by way too fast as they always do when you're having fun.
We both loved the Columbia Valley and can definitely see many more trips here in our future. The hiking in the regions sounds like it would be superb and after chatting with Penny I know I'd also like to canoe from Invermere to Radium Hot Springs and perhaps even on to Golden one summer or fall.
Further reading on things to do in winter in British Columbia
Click on the photo to bookmark to your Pinterest boards.
Disclosure: John and I were guests of the Columbia Valley Chamber of Commerce but all opinions are my own.