My fitness is improving while I spend time at the LifeStyle Fitness Camp in Utah so I decided it was worth trying a hike that was a bit tougher. I had seen Observation Point in Zion high above me when I was at Scout Lookout so I decided that was the hike to try next.
The hike to Observation Point in Zion is 8 miles round-trip with an elevation gain of 2,100 feet. If you're doing it on the heat of the summer be sure to take lots of water and wear a sunhat. Allow 3.5 – 6 hours to do the return hike.
Observation Point Zion hike starting location
The hike starts off at the Weeping Rock Trailhead. You can take a really quick diversion on a short trail to see Weeping Rock where water flows out of the mountainside.
Initially the trail winds its way up along switchbacks helping you gain elevation quickly. If you get up there early enough you can start to watch the morning light hit the hills across the valley.
After the first climb – the trail starts to weave its way back taking you through a small slot canyon. The trail is flat for a short time which is well appreciated at this point. And you're attention is kept captive by the cool rock formations.
The trail begins heading upward again. On this section I spotted a deer peering down at me.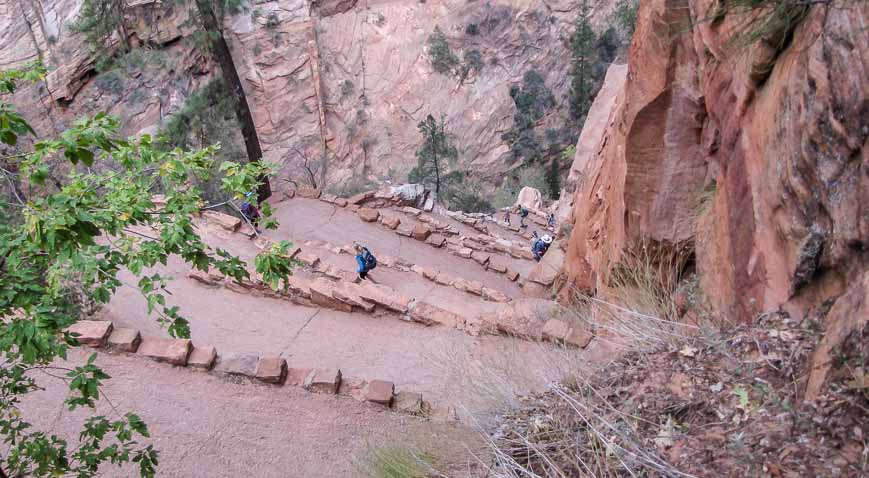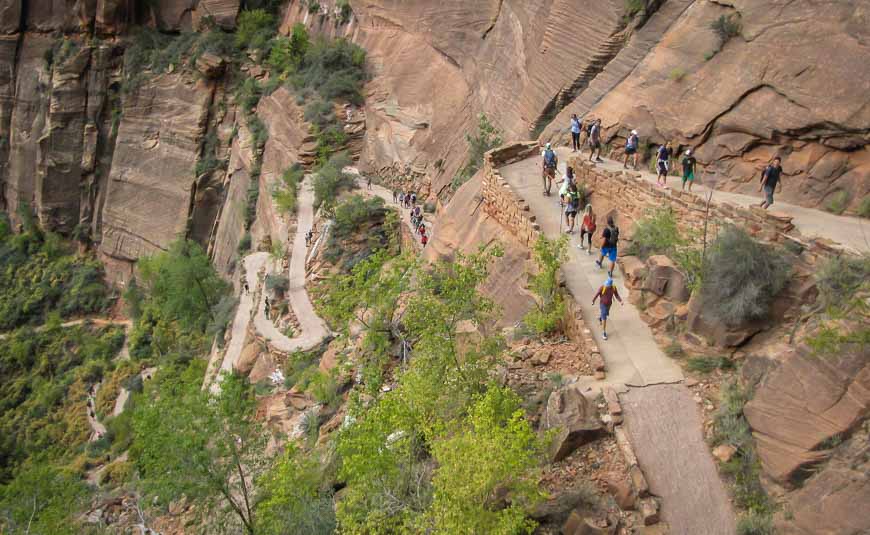 Lone deer checking me out
The scary part of the Observation Point hike
As you continue the climb you can see views of the back end of Zion National Park. Once you get closer to the highest point of the trail, you start to cut across the cliffside.
This section can be a little trying for those scared of heights. I found myself using my hands to block my left peripheral view. I didn't want to look down and I was too nervous to stop much on this section so I don't think this shot quite captures the worst sections. But it does give you a sense of the drop offs.
The hike then meanders on a more level path across the hill top over to Observation Point. The climb is beyond worth it when you see this view!
The round trip hike took me 3 hours and 15 minutes including time to eat a snack and take in the view at the top. I absolutely loved and highly recommend this hike.
Information about the Observation Point hike
It's 8 miles round-trip.
The total elevation gain is 2,100 feet.
The elevation at Observation Point is 6,521 feet.
Allow 4 – 6 hours to do the return hike.
Carry the 10 hiking essentials.
Further reading on hiking in Utah
Note: This is a guest post from my daughter Kristen McAdam.
Click on the photo to bookmark to your Pinterest boards.