I've driven through the Crowsnest Pass area in southern Alberta many times, never with the intention of stopping. It was only when I heard that there was a B&B called Country Encounters that I had any interest in an overnight stay.
The B&B – located in Coleman, the westernmost town in the Crowsnest Pass area, also offers private cooking classes. My plan was to stay at Country Encounters for a couple of nights and use it as a base to hike and explore the area. And on one evening I'd take a cooking class.
My sister-in-law, Andrea, had kindly agreed to join me on this three day adventure. It started with a stiff hike to the top of Turtle Mountain – where the infamous 1903 Frank Slide all started. By 5:30 PM, when we finally got back to the car, tired, dirty and ready to relax, we didn't appreciate the treat that was in store for us just seven minutes down the road.
This post includes some affiliate links. If you make a qualifying purchase through one of these links, I will receive a small percentage of the sale at no extra cost to you. Thank you for your support.
Make noise and someone will show up at Country Encounters
Entering Country Encounters, we land in the kitchen. There's not a soul around but there is a sign saying "Make noise and someone will show up." So we made noise and a few minutes later a bundle of energy in the form of Dawn Rigby appeared.
She and her husband Mark have run this hotel since 2003 – "adding and renovating rooms as my kids moved away to college." More recently they expanded by turning the building across the street into seven suites. They had their first guest there on July 7, 2015.
After warmly welcoming us and giving us the lay of the land (eg. the location of the cookie jar) she escorted us to our suite – a more spacious alternative to the bedrooms in the main 1904 building.
The rooms at Country Encounters in Coleman
Our suite was fantastic. Nicely decorated with a mix of new and antique furniture, it also had a flat screen TV, fast WiFi and a fireplace. The bathroom was roomy and the towels thick and cozy. A shower was in a stand-alone tub along with a wrap-around shower curtain.
The room far exceeded my expectations and both my sister-in-law and I agreed we should come back in the winter and use the hotel as a base for some cross-country skiing.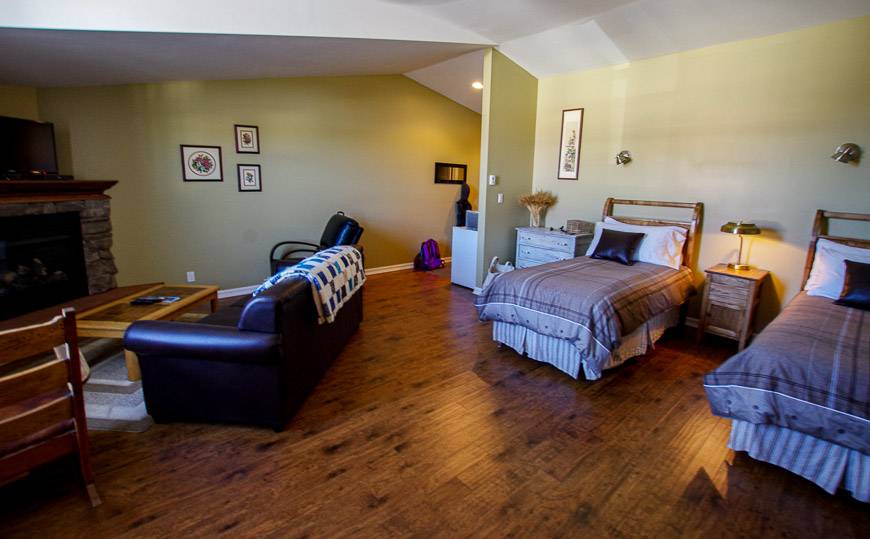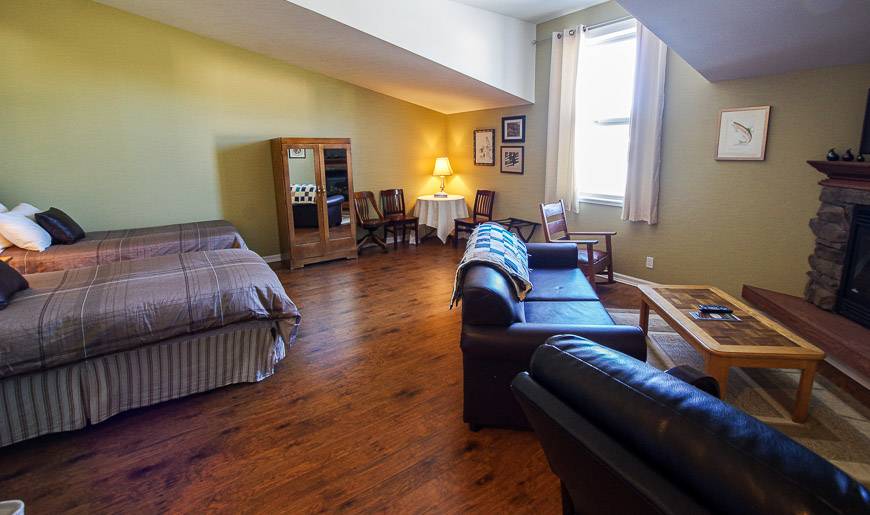 Enjoy a hot cooked breakfast at the inn
Since Dawn manages the hotel like a B&B, she starts serving an enormous hot-cooked breakfast with mouth-watering food like an omelet with asparagus and brie, beginning at 8 AM.
You'll also find a big bowl of fresh fruit, yogurt, baked goods and cold cereals. I guarantee you won't leave the table hungry. It's also a good time to chat with other guests as dining is done family style. One fellow, a fisherman, was a frequent visitor and couldn't say enough good things about his numerous stays.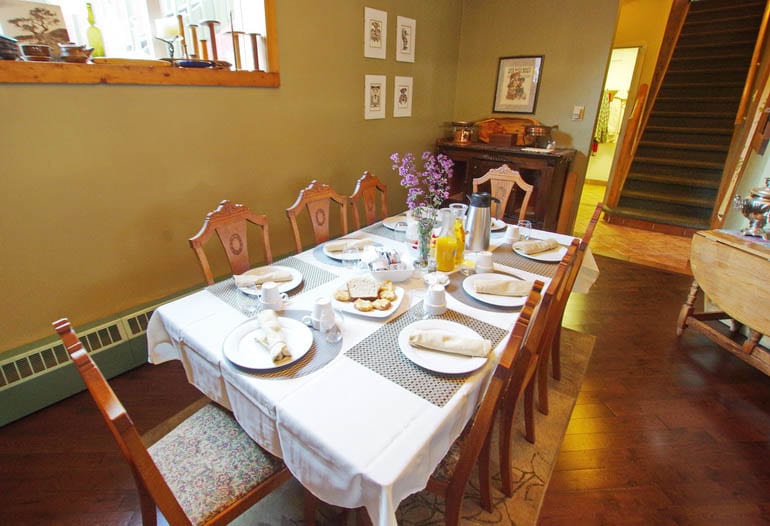 Sign up for one of the cooking classes
Dawn runs cooking classes in the main building where breakfast is served. It's the type of school I like where I get to watch and eat but I don't have to lift a finger.
Dawn is a classic French trained chef. Thirty years ago, she was one of just three women who graduated from cooking school at SAIT in Calgary. After graduating she became the youngest instructor on staff at the school. This lady knows her way around a kitchen!
Today the classes she offers are relaxed. She keeps the classes small – eight people as a maximum. All you need to do is give her a little notice (perhaps when you reserve your room) and your likes/dislikes and she takes it from there.
We'd decided on a start time of 6 PM. There were four of us, a bottle of wine (two non-drinkers), a handout of recipes and a lot of good smells. Dawn started the class saying "I take short-cuts where ever I can." Then she proceeded to throw together one amazing dish after another. I'm so glad we showed up hungry as the portion sizes are big!!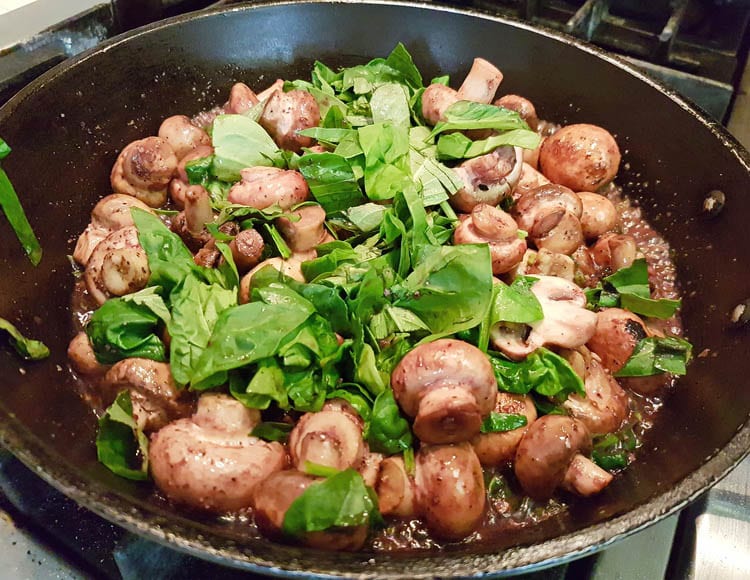 A new way of looking at old favourites
Nothing Dawn made was difficult – but what she showed us was a new way of looking at some old favourites. We started with roasted cherry tomatoes and bocconcini. I could have gorged on that and fresh bread all night but that was just the beginning.
She threw together some olives with garlic and fresh thyme, whipped them into the oven and then listened to four of us moan in pleasure.
Goat cheese stuffed Medjool dates with bacon and a balsamic glaze was another sigh inducing dish. Granted this one took all of 10 minutes of fiddling to make – but what a payback. Request this dish if you take a class!
From there we were treated to drunken mushrooms with red wine, baked garlic shrimp with cheese and finally Cajun steak bites made with sirloin steak and diced bell peppers. We waddled to the nearby couches after we'd eaten – to lie down!
For a weekend or mid-week getaway Country Encounters delivers in spades. Even though my stay was hosted by Travel Alberta, I wholeheartedly recommend both an overnight stay and a cooking class.
To book Country Encounters in Coleman click here. Note that the inn fills up quickly.
Country Encounters location map
Further reading on things to do in southern Alberta
Click on the photo to bookmark to your Pinterest boards.