We cycled to the Dead Sea in Jordan the other day. Now doesn't that sound casually epic, especially for people that live in Calgary, Alberta, nine times zones away from Jordan?
We stopped in at Mount Nebo for a great overview of the rift valley and our salty destination – the Dead Sea in Jordan. And then enjoyed a thrilling 1,400 metre (4,600 feet) descent on bikes to the lowest elevation on the earth's surface. Not something we do every day!
This post includes some affiliate links. If you make a qualifying purchase through one of these links, I will receive a small percentage of the sale at no extra cost to you. Thank you very much for your support.
The Dead Sea in Jordan is actually a lake
The land adjacent to the Dead Sea is about 427 m (1,401 feet) BELOW sea level which is a little bit freaky. But first let's set the record straight; the Dead Sea is not a sea but a lake.
We ought to rename it the Dead Lake but extensive polling to date shows very little public support for this name change. Dead Lake admittedly isn't catchy but neither quite frankly is Dead Sea. However, in the interest of SEO (Search Engine Optimization) and a gazillion years of precedent, we had better stick to Dead Sea in Jordan but just remember, even though it is roughly 15 km by 50 km long, it's still a lake.
Location of the Dead Sea
Located on the border of Jordan to the east and Israel and the West Bank on the west, this location oozes history and poignancy. Just a little for instance; the Dead Sea scrolls were found in a cave near Qumran not far from where we dipped our toes into this saline wonder. And that aforementioned Mount Nebo is apparently where Moses died.
Interesting facts about the Dead Sea
The Dead Sea receives water via the River Jordan from the north. Its location at the bottom of all the surrounding hills ensures that the water can't go anywhere EXCEPT by evaporation.
It is this very process that leaves behind the salt. Over time, the salt levels build up and so if you hadn't known or guessed, the Dead Sea is salty, like super salty. So salty, nothing lives in it except a bunch of short term tourists and reportedly some hardy bacteria.
Salinity levels
The world's oceans have about 3.5 % salinity whereas the Dead Sea in Jordan is over 33% saline. So that means it is denser than ocean water which is denser that fresh water. How dense?
Pure water has a density of 1 gram per cubic centimetre and Dead Sea water is about 1.24 grams per cubic centimetre – 24% higher! Check out my darling below and notice how high she is in the water. For once in my life I didn't sink!
Dead Sea geology
The Dead Sea is located where the earth began pulling apart and more or less, the bottom dropped out. This is part of the Great Rift Valley in Africa and Red Sea rift system. Apparently, there are a couple of thousand metres of sediment under the Dead Sea so this is a deep system.
When the earth pulls apart molten material from the deeps takes advantage of the faults and crack and invades, something this area has endured plenty of – both in geologic and human forms. Near Aqaba to the south, which is also on the rift system, one can see numerous bodies of dark rock that have invaded the host rocks.
Another cool geologic phenomenon, which unfortunately we didn't see, is a geologic unit called the Lisan Formation. It is a unit deposited fairly recently when the Dead Sea was much larger. It consists of seasonal accumulation of a bit of sediment and gritty material from winter rain flushes and which is then overlain by a thin layer of aragonite, a mineral that drops out during the summer evaporation.
Year after year, the pattern is maintained, building up these rhythmic beds until disrupted by an earthquake that jumbled the most recent top layers in the sequence.
On top of those disrupted beds, the rhythm was restored and so it went. With careful counting and dating one can get a reasonable estimate of when earthquakes happened and some of them tie quite nicely into early recorded history in the area.
What it's really like to visit the Dead Sea in Jordan
We visited the Dead Sea in Jordan in March and the temperature was a very comfy 20 something °C . In the summer, the Dead Sea is stinking hot and by the way it does stink a little bit. That is why after soaking in the water you will want to take advantage of a fresh water shower to remove the almost syrupy salt left on you.
Before showering though, people do frolic about, take pictures lying on their back, reading newspapers or books. Others coat themselves in the "medicinal" muds of the Dead Sea. We took a pass as the area we visited had precious little mud and we weren't feeling it was very pristine mud. Mud snobs? Perhaps!
Reportedly the lake level is lowering as input water is being diverted and evaporation carries on. However, don't worry about rushing there as the lake is over 300 m (1000 feet) deep and when you get there you will be even lower than we were. But we should warn you that the Dead Sea in this part of Jordan is not pretty.
The receding shoreline and the caustic nature of the salt has rendered the shore line bleak. If you haven't been, its an extraordinary experience and a dramatic location.
If you plan on staying in the immediate area there is a spectrum of hotels including luxurious ones and they have cultivated very hospitable surroundings. Just so you know, there is virtually no free public access to the Dead Lake but we visited a well-appointed facility that has fresh towels (for 3 JD each), change rooms, fresh water showers and pools and decks to lounge about. Cost was about 20 JD per person.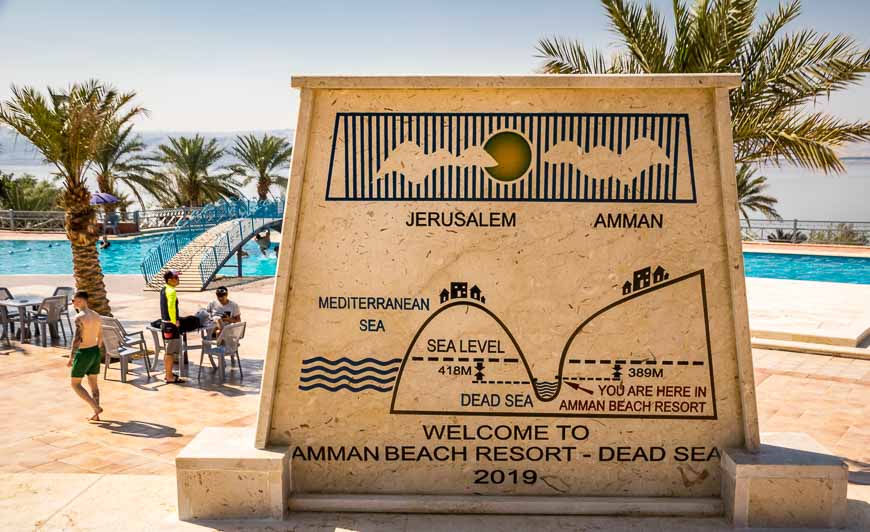 Where to stay on the Dead Sea in Jordan
There are lots of places to stay on or close to the Dead Sea. The following are all well rated very good or better.
The Kempsinski Hotel Ishtar Dead Sea offers swimming pools with shade, a private stretch of beach along the Dead Sea and a menu of spa treatments using mud and salt from the Dead Sea.
The Dead Sea Marriott Resort and Spa on the shores of the Dead Sea features both saltwater and freshwater pools. They have lots of spa treatments on offer too.
Almira Beach Dead Sea features an outdoor infinity swimming pool and a private beach area.
Final thoughts
We enjoyed the Dead Sea in Jordan on a cycle/bus tour of Jordan in March run by Exodus Travels. The feeling of being at the lowest point on the earth's surface, seeing the West Bank across the way, the grand sense of history, the fascinating geology gave us a great sense of wonder. That is why, we can truly say, the Dead Sea in Jordan was wonderful.
Further reading on what to do in Jordan
Click on the photo to bookmark to your Pinterest board.
This guest post was kindly written by – you guessed it – my geologist husband, John McAdam.