We are lucky in Alberta to have such a wide range of hiking opportunities available to us in Kananaskis Country. While the area that makes up Kananaskis Country is huge – covering a swath of land from the Sheep River Valley to parts of the Ghost Valley Wilderness, the Highwood Pass area, Bragg Creek and Highway 40 – Smith-Dorrien Road. The focus of this post is on easy Kananaskis hikes in Peter Lougheed, Bow Valley, Bow Valley Wildland, Spray Valley and Elbow Sheep Wildland Provincial Parks. It also includes some hikes along Highway 66 near Bragg Creek.
I am often asked for ideas for easy hikes in the mountains. Not everyone wants an all-day outing and lots of people are just looking for a change of pace and scenery. These ideas for easy Kananaskis hikes are almost entirely drawn from personal experience. They are generally listed from easiest to hardest – to make it easier to choose.
Before you head out on any of these easy Kananaskis hikes, be sure to check the trail report for closures. All it takes is a bear moving into the area, and a trail can be closed for the short term. Also you should know that beginning June1, 2021 you will need a Kananaskis Conservation Pass – as they're calling it. Be prepared to cough up $90 for a yearly pass, apparently tied to up to two license plates, or $15 per daily visit.
Approximate trailhead locations for the easy Kananaskis hikes

This post includes some affiliate links. If you make a qualifying purchase through one of these links, I will receive a small percentage of the sale at no extra cost to you. Thank you for your support.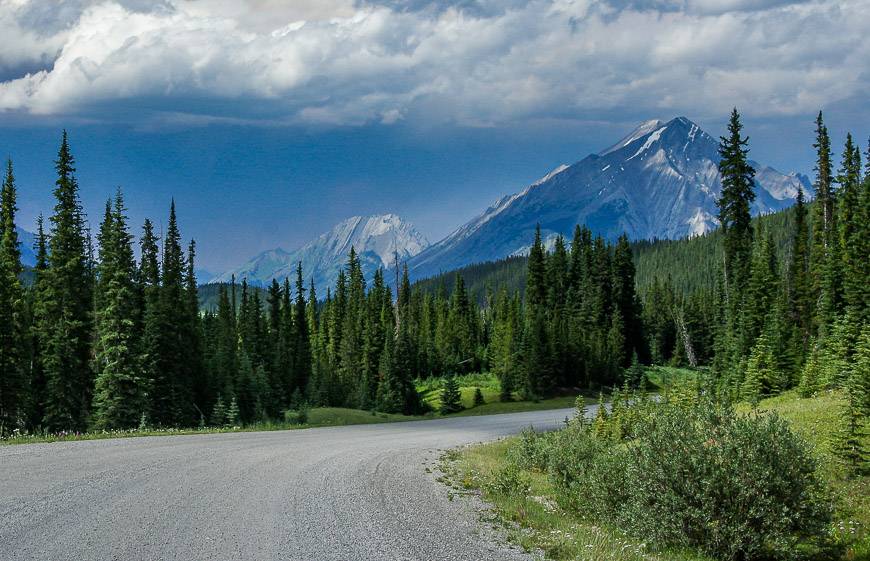 Easy Kananaskis hikes – Mount Lorette Ponds
Located in Bow Valley Provincial Park near Kananaskis Village, the Mount Lorette Ponds are an ideal destination for the younger crowd. All told, expect about a kilometre of flat, wheelchair accessible walking trail – but with that there are opportunities to bird, fish and enjoy a picnic at one of the many picnic tables. It's a great place for everyone to get a dose of nature, no matter what the season.
The ponds are located 18.2 km south of the Trans-Canada Highway on Highway 40.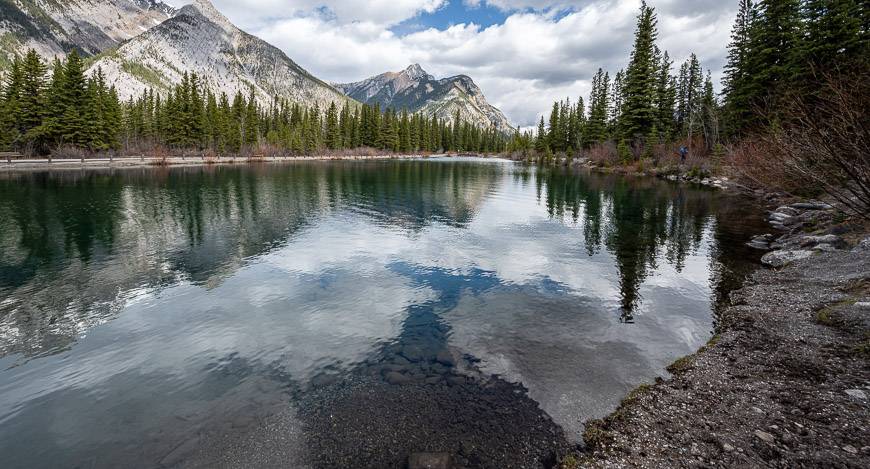 Forgetmenot Pond hike
Another beautiful but easy choice is the 1 km loop hike around emerald-green Forgetmenot Pond. There's a paved trail so its chariot and stroller friendly. There are picnic tables and fire pits so families can make it into a half day outing.
The pond is located off Highway 66, 28 km west of intersection of Highway 22 and Highway 66. This area is closed to cars annually from December 1 until May 14.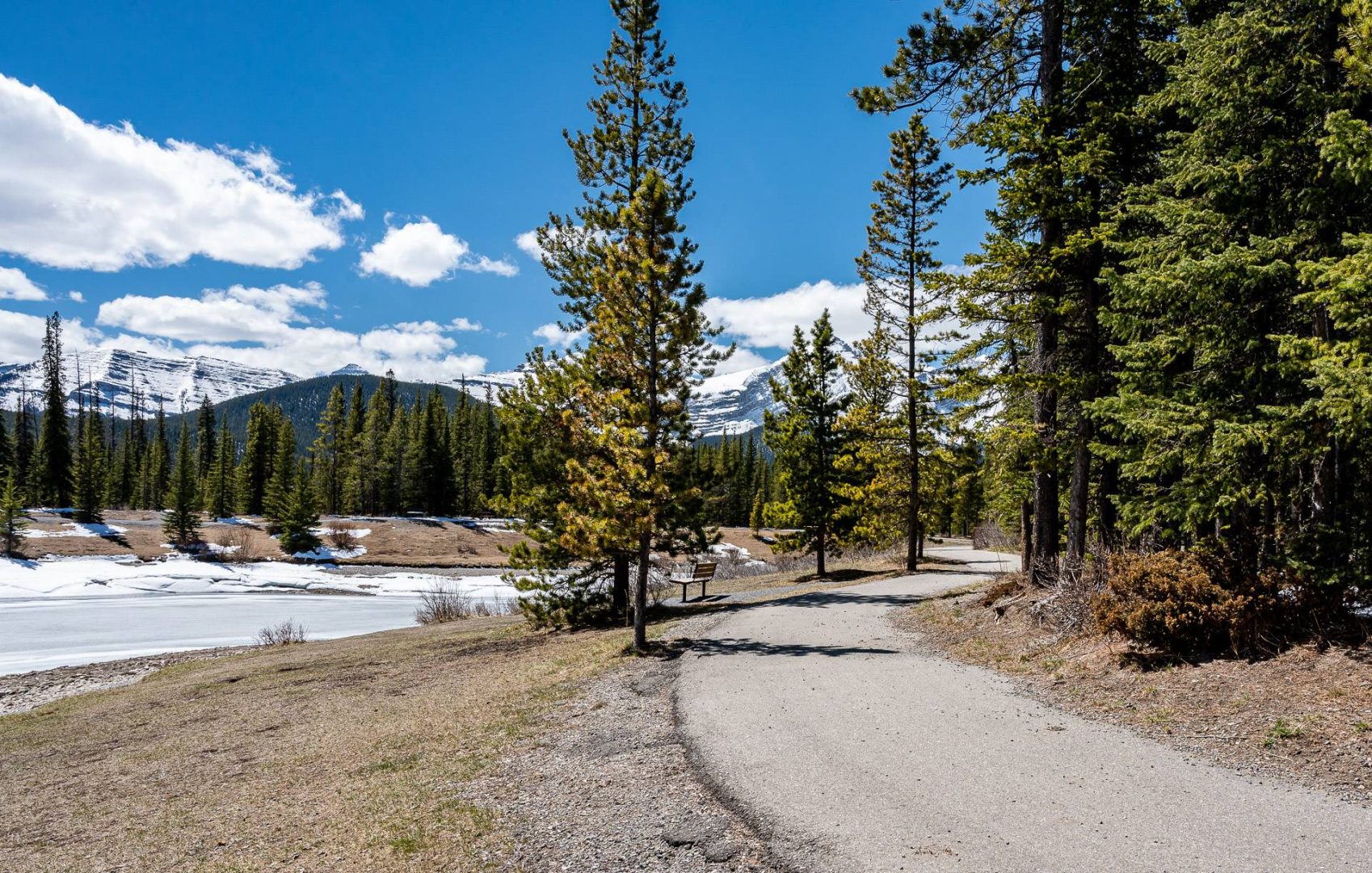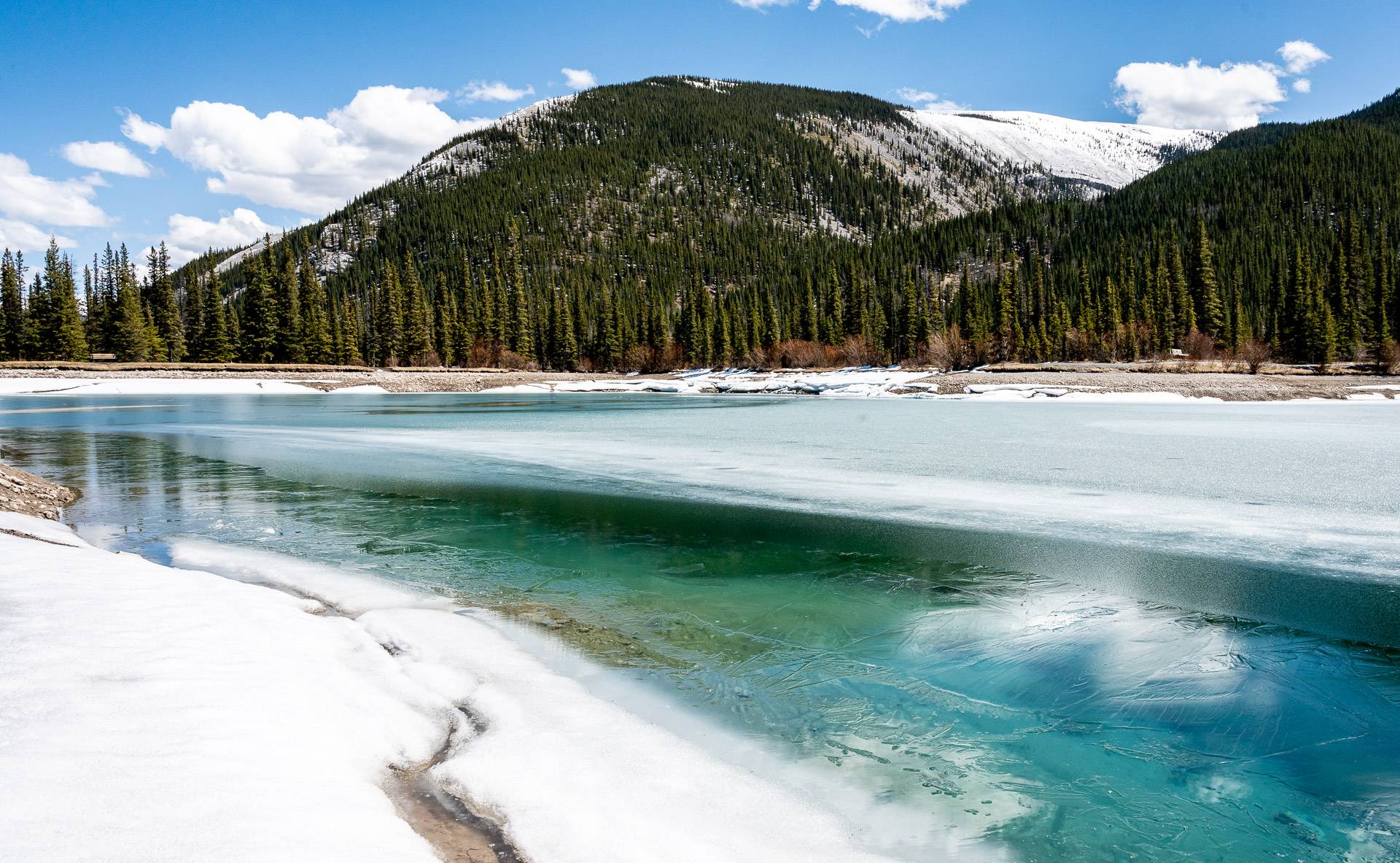 Wedge Pond hike
There is a pleasant, scenic easy 1 km walk around Wedge Pond – provided it hasn't snowed like it did for me in early October.
The pond, located 30 km south of the Trans-Canada on Highway 40, is well signed.
Many Springs hike in Bow Valley Provincial Park
Bow Valley Provincial Park is home to many easy hiking trails. One of the best is the flat, pretty 1.6 km Many Springs Trail. It does a loop on a mix of dirt trail and boardwalk that travels through a spring-fed wetland. The temperature stays constant here year-round so reportedly elk and deer are drawn to the minerals in the spring. On a June hike in the evening, the views are particularly lovely from the trail, especially of Mt. Yamnuska. It's also a good one for wildflowers.
To access the park – and pick up a trail map – follow the signs from the Trans-Canada Highway at the intersection with Highway 1X.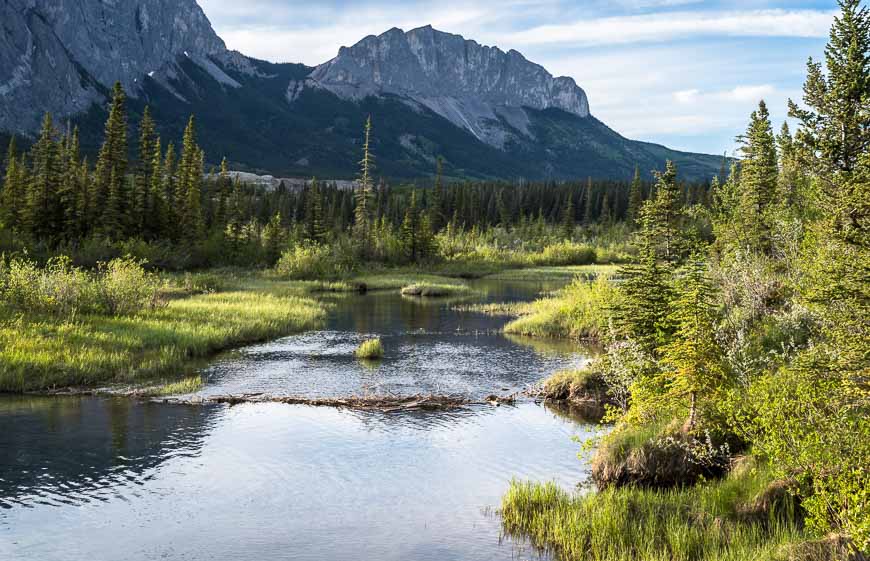 Troll Falls hike – one of the easiest Kananaskis hikes
The Troll Falls hike is a perennial favourite. It's only 3.4 km return with a 60 m elevation gain, so it works well for families and people new to hiking. You can knock it off in as little as an hour but even at a more leisurely pace, it will take 90 minutes to two hours max.
There is the option to extend the hike either by hiking to the upper falls which I highly recommend or adding on a part of the Hay Meadow Trail. You can pick it up from the parking lot or return on it. Not only is it pretty, but you get a chance to walk along the Kananaskis River – and at certain times of the year, you can see raptors on their annual migration.
To reach the trailhead, take Highway 40 South to the Kananaskis Village turnoff. It is also called Mt. Allan Drive. Follow the road past the first junction and then turn right into the Stoney Trail parking lot. It can get extremely busy on a sunny weekend and parking can be an issue.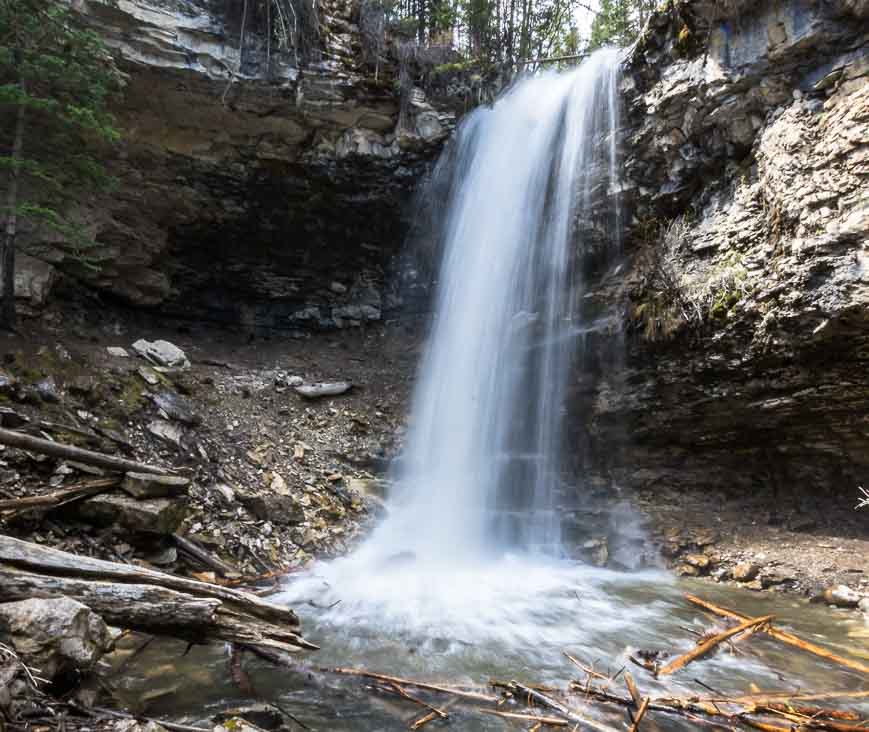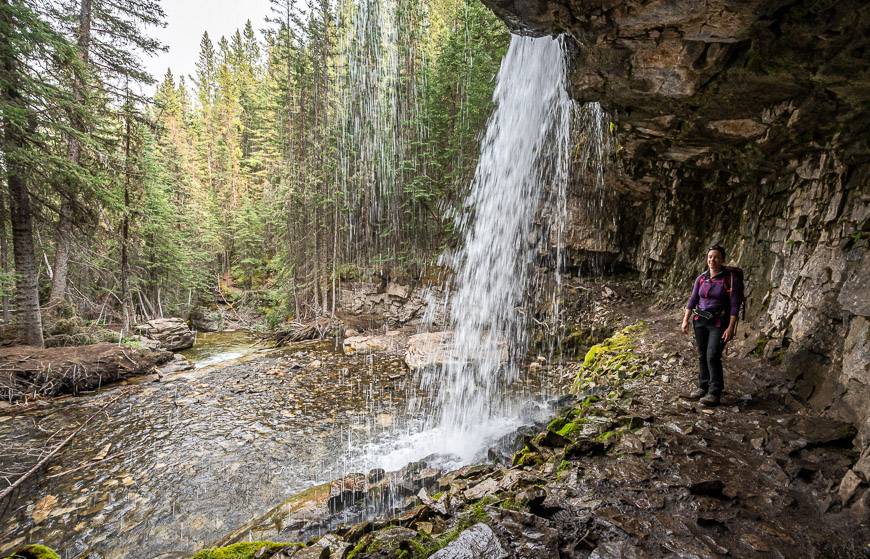 Easy Kananaskis hikes – Elbow Lake
For an easy hike – and possibly even a beginner backpacking trip – head for Elbow Lake. (In 2022 the campsite is closed because of an upgrade.) It's just 1.3 km one way and although its steep in places, there are benches for those of you who need to rest. In total there is 137 m elevation gain. The lake itself is a beauty. A few of the campsites overlook the water. The easy walk around the lake is also very worthwhile.
Once you are at Elbow Lake, you can hike to Rae Glacier, Piper Pass, Rae Lake, and the Tombstone Lakes – so there's plenty of choice for people looking for an all-day outing.
From the Trans-Canada Highway turn south on Highway 40 and follow it for about 62 km. The well-signed trailhead is on the east side of the highway. Note that the access to Elbow Lake is closed from December 1st until June 14th.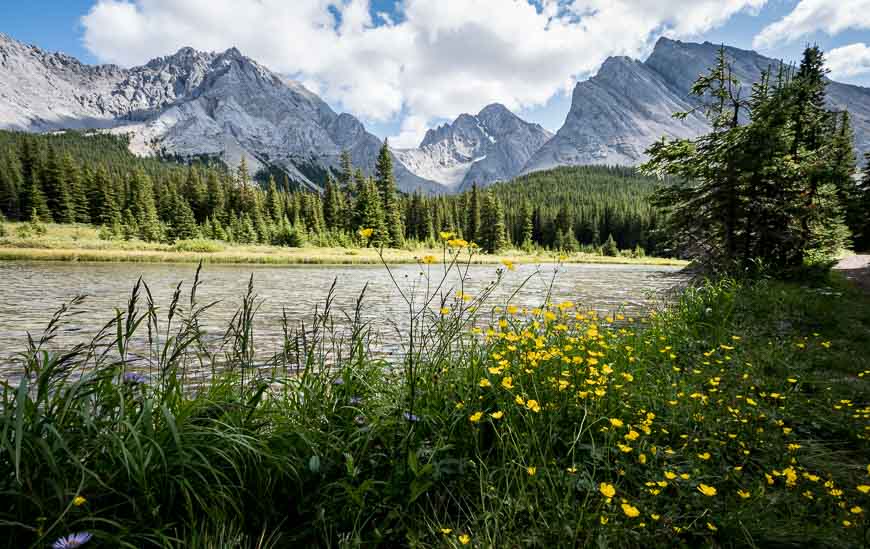 Warspite Lake – Black Prince Cirque hike
It's an easy 4.2 km loop hike to scenic Warspite Lake, pictured below with just 90 m of elevation gain. Try to go before mid-summer when the lake starts drying up. There is the option to continue via a very steep hike through waist-high wildflowers in summer, up past the Warspite Cascades to a beautiful hanging valley.
From the Trans-Canada Highway, go south on Highway 40 and follow it for 50 km. Turn right onto Kananaskis Lakes Trail, and right again 2.2 km later onto the dirt Smith Dorrien Trail. Drive for 8.2 km to reach the Mount Black Prince Cirque Day Use Area on your left. It is signed.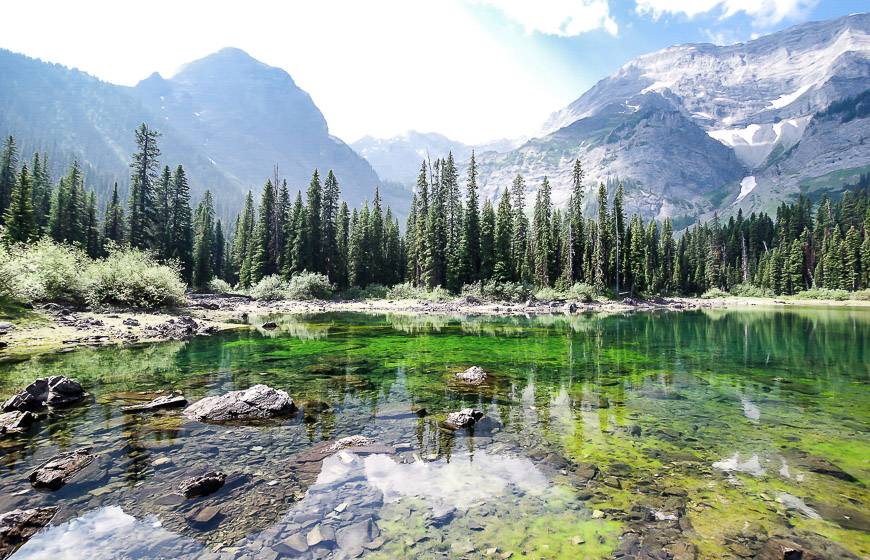 Interlakes Trail hike
The Interlakes Trail is a 4.3 km section of the full Upper Kananaskis Lakes loop hike. It can be done from one of two parking lots, either with a car shuttle or as an 8.6 km out and back hike. The hiking is mostly easy as it follows along the lake's shoreline. There are lots of opportunities to walk beside the lake – and to admire the stumps of many a tree.
Park and start at either North Interlakes Day Use Area or Upper Kananaskis Lake Day Use Area. To get here take Highway 40 south for 50 km to the Kananaskis Lakes turnoff. Follow that road to the intersection with Highway 742. Stay left and basically drive to the end of the road to reach the North Interlakes Day Use Area. The Upper Kananaskis Lake Day Use Area is a short distance before it.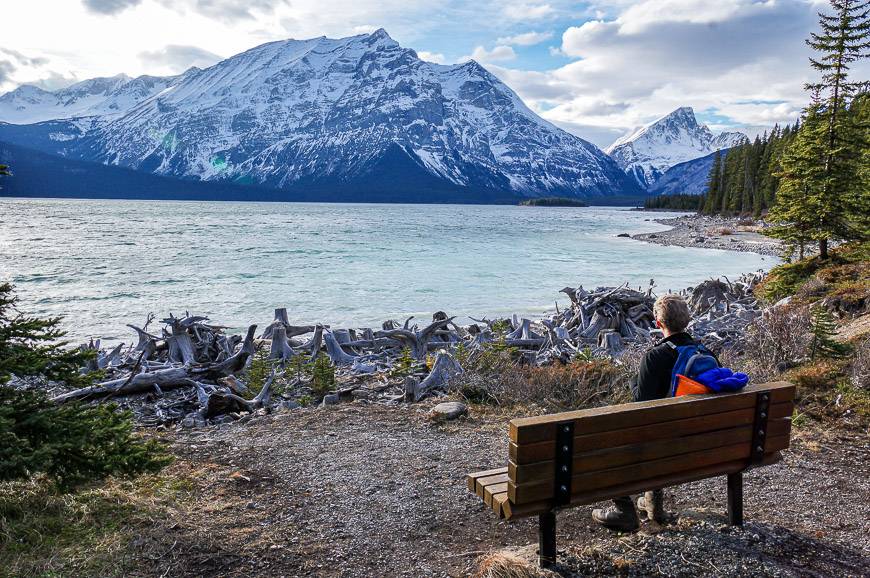 Grassi Lakes hike
Note this hike is closed until 2023 as the parking lot is being rebuilt.
Grassi Lakes is another perennial favourite as it's close to Canmore and only 4 km return with an elevation gain of just 300 m. The problem is that on the weekend, it's hard to even get a parking spot.
Two trails take you to Grassi Lakes, one marked easy and the other difficult. The difficult one offers more variety, but the best scenario is to do them as a loop. My recommendation is to take the difficult one up and the easy one down.
The lakes are also an enjoyable spot to watch the rock climbers or to enjoy a picnic.
The parking lot is just 2.8 km up the Smith Dorrien/Spray Lakes Trail from the Canmore Nordic Centre.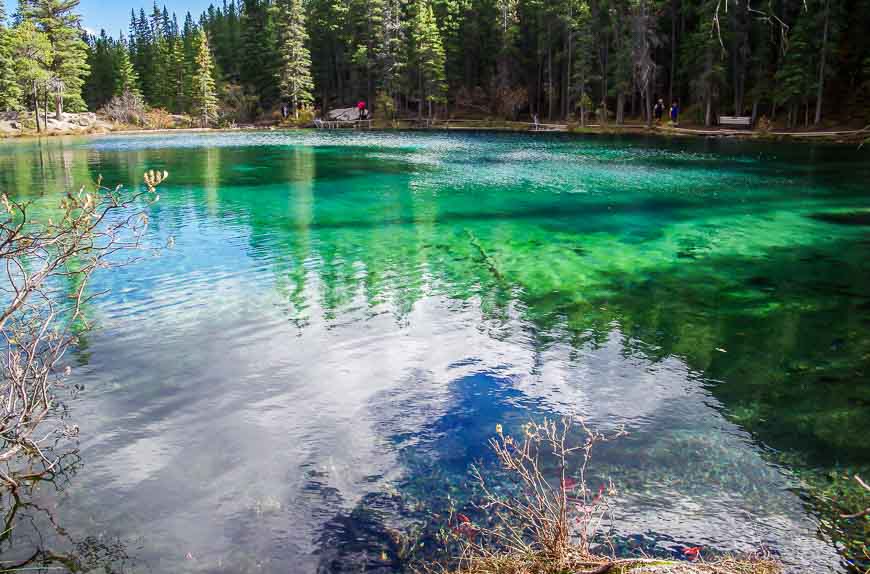 Ptarmigan Cirque hike
Drive to the top of Highwood Pass, approximately 67 km from the turnoff from the Trans-Canada Highway, to get to the trailhead for Ptarmigan Cirque. You're in for a treat on this 4.5 km loop hike that gains just 210 m, with most of the gain in the first kilometre. Take your time, breathe and admire the wildflowers. The grade moderates nicely after the first kilometre.
There's a great variety of scenery on this hike from high alpine meadows to mountains, waterfalls and coniferous forests. Not only is it a good family hike (though not for those under 4), it's a great one for flatlanders who want to experience the mountains on a half day outing.
Parking is in the Highwoods Meadows Day Use Area on the west side of Hwy 40. (There are washrooms here.) There is signage pointing you to the Highwood Meadows Interpretive Trail boardwalk along with Ptarmigan Cirque. The hike follows a trail on the other side of the highway.
The hike is accessible from June 15th – December 1st.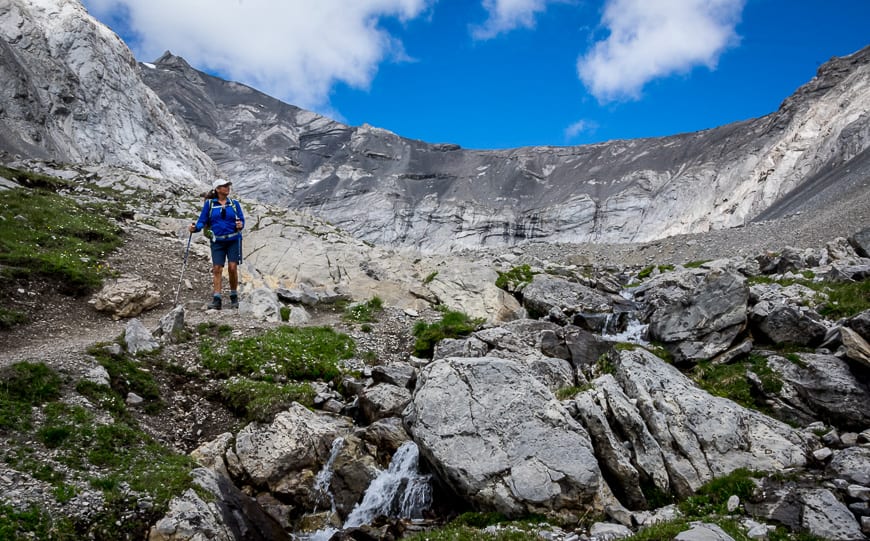 Arethusa Cirque hike
The 4.6 km return Arethusa Cirque hike offers impressive mountain scenery, especially during larch season. You have to climb a total of 250 m – but you'll be enjoying the scenery so much, I doubt you'll notice. The hike is a complete delight, almost from the very start to finish for kids 6 and older. This is another hike you can't access until Highway 40 opens on June 15th.
The parking lot is located about 1.3 km south of the Highwood Pass parking lot on the left though don't expect road signage. Turn onto an old road and find a parking space. There is one sign at the far end of the parking lot that says Arethusa Cirque, but nothing else. Fortunately, the trail is easy to follow. Stay on the south side when the trail forks and follow it up a valley. Once you get close to treeline, use your instincts, and pick a line through the rocks. The views from the top are sublime. Retrace your steps.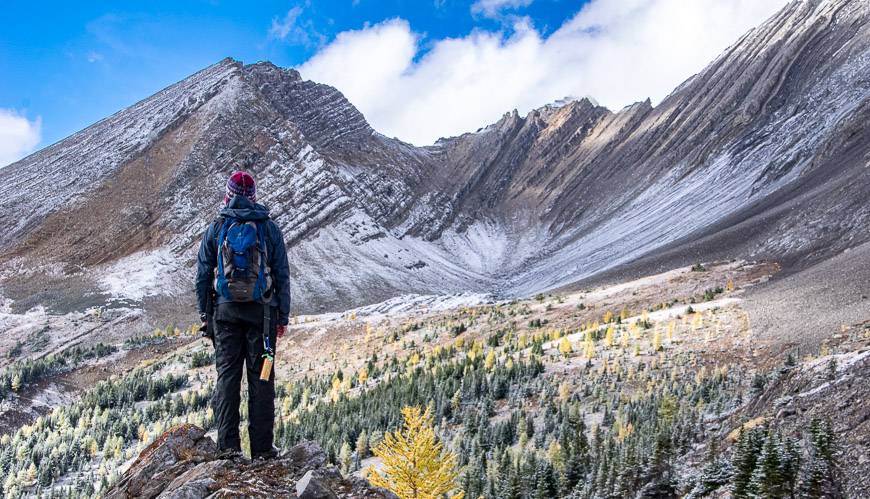 Rawson Lake hike
Rawson Lake is an excellent year-round choice. I have never been in summer, but I have enjoyed it on snowshoes in winter. In summer, the trail seems to get closed a lot due to bear activity. But when it is open, it's popular, so expect a lot of company.
The trail starts at the Upper Kananaskis Day Use Area. (See directions for the Interlakes Trail.) Head clockwise on the trail around the lake to reach the turnoff, 1.2 km away. Then follow the sign and head up steeply via switchbacks through the woods, climbing 300 m. The grade moderates about a kilometre before you reach the lake.
You can knock this 7.8 km round-trip hike off in a half a day, perhaps a touch longer with kids. Even though its got some elevation gain, you can take it slowly and enjoy it at your own pace. It's a trail that a lot of people new to hiking enjoy for the lake and mountain views at the end.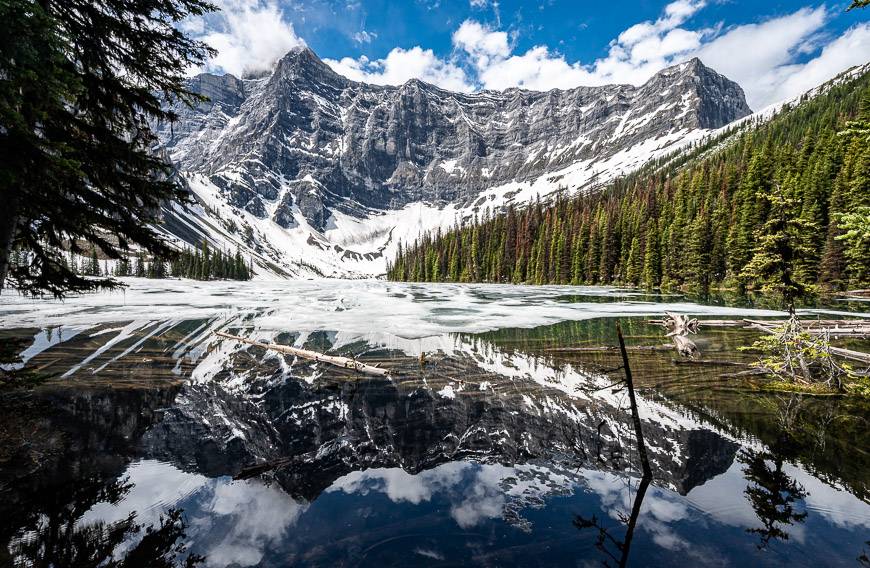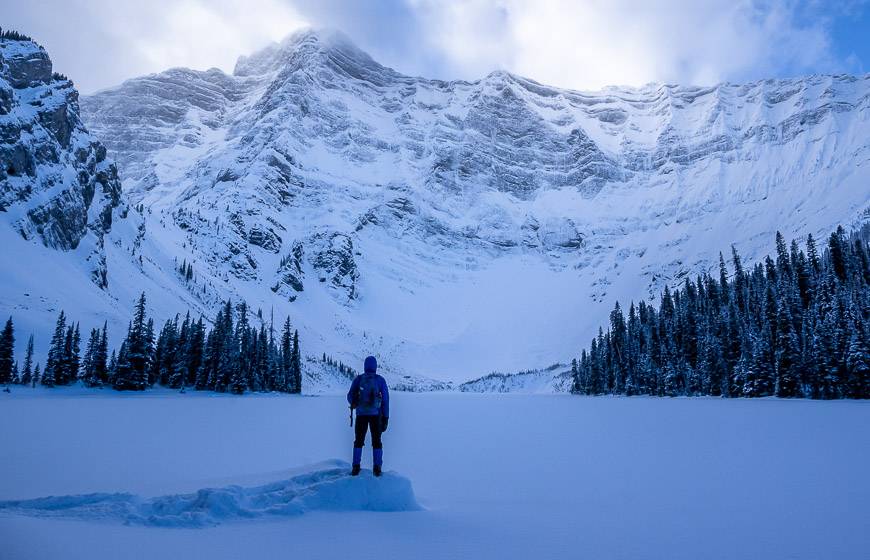 Fullerton Loop hike
The Fullerton Loop hike off Highway 66 is a combination of a beautiful ridge walk and hilly valley trails with many options to extend the hike – with Sugar Mama as an example. The loop is just 4.0 km but in total with access trails you need to hike approximately 6.8 km. The elevation gain is a very reasonable 213 m. I particularly like it at the end of the day as you descend the ridge so try and do it counter clockwise. The ridge is a great spot for a picnic – and there are many benches to rest any weary feet.
I think this is one of the easy Kananaskis hikes that's best done in the off-season (November to April) when you don't have as many good hiking choices.
Drive to the Allen Bill trailhead on Highway 66, 13.4 km past the four-way intersection in Bragg Creek. Start on the Elbow Trail by the washrooms to reach the turnoff to the Fullerton Loop.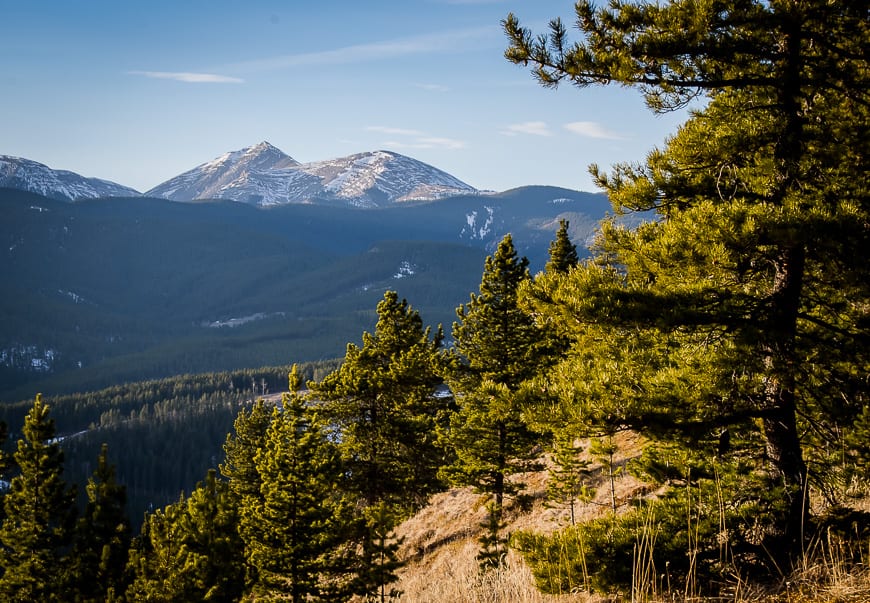 Rummel Lake hike
The Rummel Lake hike is getting into the realm of a longer day hike and as such is best suited for older kids. For a mountain hike, it's an easy choice as it's 10.0 km round-trip with just 315 m of elevation gain. On the way to the lake enjoy gorgeous views of the Spray Lakes Reservoir from the intersection with the High Rockies Trail.
While much of the hike is in the trees, the lake itself is a prize and the ideal spot for a picnic. Allow 90 minutes to two hours to get there. Retrace your steps to return.
The trailhead for the hike is on the Smith Dorrien – Spray Lakes Road, just steps from Mt Engadine Lodge and directly across from the turnoff to the Mt Shark Road.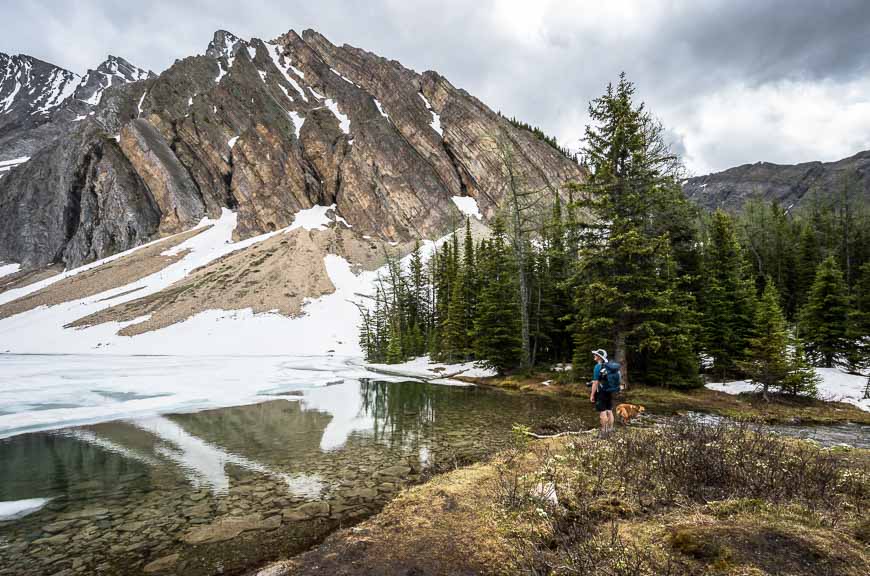 West Wind Pass hike
This is the hardest hike in the blog, but if you're a regular hiker you shouldn't have any problems. The hike up to West Wind Pass is 6 km return with an elevation gain of 375 m. This one is a workout and kids should be 8 and older. The steep hike rewards with superb views of Spray Lake. There is the option to continue and go to Wind Tower – but that's not in the beginner category.
To start hiking, follow the signed trail to West Wind Valley. After 150 m turn right onto another relentlessly steep trail. Ignore any minor trails going left. When you reach the pass, there is plenty to explore or look for a place out of the wind and enjoy a lunch break. Return the same way. Some adults might appreciate hiking poles on the steeper sections.
To reach the trailhead, drive up past the Canmore Nordic Centre to the Goat Creek Trailhead. Continue south from there for another 13.2 km and park on the side of the road. Expect to return to a dusty car. There is an obvious trail that starts northwest of Spurling Creek. It's usually busy.
Where to eat in Kananaskis
After a few hours of hiking most of us have worked up an appetite. There are excellent choices for refueling in Canmore and Bragg Creek but there are fewer along Highway 40. Some places aren't open right now because of COVID.
In Bragg Creek check out Frontier Candy and Ice Cream on Balsam Avenue or Cinnamon Spoon for coffees, sandwiches, and baked goods at the awkward four-way stop in town.
If you're on the Smith Dorrien Road – perhaps hiking Black Prince or Rummel Lake, there is an excellent option of an afternoon tea at Mount Engadine Lodge. It's usually a good idea to reserve ahead.
If you're in the Upper Kananaskis Lakes area, stop in for ice cream and snacks at the Trading Post at Boulton Creek. You'll see signs on the road. If you're driving on Highway 40 near Fortress Mountain, there is a gas station that sells cold drinks and snacks. In Kananaskis Village there is Woody's Pub & Patio and Two Trees Bistro. In the hotel, there is a takeaway spot where you can get drinks, coffee, muffins etc. There is also the seasonal Summit Restaurant (with a view) at the golf course along Highway 40 though I don't know if you need to be a golfer to eat here.
Where to stay in Kananaskis Country
Campers might like the Spray Lakes West Campground, near the Wind Pass trailhead. In Peter Lougheed Provincial Park there are numerous campsites – Interlakes (first come, first served), Boulton Creek (reservable), Lower Lake (reservable), Canyon (first come, first served), Elkwood (reservable) and Mt Sarrail for walk-in tenting.
Read: A Complete Guide to Camping in Kananaskis
For hotels outside of Bragg Creek and Canmore, I'd recommend either Mount Engadine Lodge (and their fabulous glamping tents), Kananaskis Mountain Lodge or the Kananaskis Wilderness Hostel.
Another excellent option kids would likely love are the tipis and trapper's tents found at Sundance Lodges near the entrance to Kananaskis Village.
Some useful items on any of these easy Kananaskis hikes
Don't forget the 10 hiking essentials, even on short hikes.
Be bear aware and use your voice. Carry bear spray that is no more than 2- 3 years old in an easy to access holster. And know how to use it.
If you're a map person, I'd recommend both a copy of the waterproof Gem Trek Kananaskis Lakes and Gem Trek Canmore and Kananaskis Village.
A seat cushion is always a treat to sit on at lunch time. And for those of you wanting to learn a little more about wildflowers I recommend the easy to carry Central Rockies Wildflowers pocket guide.
More ideas for hikes in Alberta and BC
Click on the photo to bookmark to your Pinterest boards.