Three days of downhill skiing in Fernie, BC is about all my legs could take. The reason – epic powder on one of those days. Fabulous Fernie is what I'm calling it now. I think it's one of the best ski resorts in all of Canada.
The Fernie area can see up to 37 feet of snow in a season so it's one of Canada's true winter playgrounds. Interestingly the ski resort strikes a chord with the Brits who love the place. And it's very popular as a weekend place for Calgarians. Visit and you'll not only discover great skiing but the charm of one of Canada's premier mountain towns. And hence my reason for calling it fabulous Fernie.
Where is Fernie Alpine Resort?
Fernie Alpine Resort is located five kilometres from the town of Fernie in the Lizard Range of the Canadian Rockies. The town sits in southern British Columbia in the Elk Valley of the East Kootenay Region.
It's not the easiest place to get to. From Calgary it's a 3.5 hour drive – despite what many people will tell you – and the only Canadian airport that's closer is in Cranbrook. Kalispell, Montana is also a possibility as its just a two hour drive away.
Fernie is not a day trip from many places but it makes a great weekend trip from Calgary – though if you stay at a lodge on the hill there are three night minimums. In town that may not be the case.
Fernie is nothing like Whistler
Fernie is a skier's resort. It's not a fancy place full of beautiful people. The on hill lodges are pretty basic. This is definitely not Whistler as far as amenities and restaurants are concerned.
But people that come here aren't looking for another Whistler. What Fernie does offer is a well laid out mountain, a vertical drop of 3,550 vertical feet and lots of interesting terrain for skiers of all abilities. And a reputation for epic snow dumps.
Three days of skiing at Fernie
On the first day there was great snow up high but rain at the bottom. Most of the time we felt like we were skiing blind with goggles so covered with snow and water droplets we had to squint. (Side note: We both decided that ski goggles with a more convex lens shed the snow/rain a lot better than those with a flatter lens.)
Throw some fog into the mix and one basically had to hope for the best. Despite the poor conditions for seeing anything, the snow was still excellent and we had some great runs. But by the end of the day I could wring out my mitts and everything needed to go into a dryer.
A powder day at Fernie
On our second day we were greeted with 19 cm of fresh snow – not epic but not half bad either. The visibility improved over the previous day with the odd peek a boo view to the mountain valley below. Despite the fact it was a Saturday we never waited in a lift line for more than seven minutes – and most of the time it was a short one to two minute wait.
After lunch we both said – where is everybody?? And even late in the afternoon we were skiing slopes with fresh powder – in particular the Currie Bowl. It boasted the best snow of the day with just the right texture to it. And we quite literally had the entire hill to ourselves.
Read: Top Things to do in Fernie, BC in Winter
29 AWESOME cm of fresh, powdery snow
In fact after our first run an older gentleman said to me – that's one big smile you have. How could I not. It's a rare event for me to ski snow like this.
We spent the morning looking for the un-tracked stuff and at times it was mid-calf deep. I can only imagine what skiing would be like if you had a pair of powder skis on. My skies are old – so old people feel the need to comment. But I got down the mountain – even gracefully at times.
Heaven on earth
The one downside to so much snow is that several bowls were roped off because of the avalanche danger. But with a little looking we found runs throughout the day with only a few people on them and by mid-afternoon everyone seemed to have disappeared again.
The downside to fabulous Fernie – it can rain in winter
My friend who has repeatedly returned to Fernie over about a dozen years states that as much as she loves the place, that on average it's been raining on about one in three visits.
So if you can look at the weather forecast and then go at the last minute Fernie will probably more than meet your expectations. (Accommodation on the mountain could be a problem with this scenario.)
You need all the ski tools in your ski chest in Fernie
I spoke with lots of locals on the ride up the chairlift over three days and they all love Fernie. In fact one fellow told me that Fernie is a ski resort where you need to have all the ski tools in your ski chest – because the mountain can deliver every type of skiing possible over the course of a single day if you know where to look.
Where to stay in Fernie if you want ski in – ski out accommodation
This post includes some affiliate links. If you make a qualifying purchase through one of these links, I may receive a small percentage of the sale at no extra cost to you. Thank you for your support.
We stayed at the Griz Inn. It's nothing fancy on any level but it does offer ski in – ski out accommodation and you can conveniently go in for lunch.
Lizard Creek Lodge is a little nicer than the Griz Inn and it does have a giant fireplace in the dining room area.
If you want to experience a tiny home in town check out the super cute accommodations offered by Snow Valley Lodging.
There are also ski in – ski out chalets for rent through Fernie Lodging Company.
A solid choice in town is the Best Western.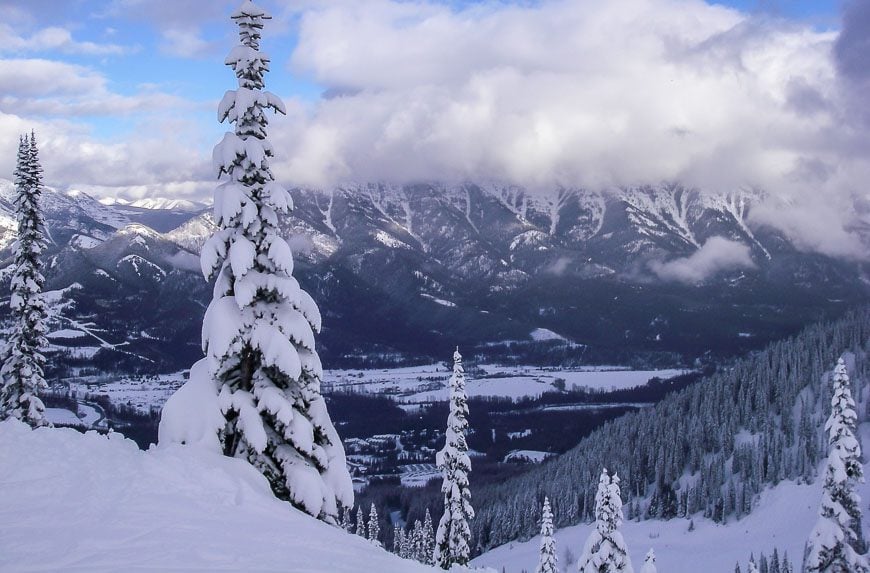 Further reading on things to do in British Columbia in winter
Click on the photo to bookmark to your Pinterest boards.