Four Outstanding Restaurants in Winnipeg
Until my most recent visit to Winnipeg, I hadn't thought of the city as having much in the way of a food scene. Once again my preconceptions were dashed. I should have known better. Winnipeg's restaurant scene is creative, eclectic and delicious. There's a big focus on regional foods. You'll find wild rice, pickerel, Arctic char and bison on menus.
What a treat it was to experience these four outstanding Winnipeg restaurants. They offered everything from a casual to an upscale dining experience.
Fusion Grill – one of Winnipeg's outstanding restaurants
I walked into Fusion Grill and fell in love – and I hadn't even eaten. The art work – big, bold canvases of land and sky by artist Kirsten Britt Hanson spoke to me. I felt like I was in a gallery and would very happily have any of these pieces in my home.
And then we got to the food. I was part of a group so a four course tasting menu had been prepared.
We started with a delicious Arctic char tartare on crostini, followed by chicken fried cauliflower with a spicy sweet and sour rhubarb dip; then a Braman tomato salad with tempura avocado, honey and a basil vinaigrette. We finished with the piece of pike shown below.
From start to finish this was an outstanding meal. Everyone had their favourites – and I'd say mine was the cauliflower.
I found the menu interesting with a big focus on organic and regional cuisine. Meals are on the pricier side but from my experience they delivered big time on both presentation and taste.
Miss Browns
A great spot for breakfast and lunch in Winnipeg's Exchange District, you'll find Miss Brown's to have a warm and cheerful atmosphere and comforting food to go along with that – items like brisket hash, French toast, and mushrooms on toast.
As a nod to Miss Brown's (named after the daughter of the owners) Australian father, you'll find long black and flat white coffees – known to North American's as Americanos and Lattes.
Merchant Kitchen
Guests of the Alt Hotel are lucky. Immediately adjacent to the hotel is the Merchant Kitchen – a happening spot with loads of energy (read high noise levels) and delicious Korean themed food.
With a big group we were once again able to sample lots of dishes. Don't miss the heavenly grilled corn with mayo, sour cream, cotija cheese, chile powder, lime and cilantro.
The 3 pound Korean fried chicken – a great choice with a big group – comes pre-cut into 10 pieces that have been brined & fried and then covered with a garlic chile sauce – soy syrup combo. It's a mouthful of bliss. I also loved the dry fried green beans with chile, mustard stems and ginger – a dish that makes eating your veges easy.
Promenade Café and Wine
Located just across the Red River from the Forks District in the French part of town, this charming bistro offers French food at prices that won't scare you.
Although we didn't have a full meal here, what little we had was delicious – and beautifully presented. Look for French favourites like duck confit, tourtière and beef bourguignon along with a decent wine list.
Special Mention
Stella's is a local institution. It's a bakery café with a number of locations including the airport. The original café open on Osborne Street in 1999 and is still there today.
It's a great place for a coffee and a baked good or breakfast on the weekend. Don't forget to pick up a jar of jam where one of the ingredients is love.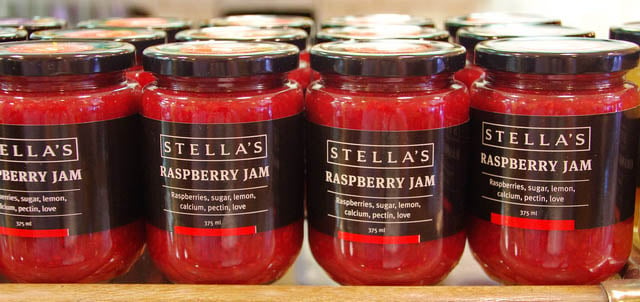 What is your favourite restaurant in Winnipeg?
Further reading on things to do in Winnipeg
Thank you to Tourism Winnipeg and Travel Manitoba for hosting my stay. I wouldn't be writing about these restaurants if I didn't personally think they were great.