Fun and Thrills on the Banff Via Ferrata at Mount Norquay
Only two people have ever turned back, my guide for the afternoon, John Thornton tells me. But then he goes on to explain that the people who come to hike and climb the Via Ferrata at Mount Norquay basically self-select and those that are deathly afraid of heights don't even consider the outing.
The Via Ferrata is the most recent addition to a line-up of adventure activities in Banff National Park. Since it's opening in June of 2014, it has seen approximately 2,500 visitors. There are two options – a two hour or four hour climb; I opted to do the four hour climb as it finishes on a summit ridge with splendid 360 views.
To start, you sign the requisite legal forms acknowledging the risk on the adventure you're about to undertake. There are severe drop-offs but stiff safety measures are in place to mitigate the risk of falling. After donning helmets, a safety harness, via ferrata leashes (each with two carabiners) and picking out a pair of gloves our group of eight heads for the chairlift. I sit beside John Thornton on the ride up and learn just what has gone into making this dream a reality. It took 10 years of jumping through regulatory hoops to get the final approval. He has been very involved, and in fact was a key player in the route design; in addition he oversaw the actual installation in 2013.
After our scenic ride to the top of the ski hill, we collect by a rock face laced with steel cables, bolts, handholds and toe holds. John demonstrates how to use the two carabiners on this practice face and a few people try it out ahead of the real thing. We are warned against ever being fully un-clipped from the steel cables. Every time you reach a break in the cable – where there's basically a steel knot, you must move one carabiner to the next steel cable and once it's attached, you move the second carabiner. Should you fall, and no one has yet, you won't fall far.
The fun and thrills begins on the Banff Via Ferrata
From the top of the chairlift it's a short walk over to the start of the climbing route. As John tells me, it's never steeper than the first pitch or two we do. It doesn't take long to get the hang of it – and although there are times it's a wee bit scary, I always feel completely safe. You're never rushed, and that helps immensely. It also gives you time to snap some photos.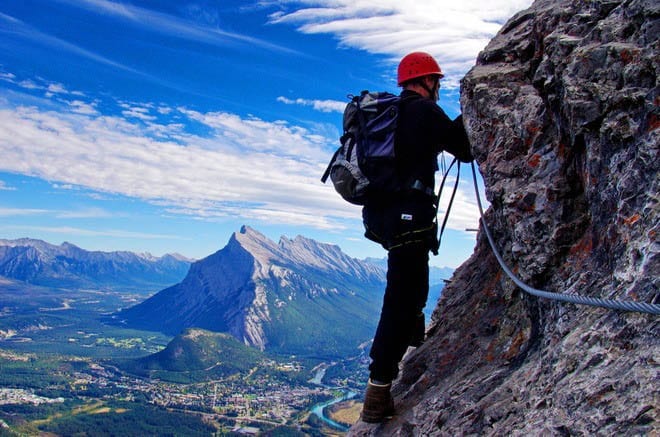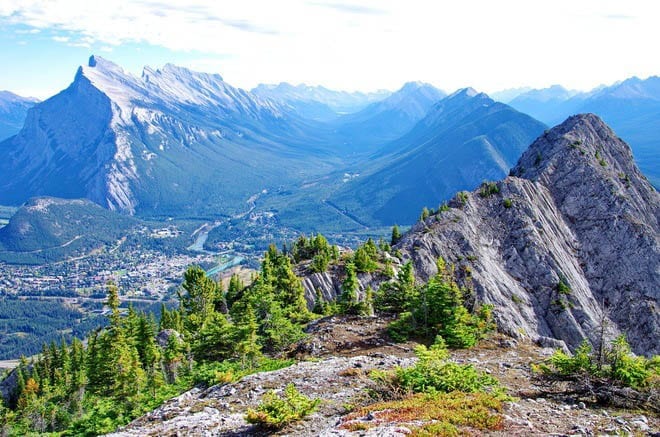 All told we climb 260 metres. Another guide tells me she can do the whole route in 45 minutes when she's alone, so we certainly aren't setting any records. But nor do we want to. The scenery is first rate all afternoon. Although they run the tours rain or shine, I'm thankful we ended up with a clear day.
The down climb is on a trail with some sections of steel cable that we can clip into to make the descent easier.
Leave time at the end of the tour for a drink with a view at the Cliff House Bistro.
What you need to do the Banff Via Ferrata
For the Banff Via Ferrata climb, you need only bring a pair of rugged hiking boots, water, snacks, warm clothes and rain gear. You must also be at least 12 years old and weigh between 35 and 140 kg.
In 2019 there are four tours – the 2.5 hour Explorer Route, the 4 hour Ridgewalker Route. the 5 hour Skyline Route and the 6 hour Summiteer Route. Prices range from $169 to $349 per person. Make a reservation.
This combo of hiking and climbing has whetted my appetite for more. In particular I'd love to visit the Dolomites in Italy, the birthplace of Via Ferrata climbing. John tells me that the Via Ferratas in Italy are graded and not to expect anything as easy as what I had done today. That gives me food for thought. I still want to go but I think I'll start with the easy ones.
Click on the photo to bookmark to your Pinterest boards.