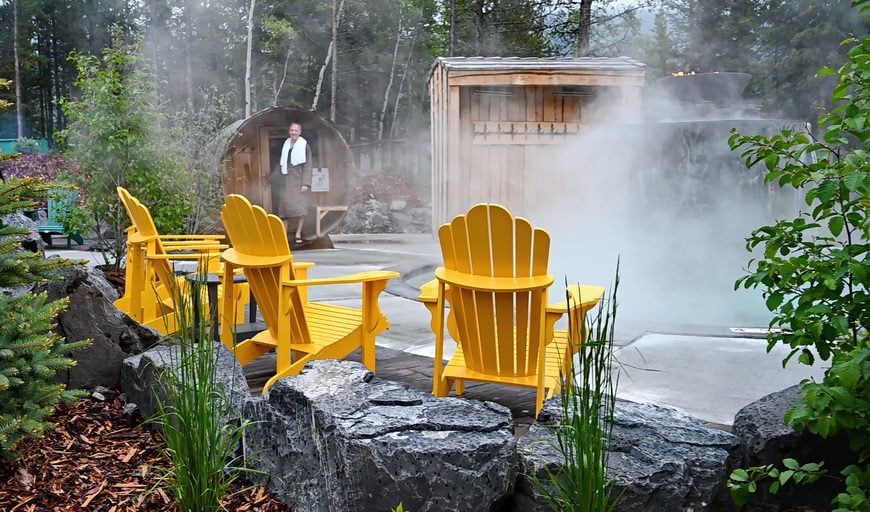 Giveaway – 2 Passes to the Kananaskis Nordic Spa
On a chilly, rainy June night John and I ventured to the Kananaskis Nordic Spa to see for ourselves what the experience was like. I'd heard many wonderful reports since it opened in the winter of 2018. The spa, fashioned in the Nordic tradition, stimulates your senses with temperature changes (hot, warm and cold pools) along with aromatherapy via the steam room. It's all set against a gorgeous Rocky Mountain backdrop, only an hour away from downtown Calgary.
What you'll find at the Kananaskis Nordic Spa
Located behind the newly renovated Pomeroy Kananaskis Mountain Lodge is the 50,000 square foot spa. It features both indoor and outdoor spaces including a three story lodge that boasts massage treatment rooms, locker rooms, a lounge and bistro. We were there in the evening and only availed ourselves of the locker room and outdoor facilities.
Outside are a variety of saunas including barrel saunas that can seat four to six people, a Finnish sauna and the Banya Sauna. We tried all of them! There's also a steam room/aromatherapy room filled with the purifying scent of eucalyptus. Numerous pools across the property include a 12°C plunge pool – which we used four times. It's very invigorating.
At the end of your stay be sure to visit the exfoliation room. Use the scrubbing salts followed by a shower for a feeling that will leave you fresh and relaxed. In total we spent 90 minutes in the spa – and both left feeling rejuvenated and less stressed.
Visit the Kananaskis Nordic Spa website for more information.
My Kananaskis Nordic Spa Giveaway
I have two passes to giveaway to the Kananaskis Nordic Spa. The lucky winner will have to plan in advance as the spa is heavily booked – up to three months out. Fortunately there are still lots of weekday times but you will have to be flexible if you want to go this summer.
Normally entrance to the spa is $85+ GST per person or $70 +GST if you're staying at the hotel.
How to enter
There are three ways to enter. If you enter all three ways you'll increase your odds of winning.
Leave a comment on this blog telling me why you'd like to visit the Kananaskis Nordic Spa.
Go to my Facebook page, like it and leave a comment there.
And if you subscribe to my newsletter here – you will get a third entry.
The contest runs from Friday, June 21st until Thursday, June 27th at 8 PM MST. The winner will be notified either by email or through Facebook and will have 24 hours to respond. Then another winner will be chosen.
***Congratulations to the winner, Maureen Shenher.***