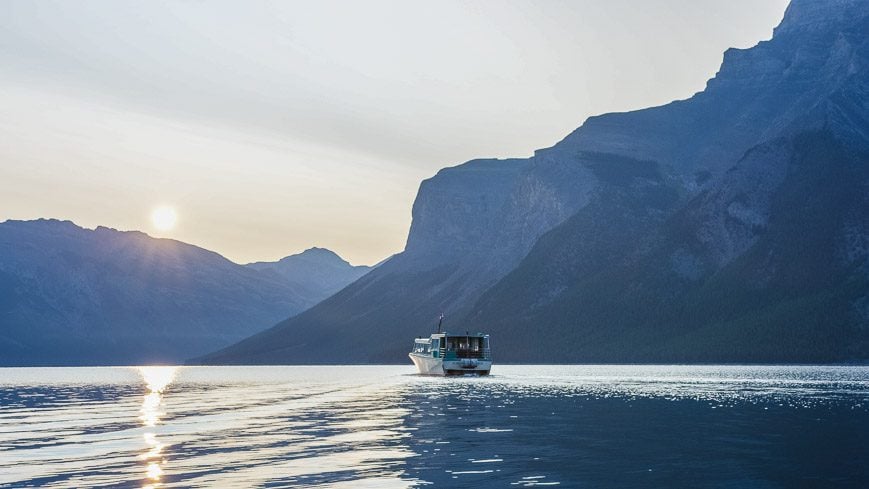 Giveaway: Banff Gondola & Lake Minnewanka Cruise
My last giveaway to celebrate my 10th blog birthday is made up of two parts. Plan to take a cruise on Lake Minnewanka with someone special and follow it up with a ride on the Banff Gondola to attend the Sunset Festival – all thanks to the Banff Jasper Collection.
The Sunset Festival at the Banff Gondola
On a summer evening between 7 PM and 10 PM spend some time hanging out the rooftop terrace at the top of the Banff Gondola. Grab a bite to eat and a drink, pull up a chair and listen to live music by local artists. Not into music? Go for a walk on the boardwalk with your special partner enjoying sunset and the views from the high point. Or catch a view of the sun from a solar telescope that doesn't harm your eyes.
Read more about the Banff Gondola experience here.
The Banff gondola and restaurant are in the building on the skyline – Photo credit: Banff Gondola by Pursuit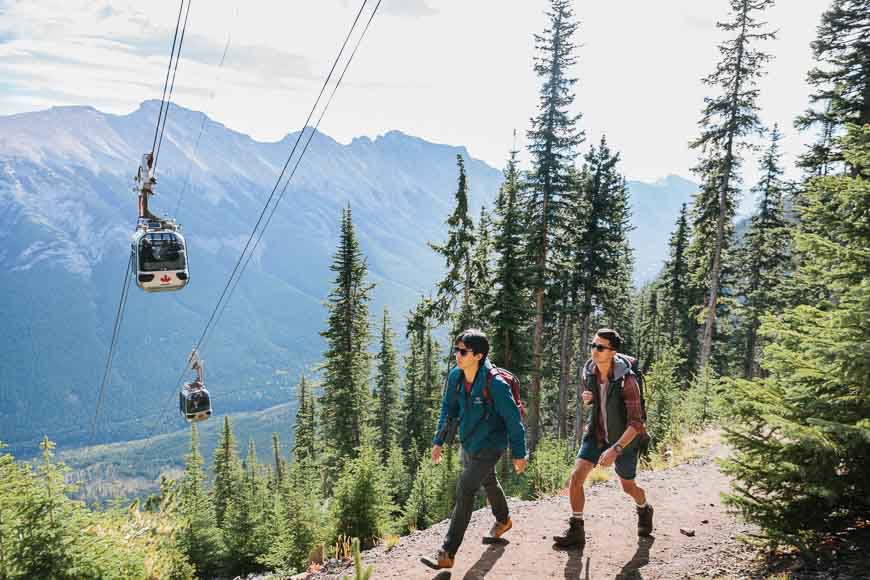 The Lake Minnewanka Cruise
Have you ever toured Lake Minnewanka by boat? Its the largest lake in Banff National Park with an interesting history. Did you know that the lake has been dammed three times? The third time raised the water level 30 metres creating a sunken town that back in the day sat on its shores. While you won't see that on the cruise you can explore if you are a scuba diver.
On the one hour cruise what you will see is mountains in every direction and more of stunning Lake Minnewanka. Check out what the lake looks like from up high – seen in the photo below. It was taken last May when I hiked to Aylmer Lookout. From the boat you might see wildlife, particularly grizzly bears and deer, especially if you're on one the early morning or late afternoon cruises.
For more information visit the website of the Pursuit Banff Jasper Collection.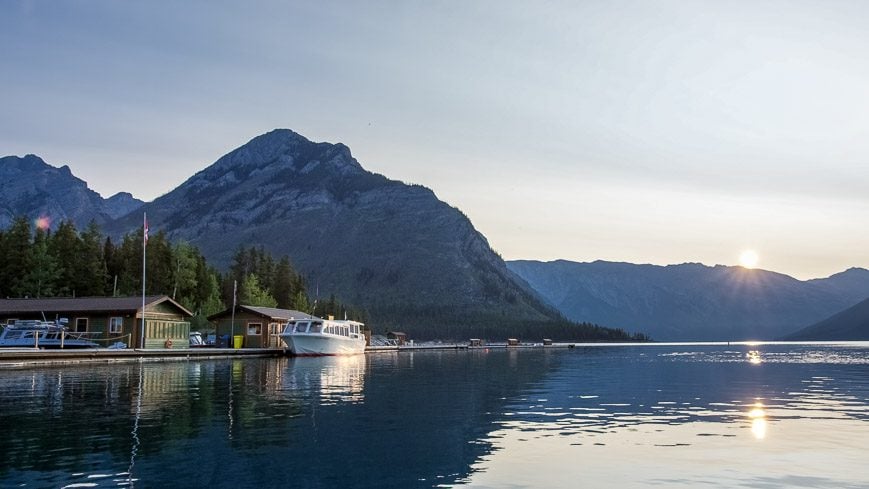 How to enter the giveaway.
There are two ways to enter. If you enter all two ways you'll increase your odds of winning.
Leave a comment on this blog telling me if you've ever done either of these Pursuit adventures before.
And if you subscribe to my newsletter here – you will get a second entry.
The contest runs from Friday, June 28th until Friday, July 5th at 8 AM MST. The winner will be notified either by email or through Facebook and will have 24 hours to respond. Then another winner will be chosen. (You won't be notified I have WiFi in the evening.)
***The winner is Yvonne Beringer. Thanks to all who entered.***