I love camping. I really do, especially for the landscapes it allows me to explore that would otherwise be too far from a trailhead to visit. But I also enjoy the full glamping experience especially at Broadleaf Ranch. I have a secure to semi-secure roof over my head and I don't have to worry about being woken up by a bear sniffing around my tent. I also enjoy the simple things like being able to stand up (my tent allows kneeling only), and the use of a toilet instead of an outhouse. It's a bonus when there's a hot shower and I can pull a cold drink from a mini fridge. And I would take a comfortable bed over my flimsy blow-up mattress any day.
In New Brunswick there are several places where you can enjoy the glamping experience. Perhaps the most well-known glamping New Brunswick experience is at Ridgeback Lodge outside of Saint John. A friend spent a few nights here a few years ago and raved about the experience.
I wasn't in the Saint John area, but I'm happy to report there is another first-rate glamping opportunity just a 40-minute drive south of Moncton within spitting distance of the Bay of Fundy. It's called Broadleaf Ranch. They have loads of accommodation options on the ranch including cabins, dorms, and a campground but it's their glamping units I love, a kilometre away from the main area.
Location map of things to when glamping at Broadleaf Ranch
Broadleaf Ranch Glamping – a great location for exploring the Bay of Fundy
There's a lot to do at Broadleaf Ranch, aside from enjoying some R&R, including an adventure barn with indoor rock climbing, hiking, biking and horseback riding. But it's also well-positioned to see some of the top New Brunswick sights.
Hopewell Rocks Provincial Park is a mere 13-minute drive away, Cape Enrage 21 minutes, Mary's Point Nature Reserve 5 minutes, and Alma, the gateway to Fundy National Park, 22 minutes away.
My Broadleaf Ranch glamping set up
I enjoyed two peaceful nights in my covered bridge-themed glamping unit at Broadleaf Ranch. What I particularly liked apart from the roomy set-up indoors, was the spacing of all the units. It felt very private. Never did I feel like an interloper on someone else's vacation.
The only downside to my experience was that I couldn't share it with my husband, John. I could well imagine enjoying coffee on the deck with him in the mornings, watching the fog lift from the Bay of Fundy. Come cocktail hour, it would be hard to beat hanging out on one of the deck chairs, feet up, sipping something cool and summery.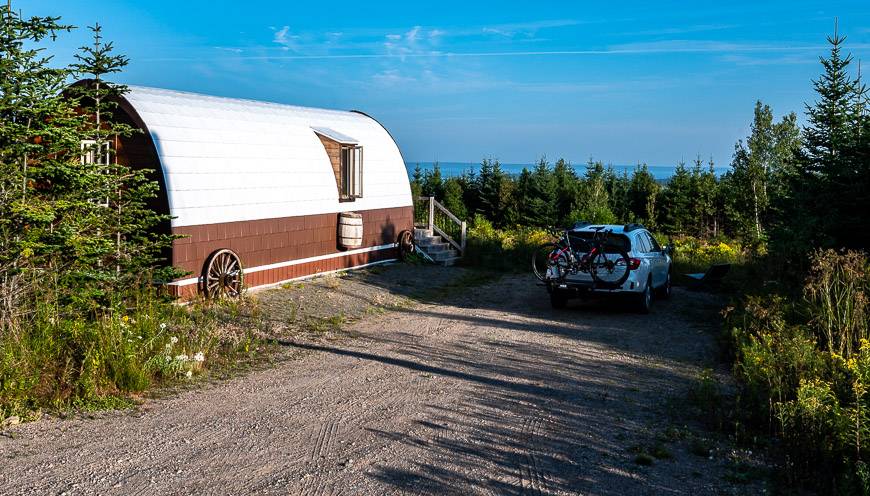 Fortunately, I like my own company. And I'm okay with drinking alone. After a busy day at Hopewell Rocks and Cape Enrage, I was happy to pour myself a glass of local rhubarb wine from nearby Waterside Winery, sit back and enjoy the salty breeze – something I've missed since I live in land-locked Alberta.
I wish I'd had more time the second day to just chill in my covered bridge cabin. But instead, I visited St. Mary's Nature Reserve, took in a bit of Fundy National Park, including a stop to check out their covered bridge, and got ready to hike the Fundy Footpath.
The second night was an exciting one. I was woken at 1 AM to a strobe-like lightening show. I had never seen anything quite like it. Not only was there lightening for hours but hard rain. All I could think about was how incredibly lucky I was that I wasn't out camping on the Fundy Footpath. If I'd been one day earlier hiking the footpath, I probably would have had a river running under my tent. On the hike the next day, I met a couple who were caught in the storm. They remarked that it was an "incredibly scary experience."
In a storm, glamping wins every time!
A few things to know about the glamping at Broadleaf Ranch
There is cell service but no WiFi in the glamping units. However, the restaurant, 1.2 km away, has WiFi.
Meals are available but in all honesty the dinner I had was not up to snuff. I highly recommend either going into Alma (good lobster rolls here!) or bringing your own food and cooking in the cabin.
Soap and dishwashing liquid are provided but shampoo and conditioner are not.
There is a good fan available for hot nights.
There's lots of seating on the back deck and around the firepit.
Things to do near Broadleaf Ranch
What a location Broadleaf Ranch enjoys. It's the ideal spot to use as a home base for anyone interested in exploring the area over several days. I didn't have the time to hike or bike though I understand there are nice cycling trails along the Bay of Fundy. And the canoeing on the pond would be fun for kids.
Explore Hopewell Rocks Provincial Park from Broadleaf Ranch
One of the places you absolutely MUST visit when you're in New Brunswick is Hopewell Rocks Provincial Park. I visited over about three hours and could have spent even more time in the park. If you're glamping at Broadleaf Ranch, you can get to Hopewell Rocks in under 15 minutes.
It is here you can see the world's highest tides on the Bay of Fundy in action. The difference between low and high tide is between 10 to 14 metres or 33 to 46 feet. Amazingly over a billion tons of water moves in and out of the Bay of Fundy, during each tidal cycle.
At low tide, walk the ocean floor – stopping to admire the flowerpots, rock formations eroded by the tides over the years. But be sure to return at high tide so you can see how the landscape has changed. One of the best ways to experience Hopewell Rocks is via a kayaking trip with Baymount Outdoor Adventures.
Since my last visit, staircases with good viewpoints have been expanded. For birders take note as you use the stairs of the bird poop on the cliffs. Peregrine falcons nest here and were caught on video raising their young until they fledged.
Visit Cape Enrage near Broadleaf Ranch
Cape Enrage, located at the tip of Barn Marsh Island, is named for the turbulent waters that form around a reef that stretches about a kilometre south of the island. The lighthouse that sits near the tip, occupies a spectacular setting overlooking the Bay of Fundy. As one of the most hazardous areas in the upper Bay of Fundy, it has seen its fair share of shipwrecks.
On a visit to Cape Enrage (open from early June to early September) you can simply walk around and admire the view from the lighthouse and descend the steep steps to the Bay of Fundy for an ocean level view. Adventurous souls might prefer to observe the spectacular coastal scenery via a 183 metre zipline instead. Yet another option is to rappel down 43 metre seaside cliffs to the ocean floor. And for those interested in geology, plan to time your visit for a fossil tour.
No matter how you choose to visit Cape Enrage, I would heartily recommend that you plan on a seaside lunch. Their chowder is delicious.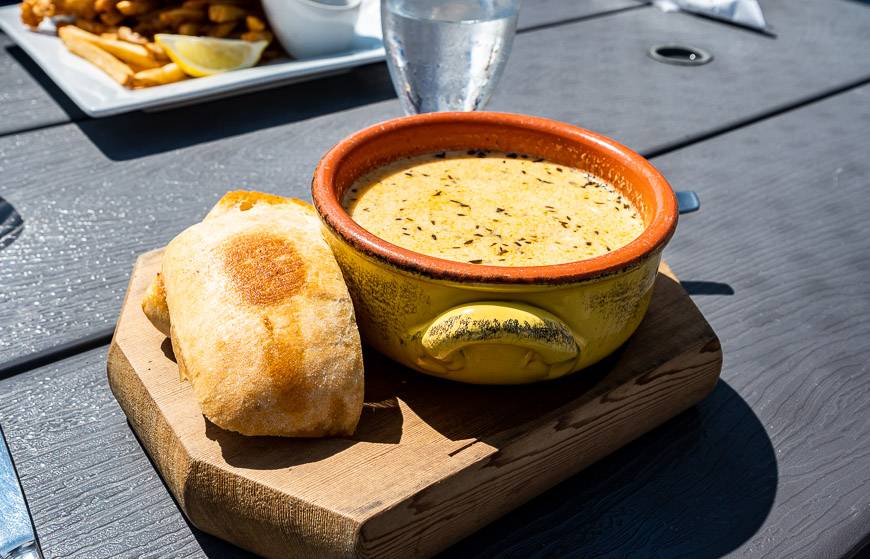 Go birding at Mary's Point Nature Reserve
If you're a birder, put a trip to Mary's Point Nature Reserve on your itinerary. It's so close to Broadleaf Ranch that you could visit several times. Unfortunately, I visited at high tide and the beach was off-limits on account of nesting migratory shorebirds. But there is a viewing platform, so if you've come prepared with binoculars, you should be able to see some semipalmated sandpipers.
Of interest, over 85% of the world's population of semipalmated sandpipers visit the Bay of Fundy in the summer – refueling for their long flight down to Suriname and Guyana in northern South America.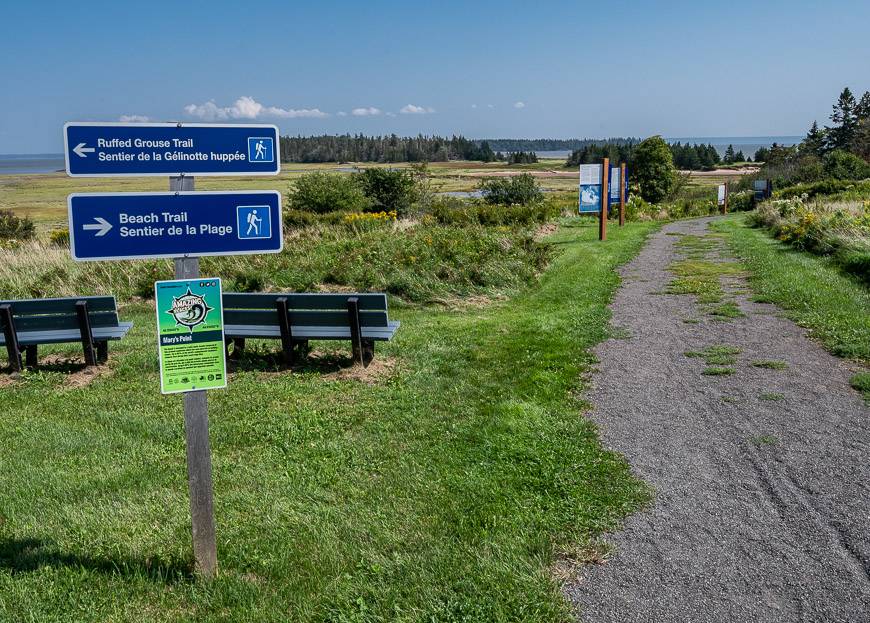 Check out Alma and Fundy National Park
Fundy National Park and the gateway town of Alma are worth a minimum of a day trip. Glamping at Broadleaf Ranch is an ideal spot to base yourself so you can take full advantage of what the park offers. There's so much to do in the national park including hiking on over 100 km of trails, birding, beaching, checking out waterfalls and covered bridges and even playing a game of golf. Then when you need to refuel, head to Alma.
Further reading on things to do in New Brunswick
Thank you to Tourism New Brunswick for hosting my stay. All thoughts and opinions are mine alone.
Click on the photo to bookmark to your Pinterest boards.