Quetico Provincial Park is one of the premier hardcore adventure travel canoe spots in North America and possibly the world. This is due to its pristine beauty and remote access. Only 20,000 people visit this park annually, so it is possible to travel for days sometimes without seeing another person.
The terrain consists of mile after mile of cobalt blue lakes with water so pure that no filtration system is needed. Just dip a canteen in the middle of the lake and enjoy. Granite cliffs and coniferous forests dominate the formidable inhospitable landscape. For those willing to delve into the interior of the park the reward of hardcore adventure travel is great – but so can the cost as there is no easy way to penetrate the rugged hinterlands. No motor boats are allowed in the park, so canoeing is the only choice.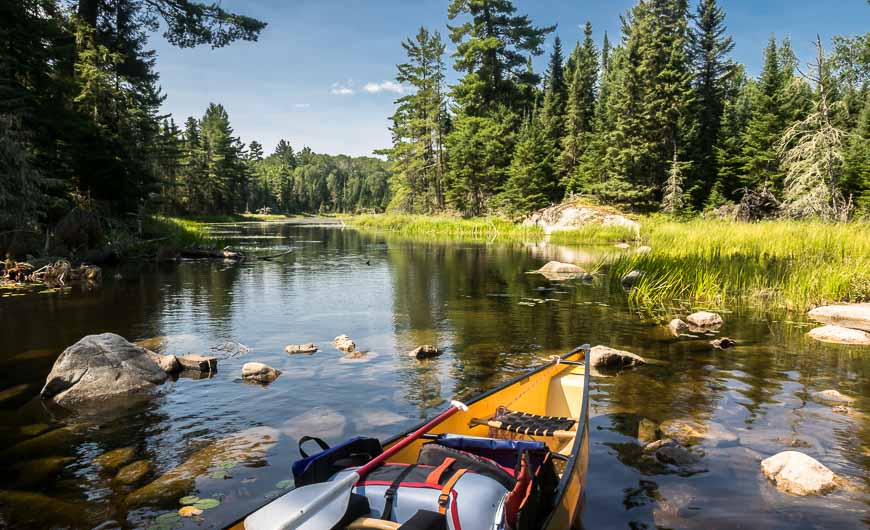 Big lakes or little lakes in Quetico
There are two options when deciding a strategy for exploring Quetico. You can either canoe through big lake systems or you can choose smaller lakes. There are benefits and pratfalls for each method.
For those that prefer to canoe the bigger lakes, wind on these lakes can create havoc. Even a 10 – 15 mph wind on a big lake can make travel difficult, and a 20-30 mph is downright too dangerous to travel depending on where the wind is coming from.
If one prefers to stick to the smaller lakes and rivers to avoid the wind, there will be more portages. Portages in Quetico are a guarantee no matter which way you go, but the smaller lake strategy will create more portages.
Each portage requires paddlers to empty the contents of their canoes and then hike them across a trail to the next lake or around a waterfall depending upon the impediment. Portages vary in distance from as little as 30 feet to up to two miles. Most are less than a quarter mile.
Many portages are so rocky and overgrown that they hardly resemble a trail. Arduous trail conditions are usually not a problem when talking about quarter mile trails, but these are not so easy when a 50-75 pound canoe is resting on your back.
Other inconveniences in trekking into the interior include mosquitoes, annoying ankle biting flies, large spiders, and of course the usual lack of amenities one experiences in the backwoods. There are no latrines or picnic tables in Quetico.
One might ask, with all the difficulties, why anyone would be crazy enough to go there in the first place? This question is easy. Anyone who travels to Quetico will admit the going is not easy, but it is worth it for the gorgeous scenery alone.
Benefits of a Quetico canoe trip
Other benefits from a Quetico canoe trip include the chance to spot beaver, river otter, moose, bear, wolf, and lynx. Odds are you will not see a bear, but a moose is a possibility, and beaver, otter, and pine martin are probable. Bald eagles and loons are a guarantee.
Fishing in Quetico Provincial Park
The fishing in the backcountry is fantastic. Walleye, northern pike, and smallmouth taste absolutely delicious when freshly caught from these crystalline waters.
A spirit of hardcore adventure travel
The number one reason for a Quetico Provincial Park canoe vacation though is the spirit of adventure and the wilderness experience. The more hardcore the trip, the more satisfying one feels when it is over knowing they beat the elements and enjoyed a true epic outdoor journey.
Further reading on canoeing in Canada
For more information on Quetico Provincial Park visit their website.
This guest post was penned by Traveling Ted. He's been adventure traveling since he was ten years old. His first trip was a three day hiking trip in the Porcupine Mountains in the Upper Peninsula of Michigan in 1980. Since then he has hiked, canoed, and skied through the Midwest, the United States, and the world. His favorite places include Quetico Provincial Park in Canada, Everglades National Park in Florida, and Khao Yai National Park in Thailand. You can also contact Ted via Twitter or Facebook.