If you're after a short, easy hike that is like no other, certainly that I have done in Alberta, check out the Heart Creek Bunker trail near Canmore. The easy hike ends at a bunker built into the mountain below the slope of Mount McGillivray. It's a mostly non-descript, somewhat noisy hike to get to the bunker, but once there it's extremely interesting.
The Heart Creek Bunker goes by a lot of names including the Bow Valley Bunker, the Vault and The Cold War Bunker. The intent of building the bunker was "to provide a vault storage area in the event of some sort of catastrophic emergency." Rocky Mountain Vaults & Archives Ltd., a defunct corporation since 1999, professed to be able to keep documents safe and dry within nearly 275 metres of limestone – a porous rock!
The bunker was also meant to be survivable with air exchanges and communication systems just some of the planned things for it. Now the bunker is just a minor relic of Cold War history – and a place where you might find the odd rodent along with graffiti-covered walls.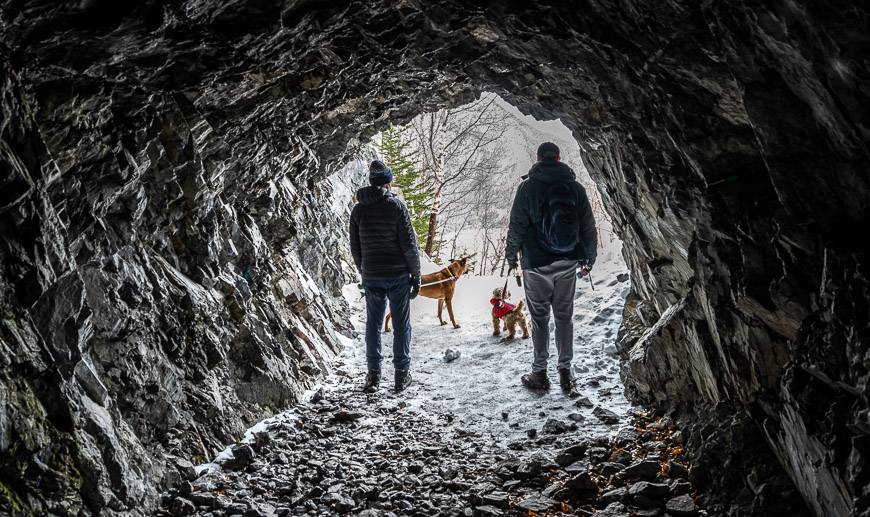 This post includes some affiliate links. If you make a qualifying purchase through one of these links, I will receive a small percentage of the sale at no extra cost to you. Thank you very much for your support.
Heart Creek Bunker trail details
Distance: 3.8 km (2.4 miles) return
Elevation gain: 94 metres or 308 feet
Difficulty: Easy and family friendly
Dogs: Allowed on a leash
Time needed: Two hours with time to explore the bunker
Best time to visit: A year-round hike; particularly good on hot summer days or for a quick winter outing
Don't forget: A flashlight or headlamp for everyone
Route description for the Heart Creek Bunker Trail
Start at the parking lot by the Trans-Canada Trail marker – the yellow one pictured below. This is not the trailhead for the Heart Creek Trail. That one is over by the outhouses.
Hike through mixed forest with the lovely sound of Trans-Canada traffic in the background, crossing a gravel-bed gulley in short order. After hiking approximately one kilometre, cross another gulley where you'll also see a lot of construction equipment.
Continue hiking through the forest to reach a big hill. If it's wintertime, you'll probably need to put your microspikes on here. Reach a junction signed with a Trans-Canada trail marker. Go left. Continue through more forest for around 10 – 15 minutes to reach yet another junction. You may see some pink flagging tape around too. Turn left again and ascend all the way to the cave entrance, approximately 200 metres from the intersection. Retrace your steps to return.
Note that in winter after a heavy snowfall, there could in theory be avalanche danger from above. Just be aware and avoid the area after a fresh, heavy snow.
The Bunker Creek Caverns
I was quite shocked at the size of the bunker. The main tunnel goes into the mountain more than 55 metres. There is another side tunnel near the entrance that is 40 metres deep. Reportedly, this is just a third of the work that was done to build the bunker.
As one can imagine, it's pitch dark in the bunker so you won't get far without a flashlight. The ground is uneven walking, though not difficult. We spent about 15 minutes inside exploring all parts of it. Look for colourful graffiti on the walls. Some people have spent a lot of time on their work in here.
We left trying to imagine how this damp bunker could ever be a good place to store sensitive documents!
Families love this place. We saw lots of kids enjoying the snow at the entrance and inside they could be seen having fun with flashlights. It's the perfect outing if you just have a few hours. Should you have more time and energy, combine it with one of the other short fun hikes nearby including Jura Creek or the Grotto Canyon, especially in winter when parts of the hikes are ice walks.
Finding the trailhead
The trailhead for the Heart Creek Bunker trail is the same one used for both the Heart Creek hike and the Heart Mountain hike. It is signed on the Trans-Canada Highway, at least if you're driving west.
From downtown Calgary, it's less than an hour's drive to the trailhead. Take the Trans-Canada Highway heading west for 87 kilometres. Get off at exit 105 onto Range Road 91A. Go left, cross over the Trans-Canada Highway. Then you make a weird left turn – to get to the trailhead which will all make sense and be obvious once you're there.
Continue straight to the Heart Creek Parking Lot. This is a fun hike to do on the way to or from Canmore as it's quick and easy!
Heart Creek Bunker Trail location map
Click on the three dots in the top right hand corner if you would like to email a copy of the map to yourself or someone else.
What to take on the Heart Creek Bunker Trail
If you're hiking the trail in winter, I would certainly recommend microspikes. The hills were slick the day we did it in late January.
Everyone in your hiking group will need either a headlamp or a flashlight. Be sure that at least one person has a very powerful beam so you can see where you're going.
Don't forget a few energy bars and something to drink along with the 10 hiking essentials.
And if you need more ideas of what to see and do in Alberta check out my book – 200 Nature Hot Spots in Alberta.
Where to stay in Canmore
Should you be thinking about overnighting in Canmore, here are some suggestions of places to stay.
The Canmore Clubhouse located 4.5 kilometres out of town is run by the Alpine Club of Canada. It's an inexpensive option with pricing for members and non-members alike.
For a bed and breakfast, the romantic Bear and Bison Country Inn is a great choice and their breakfast is fantastic.
Check out the centrally located Georgetown Inn with its old English dēcor.
If you're after lodging that comes with a fully equipped kitchen along with a washer and dryer then the Basecamp Resort is a great choice. Enjoy well-appointed rooms with thoughtful touches like local coffee and Rocky Mountain soap. The downside in my books is the lack of a personal touch as you're given a code to your room so you don't have to talk to anybody. Ever. But maybe that's just me. Prices are reasonable.
The Malcolm Hotel – a boutique hotel near downtown Canmore is a four star hotel with an outdoor heated pool.
More hikes you might enjoy close by
Click on the photo to bookmark to your Pinterest boards.