If I was a resident of Sault Ste. Marie (located 675 km northwest of Toronto) I would be making twice weekly trips to Hiawatha Highlands to cross-country ski on trails that have been described as offering some of the continent's finest Nordic skiing.
Located less than 10 minutes outside of "the Soo" in a rolling landscape filled with stands of pines, hardwoods, creeks and waterfalls, a day trip to Hiawatha Highlands will leave you feeling far removed from the stresses of daily life.
While I love cross-country skiing, I didn't feel I could cover the distance I'd want to in the time I had on this particular trip. Still, from what I saw of the 45 km of ski trails, they were impeccably – even lovingly groomed, well signed and offered considerable variety.
It's also apparent after a quick study of the map that most of the ski trails are loops of varying difficulty with the option to do a 10 km backcountry extension to Mabel Lake. There's always a next time.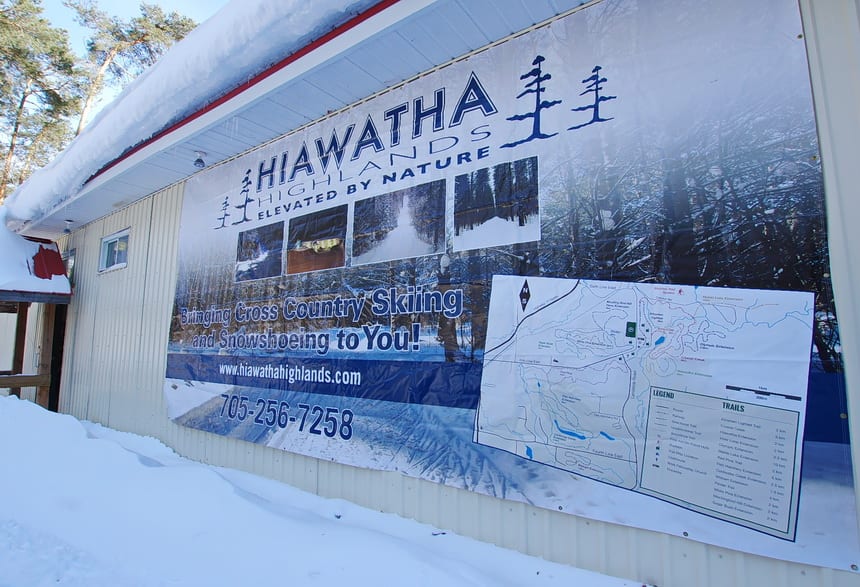 Hiawatha Highlands snowshoeing adventure
Fortunately blue skies, sunshine and fresh snow ensured that my second choice, snowshoeing was an awesome experience. When picking up the snowshoes I asked an employee at the rental counter where she would suggest going.
Her reply – "do you want adventurous or easy?" Of course when I said adventurous, my friend Jo rolled her eyes as if to say could we just this once do easy.
But we didn't – and Jo loved the snowshoeing experience as much as I did. In fact she said after she'd finished she'd be back to explore more of the trails with her husband as she lives less than an hour's drive away. The only downside for her – dogs are not allowed.
Our four kilometre loop started off flat as we followed a trail through the forest to the edge of a steep slope. Then the fun started. I have to say it was a first descending a slope with a knotted rope for support on snowshoes.
Just minutes later we were on a walkway that would deliver us to Crystal Falls – a fantastic sight covered in ice. From there you climbed a walkway that offered a view down the river.
The next couple of kilometres were very pleasant as the trail rambled through woods, crossed a river, then proceeded up and down through the forest to complete a loop back at Crystal Falls. The last part of the four kilometre loop entailed ascending the steep hill with the rope. There is an option to avoid it but how much fun would that be?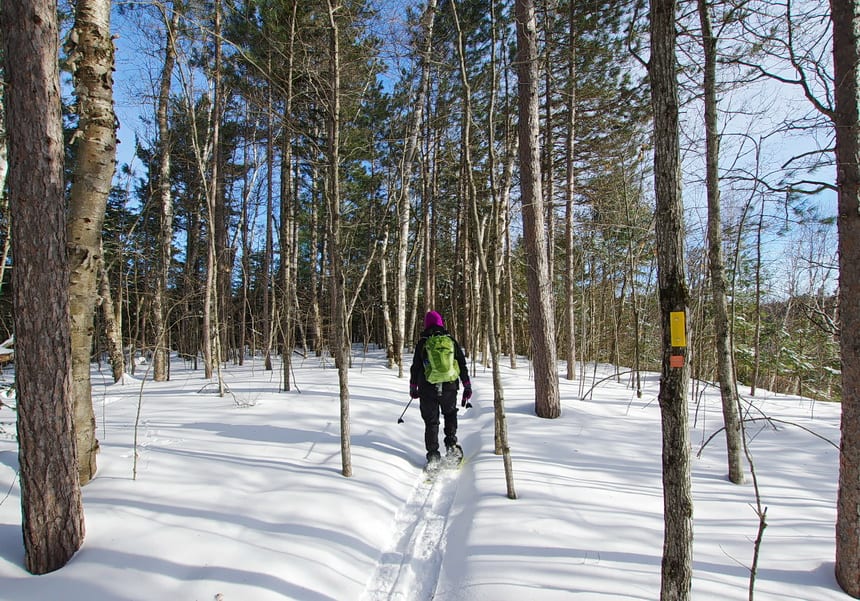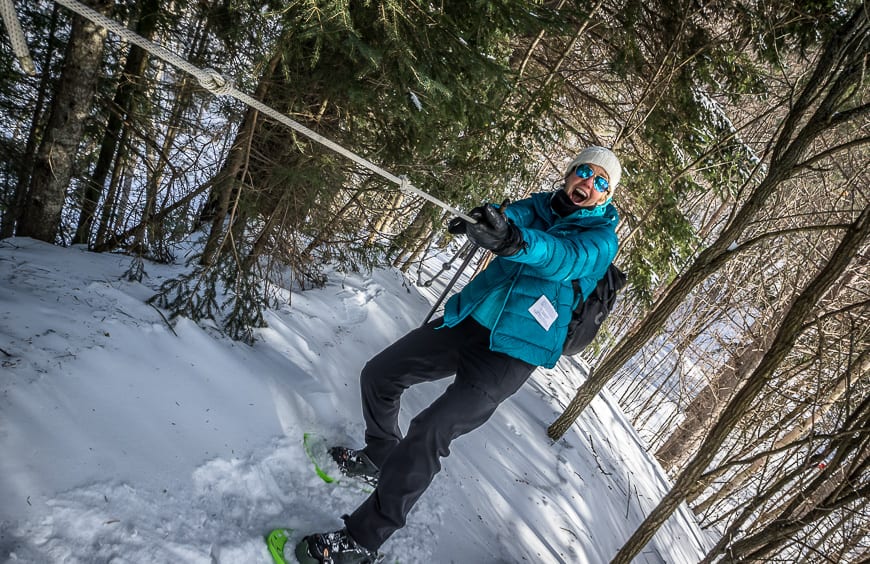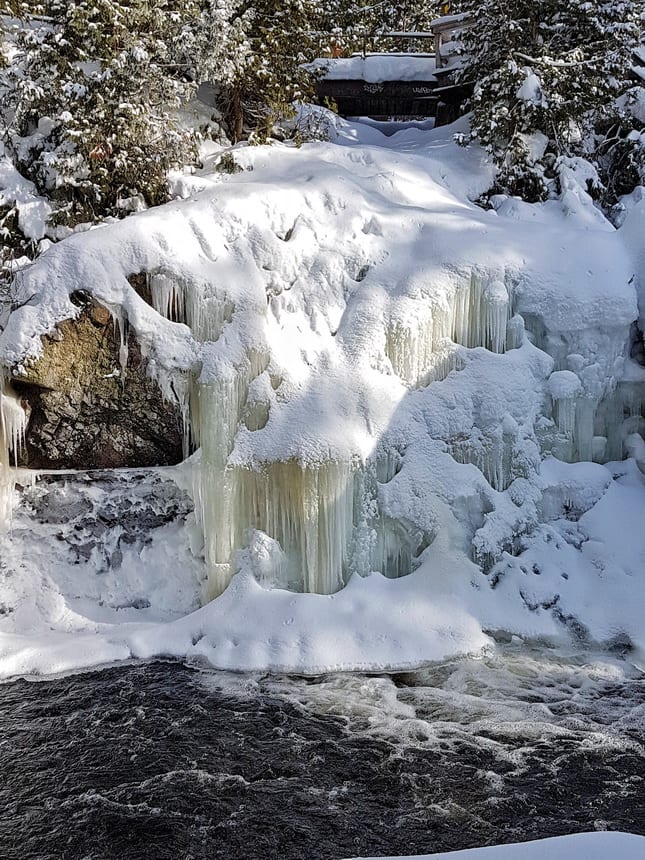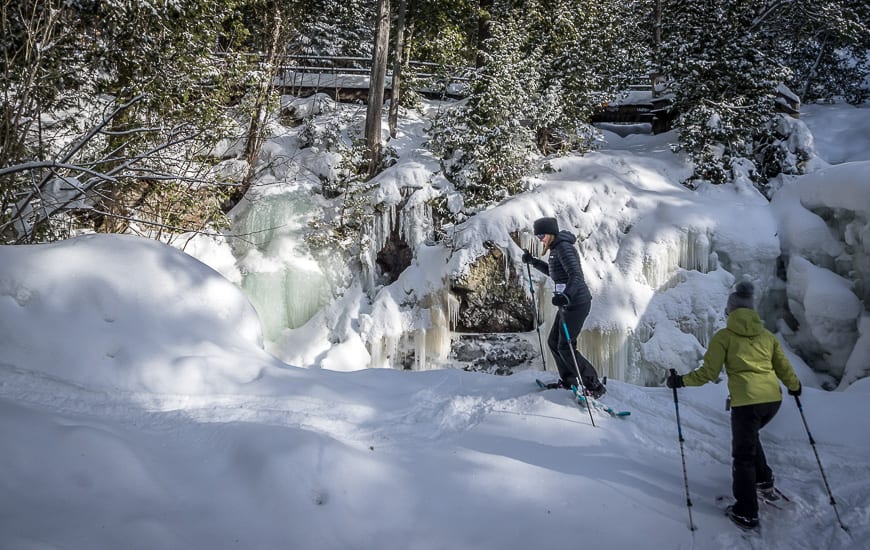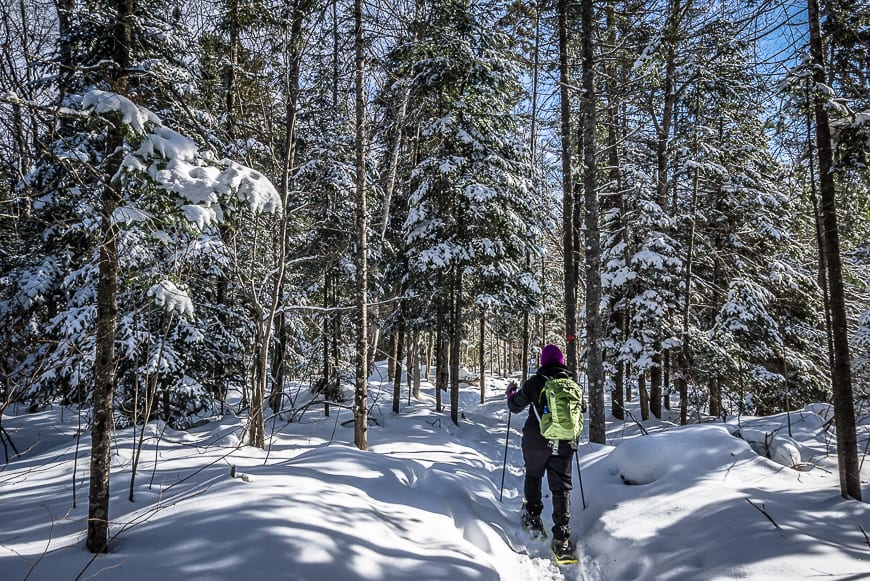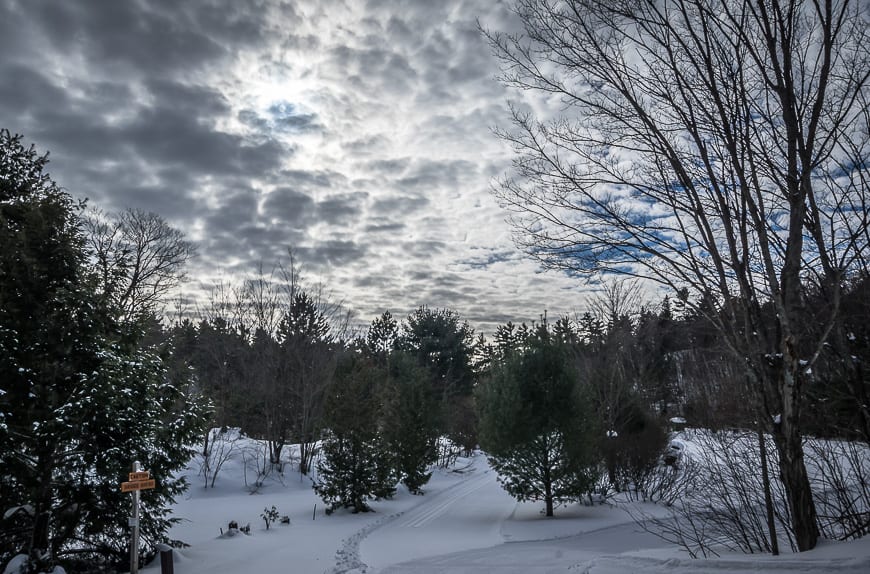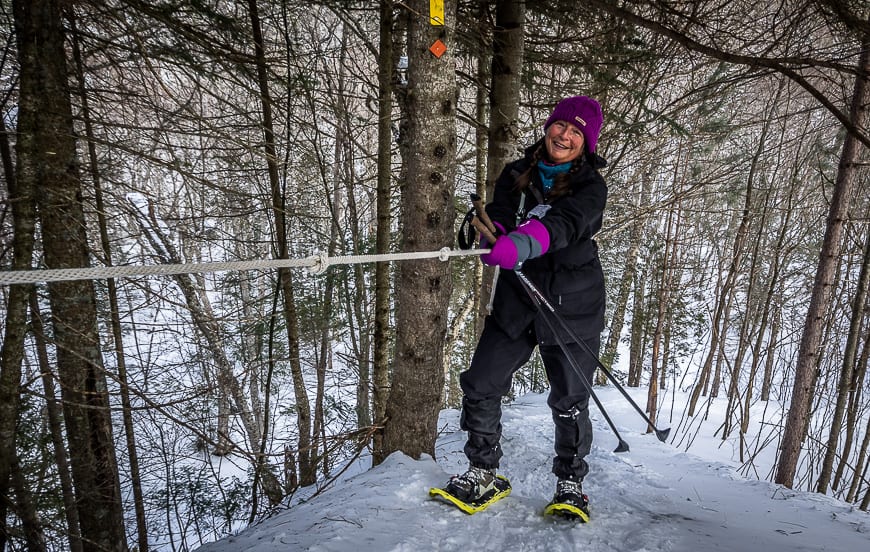 The snowshoe trails follow part of the Voyageur Trail – blazed with white markers but don't let that confuse you. Look for snowshoeing markers, and while you won't find a lot of them, you will see them at every intersection. Overall the trail is easy to follow. (As a side note the Voyageur Trail will ultimately be a 1,100 km wilderness style hiking trail paralleling the shores of Lake Huron and Lake Superior between Sudbury and Thunder Bay.)
This post includes some affiliate links. If you make a qualifying purchase through one of these links, I may receive a small percentage of the sale at no extra cost to you. Thank you for your support.
Where to stay in Sault Ste. Marie
If you're visiting Sault Ste. Marie I think one of the nicer places to stay in town is the Water Tower Inn with a lovely outdoor hot tub pictured below.
In winter take advantage of the two and three night packages and choose either two or three days of downhill skiing at Searchmont Resort or Nordic skiing/snowshoeing at either Stokely or Hiawatha Highlands.
Useful information for your visit to Hiawatha Highlands
The adult daily rate for skiing, snowshoeing and fat tire biking is $15 per person. At 5 PM the rate drops to $10 from Monday to Thursday and to half-price on the weekends.
Enjoy discounts if you buy consecutive day passes.
Rent snowshoes and all cross-country gear on site.
It's dead easy to get to Sault Ste. Marie from Toronto with daily flights on Porter and Air Canada.
Location map of Hiawatha Highlands
Further reading on things to do in northern Ontario
Save to your Pinterest boards by clicking on the photo below.
Thank you to Tourism Sault Ste.Marie and Travel Ontario for arranging and looking after my visit.