My expectations were low as I headed off on a hike to Escondido Falls in Malibu. After all, I was in southern California – a place at least in my mind associated with lots of people and very little in the way of wilderness.
Fortunately I was wrong. It seems that some of the canyons accessible from the Pacific Coast Highway offer some pretty decent hiking. I took a few hours and hiked to Escondido Falls in beautiful Escondido Canyon Park, just 17 miles west of Santa Monica. But first I had to find the trailhead and once again the GPS and I were fighting. Eventually I turned it off but not before driving up a road that led to this view.
The Escondido Falls Trailhead
In actuality it's very easy to miss the trailhead – especially when it doesn't feel look the sort of wild trailhead in the middle of the woods that I'm used to. It's just off the Pacific Coast Highway at the corner of East Winding Way, not far from Solstice Canyon and just past Latigo Canyon Road.
The signed parking lot at the base of East Winding Way is small. My understanding is that it can get very busy so arrive early unless you want to add considerable mileage to your hike by parking somewhere along the Pacific Coast Highway.
Starting on the trail to Escondido Falls
The first 0.75 mile of trail is actually along East Winding Way, a residential road leading to very large properties. It's actually kind of fun checking out the local real estate. One place had a security guard by the road.
Directions to the falls
Once you've past the last of the homes look for a dirt trail descending down on your left. Signage was missing when I was there. In the spring, I read that the fields are covered with fennel and mustard. Now it's all brown but the bird life was fantastic and I regretted that my bird lover husband wasn't with me.
After you cross a small creek turn left and hike along a mostly level path all the way to Escondido Falls. In spring wildflowers along the trail would be abundant but in December only a few are blooming. However, the trees with their masculine looking branches will stop you dead in your tracks.
Unfortunately in December the waterfalls are not running. That doesn't mean the hike isn't worthwhile. It is for the sense of solitude and peace it brings.
If you are sure-footed and don't mind scrambling, then continue up from the first waterfall on a slippery path of rocks and dirt. There are ropes in several places to keep you from sliding down. This section is not good for little kids but older ones would love the challenge.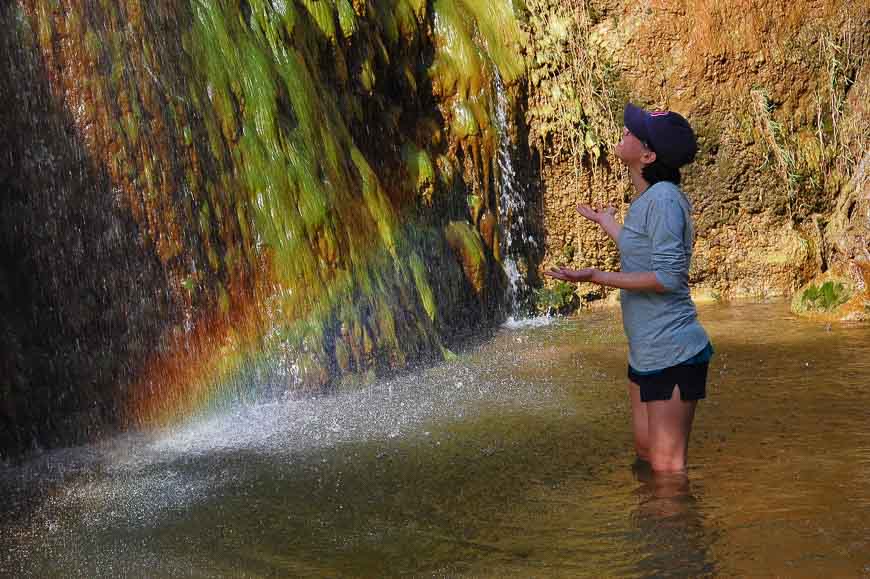 The Upper Escondido Falls are about three times taller than the lower falls. In total the two falls are 200 feet tall. Visit early in the spring, when the falls should be at their best. All told the hike from the parking lot to the Upper Escondido Falls is 3.8 miles return with 400 feet of elevation gain.
The parking and the hike to Escondido Falls is free. Dogs are allowed but on a leash only. These falls can get very busy in season though in December I saw only five other people.
Further reading on things to do in California
For information on all things California visit the California Tourism website. It's packed with great information.
Click on the photo to bookmark to your Pinterest boards.