A visit to Alberta's Dinosaur Provincial Park kills two birds with one stone as the park is actually a UNESCO World Heritage Site too. I confess that I am not a great fan of dinosaurs. I don't know my Leptoceratops from my Stegoceras, though I think I could pick out a Triceratops if pushed. But that's about it. Despite my lack of interest in dinosaurs I love the park and I think the hiking in Dinosaur Provincial Park is out of this world. Not only is the hiking beautiful with all the incredible badlands scenery – but there is a reasonably high probability of actually finding a dinosaur bone. And that's pretty darned cool.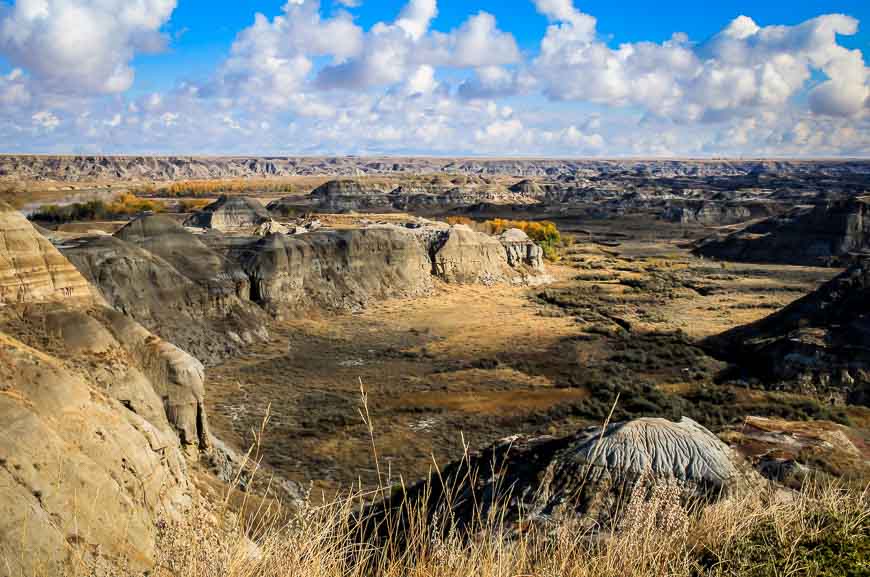 Why is Dinosaur Provincial Park a UNESCO site?
Dinosaur Provincial Park is a UNESCO World Heritage Site because more complete dinosaur skeletons have been discovered here than anywhere else in the world. Over thirty five types of dinosaurs have been found as well as fossils of turtles, fish, lizards and flying reptiles. Once you know what you're looking for it isn't hard to find dinosaur bones. Just don't move them.
My first trip to Dinosaur Provincial Park
Despite my disinterest in all things dinosaur related, I had been hearing great things about Dinosaur Provincial Park. The camera crew that accompanied a group of us to Abbot Pass Hut one summer raved about the place.
My friend's parents said it was one of the highlights of their road trip across Canada. I figured I had to go – and my window of opportunity to visit in fall was closing quickly. A guided hike to the Centrosaurus Quarry – where you can see a dinosaur in situ, is off limits unless you're on a tour – and those end at Thanksgiving and don't restart until the spring.
Calgary to Dinosaur Provincial Park
My daughter and I set off from Calgary one fall day and 2.5 hours later arrived at the park. Take the Trans-Canada Highway east to Brooks (NOT Drumheller) and then pick up Highway 544 to reach the park.
We had time before our Centrosaurus Quarry hike to drive the Public Loop Road, check out the Fossil houses and hike the Badlands Trail. And were we ever impressed. Dinosaur Provincial Park boasts some of the most incredible badlands scenery I've ever encountered. It's a photographer's dream with great textures and colours.
Hiking in Dinosaur Provincial Park
There are a couple of guided hikes you must sign up for (the Great Badlands hike and the Centrosaurus Quarry hike) along with lots of short trails to hike that are open year round. They include five named trails – the 1.3 km Badlands Trail, the 1.4 km Cottonwood Flats Trail, the 0.9 km Coulee Viewpoint, the 0.3 km Prairie Trail and 0.9 km Trail of the Fossil Hunters.
The Badlands Trail
Th Badlands Trail is the first one on the public scenic loop road so it's easy to find. The trail climbs gently past cool looking hoodoos and pinnacles, around sandstone ridges and through areas of bentonite clay. The clay gets wildly slippery when wet.
You can knock this trail off in as little as 30 minutes but linger and enjoy the marvelous scenery.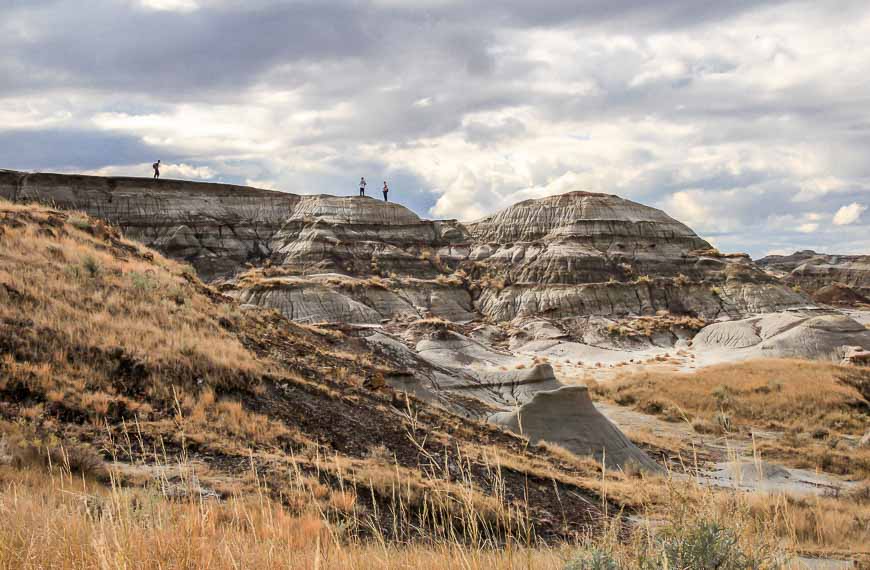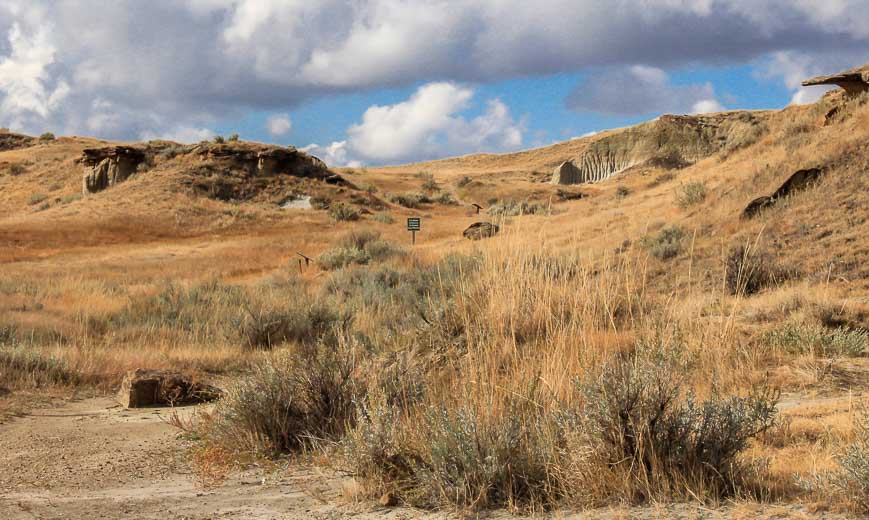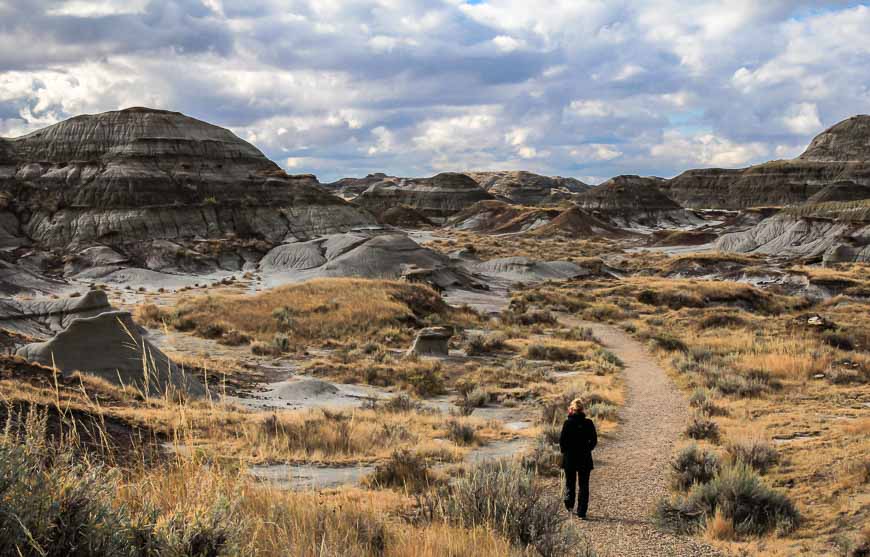 Centrosaurus Quarry hike
We reserved a spot on the Centrosaurus Quarry hike several days ahead of pour planned visit. It took us into the off-limits area and deeper into the park. The actual hike itself was easy though I can't imagine it would be too much fun on a hot day.
To begin you are shuttled to the trail which is included in the price of your ticket. It's an out and back hike through a fabulous country of wildly eroded buttes and hills in a variety of colours from soft yellow to buff, cream, red, grey and black. There is little elevation gain or loss.
Our guide, Brian, told me they cancel the hikes when the temperature gets above 34°C. And if it rains a lot, the bentonite clay becomes as slick as dinosaur snot – his words – not mine.
It was cool when we were there but mostly sunny. As we hiked towards the quarry, Brian would stop and give us clues as to why there were hundreds of dinosaur skeletons in a relatively small area. It wasn't until we came to the end that we found out the answer – but I'm not going to spoil it for you here.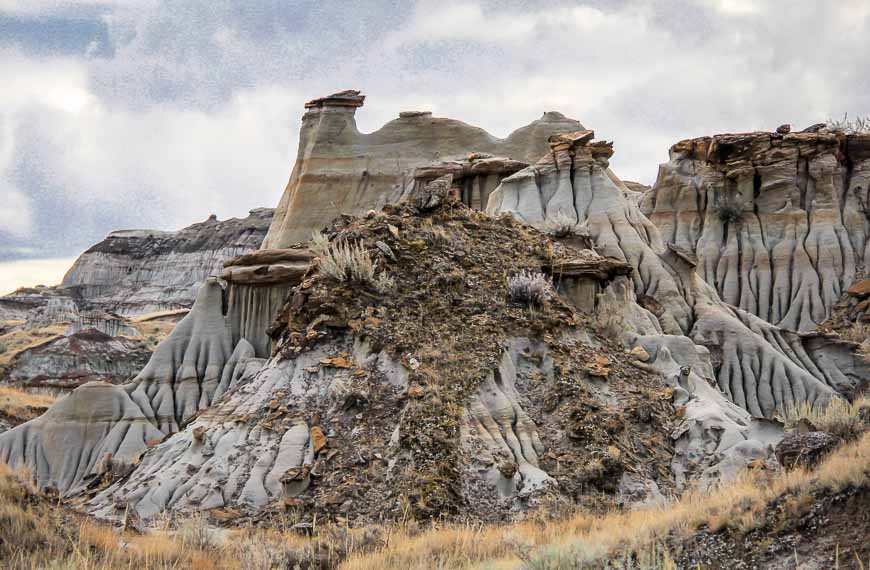 Planning your hiking trip to Dinosaur Provincial Park
Reserve online if you're interested in a tour. There are bus and hiking tours – and some have strict age limits.
For the Centrosaurus Quarry hike the adult price is $30, and it's $18 for youth.
Bring lots of water and a picnic lunch when you go hiking in Dinosaur Provincial Park. Brooks is the nearest town of any size.
Camping is available in the park. Glamping is also available.
A photographic tour at sunset is offered. I highly recommend doing it.
The Visitor Center is wonderful and worth at least an hour of your time.
In the summer keep an eye out for prairie rattlesnakes. Avoid rock piles and ledges.
Keep your hands away from holes and crevices – home to scorpions and black widow spiders though you probably won't see them.
Pets are allowed in the park on a leash. I'm not so sure they'd be welcome on a tour though.
Further reading on things to do in Alberta in summer
Click on the photo to bookmark to your Pinterest boards.