Look out your airplane window as you fly into Hong Kong and you can't help but be wowed by the density of development and the sheer number of skyscrapers packed into a space the size of six Washington, DC's. But what most people don't realize is that Hong Kong is more than a big city. It's an archipelago of 236 islands and islets – and a hiker and nature lover's paradise.
While locals are very keen hikers, tourists are largely unaware of the sheer number of hiking trails covering Hong Kong, including Dragon's Back Mountain, an 8.5 km section of the 50 km Hong Kong Trail described by Lonely Planet as the world's best urban hiking trail.
Hiking in Hong Kong – where you can go
Geopark Hiking
If you're new to Hong Kong and are keen to get out into a less populated, pristine area, sign up for the inexpensive yet professionally guided Geopark hike offered in three languages including English.
Get a pickup on the bustling sidewalks of downtown Hong Kong – saving you the hassle of taking a taxi or a bus. Drive to Sai Kung East Dam, the starting point for the day's hike. Marvel at the High Island Reservoir overlooking the South China Sea.
Visit a geological formation considered to be one of the world's best examples of hexagonal columnar jointing; it's also one of twelve sites that make up Hong Kong's UNESCO Global Geopark and the only one accessible on foot.
Over the course of the day's hike enjoy views of the coastline at Sai Kung along with the nearby islands and rock formations. Finish the hike at the Sheng Yiu Hakka Village Museum where you'll get a sense of what a village looked like long ago.
This hike is labeled moderate though in my books I'd call it easy.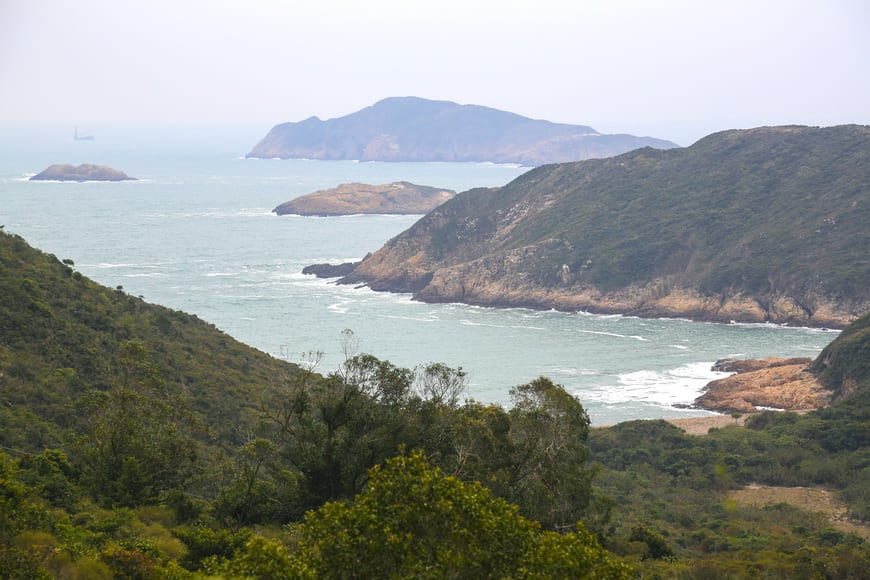 Lantau Peak
As the second highest peak in Hong Kong, the hike up Lantau Peak is a popular one especially at sunrise. Allow two hours one way.
There is a hostel if you want to spend the night as you'll need to be on the trail by 4 AM to catch the golden hour. Go between December and February for the best sunrise as that's when Hong Kong is drier and less hazy. The hike can be accessed via public transit.
Lai Chi Wo Hiking Tour
If you're a history and nature buff sign up for the Lai Chi Wo guided hiking tour. Some of the highlights on this easy hike include a stop at one of the few remaining 400 year old Hakka villages (a walled village designed to be easily defended) and a visit to one of the oldest Feng Shui woods, home to camphor, autumn maples and incense trees.
You'll see the largest bed of Coastal Heritera – a mangrove with a very interesting texture. Keep your binoculars handy with so many birds and butterflies around. And as you hike along the coastline marvel at what 400 million years of oxidation does to the rocks – cue the deep red colour.
End the hiking tour with a scenic boat tour.
Sha Tin Pass Road to Kowloon Reservoir Hiking Trail
Looking for one of the best, Instagram worthy views of Hong Kong's skyline? Do the hike that starts at Sha Tin Pass Road and ends at the Kowloon Reservoir.
The trail follows the Unicorn Ridge, past Lion Rock, Beacon Hill and Eagle's Nest to end on the northern vista of Victoria Harbour. If you've lucked out and hiked on a clear day, you'll get a view that stretches all the way to Victoria Harbour.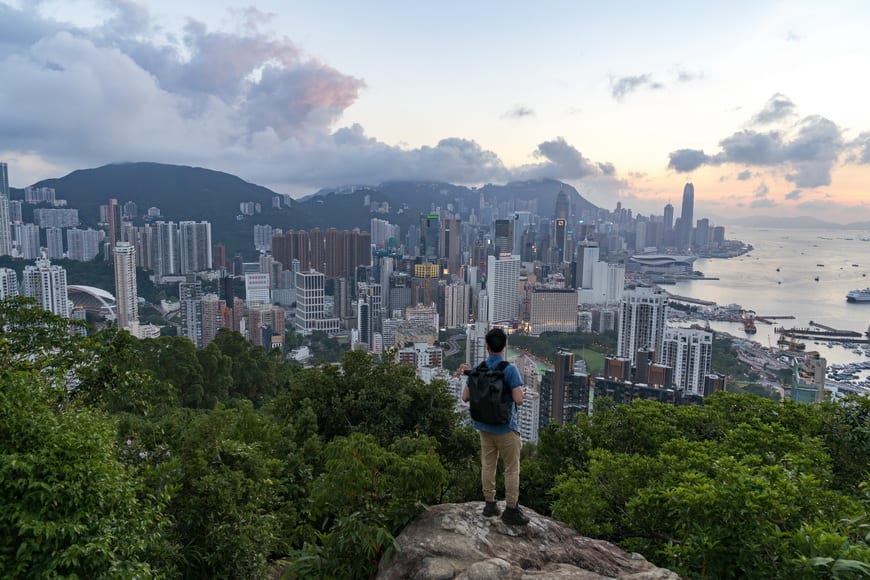 Twin Peaks of Hong Kong
Knock off three peaks on the butt burning hike to the Twin Peaks of Hong Kong that includes Violet Peak, Peak 1 and Peak 2. If you're doing it in the height of summer carry lots of water. Violet Peak takes 30 – 45 minutes and offers views over Tai Tam Reservoir.
Then you're into a section of never-ending stairs to summit the first of the Twins. The second is easier. In total be prepared for a two hour hike if you're fit; add 60-90 minutes if you prefer a slower pace. From the summit enjoy great views of Repulse Bay and Stanley before descending on Stanley Park Road. Finish with a cool drink at the market and maybe even a swim at the beach.
What else can you do in Hong Kong?
When I think of Hong Kong I think of shopping, dining and tea at the Peninsula Hotel – which I appreciate is rather a limited view – and one that barely begins to include the available options. When it comes to dining alone there are over 14,000 restaurants covering local and international cuisine.
There are attractions to see, including harbour cruises, a trip up The Peak accessible via a funicular and a Ladies Market – where shoppers can take in a kilometre of street market clothing, accessories and good old hustle and bustle. There are no shortage of events in all months of the year and if you're a fan of temples, museums and historical sites you'll also find lots to visit.
Getting to Hong Kong from Canada
In Canada you can fly direct depending on your starting city. Air Canada (for under $1000 including taxes return), Cathay Pacific and Hong Kong Airlines all offer regular flights. Once you're at the Hong Kong airport you can connect to over 190 destinations. Canadians staying for less than 90 days do not need a visa.
Further reading on hikes around the world
This post was done in collaboration with the Hong Kong Tourism Board.