The hiking in La Mauricie National Park in Quebec took me aback. First, it was way more beautiful than I expected. And the hikes that were labeled moderate, turned out to be on the tough side of moderate. I think because I live near the Rocky Mountains, I figure nothing can be quite as hard in comparison. I was proved wrong on the Lac de Pimbina hike in La Mauricie National Park and again hiking to the summit of Le Mont Albert in Gaspé National Park.
Where is La Mauricie National Park?
You'll find La Mauricie National Park approximately halfway between Montreal and Quebec City. It is 60 km north of Trois Rivières.
There are two main entrance points to the park – Saint-Mathieu Entrance or the Saint-Jean-des-Piles entrance. Check maps before you go.
If you're driving an electric vehicle you'll find charging stations at four parking lots ( Rivière à la Pêche, Shewenegan, Wapizagonke and Lac Édouard. Half are Tesla charging stations and the rest are J-1772 charging station units. You'll need 4 – 6 hours to get a full charge.
Lac-du-Pimbina Trail summary
Distance: 13.1 km
Time needed: 4.5 – 6 hours
Level of difficulty: Hard
Best time to hike: Go in late September and early October for the incredible fall colours – and in summer if you want to break the hike up with swimming.
I had headed into La Mauricie National Park for the purpose of kayaking Lake Wapizagonke – which I did, but I definitely got sidetracked for about four hours. I had been given a brochure of the park and pulled over to check out where the kayak launch site was located.
But first I glanced at some descriptions of hiking trails. They looked intriguing and basically I got sidetracked. One trail in particular caught my attention – trail #15, otherwise known as the Lac du Pimbina trail. There was a suggested time of 5.5 hours to hike it but I figured I could easily knock off the 13.1 km in four hours or less.
What I hadn't bargained for was how rugged much of the Lac du Pimbina hike turned out to be. There was loads of up and down, and on one occasion ropes were in place and much needed for a steep descent.
The route for the Lac du Pimbina hike
The Lac du Pembina trail winds its way through woods and past five lakes in total – each one more seemingly more beautiful than the next one. The route was signed and easy to follow.
There were four lookouts along the trail and the views down the lakes were outstanding. You'll find lookouts at Lac Solitaire, Lac Benoit, Lac aux Chevaux, and Lac du Pimbina.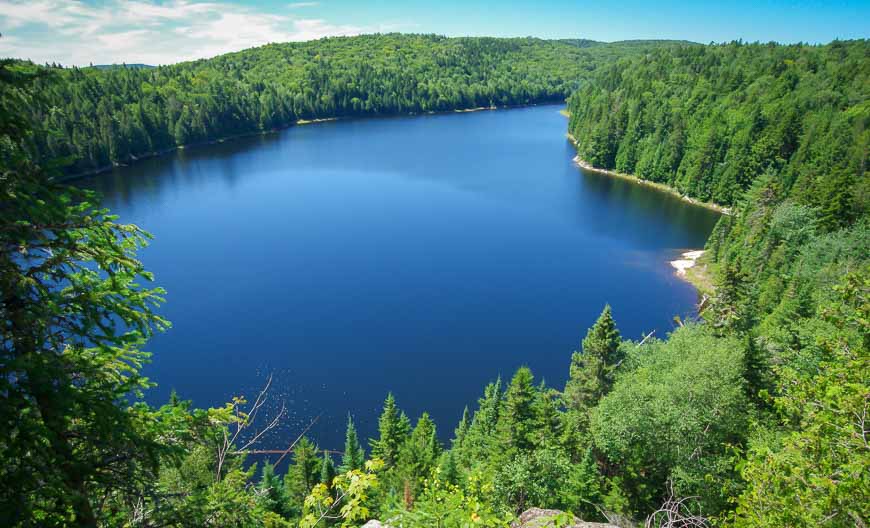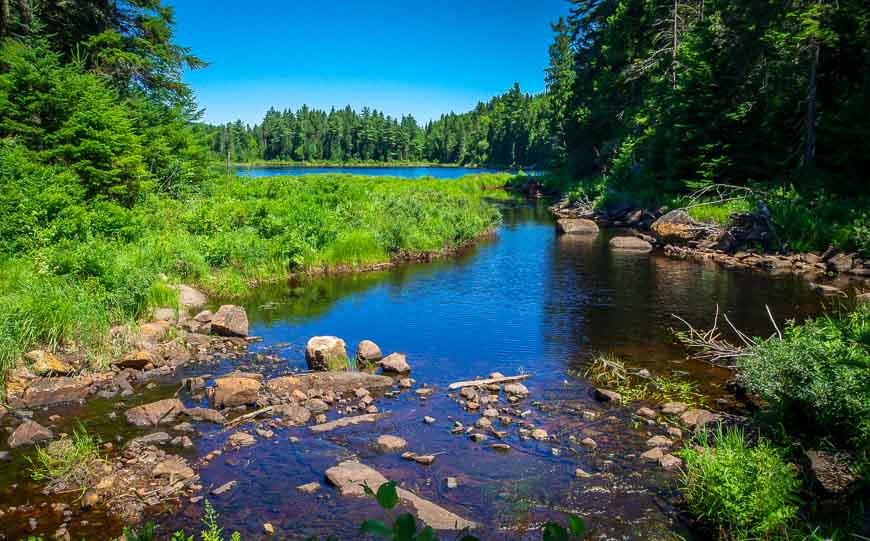 Go for a swim in Lac du Pimbina
By the time I got to Lac du Pimbina I was ready for a swim. The waters are an ideal temperature for swimming by the time mid-July rolls around – and there were a few people taking advantage of the lake.
For a beautiful summer day, I was surprised that I saw very few people on the Lac du Pimbina hike until I was just a kilometre or two from the end.
I ended up taking a solid four hours to hike the trail – with stops only to take pictures and cool off my feet. As much as I thoroughly enjoyed every minute of the kayaking, I am very glad I took the time to see another side of La Maurice National Park.
For more information on La Mauricie National Park visit their website.
Click on the photo to bookmark to your Pinterest boards.