Hiking in the Andes: Peru's Alpamayo Circuit
You're in for a treat when you sign up with World Expeditions to do Peru's spectacular Alpamayo Circuit.
I did the Alpamayo trip self-supported years ago and still look back at my time in these stunning mountains with wonder. The incredible landscape on this trip will stir your soul.
What makes the Alpamayo trip different than say one in Europe or North America?
The Cordillera Blanca (meaning white mountains) boasts an unspoiled landscape that is literally dotted with 5,700 to 6,000 m peaks including Huascarán, the highest mountain in Peru at 6,768 m (22,205 feet).
Every day you trek past head-turning glacial lakes sporting an otherworldly colour of blue – always with a backdrop of rugged mountains.
You hike through the heart of the Cordillera Blanca, crossing 11 passes in total. Some days you can't help but be awestruck by the sheer number of glaciers you see. On other days, as you hike along timeless trails through knee-high grasses you might wonder about those that walked before you.
Keep an eye out for the remains of pre-Incan ruins. Walk here in May and June and you'll be treated to spectacular wildflower filled meadows. And at the end of your 11 day trek you'll have to decide if Alpamayo – the pyramid shaped mountain that is the focus of the trip deserves the title most beautiful mountain in the world – conferred on it by a group of Germans mountaineers many years ago.
Quechua culture on the Alpamayo Circuit
What also sets this trek apart from others is the Quechua culture you encounter, both through daily interactions with the porters and in the few small villages you visit along the way.
Exuberant kids will come running to meet you – and will be totally charmed – especially if allowed to handle your camera. Women will offer shy smiles while the men exude a friendly yet very masculine confidence.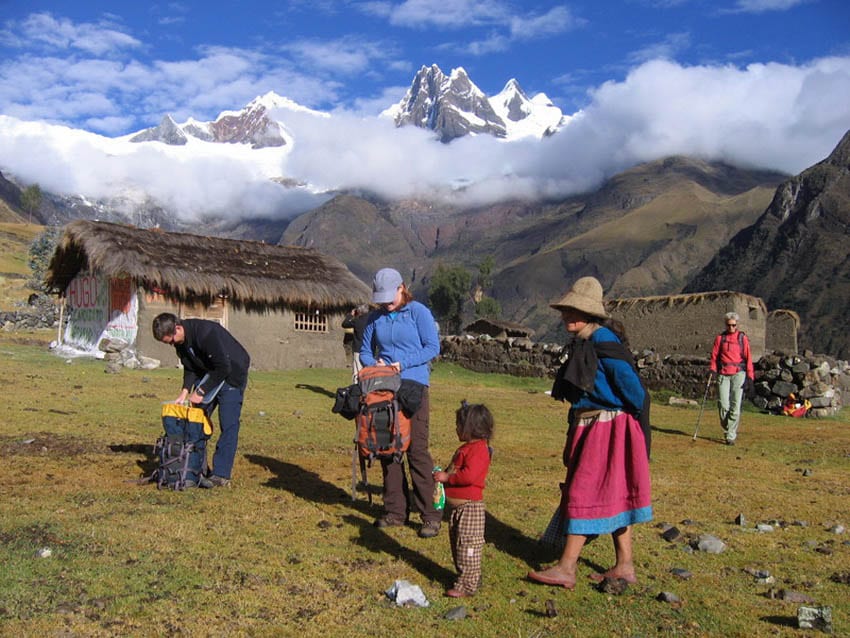 What does a typical day on a trek in the Cordillera Blanca look like?
Once you've left Huaraz and you're camping in the mountains, you can expect a daily routine that goes like this. Every morning starting at 6:30 AM hot tea and washing water is brought to your tent. (This sure beats my experience of doing it myself!)
Then as you pack your duffel and your day pack, breakfast is prepared. By 8:30 AM you're hitting the trails. After a picnic lunch, there are usually several more hours of hiking to reach the final camp.
I know I always like to get into camp at a civilized time to get cleaned up and then have time left for relaxation. Night comes early close to the equator and the temperature drops quickly once the sun goes down. Chances are you'll be scurrying to the warmth of your sleeping bag shortly after dinner.
As a side note, the weather on this trek is consistently dry and sunny from May through to October. It can be quite wet outside of these months.
How is World Expeditions different from its competitors?
Concern for the well-being of the porters shows itself in many ways. World Expeditions is one of only five adventure companies (out of 200) in this area that pay their porters well. They also support several worldwide organizations that work to improve the health and education of porters.
While on the trip, porters are provided with the same medical services as clients as well as clothes, tents and three meals per day. (During my self-supported trip, our guide showed up with only a blanket and no shelter despite freezing night time temperatures. We had brought a tent along specifically for him and ended up clothing him from our stash as well. He was incredibly appreciative.)
World Expeditions is also committed to both responsible and sustainable tourism, doing whatever they can to help the local economy – from hiring local porters to purchasing food and supplies in the area.
What else should I know before I sign up for the Alpamayo trek?
This trek is rated as moderate to challenging. Well before you arrive in Peru, you should be working on your fitness and stamina since there are several back to back seven to eight hour hiking days.
While two days of acclimatization hikes out of Huaraz are included as part of the trip, some people don't adjust to the altitude as well as others – even when taking a drug like Diamox that helps prevent altitude sickness.
Although I never experienced altitude sickness on this trek, I do remember waking up at night – while sleeping at elevations of around 13,000 feet, with a racing heartbeat. Fortunately the company does carry an advanced medical kit and a portable altitude chamber.
Hiking boots and other gear you need
Make sure your hiking boots are well broken in – but not so well broken in that they disintegrate – as is what happened to a member of our group on a remote backpacking trip in Canada's North.
You'll want really warm clothes for the frosty nights and t-shirts and shorts for the day. Take a solar battery charger or several backup camera batteries as this trip is a photographer's dream.
This is a #BestMountainTrek – one that has stood the test of time and still ranks as one of my all-time favourite travel and backpacking experiences. World Expeditions offers five 16 day trips a year beginning in May.
Disclosure: Thank you to World Expeditions for sponsoring this post and providing some of the photos as part of the #BestMountainTrek campaign.
Further reading about trips I've done with World Expeditions
Click on the photo to bookmark to your Pinterest boards.