I travel a lot and what I most enjoy at the end of a flight, especially a long one, is walking off the plane with my carry-on knowing I don't have to wait for up to an hour to pick up a checked bag. On my recent two week trip to Morocco I went carry-on even though I planned a diversity of experiences including a two day backpacking trip, city walks, dusty off the beaten path walks, beach and pool time along with a camel ride in the Sahara Desert.
Packing carry-on for Morocco or any other warm weather exotic destination
Morocco was tough to pack for. Temperatures were all over the place dropping to below freezing on a couple of nights yet afternoons were warm enough that you could sit by the pool – if there was one.
Before I get to my packing list here's some background about bathing suits, cover-ups and undergarments for women – necessities for a trip like this.
Just before I went to Morocco I stopped in at one of Calgary's two BraTopia locations (Edmonton Trail and Aspen Woods) for a new bathing suit and cover-up as well as my first ever bra fitting – which I figured would be pretty damn close to getting a root canal. I was perspiring heavily before I entered the store and basically wondered how long it would take to get out of there. If you're a woman I bet you can relate. Unless you're 16 years old with flawless skin and a perfect body whoever wants to try on a bathing suit or get fitted for a bra.
For those of you who need a bathing suit you should know that BraTopia carries swimwear year round including bandeaus, halters, tankinis and one piece styles – literally something for every style, size and age. It's the only place I know of where you can buy tops and bottoms separately.
Here's the good news about swimwear and bra shopping at BraTopia.
The process was quick (a real bonus), the fitting took just seconds and from there I basically had bras, swimsuits and cover-ups brought to me so I was in and out of the store in 30 minutes tops. And I only had to try on one other bathing suit to find one I loved that didn't make me look like a frumpy middle-aged woman. Also, I picked up some packs of Eucalan – a wash for delicates which turned out to be a positively brilliant move. In the hotels we stayed in we were lucky on several occasions to get a rough bar of soap. (Never did we get hair conditioner). The wash was awesome for everything, not just delicates and made my clothes smell fresh. Aside from our stop in Essaouira on the coast, clothes dried in literally hours – a big plus when you're traveling light.
Packing List for Morocco
If you really want to travel light you have to pack smart and take emotion out of the equation. Forgot the favourite top if it doesn't work with your colour palette. Stick to the necessities. And you can always augment your wardrobe while on your trip.
Here's what I took.
3 pairs of quick drying underwear
2 bras
1 bathing suit and cover-up from BraTopia
1 pair of lightweight Arcteryx pants that I wore on the plane, out for dinner….
1 pair of baggy Arc'teryx pants that worked well for a couple of longer days in the car and for backpacking.
1 pair pants for dinner
1 dress (never wore it)
1 fleece (used every day)
1 long sleeved T-shirt (wish I'd had two)
1 Arcteryx shell jacket (good for cool nights)
3 collared shirts (don't expect to find irons in hotel rooms)
3 short sleeved shirts and one t-shirt that has a pocket in front for your passport (wore on the plane)
2 pairs of socks
1 lightweight sweater
2 belts
1 scarf – a must have item; take 2 if you're going to Morocco or buy one there
One pair Birkenstocks, one pair lightweight hiking shoes, one dressier scandals (wore once)
Non clothing related items 
DSL camera with two lenses and a battery recharger
A lightweight tripod but only if you think it's a real necessity
Computer and charger
Smart phone and charger
Notebook and a couple of pens
At least two good books
Eye mask
Several protein bars
Toiletries
Travel documents
Multiple plugs for Morocco
Eucalan wash for clothes – grapefruit scent
Knapsack and a carry-on suitcase
Thank you to BraTopia for providing me with new undergarments in a non-threatening environment. Also good to know that you offer products in cups that come in sizes from A to N. Who knew?
Click on the photo below to pin.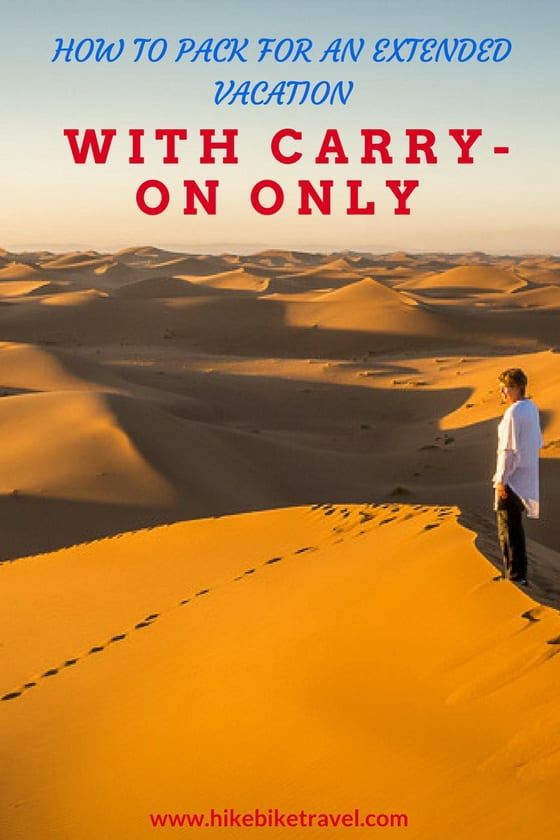 Leigh McAdam
Author of Discover Canada: 100 Inspiring Outdoor Adventures
HikeBikeTravel
Follow me on Facebook, Twitter, Instagram and Pinterest