How to Recycle Your Beverage Containers
I've been collecting beverage containers since my university days, first as a method of funding my weekly trips to the pub and secondarily as a means of keeping the streets clean. Fast forward many decades and it's the environment that I'm most interested in now. I never pass up an opportunity to pick up an empty beverage container lying in the park or on the road on my daily dog walks, a fact my neighbours can attest to as I'm often seen early in the morning with an empty wine bottle in hand. (True fact!)
Please take some time to consider the environment this summer when you're out in public spaces. It's easy to recycle in the public realm, just as it is at home or in the office. Here's how you can do your part to keep beverage containers out of Alberta's landfills this summer.
If you're in a public space where there are recycling bins, be sure to throw all your beverage containers in it. Ask your friends to follow your lead. At home, separate your recycling materials, adding a separate box for refundable beverage containers. When it's full take a trip to one of over 200 Alberta Bottle Depots. Use the interactive map to determine the location nearest to you.
Why should you go to the trouble of recycling your beverage containers?
Have a look around? What do you see in Alberta? How about world-class mountain views, fields of canola as far as the eye can see, cute small towns and vibrant cities. I think most of us want to keep it that way. Nothing ruins a landscape like garbage strewn about.
When you recycle your beverage container you do so many things that are not only good for the environment but good for the community.
Consider this.
For every beverage container that is one litre or less in size you get $0.10 cents. If it's more than a litre, $0.25 cents. Now do the math. In short order you can score some serious change. And if it's not serious to you, it is for the community. Just think what all those dollars could do in the hands of charitable organizations across Alberta. In 2016, over 86% of beverage containers sold in Alberta were diverted from landfills – a staggering two billion containers in total. Recycling is both good for the environment and the community.
Recycling beverage containers also reduces waste in landfills. No one wants a landfill in their backyard so extending the life of the ones we already have is a win-win situation. We also use less raw material and create new products from recycled materials.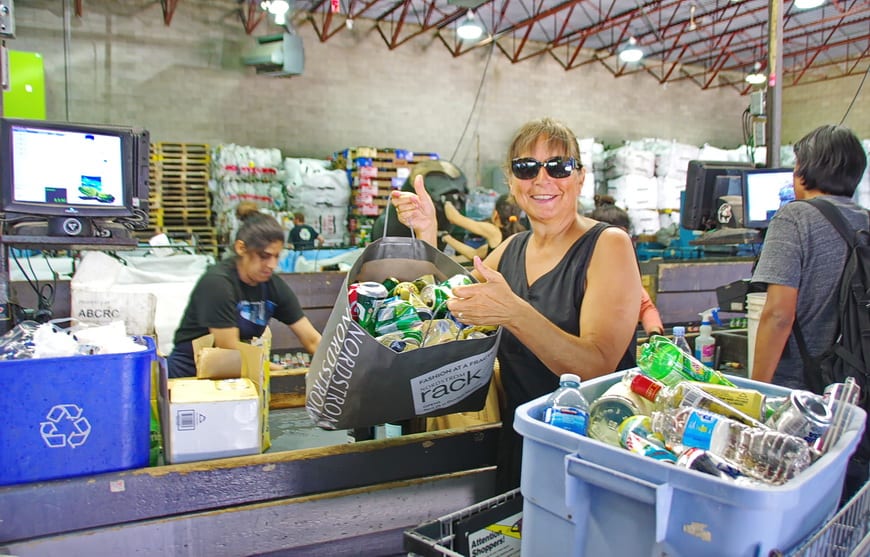 Here's a look at what happens to those beverage containers you recycle in Alberta.
Recycled aluminum cans are processed into new aluminum beverage containers in under 60 days. Up to 99% of aluminum by weight shipped is recycled!
Clear plastic containers (PET or polyethylene terephthalate) are recycled into either pellets or flakes and then used in the manufacture of clothing and food grade beverage containers.
Coloured plastic containers made from HDPE (high density polythethylene) are made into pellets and used in the making of non-food plastic containers like plastic buckets.
Glass containers are crushed into little glass beads that enjoy a new lease on life in the form of fiberglass insulation.
Tetra Brik containers like juice boxes get broken down into three material types and ultimately get recycled into paper products like cardboard boxes.
Gable Top cartons – think large juice boxes – get pulped and then separated into paper and plastic. Ultimately 80% of the paper pulp gets recycled into cardboard, toilet paper and writing paper.
Bi-metal beverage containers like a juice can with a pull off tab are smelted and then recycled into re-bar, grinding rods for mining and even car parts.
Drinking boxes and bag-in-a-box bladders (think bagged wine) get incinerated and used for energy recovery. Fortunately the boxes from your bagged wine can be recycled into cardboard boxes or other coarse paper products.
Wondering what types of beverage containers are refundable?
Only ready-to-serve containers that have been purchased in Alberta are eligible for a refund. In Alberta alone over 110,000 types of beverage containers can be recycled including aluminum cans, glass bottles, metal cans, plastic drink bottles and jugs. Unfortunately, if you have a container without an English – French label, measurements in ounces instead of mls or if there is a Surgeon General Warning then you're out of luck. For more information on what qualifies as a recyclable beverage container check out Recycling 101 where you can learn all the ins and outs of recycling in Alberta.
Remember every deposit creates #ChangeThatCounts. This summer Sip, Save and Spot a recycling bin or Alberta Depot.
Thank you to the Bottle Depot for making this post possible. I am a big believer in recycling.
Leigh McAdam