The beautiful city of Prague, ranks as one of the prettiest I've visited in Europe, with its perfect location on the Vltava River. I have visited the city twice now, once recently with a local Czech so read on for insight on how to spend one day in Prague.
It's amazing how much you can do in one day in Prague when you're motivated. Prague is a compact city that's perfect for walking with the major sights in close proximity. If you keep reading you'll discover one of the coolest rooftop bars in Prague – hardly any tourists know about.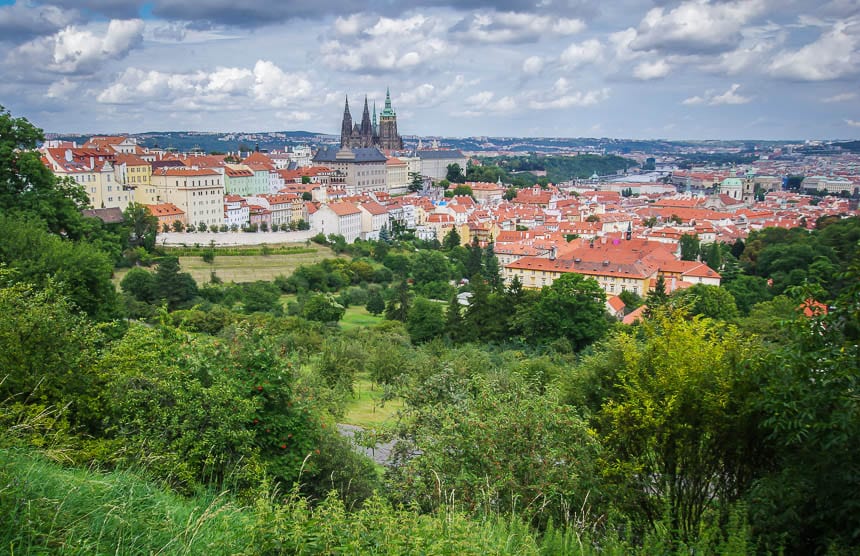 One day in Prague – what you can see in just 24 hours
Check out the Prague Castle Complex
Our group didn't arrive in the city till about noon. Immediately we marched off to the Prague Castle Complex – considered to be the largest coherent complex in the world and home to the President of the Czech Republic.
Next up was a line-up to get inside the St. Vitus Cathedral. We seemed to get lucky, perhaps because the weather was a little dreary, because despite first appearances it moved quickly. Seeing the soaring Gothic architecture dating to 1344 was worth every minute of the wait. It's one of those experiences where words can never capture what you feel inside.
After the cathedral be sure to take some time to explore the winding cobblestone streets of what is called Lesser Town.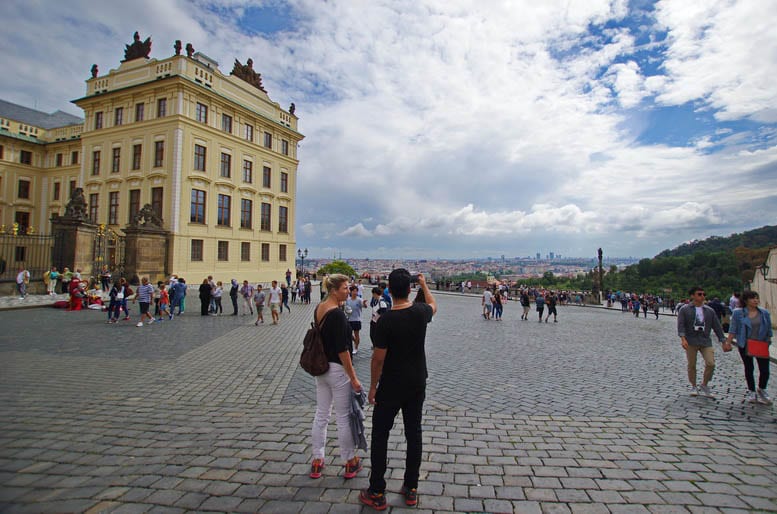 Go for a walk in the parks and gardens near the castle
From there our group moved away from the crowds and made our way to the beautiful parks and gardens south of the castle and west of the river. There's quite a network of trails with some offering spectacular views of the city and its red tiled roofs.
After exploring the park we made our way through a maze of narrow streets to arrive at Kampa Park beside the Vltava River.
Take a boat tour – an enjoyable way to spend one day in Prague
Rent a boat or take one of the boat cruises on the Vltava River, the longest river at 400 kilometres in the Czech Republic. You get great views from the boat of both the Charles Bridge and the Prague Castle Complex.
One cruise that sounds a little different takes you up the Devil's Channel, called a blind arm of the Vltava River. The boat – either a small mahogany boat or a solar boat, glides past medieval homes and the Grand Priory Mill – considered to be the most famous of the preserved mills.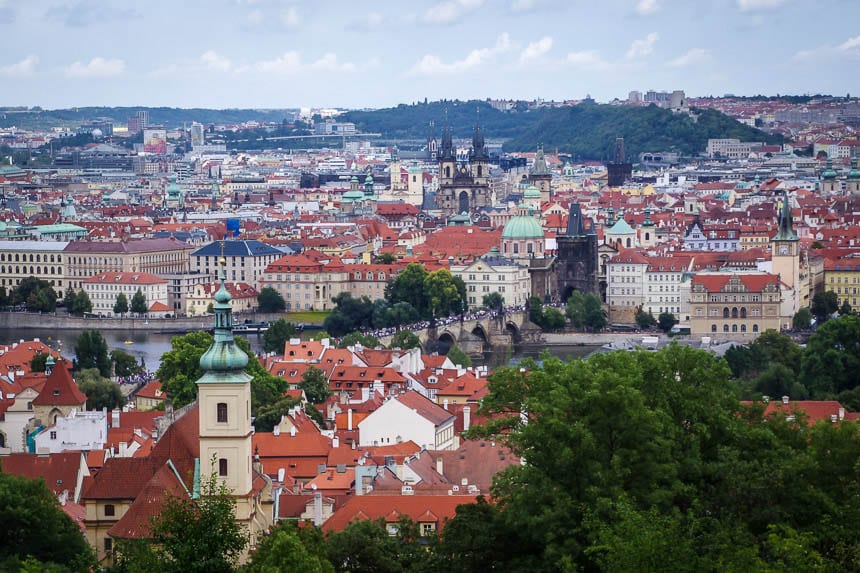 Explore neighbourhoods on foot if time permits
On route to Hotel Leonardo, our home for the night on one of my visits, we passed the National Theatre and off in the distance I spied colourful houses, perhaps part of an old neighbourhood that begged to be explored but time didn't permit.
Visit Petrin Hill
By early evening we were back on foot, this time to get to the funicular that takes you up Petrin Hill. I highly recommend including this in your exploration of Prague. (Your ticket for bus and tram travel is also valid for the funicular.)
The funicular has been around since 1851 – but with an on again, off again history. It was electrified in 1932 but then problems arose in 1965. Part of Petrin Hill became destabilized so for a solid 20 years the funicular didn't run. In 1985 it reopened to tourists.
The funicular is open from 9 AM to 11:30 PM everyday, running every 10 or 15 minutes depending on the season. It's got two cars and stops at three places on Petrin Hill.
At the top of the hill there's an observation tower, a mirror maze and an old church. In the evening we got off at the halfway point so we could dine at Nebozizek Restaurant – which I'd suggest for the view alone. Aim to be there for sunset.
Have a drink with a view on the Lucerna Rooftop
For one of the unique places to have a drink outside in Prague be sure to visit the Lucerna Rooftop. You get to it through an entrance in the Lucerna passage opposite the entrance to the Grand Hall. Then take a most unusual elevator (one that runs continuously so you must hop on or off while its moving) or take the stairs to the 5th floor.
The rooftop is open from 3 PM until dusk Saturday, Sunday and Monday. It is truly an awesome space and something I'd highly recommend doing.
The Charles Bridge – a must see sight if you only have one day in Prague
Following dinner we strolled over to the Charles Bridge, stopping to gawk at the shop windows along the way. Many stores were open in the vicinity of the bridge well after 10 PM.
The Charles Bridge, a pedestrian only bridge, has been in use since 1402. During peak periods, it's a mass of moving flesh. Aim to visit either first thing in the morning or late at night when the crowds have subsided.
The views and the lights from the bridge are fantastic – even romantic. My exploration of Prague ended at the hotel after a walk alongside the river where I enjoyed fabulous views of the Prague Castle complex all lit up. Truly, Prague is one of Europe's great cities.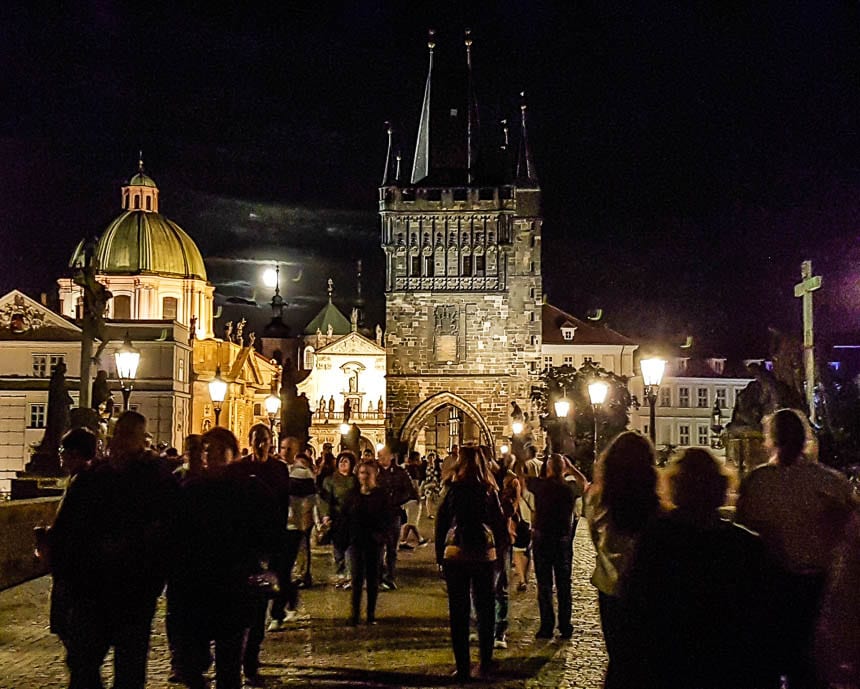 This post includes some affiliate links. If you make a qualifying purchase through one of these links, I may receive a small percentage of the sale at no extra cost to you. Thank you for your support.
Where to stay in Prague
I have stayed in three wonderful hotels. My favourite was The Emerald – and Art Nouveau house in the centre of Prague, with 13 fully equipped apartments in five different styles. In the morning walk a block and enjoy breakfast at Mistral Café Restaurant.
Recently I stayed at MEETME23 – a styling spot that is well positioned to explore the Old Town. It's home also to a bespoke restaurant.
Hotel Leonardo is another solid choice – and again in a great location.
Day trips from Prague
If you're using Prague as a base for a few days check out these best day trips from Prague. It's a compact country and easy to get around so I'd recommend trying to fit in at least Cesky Krumlov and České Budějovice.
What I missed in Prague
I had an early flight so by 11 PM I figured I'd call it a night. Some of our group headed off to see the Prague Astronomical Clock built in 1410. But after reading a Huffington Post article that called the clock one of the most disappointing tourist attractions in Europe, I was happy I'd gone to bed.
Another place for a superb city view is Vítkov Hil – close to two happening neighbourhoods – Žižkov and Vinohrady, both full of bars and pubs. I highly recommend a meal at Spizírna – one of the most Instagrammable places to eat in Prague with outstanding food.
Further reading on the Czech Republic
Click on the photo to bookmark to your Pinterest boards.