With dreams of alligators lunging for the warm meat sitting in my kayak cockpit (me), I went ahead and booked a full day trip kayaking in Florida on the Turner River in Florida's Big Cypress National Reserve.
The goal was to see the area in its most pristine state – well off the very busy and well-trodden tourist trail. I knew the area would be rich not only with alligators but with birds, and that would make my husband very happy. Kayaking in Florida isn't always appealing if it's buggy or there's too much boat traffic. But we really didn't have to contend with any of that.
Updated April 2021. This post includes some affiliate links. If you make a purchase via one of these links, I may receive a small commission at no extra cost to you.
Kayaking in Florida in the Big Cypress National Reserve
To start the kayaking tour, we were to meet in Everglades City at 8 AM for an 8 hour day on the water. Our timing was great! The biggest weekend of the year in Everglades City – the Everglades City Seafood Festival – coincided with our visit and ensured that every room for miles was booked months in advance.
John and I ended up staying in Homestead for the night, about 1¾ hour drive away. We were up very early to make the 8 AM rendezvous.
The launch site on the Turner River is underwhelming
The day started with a quick shuttle to the Turner River launch site. The start of the Turner River, one that naturally dries up every spring, is underwhelming. Barely a river in my books, I wondered what we were in for.
It turned out – a lot – and within minutes.
The paddle is initially super easy, more a languid float than anything requiring work. But quite literally within two minutes of launching we'd seen a big pair of alligator eyes staring at us. And a few minutes later, another pair. And another. I think you get the idea – 8 pairs of alligator eyes in total – and that's just the ones we saw.
But considering there are about two million alligators in south Florida, that's barely a drop in the bucket.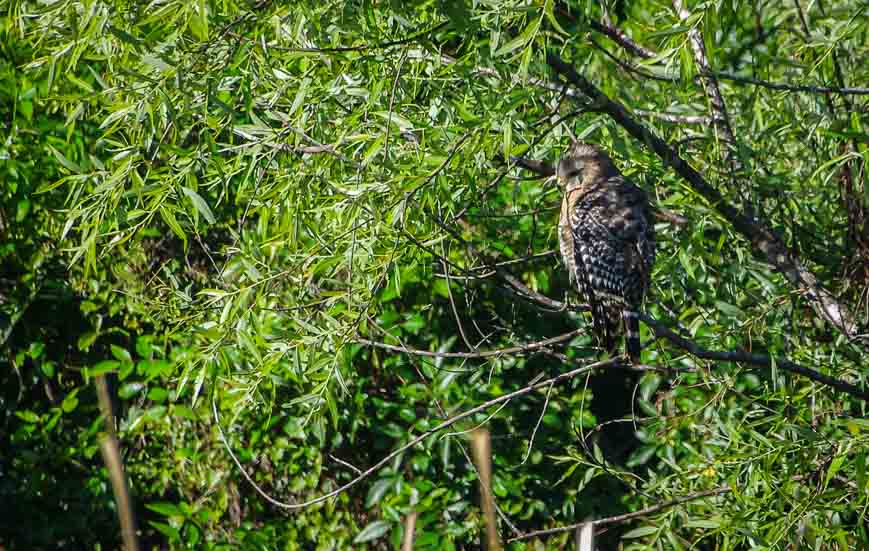 Kayaking through a tunnel of mangroves
After our initial oohing and awing at all the birds and alligators, we were into a tunnel of mangroves for the better part of a mile – as a rough guess. Tight enough that you had to use only half a kayak paddle, I hoped there were no snakes dripping from above. (There weren't.)
This part of the trip turned out to be a lot of fun. Using a combination of paddling and pulling we emerged periodically into an environment of sawtooth grass – before heading back into the mangroves. Every so often, we'd see beautiful bromeliads in flower growing out of the crook of a tree.
After a couple of hours we reached the first dry spot of land where we could take a break. You could actually camp here – no permits are necessary as it's in Big Cypress National Preserve and not in a national park. But it wouldn't be my first choice for an overnight camping spot.
Then it was back into the kayak for another few hours. As the river widened, it offered bigger vistas.
Our last pullout was at the location of a 1500-year-old midden, the site of an old Indian camp. Layer upon layer of shells can be seen in the banks up from the river.
Kayaking in Florida to Everglades City
The paddle is definitely a little less interesting and fun in the last three miles. Once you reach civilization the boat traffic picks up considerably. However, with a little luck you might see dolphins (we saw one from a distance) and manatees (no luck).
The manatees have not adapted to the world nearly as well as the alligators – which have been around for 75 million years. In fact, the manatees tolerate cold water so badly that they'll die on masse if the temperature drops below 68°F for any length of time.
Now the electrical generation plants in Florida are required by law to discharge warm water whenever it's cold to keep the manatees alive.
The last mile of the paddle is in a wide but very shallow section of the river. Motorboats could only use the channel to our right, or they'd run aground. It was slightly breezy through here as well and since our kayaks didn't track that well, it was a battle to keep the boat moving in a straight line.
How long does it take to kayak the Turner River?
It took us 6.5 hours including breaks to paddle 17 km (10.5 miles).
Our guide Dave says that he has occasionally finished the paddle in the dark. I'd call it a moderate paddle – with the toughest kayaking the last few miles. We used a guide as I really didn't know what to think about paddling with alligators (no problem at all when they haven't been habituated to humans) and I figure we'd learn a lot more about the area if we went with a naturalist.
Kayaking in Florida on the Turner River – guide or no guide?
You could rent a kayak and do this trip on your own. Route finding is not particularly difficult but still many people wouldn't want to attempt it.
We did our trip was with the Everglades Kayak Company– not an inexpensive option, especially as they don't even provide lunch, but our guide was extremely knowledgeable about the area. Another company to try is Everglades Adventures & Kayak Tours.
By mid-March it's likely the Turner River will be impassable. It dries up for about six months of the year. Our timing was close to ideal, especially as there wasn't a bug to be seen.
Where to stay beforehand in Everglades City
For an eco-friendly bed and breakfast check out Ivey House. They also provide canoe and kayak rentals along with tours.
Further reading on things to do in Florida
Click on the photo to bookmark to your Pinterest boards.