I spent a few very enjoyable hours snowshoeing by myself on the Lake Agnes Trail. I took it all the way pass Mirror Lake to the Lake Agnes Teahouse above Lake Louise. I'd hiked the same trail in July. The experience was 100% different – though both were great.
In the summer the Lake Agnes trail is known for its crowds. On the day I snowshoed to Lake Agnes I met one person at the very beginning of the trail (at 10:30 AM) and I didn't see another soul until I was on my way down. However this trail does have Challenging Class 2 terrain for avalanche exposure and requires appropriate training and equipment. If you lack that only go as far as Mirror Lake and turn around there.
There hadn't been any recent snow so the trail was hard packed and you actually didn't even need snowshoes. It's a moderate 3.6 km snowshoe or hike one way starting right from Lake Louise. The elevation gain is 400 m (1,300 feet).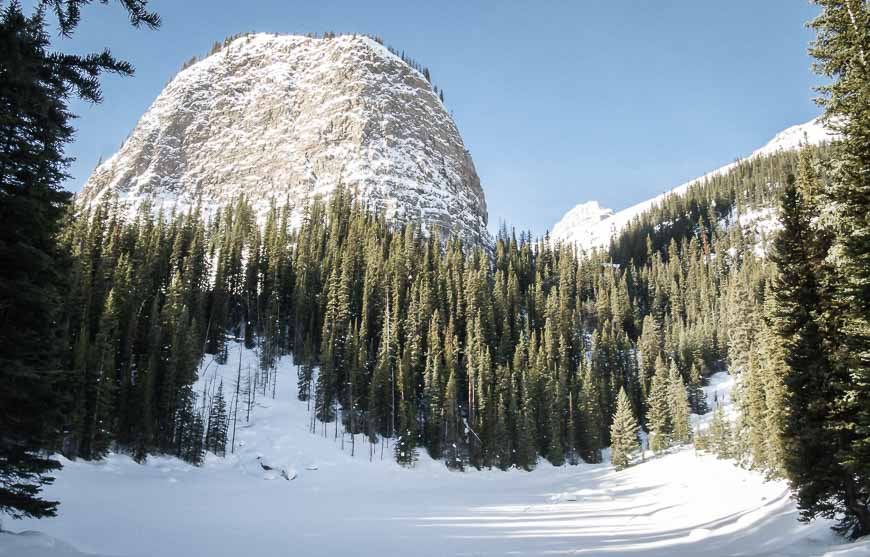 Avalanche terrain on the way to Lake Agnes from Mirror Lake
After Mirror Lake there is a section that crosses avalanche terrain – and people have died here. Banff National Park considers it to be Challenging Class 2 terrain for avalanche exposure. Continue from here only if you're prepared with a shovel, transceiver and the know-how. I would highly recommend that you check the Avalanche Report as well.
If you do press on, then you must also negotiate a steep set of stairs to Lake Agnes. They're packed with snow, and very slippery.
I made sure to have three points of contact (two hands and a foot) at all times going up and coming down. This was no place to fall with no one around to help.
When I reached Lake Agnes – after just about an hour of steady snowshoeing – the silence was deafening. It was so peaceful, calm and still. Although it doesn't pack the visual punch that it does in summer I think it's still very beautiful.
Lake Agnes has got quite a different feel in summer. There are loads of hiking trails to do nearby including Little Beehive, Big Beehive, Mt. Saint Piran, Devil's Thumb and the Plain of Six Glaciers.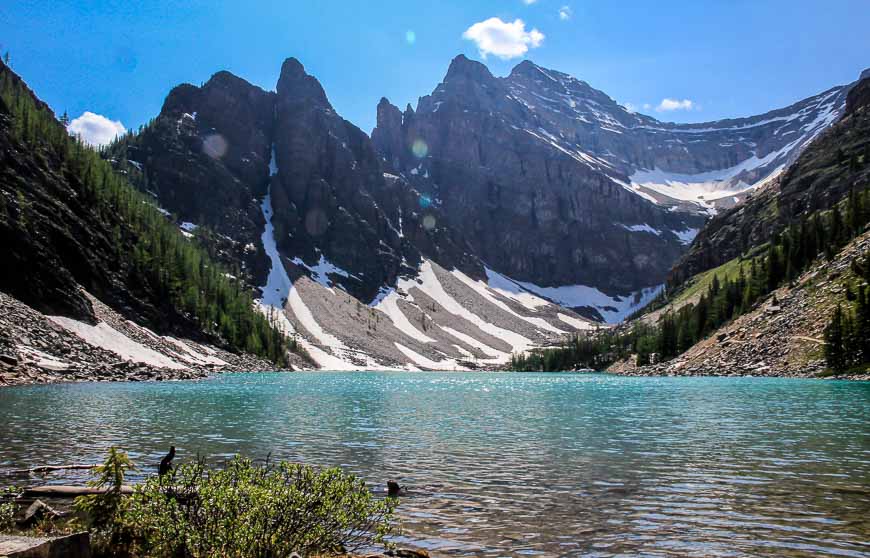 I didn't spend much time up at the lake. It was chilly and I needed to warm up in some sunshine.
I carefully made my way back down the steep stairs to the trail and about ten minutes later ran into people on the way up. I guess in winter people are just slow to get going. I passed about 20 people going up – on my way down. I think I was just lucky to have the trail and the lake to myself. However, I also think that most people are unaware of the avalanche danger.
If it hasn't snowed in a while don't worry about renting snowshoes at the Fairmont Chateau Lake Louise. But if there is fresh snow I'd definitely recommend them.
For more information about Banff National Park visit their website.
Further reading on things to do in winter in Alberta