If you want a stellar hike or backpacking trip, without the crowds, in the heart of the Moraine Lake – Lake Louise area, I'd highly recommend the Lake Annette – Paradise Valley – Giant Steps hike. Many people stop at Annette Lake – 5.7 km in, but then you miss some of the dramatic scenery, along with the option to hike up to Sentinel Pass. However, it's a 20.3 km return hike to Paradise Valley – too much for many in a day. That's where the camping option comes in. Spend a night at the Paradise Valley Campground, something you can only book 24 hours in advance.
As many of you know, Moraine Lake is closed to visitor vehicles as of 2023. But because the trailhead for Annette Lake and the Paradise Valley is off the Moraine Lake Road, you should still be able to access the trail. Read on for all the details on the Annette Lake hike, on into Paradise Valley.
This post includes some affiliate links. If you make a qualifying purchase through one of these links, I will receive a small percentage of the sale at no extra cost to you. Thank you very much for your support.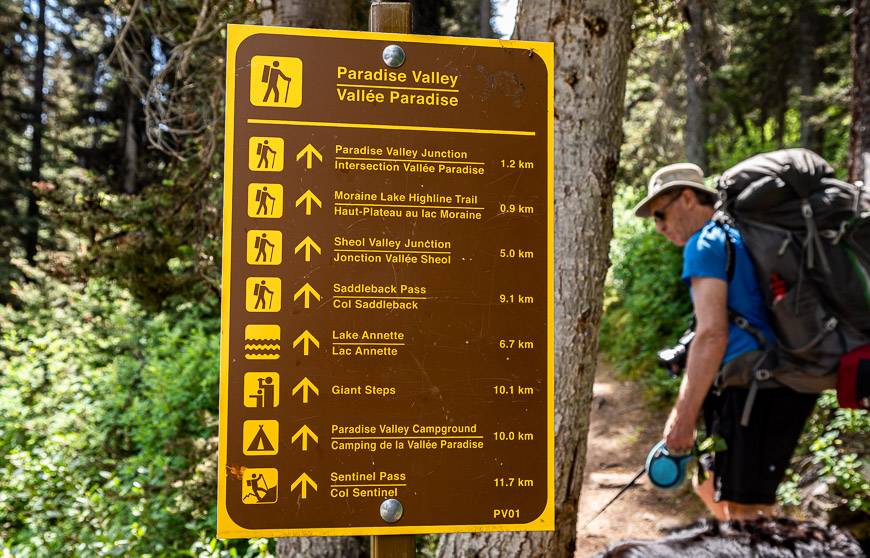 Lake Annette and Paradise Valley hike summary
Round trip distance to Lake Annette: 11.4 km (7.1 miles) with 250 m (820 feet) of elevation
Round trip distance to Paradise Valley: 20.4 km (12.7 miles) to Paradise Valley with 400 m (1,310 feet) elevation gain
Time needed: 4 hours for the lake, 7 hours for Paradise Valley or overnight
Level of difficulty: Moderate
Dogs allowed: Yes, on a leash
Best time to hike: July until the snow flies in September; the later in the season you hike, the fewer the bugs
You will need a Parks Canada pass to visit Banff National Park.
If you like paper maps, pick up a copy of

Gem Trek Lake Louise & Yoho

.
Keep the bear spray handy. I recommend that you carry it in a bear spray holster so you don't set it off accidentally.
If you want to camp at Paradise Valley, you can only book it 24 hours out.
The parking lot for the Lake Annette hike isn't large so plan to start the hike early – by 8 AM on weekends.
Getting to the Lake Annette – Paradise Valley trailhead
The Lake Annette trailhead isn't hard to find but it is awkward to get to in summer as the traffic patrol people don't usually let you make a left-hand turn from Lake Louise Drive onto Moraine Lake Road. Instead, you must drive up at least a kilometre to do a U-turn, perhaps at the pullover where the Kingmik sled dogs start in winter. But if there is any traffic, you'll have to go all the way up to the Lake Louise parking lot and turn around there.
Drive back down Lake Louise Drive so you can make a right turn on Moraine Lake Road. You will have to stop and tell the traffic people you are hiking into Lake Annette and the Paradise Valley. You can also present your camping permit for proof. The trailhead is 2.5 km up the road on the right.
Lake Annette hike
Before you set off on your hike to Lake Annette and Paradise Valley, be sure that you have a full can of bear spray that's accessible – and you know how to use it. There is a sign at the start of the trail suggesting that you hike with a group of four or more but according to my guide on the Eiffel Lake hike, it hasn't been mandatory for years.
The Lake Annette hike is easy and straightforward. Follow well-signed trails, sticking at signed intersections to the Paradise Valley Trail. There are two crossings of Paradise Creek on sturdy bridges before you reach an intersection at the 4.2 km mark. At the second of the bridge crossings, there are particularly good views of the north face of Mount Temple.
From the intersection, follow the creek upstream towards Lake Annette. If you went right instead, you'd reach Saddleback after a 4.1 km hike. It's a pretty pass between Fairview and Saddleback Mountain on the way up Fairview Mountain.
Cross Paradise Creek again at 5.2 km and then hike on a moderately steep trail to reach Annette Lake. It's a nice place for a picnic lunch.
Lake Annette to Paradise Valley hike
From Lake Annette, start climbing. You'll hike past the gnarled trees pictured below to reach a large rockslide, 1 km from the lake. The views open to the north across the valley. Make your way through the boulder area on an easy to navigate trail. You'll reach another intersection at the 8.4 km mark.
If you take the right trail – which is what we did – you'll descend to cross a bridged creek. Then follow a trail through pretty larch-filled woods to reach the campground, 1.9 km from the intersection. The campground is 200 m past the turnoff to the Giant Steps.
Option to hike to Sentinel Pass
There is an option to hike to Sentinel Pass from the Paradise Valley Trail. It's an additional 2.7 km but it's a stiff climb to reach the pass at 2,611 m. For comparison's sake, Lake Annette is at 1,965 m, a difference of 646 metres or 2,119 feet.
Another option adds 1.7 easy kilometres. From the intersection to the Sentinel Pass trail continue on a loop trail for 1.3 km, heading west to get a taste of Horseshoe Meadows. It meets up with the main trail 800 m southwest of the campground. In July, it's buggy, but this would be a pleasant diversion come mid-August or September.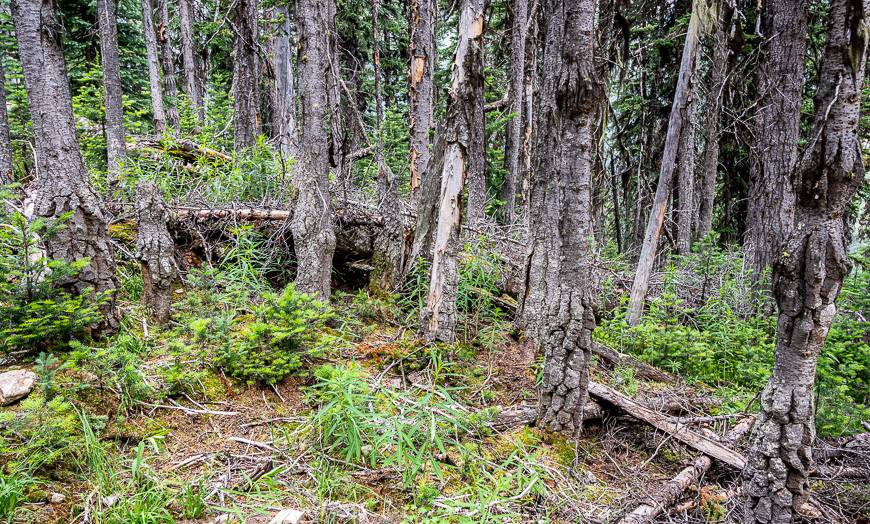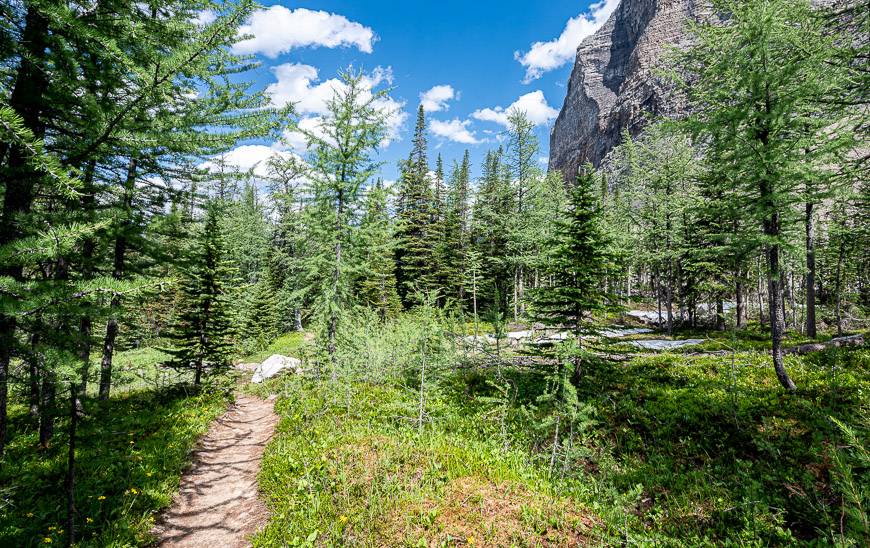 Visit the Giant Steps near the Paradise Valley Campground
Don't miss a visit to see the Giant Steps. It's a quick walk from the Paradise Valley campground. You might want to drop your gear and set up your tent first and then return after dinner. A boardwalk takes you over an area of rusty rock to a lookout at the Giant Steps. Enjoy views all the way to the Lake Louise Ski Resort. The view up the creek is also pretty.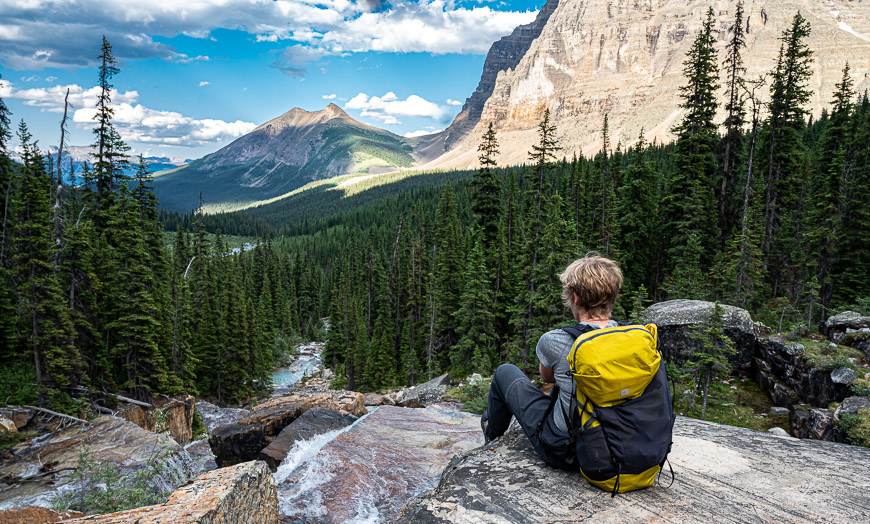 Camping in Paradise Valley – and how to book a campsite
Paradise Valley is the only backcountry campground in Banff National Park – to my knowledge – where you book the campsite 24 hours ahead of when you want to visit. And then it's by phone. I think it's because the campground is in a bear corridor, so they close it down if there are any issues.
You can call either the Lake Louise Trails Office at 1-403-522-1264 or the Banff Backcountry Office at 1-403-762-1556. Leave a message with the date you want to do it and the number in your party. A real human will call you back. You can book 24 hours out so call at 9 AM the day before you want to go.
The actual campsite is pretty and there's a decent amount of privacy between the 11 tent pads. The communal cooking area has several picnic tables and numerous bear boxes. There is also one outhouse nearby. The water source is from Paradise Creek and it's in a very pretty setting.
The downside to a summer trip as I found out, is that its buggy and not just a wee bit buggy – but eat as fast as you can and get moving to keep the bugs away kind of buggy. Since the trail winds through pretty larch country, I would recommend a camping trip from late August until about the third week of September. Count on very chilly nights.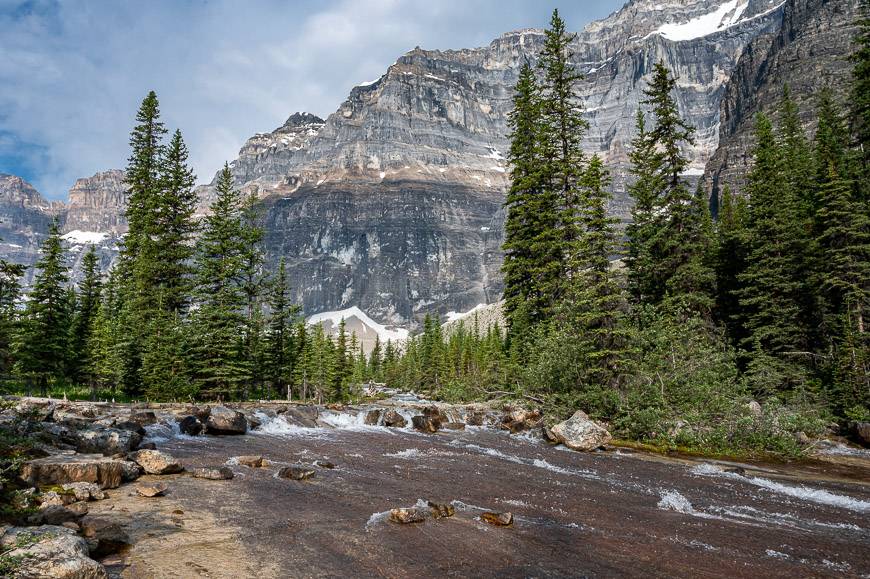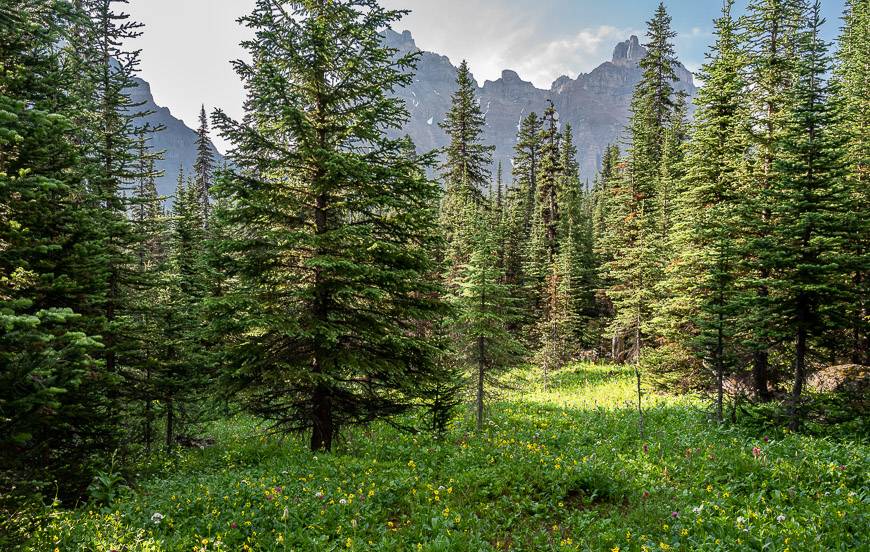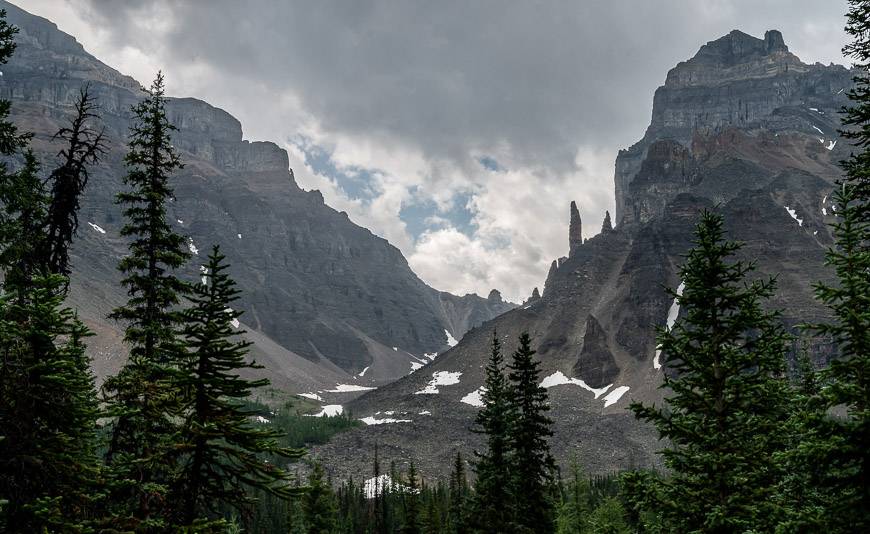 A few things to take on the Paradise Valley hike and camping trip
Don't forget the bug spray.
If you're camping, or you don't want to carry a lot of water, take a water filter like this easy to use one. You might also like water purification tablets.
For campers, an MSR Pocket Rocket is a lightweight choice.
And I always carry a roll of Gear Aid in case I need to make a repair on the fly to my tent, jacket or sleeping pad.
Where to stay in the Lake Louise area
If you want to stay nearby the night before or after, you'll find plenty of options. It's best to reserve well in advance.
Near Lake Louise itself, the rustic Deer Lodge is a good choice, especially the renovated rooms.
Paradise Lodge and Bungalows would be great if you could get in.
Just outside of Lake Louise via a scenic drive on Highway 1A is Baker Creek by Basecamp – with cabins and fire pits beside the river.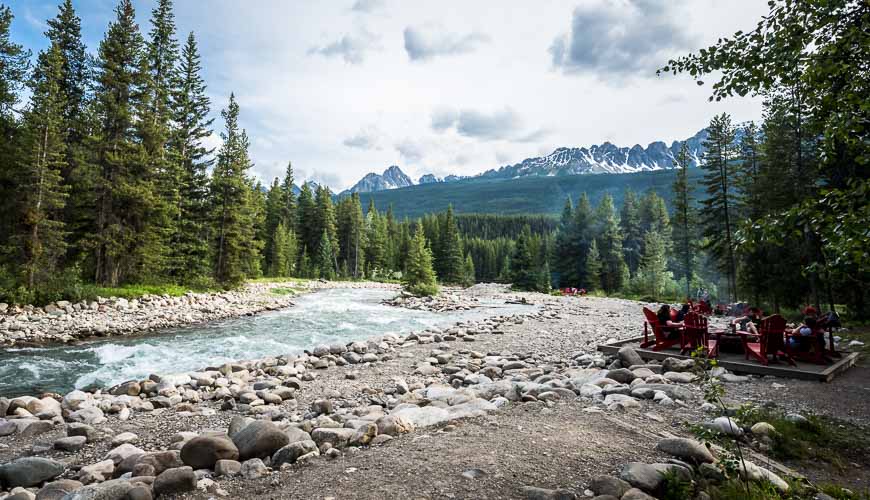 Further reading on hikes in the Lake Louise area
For a look at what this hike looks like dressed in fall colours read Golden Fall in Banff – A Guide to See Larch by Travel Tales of Life.
Click on the photo to bookmark to your Pinterest boards.