Latigo Ranch near Kremmling, Colorado is one of the best places I've been in the world for cross-country skiing. And good old western-style hospitality.
The landscape of rolling hills dotted with aspen trees and far-reaching views makes for a splendid backdrop. Run as a dude ranch in the summer, Latigo Ranch transforms itself into one of the top spots in the USA in winter for cross-country skiing. Try to imagine what it's like to have 50 kilometres of private, impeccably groomed cross-country ski trails out your cabin door.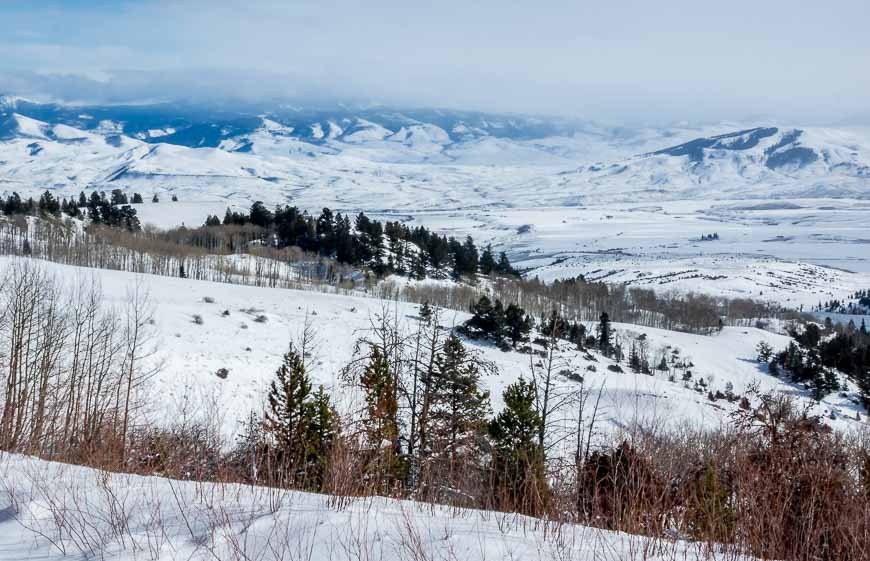 Getting to Latigo Ranch is half the fun
Access is via a drive up a narrow, snow-covered mountain road off of Highway 40 north of Grand Lake. I am happy no one is behind my car to see my wimpy driving. I think to myself that I would never make a good rancher's wife. Or a rancher for that matter. After what feels like a long seven miles I arrive at the gates and breathe a sigh of relief.
I can't get over the changes I see in the landscape over those 7 miles – from the dry sagebrush that's prevalent around Kremmling, Colorado to one full of relief with a mix of evergreen and aspen trees.
What I don't know as I drive in to the main lodge is what's in store for me as this is my first trip to a dude ranch in winter. I learn quickly that the ranch in Colorado is one heck of a special place to visit in winter.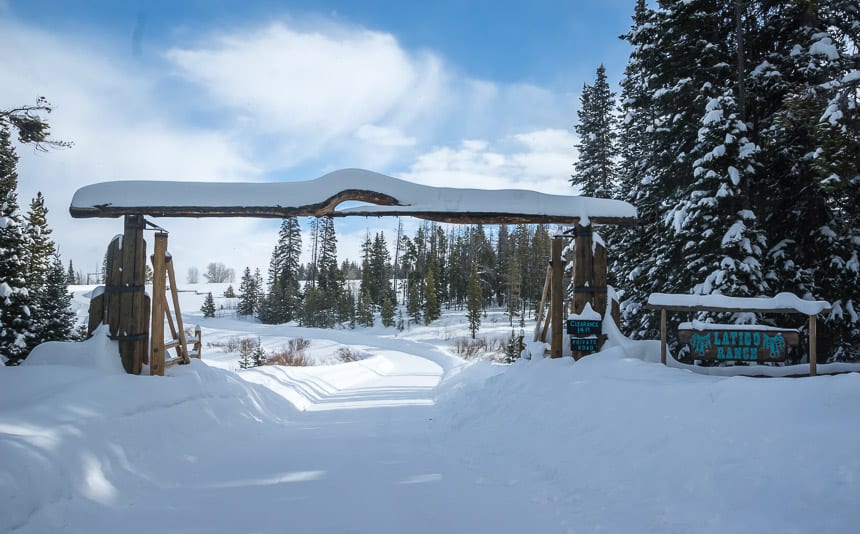 If you've ever read Malcolm Gladwell's book Blink then you know how quickly we all form our first impressions. As I climb out of my car after several hours of concentrated driving I am warmly met by a smiling Lisa, one of the ranch owners.
She gets me sorted out – telling me lunch is at 12:30 and offering a hand with my luggage. Then I'm left to my own devices for an hour to get settled in. I leave her thinking – already I love the feel of this place.
At lunch time I meet the only other guests at the ranch – a physician couple, Ray and Linda from Fort Collins that turn out to be very good company. At lunch we all meet Randy, Lisa's husband and their son Spencer who is the main cook.
Lunch is something else. A plate of sliders and a big bowl of stew along with salad and chocolate brownies are on today's menu. I'm in awe as at home it's nothing but peanut butter sandwiches, but happily I try everything and look forward to skiing off some of the calories later in the afternoon.
Incredible world-class cross-country skiing at the ranch
Latigo Ranch is home to about 50 km of cross-country trails that are groomed for both skate and classic skiing. Randy does all the grooming – so prior to heading out on skis he asks us how many kilometres we would like to do and makes some recommendations.
I then spend the rest of the afternoon skiing kilometre after beautiful kilometre on freshly groomed tracks made of silky light snow. I don't see anyone else the entire time – though I am given a map with emergency numbers should anything happen.
Dinner is set for 6 PM but I have time after skiing to wander over to the building that houses a games room, bar, library and most importantly in winter, a hot tub. Although the tub is inside, it looks out towards a darkening sky – and I luxuriate in the warm waters and thaw my chilled body.
All the meals are taken in the dining room in the main building pictured in the photo below. In summer they can handle quite a crowd – made up largely of families, many of which are multi-generational. Most have come for the horseback riding though in winter the horses are moved closer to town.
After dinner, which goes on for a couple of hours, we all retire to our rooms in a four plex cabin, walking there beneath an inky blue sky studded with stars. As there is WiFi it means I can get some work done, though I'd rather enjoy my cozy living room with its fireplace and a good book.
Breakfast is memorable
Breakfast is served at a mutually agreed upon time. There's a house made granola and lots of fresh fruit (including all types of berries) as well as a menu offering made to order omelets, eggs, pancakes and even home smoked bacon.
Hannah, one of Lisa and Randy's two children that work with them (a third does not) has got the breakfasts nailed down. When you get 30 people in the summer asking for made to order eggs you know how to deliver in short order.
As an aside, take a look at all the brandings done below the countertop and around the door frames. In summer, every guest that spends a week is allowed to make a branding and if they return they can add a dot beside their brand. I lost track of how many dots surrounded some brands but suffice to say is that Lisa and Randy get a lot of repeat business.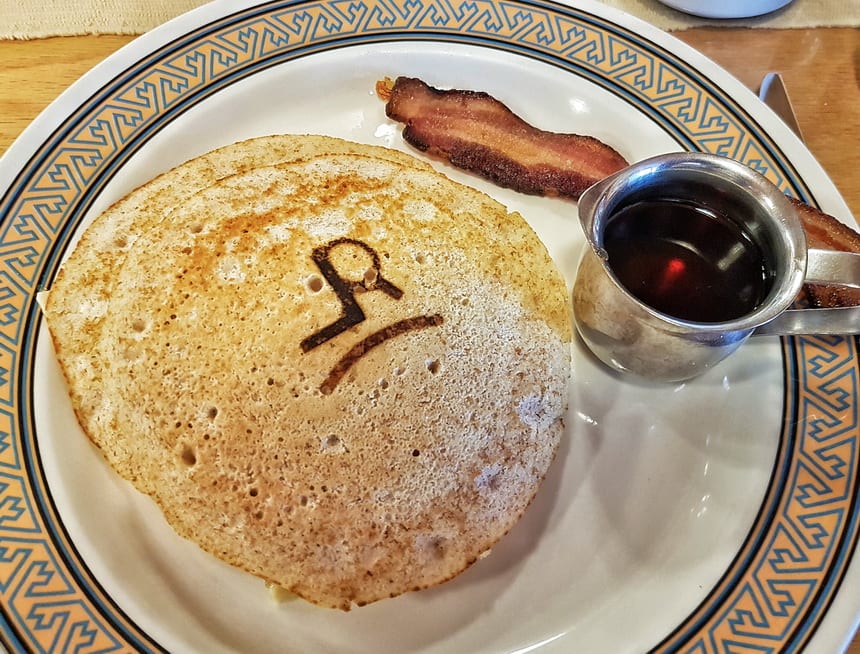 On my only full day at the ranch I opt to ski as many trails as I can. The conditions are incredible and repeatedly I thank my lucky stars for the opportunity to ski on freshly groomed trails that I share with only two other people. The skiing is exceptional.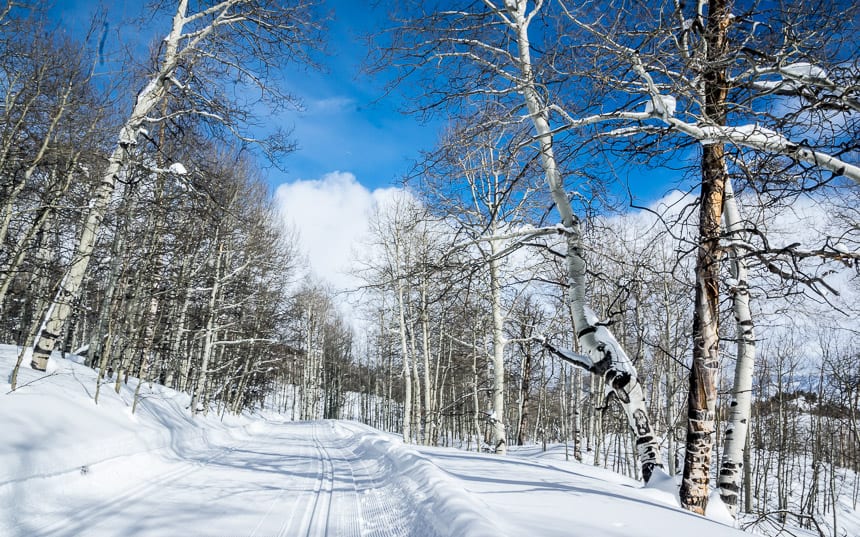 Even though I made the most of my time at the ranch I was envious of Ray and Linda for they had another day to ski and relax. In my ideal world a three to four night stay would be perfect in winter.
The best dude ranch in Colorado
Latigo Ranch has been called the best dude ranch in Colorado and one of the 12 best family vacations by USA Today.
Certainly there are more upscale and expensive ranches you can visit in Colorado, but after my experience I doubt any other ranch holds a candle to the hospitality you get at Latigo, the food or the outstanding skiing available.
I'm actually a little shocked that the ranch isn't booked to capacity. It's less than a three hour drive from the Denver airport (you pass the turnoff to the ranch if you drive to Steamboat) and very accessible.
And I have to say that my drive out of the ranch was at a considerably faster speed than my drive in. Don't let my wimpiness about driving snowy roads put you off.
I was a guest of the ranch but my thoughts and opinions have not been bought. This is an exceptional experience and one I have no hesitation recommending to anyone who loves great food, hospitality and the outdoors. It's a truly lovely spot to visit in winter.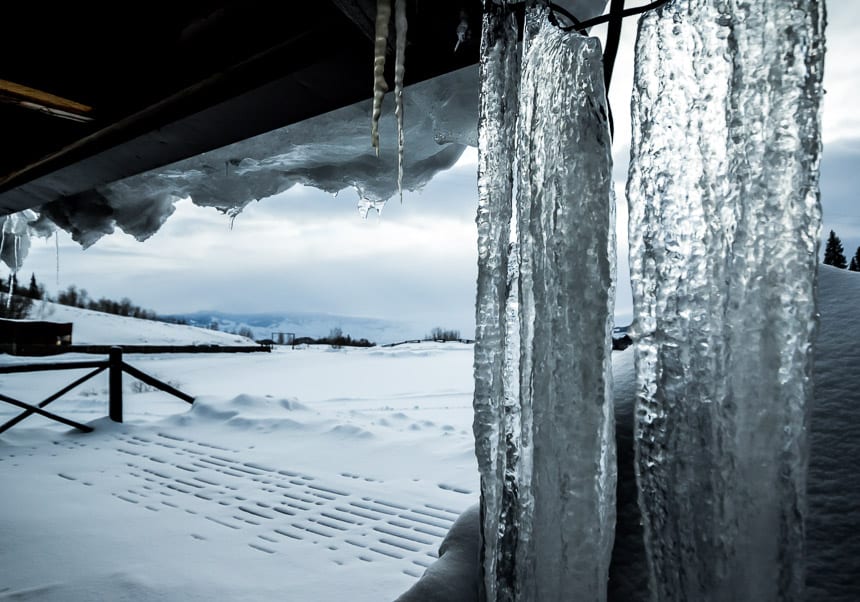 Another overnight stop I made on this Colorado trip was in Grand Lake on the western edge of Rocky Mountain National Park where the snowshoeing and cross-country skiing is superb. You can read about my weekend here.
For more information on the ranch visit their website.
Latigo Ranch location map
Click on the photo to bookmark to your Pinterest boards.