The Lost Art of Map Reading
Map reading is becoming a lost art. Friends now look at me as like I'm a relic from another age because I don't own a GPS. I don't have any apps on my cell phone either. What I do have are drawers full of maps and side pockets overflowing with maps in my car. I mourn the lost art of map reading.
Updated May 2020. This post includes some affiliate links. If you make a purchase via one of these links, I may receive a small commission at no extra cost to you.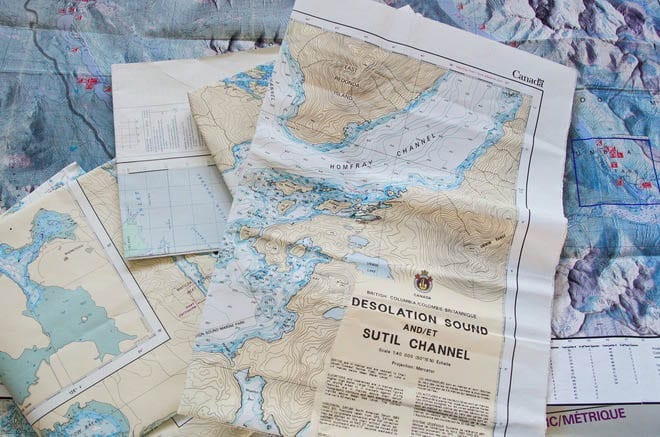 I collect all kinds of maps
It's not just road maps that I collect. I have charts from my kayaking excursions, topographical maps on different scales for hiking and backpacking – and I still have a full collection of maps for skiing up to the 10th Mountain Division Huts in Colorado.
I have bike maps for Calgary, Vancouver and California's wine country. And sitting front and center on the coffee table in our living room is my treasured National Geographic World Atlas.
To me maps and travel go hand in hand. What better way to get the lay of the land than to look at a map. Where are the cities, monuments and markets? Where can you escape to a park? Where are the restaurants and the major sights? How far can you travel in one day?
I love maps for so many reasons
Open a map and dream about your next adventure. Where will it be? Do you ever do that with a GPS?
Maps allow you to see the bigger picture – quickly. When I used a GPS for the first time in southern California I was at a total loss for where I actually sat in the city of LA.
Was I near the coast or the mountains? Really I had no clue as the only thing I concentrated on was what lane I should be in and how far it was until the next turn.
Granted the GPS got me to where I needed to go in Los Angeles. Without a navigator sitting beside me reading a map, the GPS played a crucial role. But it was disorienting to me and it actually led me astray twice. On one of those occasions I searched for a human to get real directions.
If you know how to read a topographical map
If you've looked at topographical maps to any degree you can quickly tell where treeline ends and the hiking with the unbeatable vistas begins. A long tromp through the trees is rarely exciting but if you know how to read a map you can often choose another route.
The same goes for marine charts. When you're kayaking you're always on the lookout for beaches. And what does the map have to say about tidal currents? Where should you avoid?
Maps tell me how far I am to a destination – just the way a GPS does – but without having to listen to a fake voice in the car. Maps aren't usually stolen. They may get lost or torn but rarely does your car get broken into because you have a map.
Alzheimer's and the lost art of map reading
Just recently I learned that difficulty in reading a map may be an early indicator of Alzheimer's. The neural pathways used in reading maps may turn out to be very important. So keep doing those crossword and Sudoku puzzles but start checking out maps too.
Interestingly, the only place I know of in Canada where you must prove your map reading and route finding skills is in Gros Morne National Park in Newfoundland. One summer my husband and I has to pass a map reading test so that we can do the Long Range Traverse – a multi-day backpacking trip with little to no marked trails – just game trails.
The bad thing about maps is that they make me itchy to travel. I'm curious and I will always want to fill in the blanks on a map – and know in my mind what the landscape really looks like.
What about you? Are you hooked on your GPS or do you still like the lost art of map reading?
Further reading in adventures where a map comes in handy