If you have a hankering to see a moose, I can almost guarantee a sighting if you visit or stay at Mount Engadine Lodge in fall. In fact, one year I asked my elderly mother-in-law if she would like to visit Mount Engadine Lodge in September and we'd go looking for larches dressed in yellows. "Are there moose" she replies? "Of course" I say, "but I can only guarantee a sighting if we stay at Mount Engadine Lodge. "Then I'll come" she says.
I get the feeling we matter less than the moose but that's okay. At a certain age you can get away with pretty much anything. We drove up to the lodge on a beautiful sunny day. We decided to approach the lodge via Highway 40 and the Smith-Dorrien/Spray Lakes Road. (The other option is to drive to Canmore and take the Spray Lakes Road.) It's a glorious 1¾ hour drive from Calgary especially once you get into Kananaskis Country.
Updated April 2021. This post includes some affiliate links. If you make a purchase via one of these links, I may receive a small commission at no extra cost to you.
In time for afternoon tea at Mount Engadine Lodge
We wanted to arrive early at the lodge so we could take full advantage of every minute in the mountain landscape. And I knew they served an afternoon "snack" that all of us wanted to enjoy. Luckily we'd planned ahead to arrive hungry or none of this would have been eaten.
I'd had an early start to the day – flying into Calgary from Winnipeg on a 6:30 AM flight so after getting my mother-in-law settled in her room, John and I headed to our cabin for a pre-dinner nap. In the back of my mind I knew I had to do moose patrol before dinner.
Moose patrol – round 1
With dinner served family style at 7 PM I had 30 minutes to check out the meadow and nearby roads for moose. Nothing. Nada. In fact we were told that it had been quiet on the moose front for the past week.
This was not good news.
But dinner was wonderful and in fact the cooking was several notches better than when I visited five years ago. (Soup one night was Thai eggplant, cauliflower and tomato soup with pop sorghum to give you an idea.)
Normally I'm not a huge fan of family style dinners but this lodge attracts an interesting clientele from around the world who have a whole lot of travel experience and lots of stories to share. Interestingly there were a couple of other bloggers – from Modern Hiker, an LA based blog intent on showing southern Californians Alberta's beautiful hikes in the Rocky Mountains.
And for someone like my mother-in-law who lives alone, dining with a big social group is a treat.
On our only full day at the lodge, we planned to head out hiking and leave my mother-in-law behind with books, magazines and great mountain views. But we didn't want to be gone all day so we chose the very scenic Buller Pass hike, accessed just five minutes from the lodge.
On the way to the trailhead John and I noticed a couple of photographers pulled over. Lo and behold – a bull moose. So we rushed back to the lodge, bundled my mother-in-law into the car, and sped off, kicking up gravel in our haste to see the moose.
I definitely made it into the good books with this sighting! Mission accomplished. (He was also there the next morning.)
The Buller Pass hike
Our hike was a great success as well. Over 4.5 hours including 30 minutes at the pass, we hiked 14.6 kilometres with an elevation gain of 670 metres. Fall is a fantastic time of year to do this hike with the larches cloaked in yellow. We saw only four other people, though partly because it was a weekday.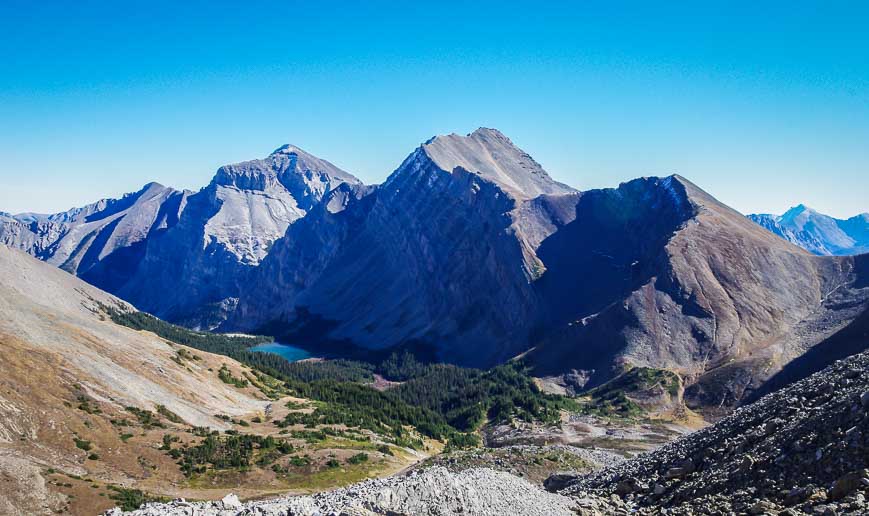 Amazing hikes near Mount Engadine Lodge
The beauty of a stay at Mount Engadine Lodge is the number of first class hikes within five to 20 minutes of the lodge. Normally it's almost a two hour drive each way from Calgary, making it a long day no matter what hike you choose to do.
Other nearby hiking possibilities include Tent Ridge, super popular Chester Lake, Burstall Pass, Rummel Lake, Sparrowhawk Tarns, West Wind Pass and Black Prince Cirque.
We were back at Mount Engadine Lodge by mid-afternoon so there was plenty of time to do some more exploring with my mother-in-law. We tried hiking along the far side of the meadows but views were limited so we aborted and headed for Buller Pond instead. She was all smiles here.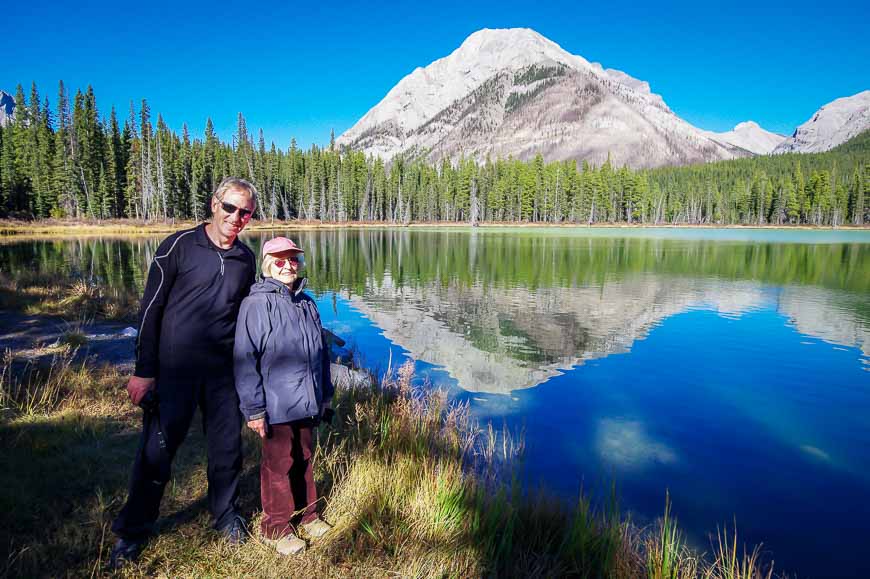 The moose finally made an appearance
We must have had horseshoes. Shortly after getting back to the lodge I looked out again at the meadow and bingo – more moose. This time there were three of them including a young one.
With many viewing locations near the lodge, I had time to get my big lens and get reasonably close – though my presence wasn't appreciated by the one of them judging by the teeth and the ears. I moved way back after I saw her show me a mouthful of teeth.
Our two night stay at Mount Engadine Lodge was a great success. I delivered in spades when it came to the moose. And hiking within minutes of the front door was a treat for John and I. The area is pretty in fall with plenty of shocks of bright yellow. Come winter, the area is known for its big dumps of snow so the cross-country skiing and snowshoeing is excellent.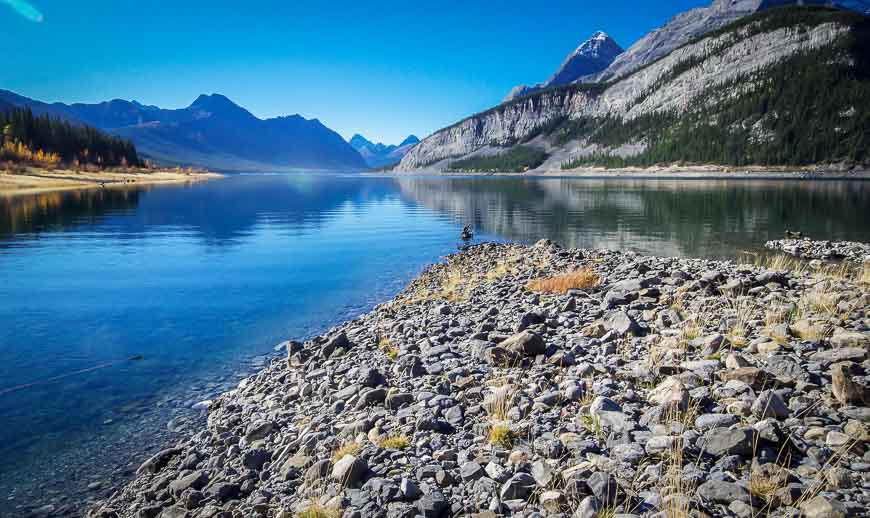 Booking a stay at the lodge
I truly love Mount Engadine Lodge and would recommend it as a getaway at any time of the year. Fall is particularly lovely for the colours and moose – and if you go in September all the hiking nearby is still superb. You can book a room here – and note that they now have glamping tents. They are also dog-friendly.
You can read about my experience in their glamping tents here.
Click on the photo to bookmark to your Pinterest boards.
Thank you to Travel Alberta for making this trip possible.