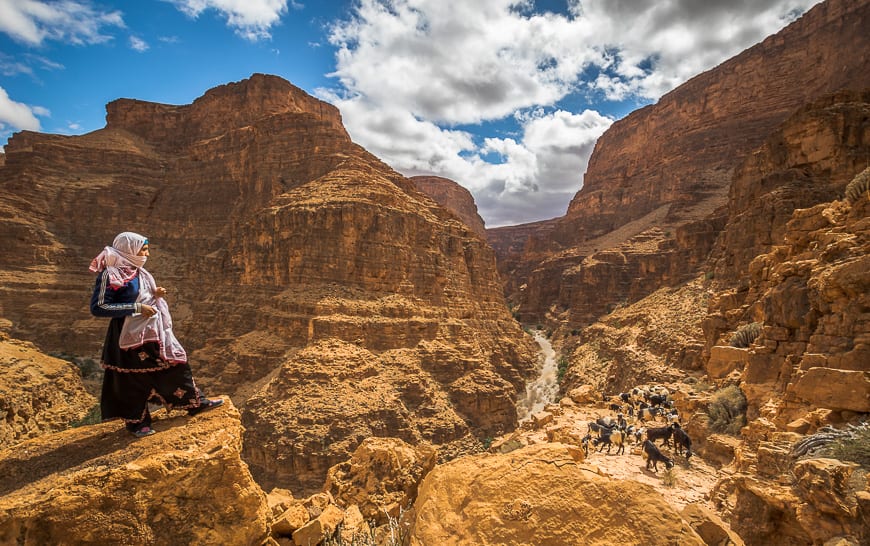 Best Travel Adventures of 2018
As the saying goes "the older you get the faster time flies." It certainly felt like 2018 flew by for me. While there were certainly highs and lows of the year, overall I consider myself very lucky. I think I did 25 trips in total, not including day hikes.
Here's a look at my best travel adventures for 2018
Sleeping in the Sahara Desert
We were late getting to our tented camp in the Sahara – because our vehicle and another got stuck in the sand. It was about 90 minutes before we were winched out so we missed our camel ride at sunset. Fortunately our guide was able to arrange a sunrise experience instead.
What a thrill to watch the sun come up over a vast expanse of sand – the stuff of dreams. If you go, don't shortchange yourself. Stay for two nights in the desert. And if you want a quieter experience choose Erg Chigaga over the party atmosphere I understand exists at Erg Chebbi.
Read: A Trip to Morocco's Sahara Desert
A walk back in time
Morocco is such a fascinating country to visit especially when you get out of the big cities. Our two day hike in the Anti-Atlas Mountains felt as though we'd step back in time a century or two. No joke.
Our guide, the proud father of eight kids, had a very traditional wife at home. She like many of her age (late 30's, early 40's?) was illiterate but she baked the most amazing bread and wove baskets, one of which I brought home – thinking I was buying bread.
Oh well. The hike took us not only through stunning country but past "dance floors" used by the nomads to party when they happened across each other in the desert. Looking at the flat piece of hardened earth you would never know – unless you were with a guide.
Read: A Two Day Hike in the Anti-Atlas Mountains
A northern lights experience I won't forget
A few years ago I was up in Whitehorse in March and caught a phenomenal Northern Lights display – but waited for three hours for it to start. In March of 2018 I was in Fort McMurray, primarily to see the Northern Lights.
Our group drove out of town and within minutes of stepping out of our vehicle we were met with the shimmering magic of the glowing sky in shades of green, pink and purple. We enjoyed the lights for around three hours before heading for bed. If ever given the opportunity to go somewhere really dark on a night with a great aurora forecast, do it.
Read: Northern Lights Viewing: The Fort McMurray Experience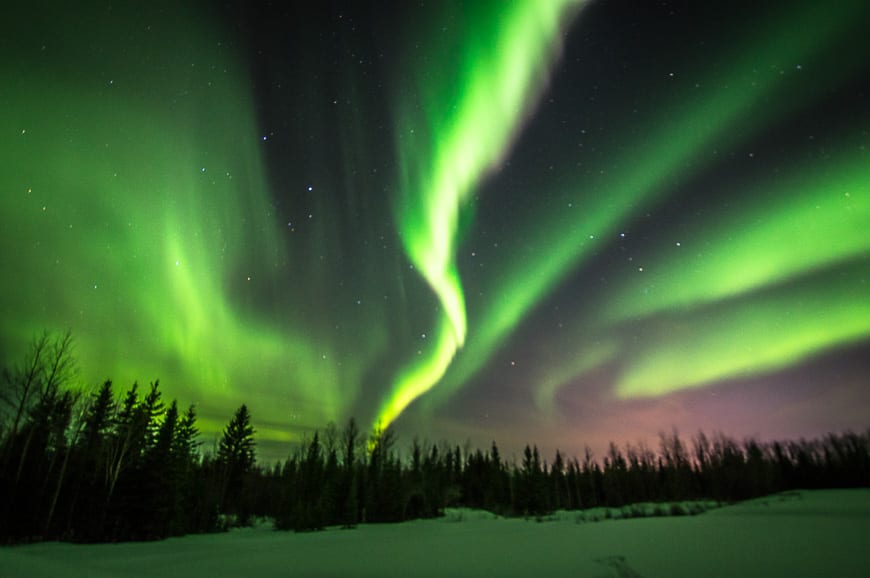 Grizzly Bear Viewing at Great Bear Lodge
While I've seen a few grizzly bears in the wild, I have never stuck around for long, preferring to give them as much space as possible so I could slow my rapidly beating heart. But over three days up at Great Bear Lodge off the northeast coast of Vancouver Island I enjoyed altogether different experiences.
Every morning and evening we would boat out to where the guides thought we might see bears – and every time we were rewarded. Then we'd sit and observe quietly, sometimes for up to an hour. It was fascinating to see how grizzly bears interact with each other when they don't feel threatened by the presence of humans. And the time eating and relaxing at the lodge was also a treat.
Read: A Spectacular Long Weekend at Great Bear Lodge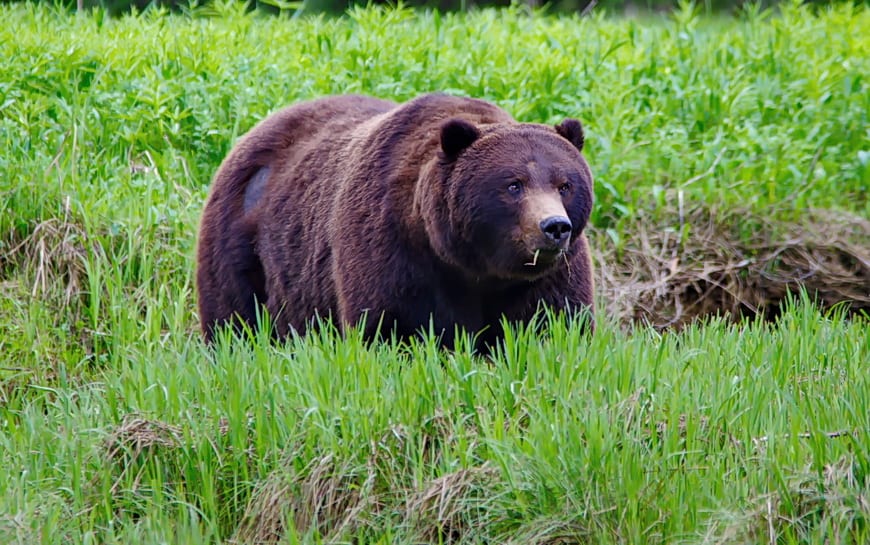 A hike with a view in southern Alberta
Castle Provincial Park, Alberta's newest provincial park in a generation, is the home of Table Mountain. This part of southern Alberta hasn't yet been "discovered" so trails aren't heavily trafficked. The hike up Table Mountain only takes two to three hours and what a reward for the effort.
The hike is so different than my usual Rocky Mountain hikes – but between views and the option to increase the length of the hike – from the summit, it's a winner and one I'd recommend to anyone who's up for a three hour drive from Calgary.
Read: Alberta's Fabulous Table Mountain Hike
A fabulous backcountry lodge experience
A few days after John and I hosted a backyard wedding for 100 people we made for the hills. Our destination was Purcell Mountain Lodge, an eight minute helicopter flight away from Golden, BC.
The lodge is one of the nicest backcountry ones I've been too and the hiking we did over three days was sublime. And the food was first rate!!! The lodge is also open for backcountry skiing in winter but I have yet to try that. I suspect it would be equally fantastic.
Read: An Unforgettable Weekend at Purcell Mountain Lodge in BC
Cutest cabin with the best view ever
When you go to a remote lodge in Alaska by yourself you really wonder what you're getting yourself into. Right from the get-go I was warmly welcomed – not just by staff but by fellow guests who showed up as couples or part of extended families.
I was only there for four nights – but never once was I uncomfortable as a solo traveler. Quite the opposite actually. And I loved my cute cabin with its view of Mount Denali from the bed. The activities – great guided hikes and a day of biking were memorable. As was the food! Plan well in advance if you want to visit as the season is short.
Read: The Camp Denali Experience in Alaska
Cruising with Le Boat on the Rideau Canal
The trip that surprised me in the best way possible this past year was our four day self-drive cruise on the Rideau Canal and Rideau Lakes system starting in Smith Falls. After getting a lesson on how to maneuver our $300K Le Boat, we were off – with no agenda – except to find a dock every night.
We only had a few hours to cruise the first day but that was enough to go through a couple of sets of locks and get the hang of things. Pulling up to our slip, John used the thrusters and steered us in like a pro – in between two equally expensive boats.
From there we were hooked. We enjoyed hanging out on the top deck with dinner and a glass of wine in hand, watching the sun go down. Stopping for a swim off the boat on a hot day took me back to my childhood.
One night we anchored to a buoy and felt like we had Big Rideau Lake to ourselves while in Westport we were able to entertain friends from Ontario onboard "our boat." If you need a fun, relaxing vacation spend a week on your own boat. Le Boat also offers rentals on waterways all over Europe.
Read: Le Boat: A Cruising Vacation You'll Want to Try
Backpacking the gorgeous but tough Lake Superior Coastal Trail
I was humbled on the Lake Superior Coastal Trail. I let ego get in the way thinking before I went, there's no way this can be as challenging as the Coastal Trail in nearby Pukaskwa National Park.
While I was wrong, I still thoroughly enjoyed the challenge of the hike and I will forever be a fan of the wild and beautiful Lake Superior Coastline. Do this hike – but get out on a few backpacking trips beforehand so you can enjoy the trail. I still want to go back and do the first couple of days we missed because of time constraints.
Read: A Challenging Hike on the Lake Superior Coastal Trail
The hike to Havasu Falls in Arizona
I'd seen enough photos of the turquoise-coloured water against a backdrop of red rock that I knew I had to visit Havasu Falls one day. But I also knew it was wildly popular so I kept my expectations in check.
After two days of camping by the falls I have to say the area is like nowhere else I've been and though I prefer a true wilderness setting more often than not, I'd still recommend it. But I would suggest the shoulder season when there might be fewer people. Go with the mindset that you won't be alone!
Read: Why You'll Want to do the Hike to Havasu Falls
Visiting a US Park that's closer to Havana than Miami
An opportunity to visit Dry Tortugas National Park on a trip to the Florida Keys presented itself – and I snatched it. This park is closer to Havana than Miami and is only accessible by boat or float plane. Most people are like myself, visiting for part of a day – though there is the option to spend several nights camping.
Once you're there take advantage of the glorious white sand beaches and go for a walk. Try snorkeling; look for the hundreds of species of birds that fly through the park and don't miss the fascinating history tour about Fort Jefferson.
Read: A Day trip to Dry Tortugas National Park
Swimming with whale sharks out of La Paz, Mexico
Getting in the water with not one but perhaps five whale sharks, all the size of a schoolbus, is a tad unnerving, but exhilarating at the same time. My opportunity to do this came about on a press trip to La Paz in Mexico.
There was some question before we left if the experience would be a go – and thankfully it was. It's a real thrill to get so close to the world's largest fish. Even though it's docile and "slow-moving" that word is irrelevant when it comes to my swimming speed. Do it wherever in the world that might be should you get the opportunity.
Read: Swimming with Whale Sharks: An Unforgettable Experience
Watch: Swimming with whale sharks (My footage.)
I covered a lot of ground in 2018 and enjoyed experiences that even a few years ago I would never have guessed would come my way. In the coming year I want to travel a little smarter – with more time between trips to catch my breath.
Stay tuned for reports on backpacking the "O" Circuit in Paine National Park (January and a real holiday), biking in Jordan (March) and taking a ride on the Rocky Mountaineer between Vancouver and Banff (April.)
The biggest thing we can all hope for in 2019 is health for without that, nothing else matters. Here's to a healthy year filled with adventures. Thank you to all who have joined me for the ride.