The town of Nordegg, Alberta is an undiscovered gem in the Canadian Rockies. Situated almost exactly halfway between Rocky Mountain House and Saskatchewan River Crossing, it's in an area well-suited for year-round adventures. When John and I stopped in for a snack in Nordegg years ago while on the way to do a loop drive back to Calgary via Highway 11 and the Icefields Parkway, we didn't really give the town a second glance. Fast forward to 2021 and I am a fan. It's not that Nordegg will wow you with its beauty – but the area around it sure will.
Near Nordegg enjoy snowshoeing trails and winter walks like the Cline River Canyon that rival anything you can experience in the Banff – Lake Louise corridor – without the crowds. Frozen waterfalls beckon both ice climbers and the lookers like me. Abraham Lake's magical ice bubbles lure people from around the globe in winter while its turquoise-blue waters are a photographer's dream come the summer.
This post includes some affiliate links. If you make a qualifying purchase through one of these links, I will receive a small percentage of the sale at no extra cost to you. Thank you very much for your support.
Top things to do in Nordegg, Alberta in winter
Nordegg, Alberta was originally a coal mining town but it was shuttered in the 1950's and basically became a ghost town. Today, it's growing partially because of all the fantastic, year-round recreational opportunities.
In winter nearby Abraham Lake, famous for its methane ice bubbles is well worth a visit. You can easily spend a day exploring. In summer, the turquoise lake draws photographers.
Cline River Canyon is a fantastic destination on foot or snowshoes, depending on snow levels.
Visit Crescent Falls to see a frozen, two-tiered waterfall .
Hike up to Siffleur Falls which involves crossing a suspension bridge over the North Saskatchewan River.
Drive the David Thompson Highway, also called Highway 11. Some of the scenery on the mountainous section of the highway rivals what you'll see in Banff and Jasper National Parks.
Enjoy an ice walk up to see Isaac's Wet Dream – also called Issac's Icefalls. They are a magnificent sight in winter.
Do a winter hike – probably with microspikes on – up Allstones Creek to a pretty frozen waterfall.
If you're looking for an alternate place to visit in the Rockies, without the crowds in the Banff – Lake Louise – Jasper corridor, check out Nordegg, Alberta. Stay at the Expanse Cottages where you can enjoy your own backyard firepit and pick up ready to eat meals, home-baked donuts, and a hot chocolate mix with homemade marshmallows from Nordegg Canteen.
Join me as I take you on some adventures done over just two days in mid-March with the owners of Pursuit Adventures acting as our tour guides.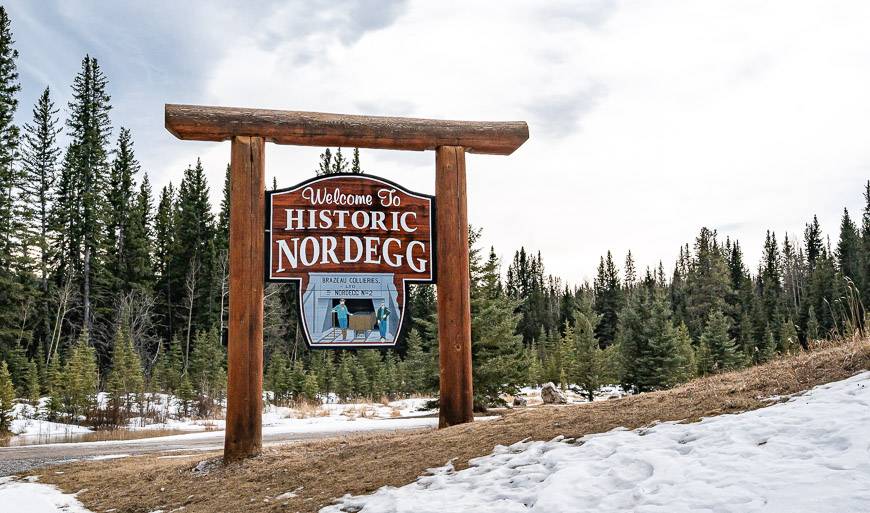 This post includes some affiliate links. If you make a qualifying purchase through one of these links, I will receive a small percentage of the sale at no extra cost to you. Thank you for your support.
Location map of the Nordegg area sights
Click on the three dots in the right hand corner to email a copy of the map to yourself.
Check out the frozen beauty of Crescent Falls
Crescent Falls, a 27-metre high two-tiered waterfall, is a popular stop along the David Thompson Highway. The parking area is 25 km southwest of Nordegg via Highway 11 and about 5 km on a washboard road with a lot of mud and ice. There is excellent signage pointing to the turnoff along the highway.
From the parking area, descend on a trail to a couple of viewpoints over Crescent Falls. However, the best view of the falls is from below – accessed via a trail. Take a zoom lens as you aren't supposed to get as close to the water as the footprints and the trail suggests in the photo below. Be very careful. There are slippery sections and people have lost their lives around the falls, as recently as the summer of 2020 when a trio of family members drowned.
In summer there's quite a nice campground nearby.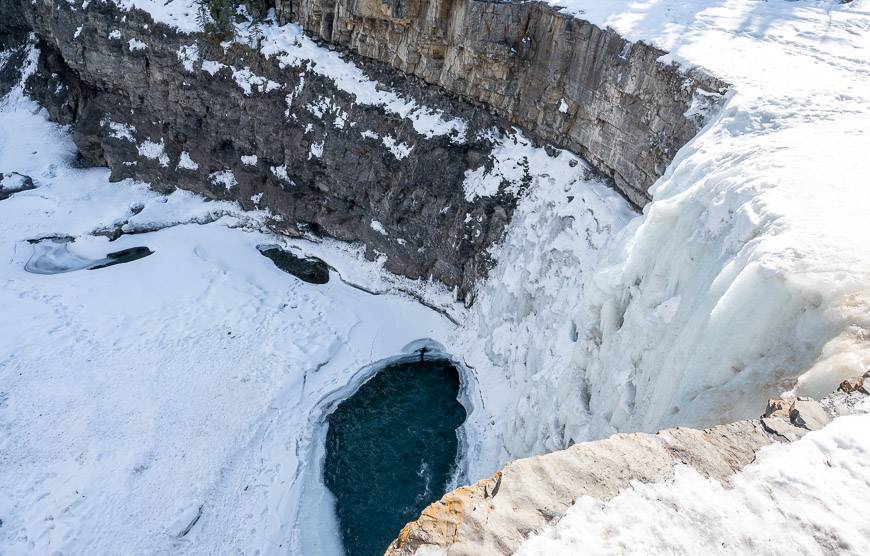 Watch the ice climbers on Isaac's Wet Dream
Isaac's Wet Dream also known as Issac's Icefalls is a gorgeous frozen icefall in winter – and a popular one with ice-climbers. We accessed it by following a mostly frozen stream starting from the bridge near the campground at Crescent Falls.
Because we did it in mid-March, there were some sections where you popped through the ice for a second and got a soaker. (Take extra socks on this outing.) About halfway along when there was more running water, we followed the stream bank running into a ruffed grouse before dropping down for the final section up to the falls.
We didn't cover a lot of ground but we sure had fun getting to the falls. Ice cleats are a must again – and a walking pole helps as well. There are some minor elevation changes – which makes for some interesting walking.
Once at the 30 m icefall, we met three female ice climbers out for the day. After watching them in action and taking in the beauty of the area we hiked out via a climber's side trail that takes you to a larger trail that exits at the parking lot. I'd recommend doing this with Pursuit Adventures next year when they run it as a half day tour.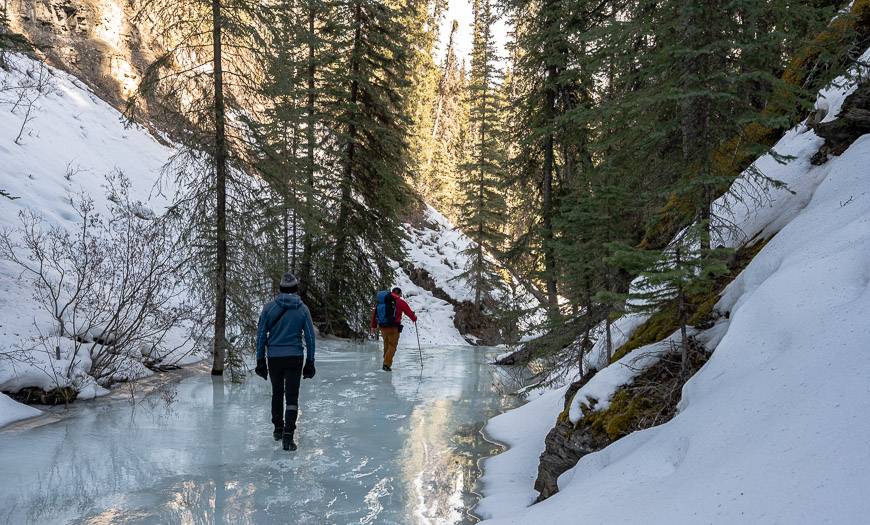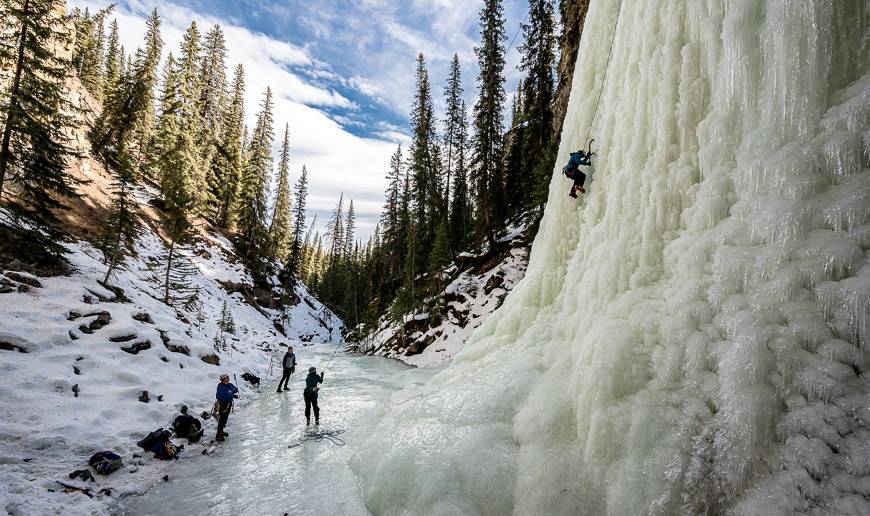 Snowshoe or hike to Cline River Canyon
The 4 km return hike or snowshoe to Cline River Canyon is fantastic. Not only is it easy – and therefore family and dog-friendly, it takes you into the stunning area that is the equal of anything around Banff and Lake Louise in winter. Start off walking through lodgepole pine forest to reach an overlook of a massive icefall. I initially thought this was our destination – but it was merely the prelude to what was next.
Continuing past the icefall, you get a great view of the crystal-clear Cline River along with the icefalls and the canyon which can be seen off in the distance. It's a steep descent to get down to river level and the canyon. TAKE SOME ICERS. It's slippery and no place for running shoes – and definitely not worth a broken arm, leg or worse – a head injury.
Once down at river level wander towards the gallery – part of the Cline River Canyon surrounded by icefalls. We were lucky to see one ice climber in action when we visited.
Finding the Cline River Canyon trailhead: Head for the Pinto Lake Recreation Trail Staging Area. It's a short drive southwest of the Cline River Bridge. From Saskatchewan River Crossing, it's a 41 km drive and from Nordegg a 48 km drive.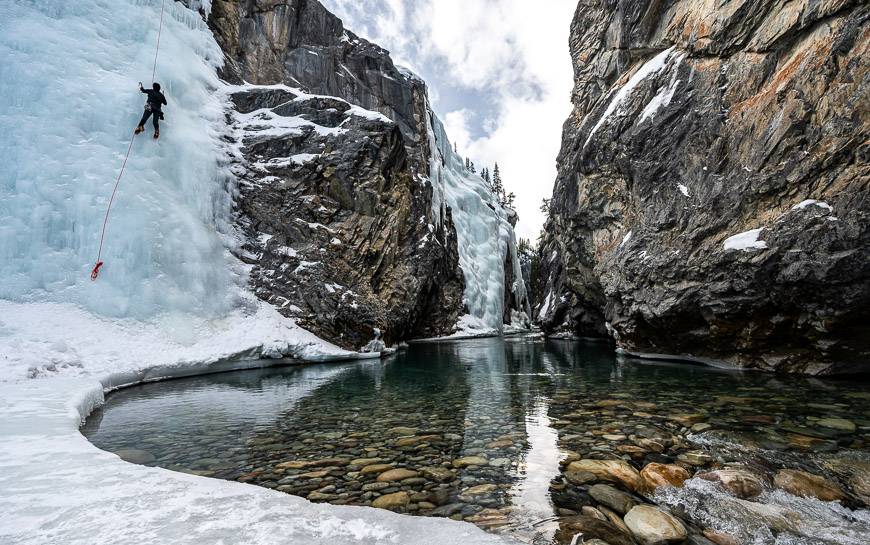 Visit Abraham Lake and look for ice bubbles
Just a month prior to my trip to Nordegg Alberta, I had made a hour-long side-trip to see the Abraham Lake bubbles on my way up to spending three nights in Jasper at the Fairmont Jasper Park Lodge. I was bowled over and in awe of not just the ice bubbles, but the ice formations on that visit. I also vowed to come back with John.
I didn't expect to be back checking out the lake in under a month, but I was – and it was an altogether different experience. The ice bubbles weren't the star of the show anymore. By mid-March they were past their prime, though there were still enough around to get John excited. There were also plenty of cool looking ice crystals and a surface texture that looked like millions of frozen fish eggs.
We explored an area that most do not, near the Belly of Abraham. It's the only place on Abraham Lake where you can see the dead trees harking back to the days before the river was dammed.
Wandering out on the lake with Danielle and JP from Pursuit Adventures, we got a local's take on what the lake offers across the seasons. I understand why so many people visit – though I was amazed to hear that most people drive three hours and stay for 15 minutes to get a photo or two and just leave. Really, you could spend a full day in and around the lake! Don't shortchange yourself. And if you want to learn a lot more, sign up for one of Pursuit Adventure's tours.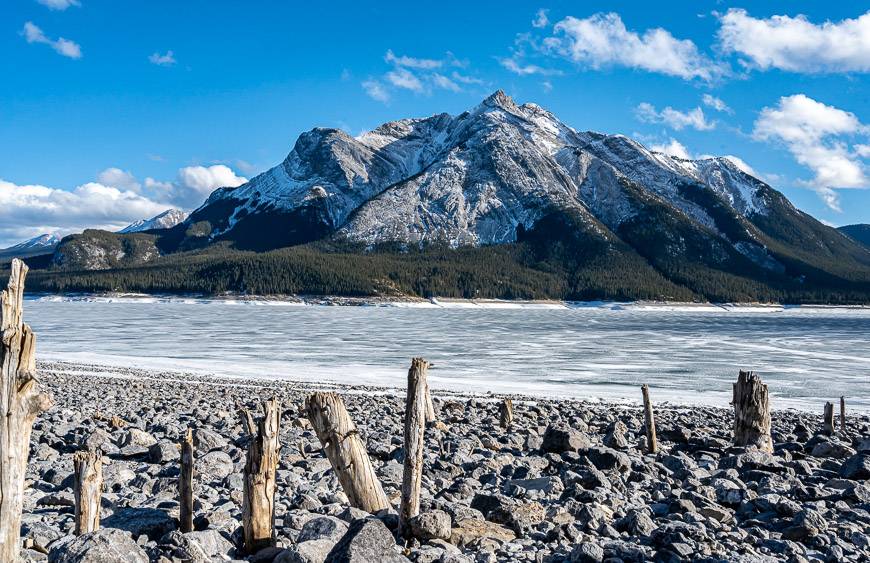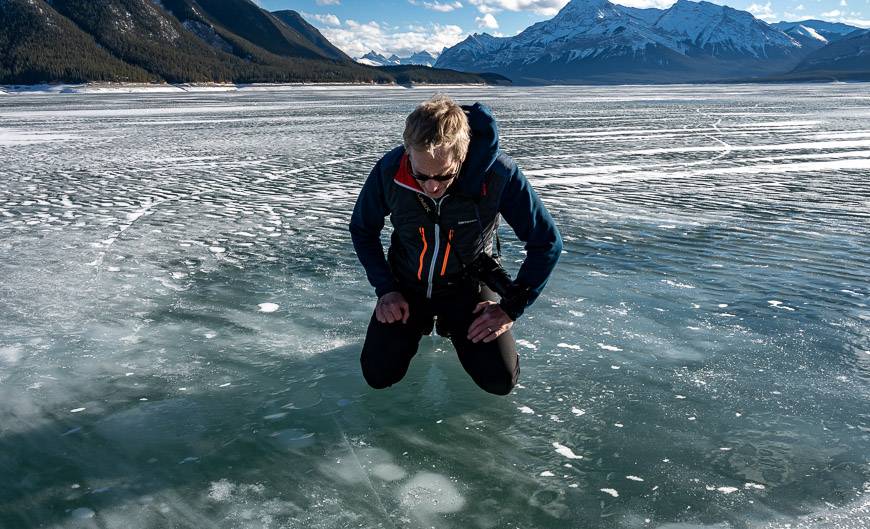 Keep an eye out for wildlife near Nordegg, Alberta
I was quite surprised to see such a diverse amount of wildlife over two days in the Nordegg area. We saw deer while entering town, a dead wild horse being eaten by several bald eagles and ravens, many big-horned sheep, and a lynx – the first one I have ever seen in the wild. We'd stopped at a rock-cut to admire the big-horned sheep pictured below. After a few minutes, it, and several others including a young one took off running at speed. A few minute's later the lynx showed up. Talk about being at the right place at the right time!
This is bear country so carry bear spray and be bear aware especially as they'll start to move around now that spring has arrived. And at night – listen for the hooting of an owl. We heard as screech owl on and off for several hours.
Do the Siffleur Falls hike
On this trip John and I didn't have time to do the 8 km return hike to Siffleur Falls. But if you've got a pair of icers, its one you can knock off in most seasons. It's well worth the effort to see the frozen falls in winter. Read about my experience a few winters ago here.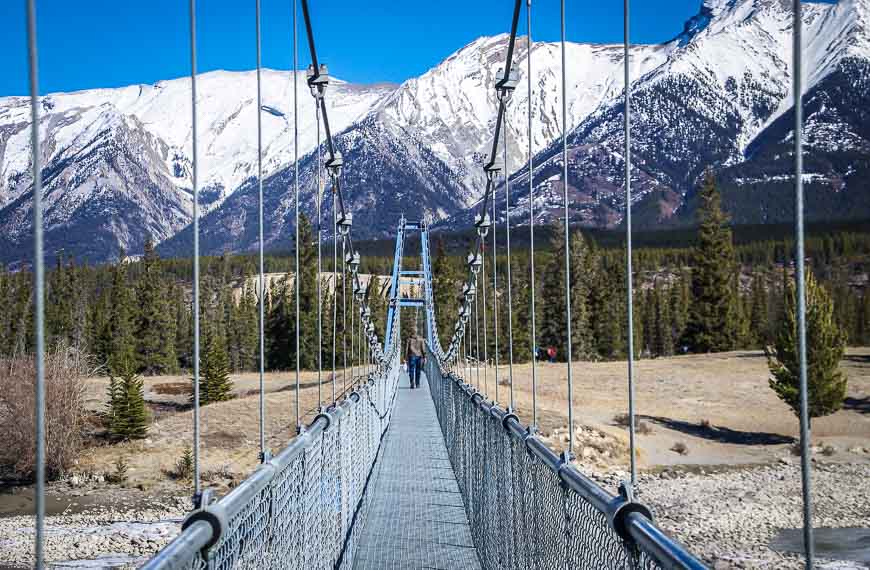 Do the winter hike up Allstones Creek
Start from the Allstones Lake Staging Area on the David Thompson Highway, approximately 31 km west of Nordegg and 52 km east of Saskatchewan River Crossing. Make your way up the creek for 1.6 km, climbing just 80 m in total, to reach a frozen waterfall coming off of a headwall. This is an easy, family-friendly outing you can fit into a weekend trip.
Where to eat in Nordegg, Alberta
You won't find fancy restaurants in Nordegg but the Nordegg Canteen – has brought city tastes to the town. Enjoy a cold prairie salad with Saskatoon berry chicken sausage and a delicious side of prairie sunshine dressing. See photo below. It was so good! Follow up with a home-baked donut or one of their other treats. In summer grab a picnic table and enjoy a hamburger and ice cream cone with a view of the mountains. It was crazy busy last summer once the word got out, so you might have a bit of a wait.
You'll also find the Nordegg Miner's Café (temporarily closed) offering soups and pies along with salads and sandwiches in the Nordegg Museum Building.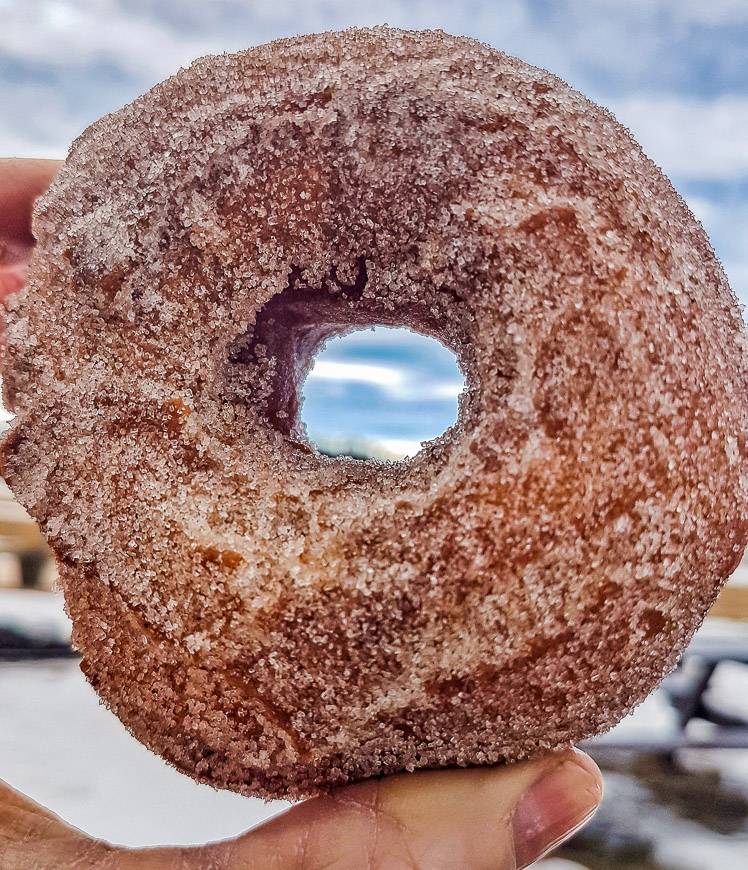 Where can you stay in Nordegg, Alberta?
John and I had the pleasure of staying at the Expanse Cottages for a couple of nights. It's a cozy, super clean place, about 7 minutes from Nordegg in a pretty wooded area, far from any highway noise. In fact the only thing we heard was a screech owl – and that was a treat.
The cottages are fully kitted out with a kitchen and all the conveniences, a small eating area indoors, a bathroom and bedroom, and a living room with a fireplace. Outside is a deck, with a large gas BBQ and a couple of chairs and then another 50 m away is a firepit with several more chairs and a picnic table. There is privacy from the other cottages.
We were there in March and it was warm enough to sit around the firepit with a cold brew and chat about all the amazing things we'd done during the day. In summer, I could see spending long evenings here – gazing up at the stars – while enjoying a BBQ meal and a glass or two of wine. I'd return in a heartbeat.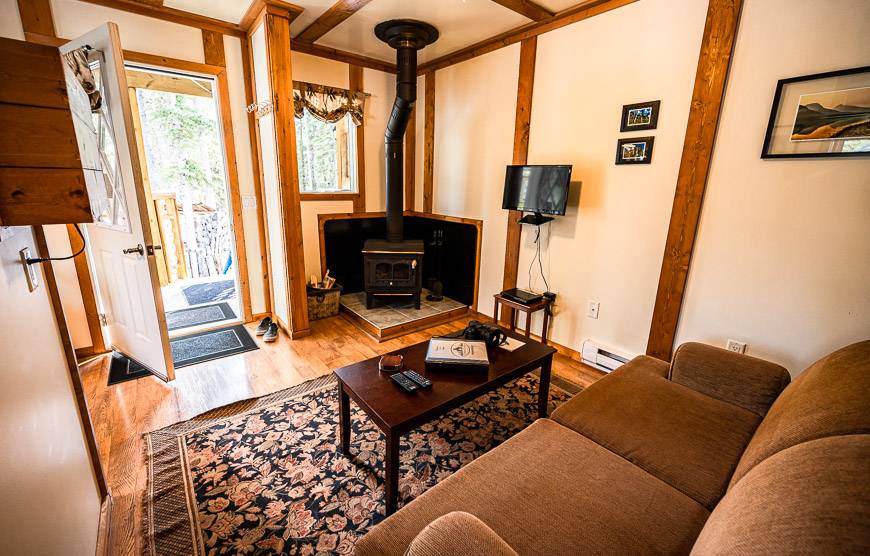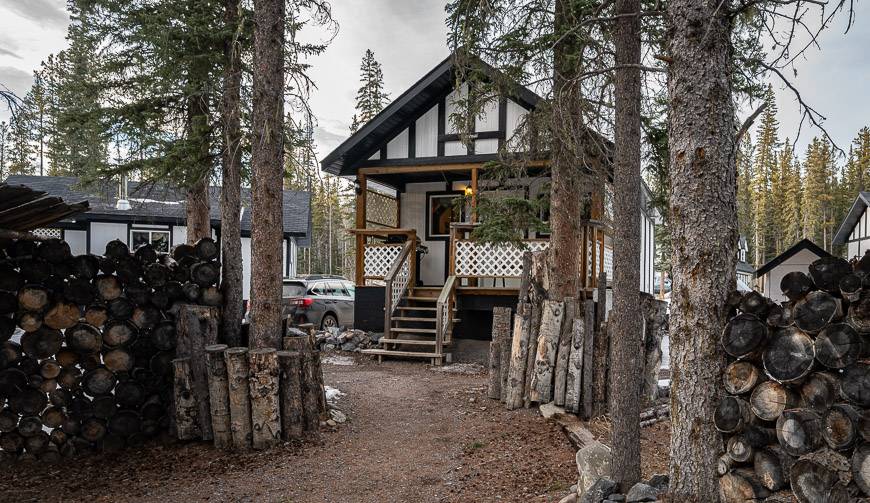 It's only a three hour drive from Calgary to Nordegg – and an easy one at that with no nasty mountain passes to cross if you drive via Red Deer. Our two night, two day Nordegg Alberta experience exceeded all expectations. I look forward to returning sometime soon to check out some of their world-class hiking trails.
What to do the rest of the year in Nordegg, Alberta
Close to Nordegg, Alberta there are fantastic hikes like Coliseum Mountain to access within minutes of town. Many of the hikes along the David Thompson Highway – and there are several summer's worth – are doable by early spring.
There is also the option to go horseback riding or mountain biking.
Camping is plentiful and you don't have to reserve. But you need a Public Lands Camping Pass for the eastern slopes of the Rocky Mountains. It's a necessity whether you are camping in summer or winter. The cost is $20 per person for a 3-day pass and $30 per person for an annual pass. They also throw in fees you can't avoid like GST, a system processing fee and a wildlife identification number.
Further reading about things to do in Alberta
A giant thank you to Nordegg Tourism, Pursuit Adventures and Expanse Cottages for hosting me and making my stay memorable. I truly recommend a visit here.
Click on the photo to bookmark to your Pinterest boards.