This is the fourth installment of five on my daughter's hike on Spain's 1000 kilometer Camino de la Plata. She is now expecting to be almost a week ahead of schedule and is hoping to be finished in a total of 36 days. This segment covers 185 kms (111 miles) over the week – in some tough (high heat, long days) conditions. If you want more information you can read notes from the trail for Week 1 , Week 2 and Week 3.
This week's walk covered 229.5 kms (138 miles) and the total distance walked from Seville is now 748 kms (449 miles).
Day 22 – Salamanca to El Cubo de la Tierra del Vino – 36 km
I don't have much to say about this day as it was by far the worst scenery to date. It began with the typical sites leaving a city (industrial) then headed into the fields. After about 16 kms the rest of the day was literally a dirt path next to the highway. Unbelievably boring. Unbelievably hot. Stayed in a small albergue for 5 Euros. It was packed.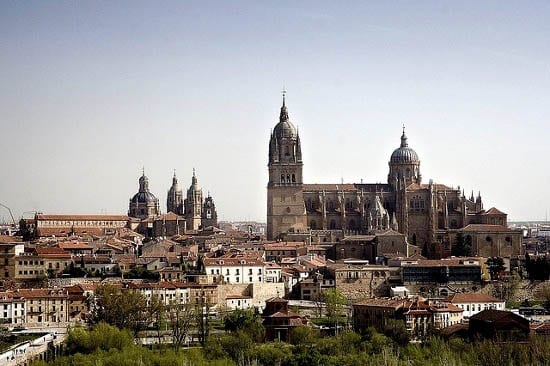 Day 23 – El Cubo de la Tierra del Vino to Zamora – 32 km
Today was actually a pretty tough day for me because I felt sick from the heat from the day before. The camino today was quite pretty though. At one point you get to a lookout over the plains; below you it's gorgeous. Interesting trees and a winding path made the day more interesting than most.
After turning onto a road probably about 20 kms into the day you see Zamora in the distance. Unfortunately it feels like it stays in the distance for the next several hours. Felt like I was never going to get to the city.
But I did and there was a great albergue here paid for by donations. I had a small room with three other women which was amazing because none of them snored! So sick of sleeping in the dorm rooms with the men who sounds like there´s a train blowing through the building. Ugh.
Zamora was pretty quiet for a bigger city. I sat at the patio and people watched for much of the afternoon followed by a nice walk though the streets. Lots of shops here.
Day 24 – Zamora to Granja de Moreruela – 41.5 km
I had planned on having a short day (19 km) but my energy seemed endless today so I kept on going. Undulating road for the first part of the day followed by a lovely path that goes towards the Embalse de Ricobayo (reservoir) with the remains of a castle on the far side.
A few chances to stop and get a cold drink today which was also nice. I stayed at the albergue for 5 Euros. It was right next to the bar so I didn't have to go far for food. Thank goodness because my feet were aching by the end of the day.
Day 25 – Granja de Moreruela to Tabara – 28 km
Granja de Moreruela is the town where the camino divides. Here you can choose to head north to Astorga to follow the Camino Frances or turn west and take the route through Orense. Since I've already done the Camino Frances I decided to head west.
Near the beginning of the day you cross the beautiful Rio Esla. Apparently the camino turns right after the bridge but I saw yellow arrows on the road ahead so I followed them. I think that was wrong but I decided to stick to the road since it was quiet – only a few cars all day. Scenery was very pretty with some great views to the south.
I stayed in a hostel for 18 Euros so I could get a good night's sleep. It was luxury! (Well what I now consider luxury!) Private room, ensuite bathroom, fluffy towels, shampoo in the little packets…ahhhh bliss!
Day 26 – Tabara to Olleros de Tera – 36 km
I woke up feeling like I had no energy today. Never a good way to start when it's a long day ahead. Funny how some days the walk is so easy and other days it's difficult just to put one foot in front of the other. First 14 kms was quite nice with a few hills.
Then you come to a town but unfortunately there was no bar to get a cold drink. So off I went on the dirt path through another two towns before I finally found an open bar. It was Sunday. Everything seems to be closed on Sundays. After a cold drink I headed off through fields and trees to La Barca which is a swimming/recreation area.
I was too tired though and just wanted to get to Calzadilla de Tera. Finally did and the town was empty. I finally found a lady who directed me to the albergue. It was closed.
Fortunately there was a sign that said only 2 km to the next albergue. Off I went. It was closed. At this point I was exhausted and starting to panic because it was 14 km to the next albergue. I asked a kind gentleman as I headed out why it was closed (nearly with tears in my eyes) and he said it's not! I apparently had to get a key from an non-descript house nearby. How on earth was I supposed to know that? But I finally got the key and entered the albergue (an old abandoned building on the outskirts of town).
It was gross. Rotting walls with four dirty cots in the middle of the room. But it was free. And I was not walking another 14 kms. So I dealt with it.
Day 27 – Olleros de Tera to Mombuey – 23 km
Again I had no energy even with such a short day. It didn't help that the camino passed through a few kilometres on an overgrown path. Literally you needed a machete to get through there.
Upon arriving at the road on the other side I did a massive bug check of my clothes and bag. They were everywhere! The camino then heads over a massive dam and then onto a lovely path next to the reservoir.
From there it's onto a grassy track with a small climb and at the top you get a good view of Rionegro del Puente below. I stopped for some breakfast before taking the road the final 9 or so kms to Mombuey. Another bad albergue here but better than the night before. It was donation only so I can't complain. And it was close to the bars and shops for some food so that's all I really needed.
Day 28 – Mombuey to Puebla de Sanabria – 33 km
What an amazing day today. Finally the scenery has changed and as my guidebook says – the camino enters into Galicia in spirit. Galicia is a province of Spain that is just gorgeous.
Very green and mountainous. The walk today passed through nine quaint towns so plenty of opportunity for drinks and rest. Unfortunately one section of the camino was a mud track and there was no getting around it. So I just stomped right on through and laughed it off.
I found a fountain in the next town and washed my sandals, socks and my feet. The day ended in the beautiful hilltop town of Puebla de Sanabria. The albergue here is 10 Euros but it's really nice. Very clean, large patio, kitchen, and a private bathroom for the women…always a good thing.
***There will probably be only one more installment. As you can see Kristen is making great progress. I'll be meeting her on July 8th to hike the Tour du Mont Blanc. Stay tuned.***
Photo credits: Salamanca, Zamora, Monastery, Mombuey, Puebla de Sanabria