Ottawa. Canada's Capital. The city I grew up in, have a soft spot for – and one of the few places in Canada where I'd happily live again. Every time I go back, I marvel at how vibrant the city has become, how much there is to do. When I leave Ottawa, I tell myself next time I come back, I'll leave time for all the Ottawa activities I'd still like to do – wander the museums I've never set foot in, sip coffee in cute locally run cafes, shoot down rapids on a raft on the Ottawa River – in sight of the Parliament Buildings, and perhaps even take a ride in a biplane.
On my last Ottawa trip I packed as much as I could into two short days and offer these tips on 10 Ottawa activities – all of which will give you a good sense of the city. Perhaps you'll end up like me, wanting more time in the city when it comes time to say goodbye.
This post includes some affiliate links. If you make a qualifying purchase through one of these links, I will receive a small percentage of the sale at no extra cost to you. Thank you very much for your support.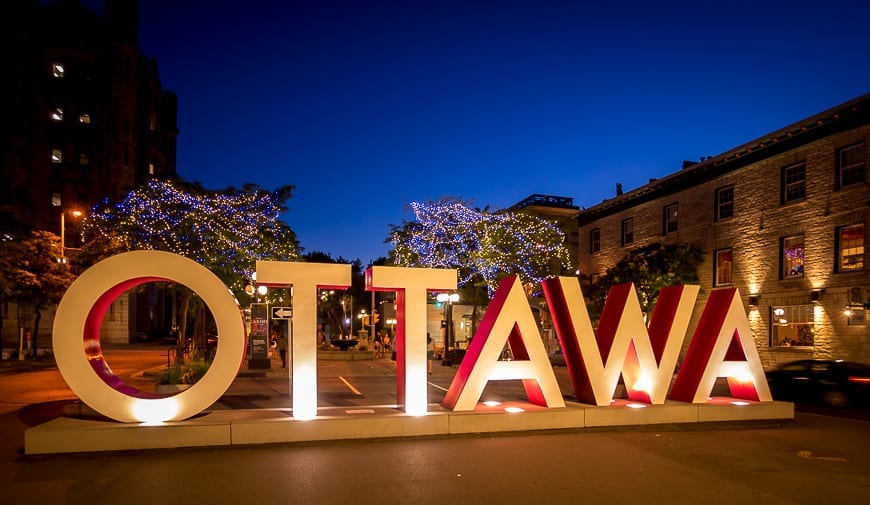 Ottawa Activities – Visit the Parliament Buildings and Parliament Hill
Plan to walk the grounds of Parliament Hill in downtown Ottawa, looking out for the Centennial Flame – lit on January 1, 1967 to commemorate Canada's 100th anniversary as a Confederation.
Called "the political and cultural heart of Canada," the Parliament Buildings were built in the Gothic revival style on a hill with a commanding view of the Ottawa River.
First finished in 1866, the Parliament Buildings were destroyed by fire save for the Parliamentary Library in February 1916. They were rebuilt but as of 2023 there are still ongoing major long-term renovations of the Parliament Buildings. . Visit Canada's Parliament via a free guided tour that lasts anywhere from 20 – 50 minutes.
Catch the Changing the Guard ceremony and in summer one of the fun Ottawa activities to do is to show up in the evening for the free Sound and Light show. And in December catch the Winter Landscapes multimedia show projected on the Parliament buildings.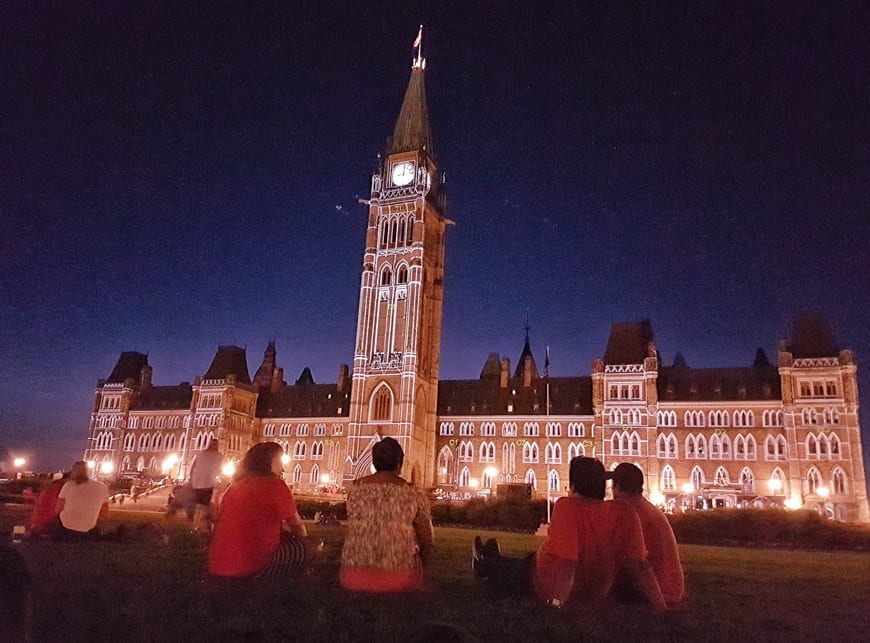 Explore the Rideau Canal in Ottawa
Designated a UNESCO World Heritage Site in 2007 in recognition of its design, construction and role in Canadian history, the Rideau Canal is one of the most popular attractions in Ottawa for locals and tourists alike.
As the seasons turn, so do the activities around and on the Rideau Canal. In summer, take an electric boat cruise, kayak or try stand up paddleboarding on a section of the Rideau Canal. Don't miss a chance to rent a bike across from the National Arts Centre and cycle alongside the canal all the way to Hogsback Falls.
Visiting Ottawa in May? You'll find Instagram worthy shots of tulips – with over one million tulips planted. The largest display is near Dow Lake at Commissioner's Park. (Tulips got their big start in Ottawa in 1945 when the Dutch royal family sent 100,000 tulip bulbs to Canada as a thank you for sheltering the future Queen Juliana during the war.)
***For something completely different try a cruising vacation on the Rideau Canal with Le Boat. Great fun and you start just one hour from Ottawa.***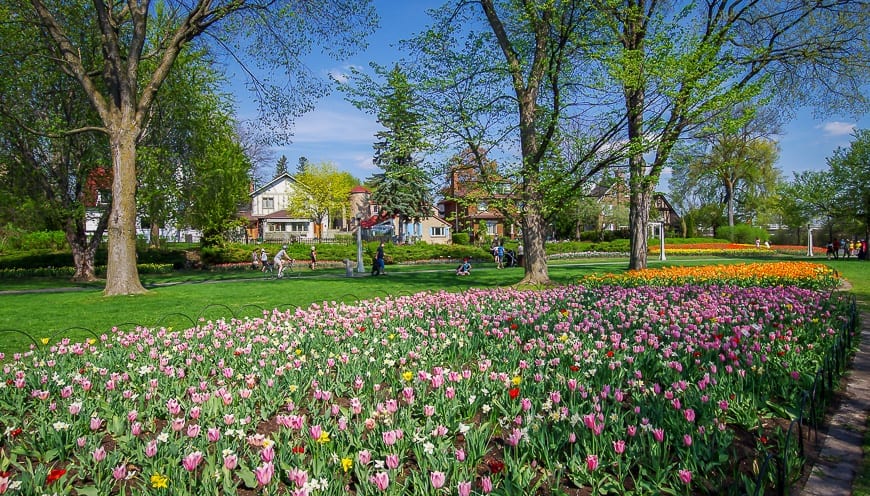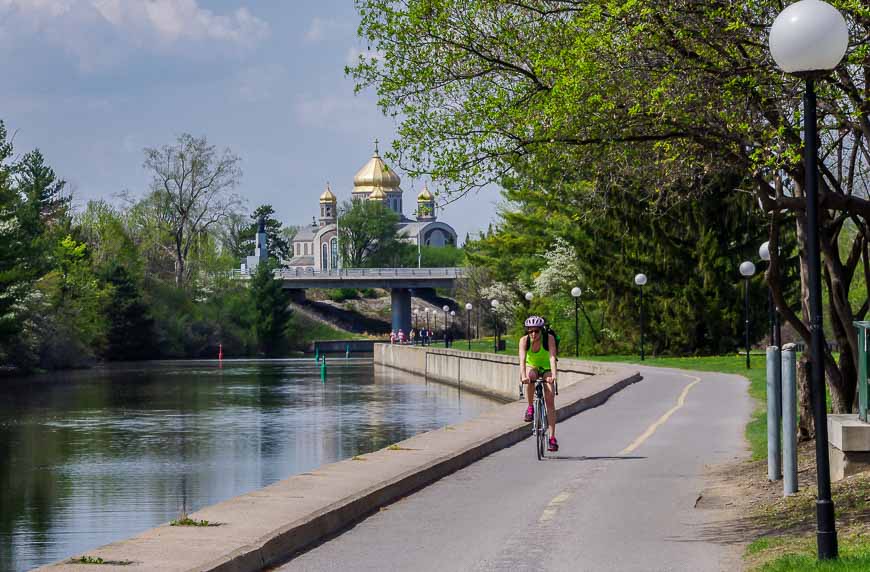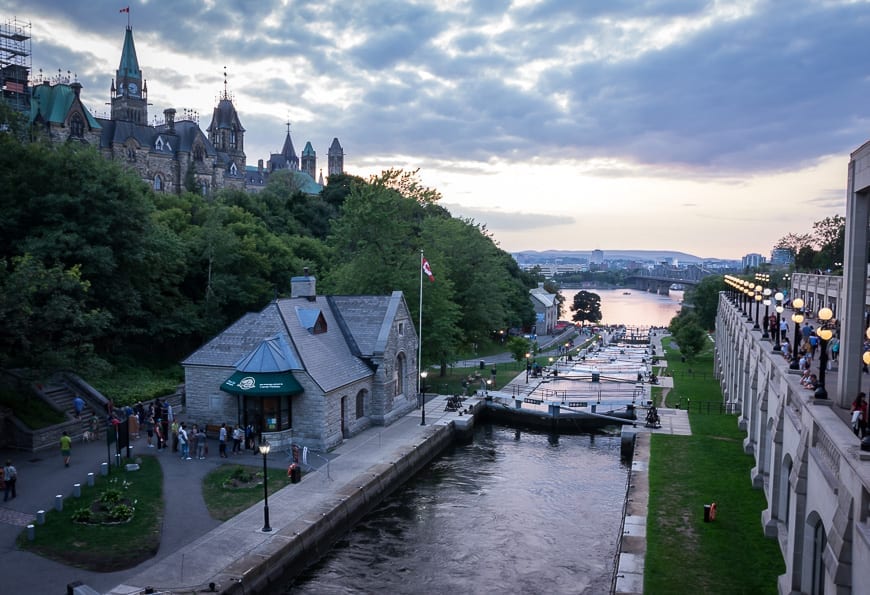 Skate the Rideau Canal in winter
In winter, skating the Rideau Canal is one of the top Ottawa activities. Beloved by locals since the canal opened to skaters in the winter of 1970 – 1971, you can glide all the way from downtown Ottawa to Dow's Lake – a distance equivalent to skating 90 Olympic-sized hockey rinks.
Warm up in cozy huts along the way, refueling with Beavertails and hot chocolate as needed. Try to time your winter visit to also catch the annual Winterlude Festival a feat I have yet to accomplish. (I give advice that I don't always take.)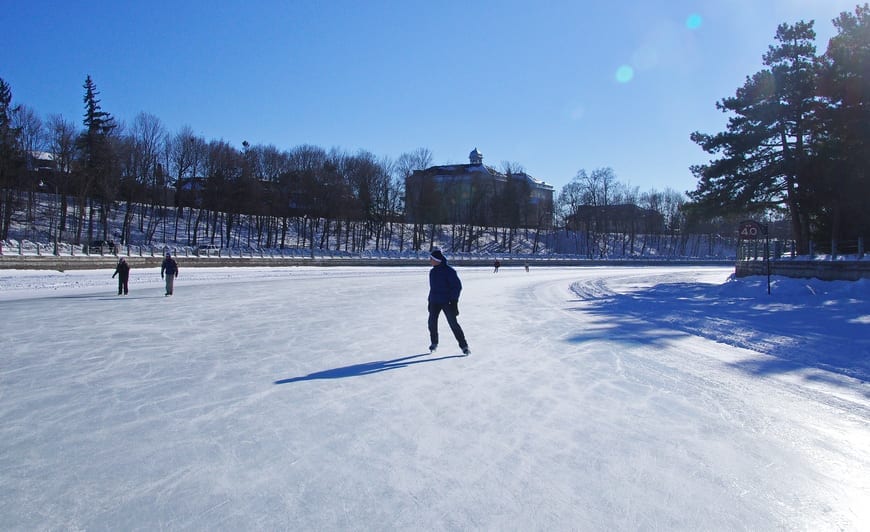 Go shopping at the ByWard Market – one of the top Ottawa activities
For close to 200 years the ByWard Market has been a focal point in Ottawa. As a kid I was dragged at least once a week to the regulars my mom shopped at – Lapointes for fish, Aubrey's for meat and then all the local growers for fresh fruits and vegetables.
Not much has changed since those days. ByWard Market is still a real farmer's market especially in the summer when fresh produce is sold from open air stands. It's a colourful spot and a must-see on any visit to Ottawa.
There are also lots of restaurants and cafes in the ByWard Market area. John and I enjoyed a Mexican meal with a view from El Camino on Clarence Street. At some point you'll have to say damn to the calories and lineup to get a BeaverTail pastry. Enjoy every mouthful of it.
Pay a visit to some of Ottawa's best museums
Ottawa is home to some truly fabulous, world-class museums along with the National Gallery of Canada – where art lovers can easily spend a full day – and we have – on a snowy winter day. Two museums I think visitors should see include the Canadian Museum of History and the Canadian Museum of Nature.
Canadian Museum of History
The Canadian Museum of History is the most visited museum in Canada. It's located on the Quebec side of the Ottawa River across from the Parliament Buildings, and can be accessed in summer via the electric Aqua-Taxi. While it's supposed to be quick – we experienced a glitch and elected to walk across the bridge instead – which is actually something I'd recommend doing.
The Grand Hall with the world's largest collection of totem poles is worth the visit to the Canadian Museum of History alone. It's nothing short of an awe-inspiring experience to descend on the escalator with six story windows offering views over to Parliament Hill. Mind you, your focus is likely to be indoors.
This room is the "architectural masterpiece" of the museum. Stop to see Native houses connected by the Pacific Coast shoreline as you wander the length of the hall.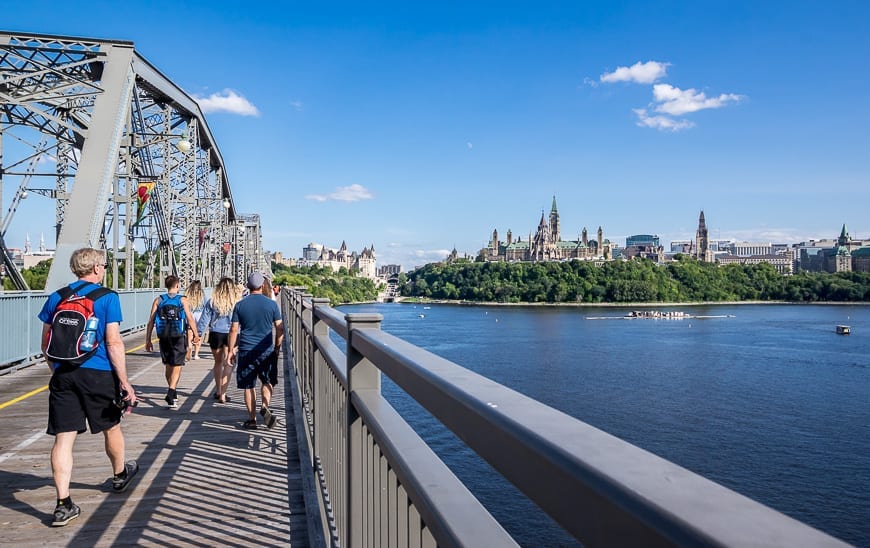 Canadian Museum of Nature
John and I could easily spend a solid day in the Canadian Museum of Nature, especially in the Bird Gallery. Here you'll see "500 mounts of 450 species of Canadian birds, multi-media experiences and interactive displays." If you really want to learn your birds this is the place to come – and it's one only one of the eight permanent galleries.
Ottawa activities on the Quebec side of the river – Explore Gatineau Park
Although Gatineau Park isn't in Ottawa it might as well be from the proximity perspective as it's only 15 minutes from downtown Ottawa.
It's a year-round park with fabulous nature and recreation opportunities. In spring, summer and fall, bike one of the many roads that wander through the park or go for a hike.
Two trails I have enjoyed include the family-friendly Pink Lake and the hike to the photogenic Thomas "Carbide" Willson Ruins.
In winter, one of the top Ottawa activities is to head to Gatineau Park for cross-country skiing on over 200 km of trails. Finish the day no matter what time of year it is at the fabulous Spa Nordik in Chelsea.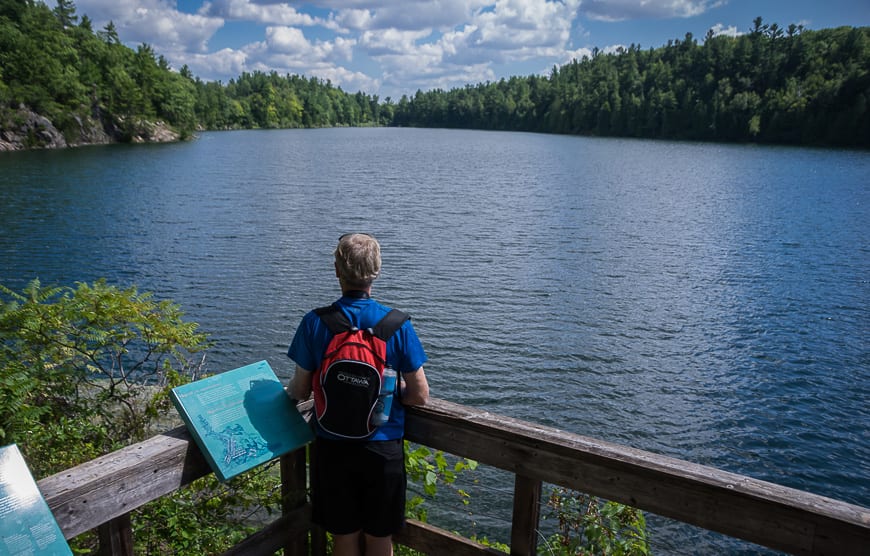 I've barely scratched the surface of what you can do, but these Ottawa activities will at least get you started. As a side note as I was able to attend the Sound of Light one summer, and highly recommend the experience. It's a firework's festival set to music with five evening performances over a couple of weeks.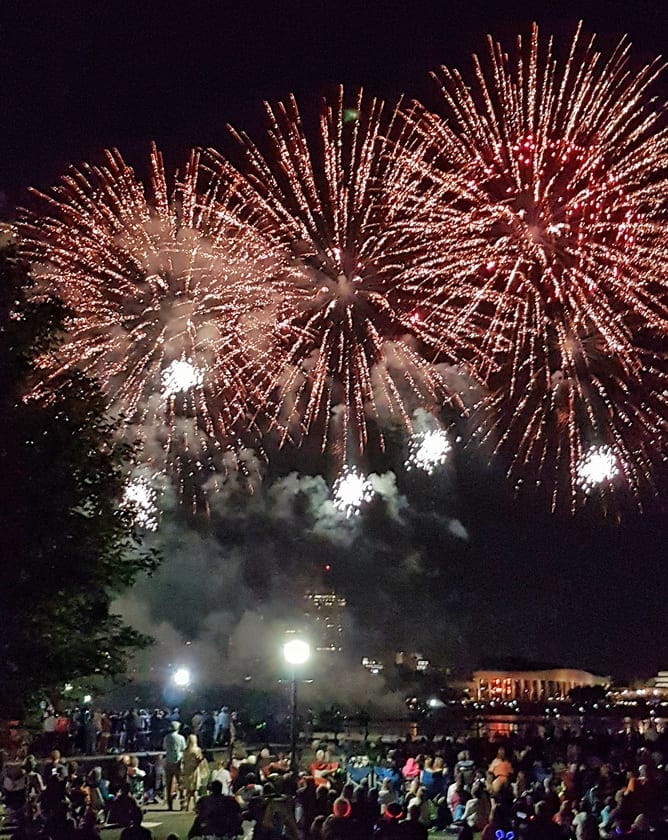 Location map of the Ottawa activities
Where to stay on a visit to Ottawa
I'd suggest trying to stay in downtown Ottawa. That way you're within walking distance of a huge number of the Ottawa activities I mentioned. From personal experience I recommend the following hotels.
Hotel Andaz – great location in the Byward Market with well-appointed rooms and a rooftop bar.
Fairmont Chateau Laurier – a splurge but one of Canada's grand old hotels right on the Rideau Canal.
Click on the photo to bookmark to your Pinterest boards.
Thank you to Ottawa Tourism with help on many of these activities – though all thoughts and opinions as always are mine alone.