British mountaineer Sir Hugh Munro used the term "peak bagger" in the 1890s to describe climbers who set out to summit all of the highest peaks in Scotland. "Munro bagging," which morphed into the term "Peak bagging," later migrated to North America, where today it's used by nature-lovers like author and conservationist Marlis Butcher, who proudly calls herself a "park bagger." Butcher has led the way for outdoorsy folks who aim to visit all 48 national parks of Canada, and that's the gist of her new book, Park Bagger: Adventures in the Canadian National Parks.
Butcher, a member of the Royal Canadian Geography Society, describes how her quest to visit all of Canada's national parts—no small feat considering how remote many of them are—"overtook much of my life, and certainly it superseded my interests in exploring the rest of the world." It's clear within the book's first chapter that Butcher's decades-long project wasn't an exercise of checking off a bucket-list. As she writes, "There is of course another driver, and that's the adrenalin rush from venturing out of my comfort zone. The satisfaction of not having remained complacent is matched by that of the personal growth gained by exploring new things and places."
Some of Canada's National Parks are the most remote, hard-to-reach nature spots on the planet, requiring Butcher to use—at considerable expense and planning—every mode of transport imaginable: hiking, kayaking, canoeing, small-engine air craft, trains, cars, even by cross-country-skis and snowshoes. The rewards, as Butcher documents so vividly, were plentiful: polar, grizzly and black bears, wolves, wolverines, martens, beavers, bison, caribou, elk and, alas, hellishly persistent black flies.
Note: Guest post by Doug O'Neill whose work has appeared in Canadian Living (where he was Executive Editor and Travel Blogger), Explore Magazine, Canadian Geographic, WestJet and Canadian Traveller. Full author bio at very bottom of post.
This post includes one affiliate link. If you make a qualifying purchase, I will receive a small percentage of the sale at no extra cost to you. Thank you for your support.
Park Bagger – how the book is set up
For a book that racks up over 400 detail-laden pages, my quibbles were few. The book is divvied up into digestible sections which help the reader navigate an information-packed book: The Northwest, The Western Mountains, The Prairies, Central Canada, The Northeast, the East Coast. This approach helps the reader place into context such off-the-radar national parks as Ukkusiksali National Park (in Canada's Arctic) and Auyuittuq (Nunavut), Vuntut (north of the Arctic Circle) and Thaidene Nene Reserve (Northwest Territories).
The only section title that tripped me up was The Western Mountains for its inclusion of Gwaii Haanas Reserve, Gulf Islands Reserve, and Pacific Rim Reserve, which I've always considered more "West Coastal" than mountainous. I wondered if those could have fallen under a slightly different name.
Upon opening the book, I instinctively searched for bold sub-heds highlighting "Terrain," "Distances," "Best time of year to visit," "Wildlife to see," etc. But, thankfully, the author and her editors must have realized early on that Butcher is a gifted storyteller and therein lies the beauty of this book: Each chapter is a single story devoted to one national park visit—replete with all the essential details. Through anecdote-filled stories, personal reflections and tongue-in-cheek recollections of logistical nightmares, Butcher covers everything an aspiring park-bagger needs to know about each of Canada's national parks: flora, fauna, Indigenous history, logistical challenges, seasonal peculiarities, necessary gear. In other words: No sub-heds necessary!
A fine balance
Butcher deserves extra kudos for writing with equal passion about the most hard-to-reach parks such as Ivvavik, Nahanni and Aulavik in Canada's remote North, as well as the more accessible parks closer to urban centres, such as Banff (a shortish drive from Calgary) and the Bruce Peninsula (do-able for daytrippers from Toronto). My only grimace was that Rouge National Urban Park only merited two pages.
I was admittedly apprehensive, when first reading the book jacket, that Park Bagger would speak only to to the well-heeled adrenalin-pumped extreme adventurers. Therein lies another strength of the book: Butcher's well-crafted message that our national parks are accessible and open to all. Some of Butcher's park-bagging pursuits do border on extreme sports: "falling down mountainsides, being pinned to cliff faces by driving sleet, paddling kayaks through giant whitewater, ricocheting a canoe through deep canyons, and being clotheslined off a mountain bike." But not all. Butcher also writes about organized tours, group hikes by car, outings on bike rentals—and the afternoon she and her then-boyfriend resorted to hitch-hiking back to their comfortable hotel. By sharing these "everyday" outings, Butcher helps make Canada's national parks more accessible to the less experienced outdoor enthusiast.
The beauty is in the storytelling
Park Baggers is best described as a "nature guide book infused with riveting storytelling." About Gwaii Haanas National Park Reserve and Haida Heritage Site in British Columbia, Butcher writes: "The buildings and totems are being allowed to decay naturally, to return to the earth according to Haida tradition. As a result, mosses have grown over the fallen roof beams and poles…Their vivid colours have long since faded to grey, their once-crisp carvings softened to mere impressions of their former characters."
Her flora descriptions of Mount Revelstoke National Park border on the poetic: "The alpine meadows were in full bloom with purple lupines, fuchsia monkey flowers, pink willow herbs, red paintbrushes, yellow mountain arnicas, white Sitka valerians and daisies white and blue….There were pockets of blues and yellows, yellows and reds, reds and whites and then stretches of fuchsias. This high mountain peak seemed to have pierced into a heavenly rainbow…"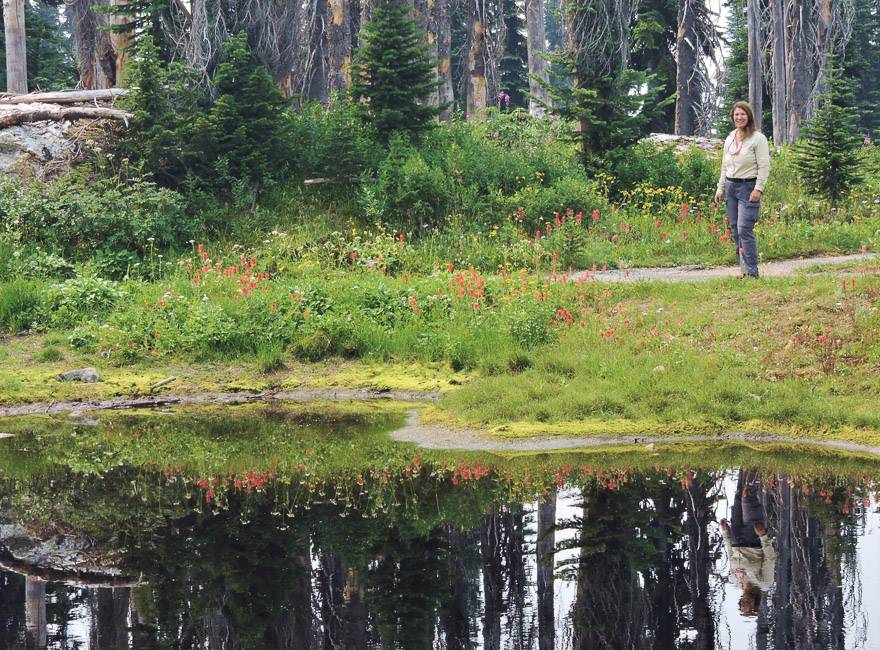 Butcher isn't shy about incorporating quiet reflection into her writing, as evident in her description of the wild horses on fabled Sable Island National Park Reserve off the coast Nova Scotia: "With their long, dreadlocked manes blowing in the breeze, small herds grazed, gradually wearing down their teeth on the tough marram grass. Several foals, running amuck, scrutinized us as curiously as they looked at everything else in their new world. The mares and stallions simply ignored us; we humans had no purpose in their lives."
The author's knowledge of geology and landforms comes through in her introduction to Torngat Mountains National Park: "This Arctic park is at the northern tip of Labrador, well north of the treeline. The lack of major vegetation means that much of the 3.9 billion years of Earth's geological history is exposed in this part of the world. The land bears witness to repeated volcanic and glacial activity. Long, jagged fiords cut deep into the 1500-metre-high mountains. Ice and snow encrust the mountainsides, even in the summer."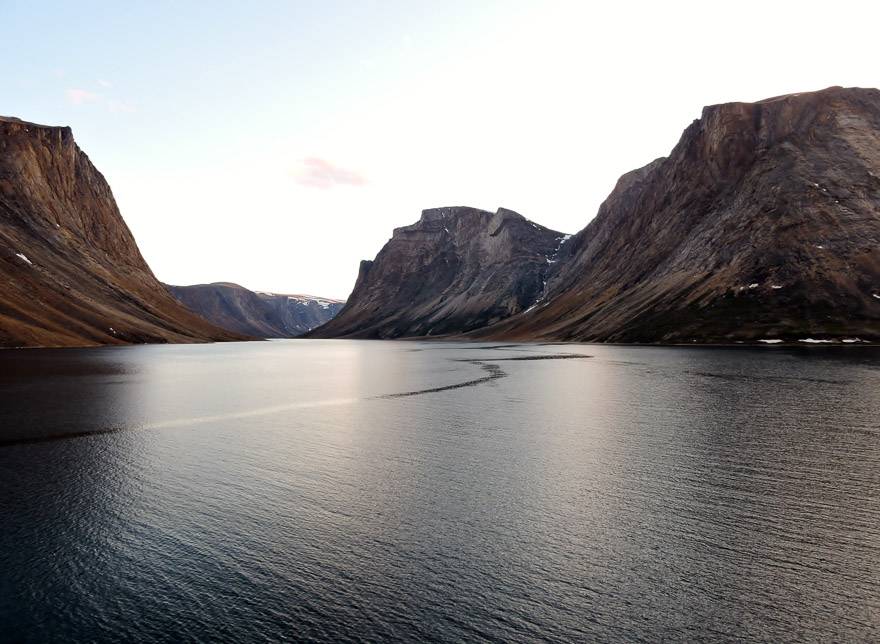 Particularly resonant is Butcher's description of her wildlife encounter in Ukkusiksalik National Park, Nunavut, which completed her mission to visit every one of Canada's national parks:
"We…were stopped by a large bull caribou that appeared from the lower shoreline. Feeling cornered on the promontory, it squared off with us and lowered its head, metre-long antlers pointed forward. I quietly commanded everyone to back away. We made another retreat, though this one more cautiously, walking backwards, always watching the animal. We hadn't gone far before two more caribou appeared behind the first. Perhaps due to strength in numbers, or maybe simply because we'd given them sufficient room to get off the spit, the three caribou slowly strode around us, grazing along the way. We stood still, watching and photographing them until they headed up into the hills."
Excellent storytelling for aspiring park baggers!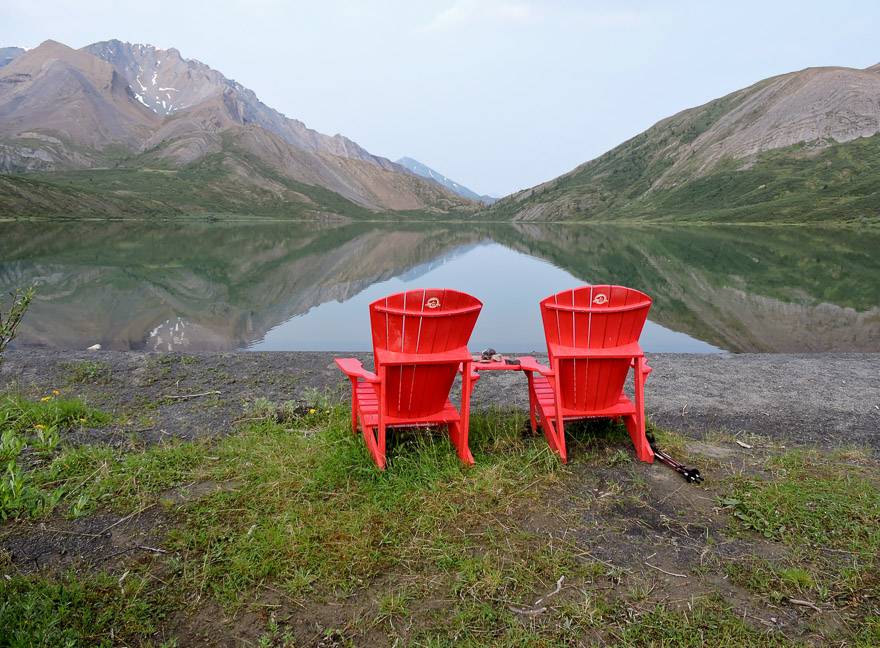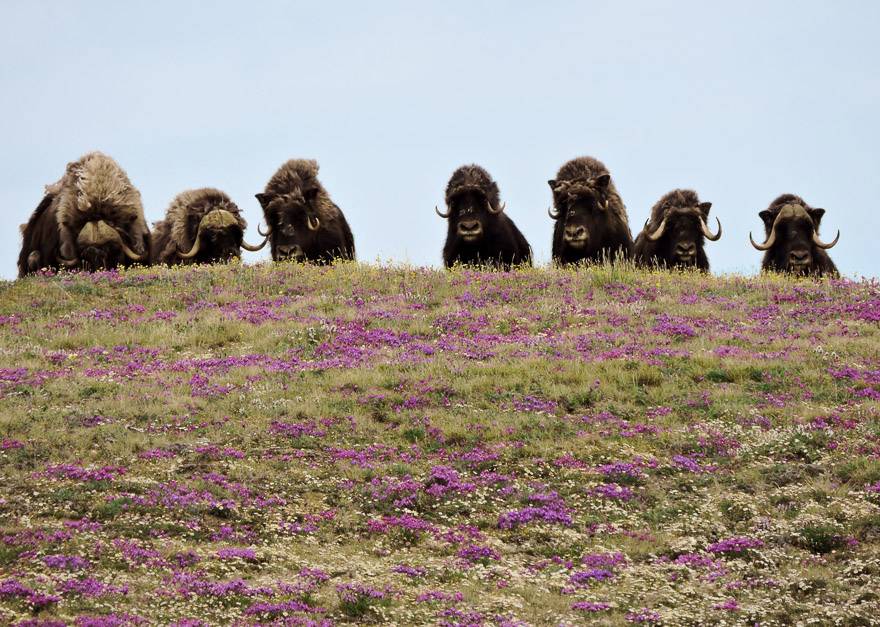 Park Bagger: Adventures in the Canadian National Parks, by Marlis Butcher was published by Rocky Mountain Books Ltd. in spring 2021. It is available for purchase here for around $31.
Click on the photo to bookmark to your Pinterest boards.