A weekend or more on Pelee Island, the southernmost inhabited spot in Canada, is a great place to try out the concept known as slow travel. And that's just what my husband and I, along with my mother-in-law, did over a weekend in May. This is a place where time stands still. Cellphones don't always work. And forget looking for wireless for your computer.
But there are plenty of things to do on Pelee Island if that's what you want. Or you can very easily and quite happily do nothing. Pelee Island is not a place to come looking for nightlife and excitement. Instead think birds (it's a globally important bird area) and beaches, vineyards, quiet forest trails, and friendly locals. And the three R's – reading, relaxation, recharging.
This post includes some affiliate links. If you make a qualifying purchase through one of these links, I will receive a small percentage of the sale at no extra cost to you. Thank you very much for your support.
Pelee Island location
Pelee Island sits just above the Canada – United States border – a whopping 800 km south of Vancouver, British Columbia. Canada's version of the Deep South. It's a 90 minute ferry ride away from Leamington – Canada's Tomato Capital in case you didn't know.
Leamington is a four hour drive west of Toronto and about an hour from Windsor.
Before you visit Pelee Island
Fill up your car. I didn't see any gas stations.
Bring as much cash as you think you'll need. There is an ATM but it can be empty by the end of a weekend. You can also get cash back with a liquor purchase – but the store needs to be open.
Bring prescriptions.
Check the Toledo, Ohio weather forecast. Locals say it's more accurate than the Windsor, Ontario one.
We ran out of time, but a visit to the Pelee Island Heritage Center is recommended.
You can do a day trip to Pelee Island – just be sure to book both ferries.
If you're coming from the United States, you will need a passport to visit Pelee Island.
Weird Point Pelee fact: It is home the southernmost pheasant hunt in Canada.
Where to stay before you take the ferry
If you need to spend the night in Leamington or Kingsville -so you can catch an early ferry or if you plan to visit Point Pelee National Park, book well in advance, especially during birding season.
Leamington
Duck Pond B&B Cottage is rated exceptional. Enjoy a kitchenette stocked with a deluxe breakfast. A private patio features a garden and duck pond views.
Sue's Lakeside Haven is a holiday home on Lake Erie, rated fabulous.
Kingsville
In Kingsville the Woodbridge House in a 19th century home is rated fabulous. They offer a self-serve breakfast too.
Inn 31 beside the Grove Hotel looks like a great place to spend a night – and it's immediately adjacent to Jack's Gastropub Restaurant.
The Hellemsfield Inn bed & breakfast is rated superb.
You need to take a ferry
Only a few ferries run every day to Pelee Island, so be sure to make a reservation ahead of time – which costs nothing. You need to phone to make the reservation. Happily you deal with a live person almost immediately – and a helpful one at that. (Ph: 1-800-661-2220 or 1 -519-724-2115). The ferry from Leamington to Pelee Island holds 399 people and 34 cars.
Interestingly, on our return the ferry captain made an announcement that we would travel to Kingsville, not Leamington, about 14 km further west. I'm not sure how often that happens.
You can also take a seasonal ferry to Pelee Island via Sandusky, Ohio, a town roughly half way between Cleveland and Toledo. Call the same number noted above to make the reservation. That ferry ride is 1 hour and 45 minutes long.
What can you do on Pelee Island?
On a warm May weekend there seemed to be as many cyclists and walkers as there were cars getting off the ferry. Young people headed for the beach with coolers full of beer. Cyclists headed off to explore the island. We began with lunch on Pelee Island.
Conorlee's Bakery and Delicatessen was stop number one. We figured that any restaurant with the world bakery in it, was worth checking out. And this one did not disappoint. We arrived at the bakery via a short drive from the ferry past the Stoneman, a testament to island perseverance, and the shoe tree, a testament to we don't know what.
The bakery was great. Picnic tables set up under shady trees allowed you to eat while watching the numerous Baltimore orioles feeding on oranges set out in the tree. Offerings of freshly made soup, made to order sandwiches, deli items, salads and baked goods ensured we were well fed and ready to continue exploring.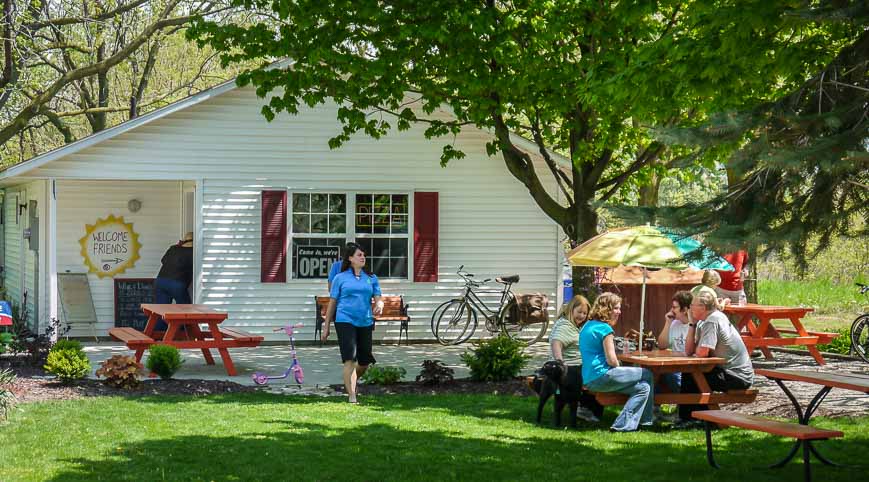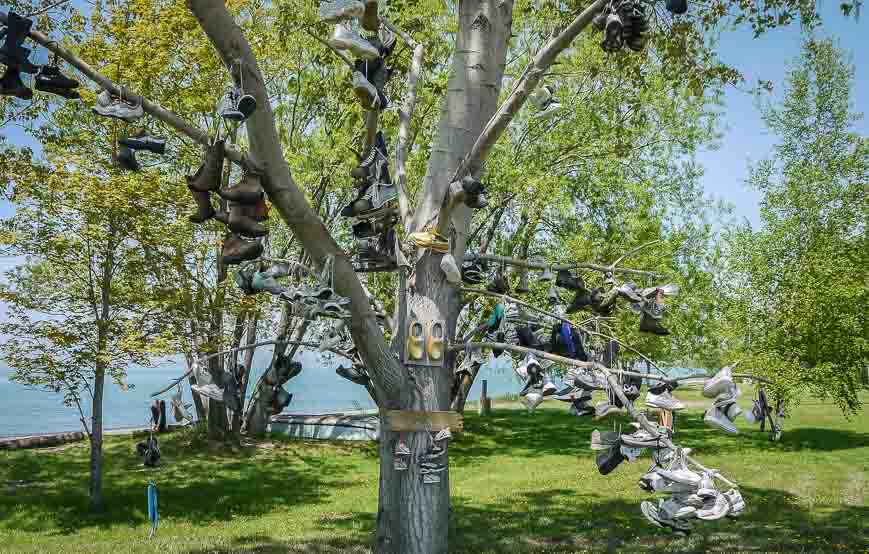 Explore Pelee Island by Bike
It was a toss-up on how to spend the rest of our first day on Pelee Island – sleep and read or bike the island. My husband and I decided some exercise was in order so we rented bikes for a few hours from Comfortech – a bike shop located across from the ferry pier. With map in hand, though one could never really get lost, we set off to ride the circumference of Pelee Island.
It's a flat 31 km ride on a combination of paved and dirt roads but super easy and very doable in about two hours.
Along the way we saw numerous purple martin houses and many people mowing vast expanses of lawn.
Look out for snakes on Pelee Island
We made a stop to check out the views from the shore at Sheridan Point and saw our first snake on the island. Snakes LOVE Pelee. It's even been called a Herper (snake lovers) mecca. It's lucky my mother-in-law didn't know that about the island before we got there.
Pelee Island has a huge density of snakes including the elusive Blue Racer. We saw two live snakes in total and several dead ones on the road. If you're a swimmer, look out for the Lake Erie Water snake. Fortunately they're not too common.
There's a winery on Pelee Island
Pelee Island Winery is worth a stop. On the way there – as part of our bike ride, we passed three Mennonite kids, who were incredibly polite and lovely. They offered their mom's freshly baked donuts at a roadside stand at a price of $0.75 each. My husband proclaimed them delicious.
The winery is a major destination for island visitors. Not only do they offer wine tastings and tours, but you can choose a cut of meat and they'll grill it for you – for lunch or for dinner. Pick up a bottle of wine and you have a perfect meal.
Visit Fish Point Provincial Nature Reserve
Fortified by our three wine tastings, we continued on our bikes to the Fish Point Provincial Nature Reserve. And what a delight it was. Nearly one sixth of Ontario's plant species are found here – including prickly pear cactus, hop trees and swamp rose mallow.
I was thrilled to catch the tail end of the trilliums blooming. Masses of them carpeted the forest floor, turning from white to pink as they aged.
Walk out to Fish Point on Pelee Island
It's a mile on foot or by bike out to Fish Point and if it's a hot day I'd recommend a bathing suit so you can enjoy the beautiful beaches.
Fish Point is similar to Point Pelee in that it's an important stopover for migrating birds. It can be a bird watchers paradise. There's a lagoon so you can expect to see a lot of shore birds.
Visit the lighthouse on Pelee Island
We seemed to move on to island time with ease though there were still a few things we really wanted to do on our last day. One was to check out the old limestone lighthouse at Lighthouse Point. It was built in 1833 and was put on the Lighthouse Digest Doomsday List of endangered lighthouses.
Fortunately, enough concerned individuals banded together and with the help of some government funding raised funds so a full restoration could take place. The restoration was completed in 2000 and now there's one very handsome lighthouse standing with a view to the Canadian mainland.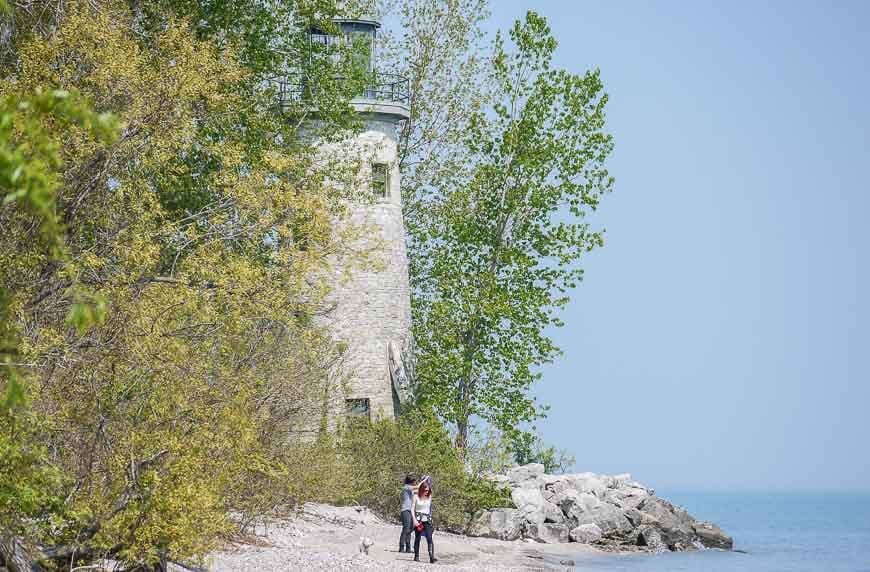 Go birding on Pelee Island
The trail to get to the lighthouse at Lighthouse Point is noteworthy – at least during the spring migration. The air is filled with birdsong to an extent I've never experienced before. It was like listening to a CD that never stopped. It was absolutely wonderful.
There were more warblers in the trees at noon that I ever would have thought possible. In the space of minutes we had seen the Blackburnian, chestnut sided and magnolia warblers – a real thrill if you're a birder.
Along the way to the lighthouse we passed swampy sections with turtles galore basking in the sun. And all of this was only a ten minute walk from the B&B.
Accommodation options on Pelee Island
We stayed at the very lovely Wavecrest B&B. It was run by Thom and Barry, a couple who fell in love with the island twenty years ago. They built and decorated this B&B so that it offered Lake Erie and or pond views from every bedroom. Since writing this post the B&B is closed.
In 2023 your options are as follows.
I'd heard good things about the Gathering Place B&B so we stopped in to check it out while biking and ending up chatting for some time with Liz, the friendly former co-owner of the beautifully restored 1893 limestone house. This B&B would also be an excellent choice.
Where to eat on the island
There aren't a lot of options, so you might want to stock up on snacks before you get on the ferry.
The Dog and Goat Restaurant is at 11 W Shore Road.
The Taco Shack is at 333 North Shore Road – and serves – you guessed it – tacos.
The Westview Tavern operates seasonally starting in May.
Stone House 1891 offers craft beer, local and Ontario wines, and pizzas cooked in a wood burning oven.
And that was our weekend. I think many of us could use more island time but at least we got a taste of it on Pelee Island.
More reading on things to do in Ontario
Click on the photo to bookmark to your Pinterest boards.