Penticton is the perfect playground for outdoor adventure enthusiasts with rugged hills, a multitude of lakes and usually great weather. Whether your preference is paddles or pedals, you'll be spoiled for choice when it comes to Penticton activities in summer. Here are my current favourite outdoor things to do in Penticton – a beautiful southern Okanagan town.
Paddle to Rattlesnake Island – one of the top Penticton activities in summer
A tiny dot of land in the vast waters of Okanagan Lake, Rattlesnake Island has far more personality than you would initially expect. Better known for its fascinating history rather than a rampant snake population, Rattlesnake Island makes for a great day paddle from Peachland.
Privately purchased in the 1970's to be transformed into a theme park, the island became embroiled into a dispute involving international governments, hostages and financial ruin.
In the present day, Rattlesnake Island is protected and part of Okanagan Mountain Provincial Park. Hints of its dramatic past still remain, with a handful of miniature golf holes still visible and several ominous concrete structures. Visit for the intrigue and stay for the views.
Bike the Kettle Valley Railway
Penticton is home to a fantastic choice of both road cycling and mountain biking but the must-pedal trail for visitors is undoubtedly the former Kettle Valley Railway. With top marks for the gentle 2% grade and easy accessibility, the KVR is perfect for all the family.
The real winner here, however is the panoramic views of the sun-soaked lakes and vineyards of the Okanagan Valley as the trail winds down towards Penticton. Taking a ride break has never been more fun, with several wineries being located directly on the KVR.
For those looking for a full day adventure, consider taking a shuttle to Kelowna and pedaling the KVR all the way back to Penticton over the Myra Canyon trestles.
Go climbing at Skaha Bluffs
Hidden deep in the hills just south of Penticton is the world-renowned climbing destination of Skaha Bluffs. Over a thousand routes line the coarse rock here spread between three parallel canyons. This is a sport climber's heaven but opportunities for traditional climbing exist too.
Almost an all-year-round destination, the Bluffs offers the dry conditions that Squamish and the Bugaboos often cannot. Despite the easy access from town, the crowds remain fairly thin outside of holiday weekends.
Not just for climbers, the access routes double up as hiking trails too, with the chance to see rare animals and some great views of Skaha Lake.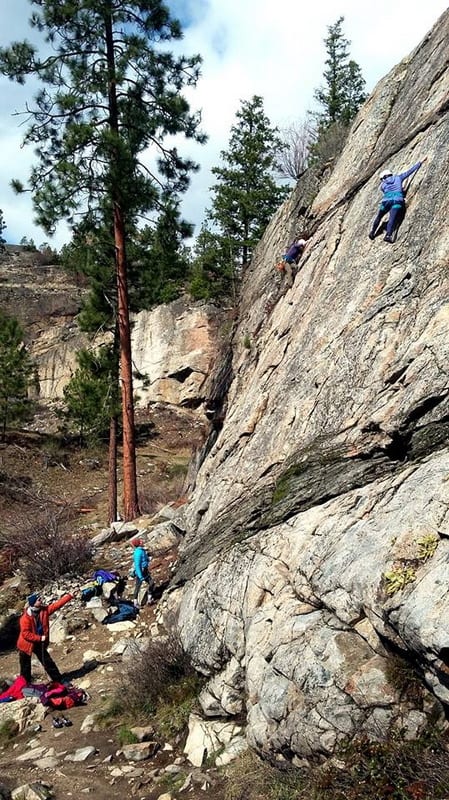 Hike McIntyre Bluff
McIntyre Bluff, a large granite ridge looming above Highway 97, is the kind of distinctive landmark that is just calling out to be hiked. The trail to McIntyre Bluff is an archetypical Okanagan hike.
For one thing, it starts at a winery. This 7 km return trail leads hikers through lush vineyards before ascending gently to a dusty plateau. A startling green lake marks the turn east, towards some steeper sections and the broad summit area. From here, views abound across meticulously tidy vineyards, sprawling orchards and parched brown hills.
The contrast is fascinating. Water is essential in the summer, despite the relatively short distance. You may want to spend longer at the summit than you think!
Explore Vaseux Lake
A valley full of huge bodies of water, Vaseux Lake provides a welcome change from the trend. Dramatic cliffs form a backdrop to this small and shallow lake (4 km by 1 km) while a handful of sandy beaches dot the shoreline.
Not just a pretty place, the lake is also home to a migratory bird sanctuary at its northern shore. To minimize the disturbance to the birds, motorised boats are prohibited from the lake.
A win-win for kayakers and canoeists, this makes for a very calm and quiet paddle with great wildlife spotting. Vaseux Lake is worth a stop even without a boat; a short trail to a bird hide provides opportunities to see the local residents on dry land.
This post includes some affiliate links. If you make a qualifying purchase through one of these links, I may receive a small percentage of the sale at no extra cost to you. Thank you for your support.
Where to stay in Penticton
I highly recommend the Penticton Lakeside Resort – for its location on the water. Many of the well-appointed rooms have a view of Okanagan Lake – another big bonus.
Further reading on things to do in BC
Click on the photo to bookmark to your Pinterest boards.