Both John and I have spent a considerable amount of time in a tent – the equivalent of many years. In our twenties when we were both working as geologists, we'd spend the entire summer in a tent – though granted it was a stand-up tent. John has lived in a tent in northern Saskatchewan in the winter but I couldn't take the cold. I called it quits when I woke up one morning and my contacts were frozen in the saline solution. Still tenting and camping is part of who I am. I love luxury as much as anyone my age, but I love the areas I can access by hiking and staying in a tent. Enjoy these 25 spectacular places where I've pitched a tent.
Tenting on Mount Kilimanjaro
John and I spent our 25th wedding anniversary climbing Mt. Kilimanjaro followed by a safari. The company we chose to go with offered an eight night, nine day tour. That's a lot of camping at altitude. Our first night out was the worst camping experience of my life. We had hundreds of people camped together in the dustiest place I have ever visit.
Fortunately it got better the higher we went. One night it snowed but the morning was beautiful. Truly a treat to hike this mountain.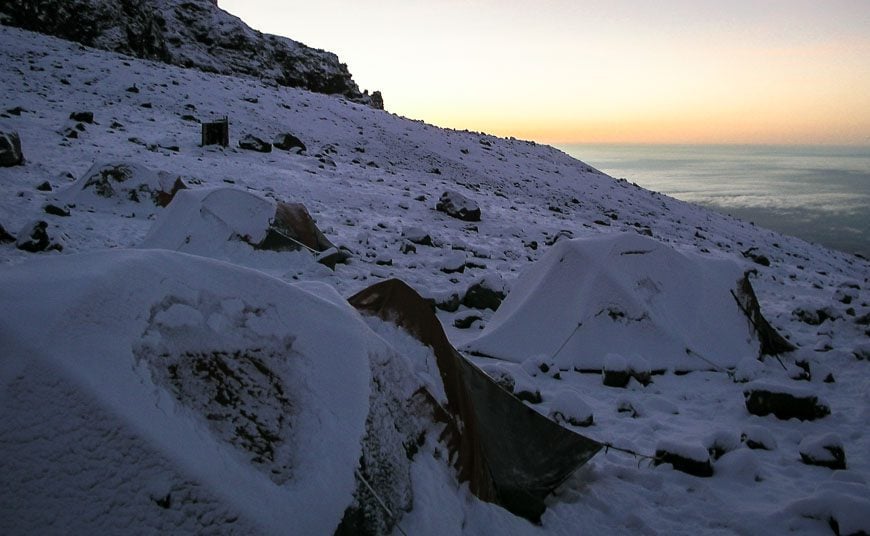 Camping in Algonquin Provincial Park, Ontario
Algonquin Provincial Park is 1.5 times bigger than Prince Edward Island so there's a lot of wilderness to explore. Choose from over 2,000 kilometres of canoe routes. If you go in May – you can beat the blackflies and have the lakes almost all to yourself. It's quite magical. In September the woods are ablaze with colour – and the biting insects have disappeared.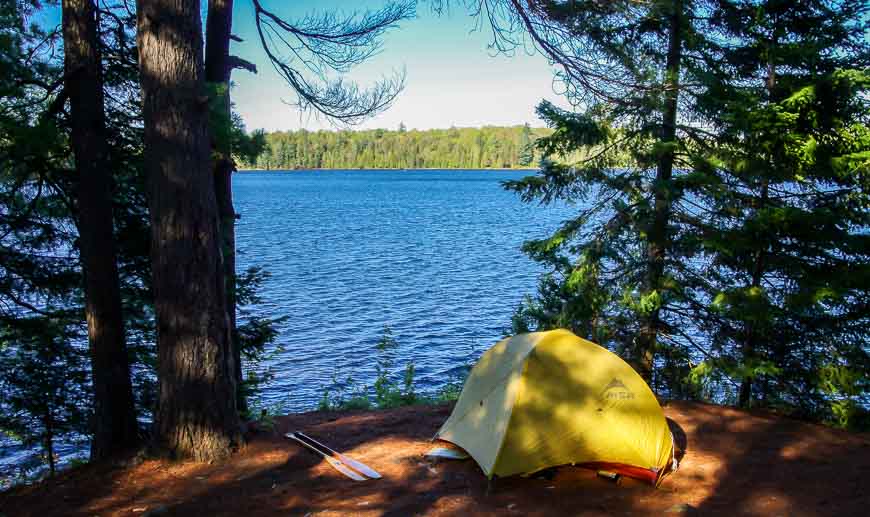 Tenting in Auyuittuq National Park, Nunavut
Fly into Pangnirtung on Baffin Island and then take a boat ride to get to Auyuittuq National Park. Over the course of 7 – 12 days hike up to Summit Lake and back, crossing the Arctic Circle on foot along with numerous rivers. Admire Mount Thor with the highest vertical rock face in the world. Enjoy pristine campsites, often with otherworldly views – and rarely with anyone else around. The most beautiful spot where we pitched a tent is on Summit Lake – pictured below.
Read: Across the Arctic Circle on Foot on Baffin Island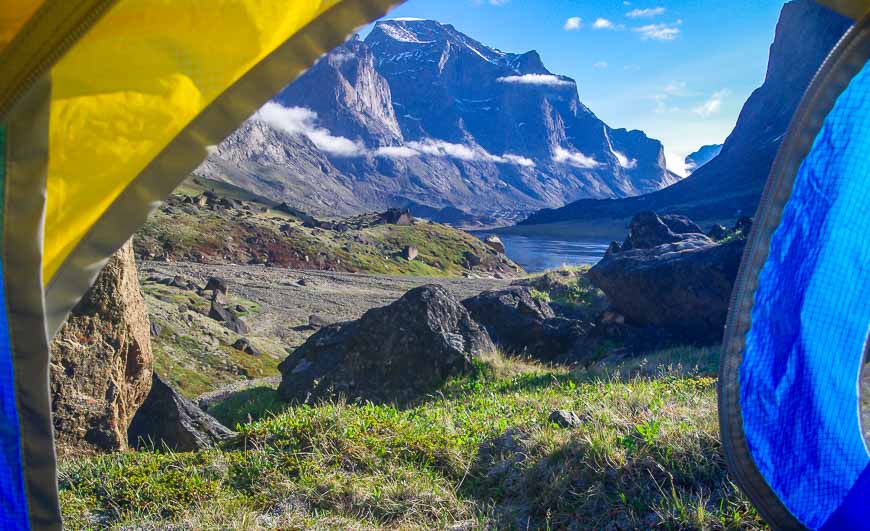 Kayaking to Blackberry Point, Valdes Island, BC
Kayaking off the coast of Vancouver Island provides access to many incredible campsites – some quite wild. One that turned out to be far busier than anywhere I have camped before was Blackberry Point on Valdes Island. It's an easy paddle over from Vancouver Island and a wonderful weekend trip even from Vancouver. We were the first to arrive and ended up with a lovely, private campsite with a view.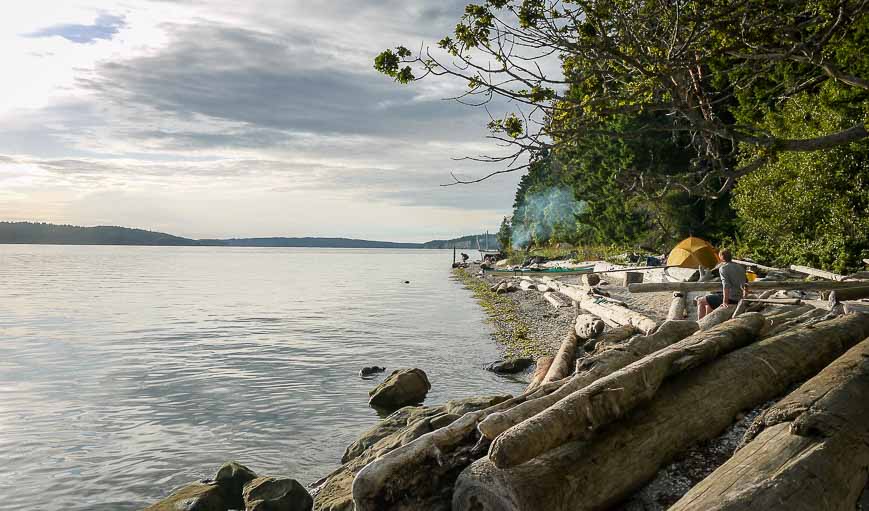 Camping while cycling part of the Tour d'Afrique through Tanzania, Malawi and Zambia
Some years ago I joined my daughter on the Tour d'Afrique and cycled from Iringa, Tanzania to Victoria Falls in Zambia – some 2,500 kilometres if I remember correctly. There were a few campsites that were truly picturesque like the one on Lake Malawi (no good photos) but most were basic. Still once inside your tent, it didn't matter where you were. It was truly a refuge and your home away from home. Some days we'd be inundated by local kids – and as charming as they were, you still had to watch all your gear like a hawk.
The following three campsites give you an idea of what it's like camping on the Tour d'Afrique.
Murtle Lake, Wells Gray Provincial Park, BC
A multi-day kayaking trip on Murtle Lake in Wells Gray Park is a fantastic experience. The lake in a setting ringed by mountains, is pristine. And even though it's heavily forested there are still plenty of beautiful sandy beaches. Allow the better part of a week to do the park justice.
Read: Kayaking Murtle Lake in Wells Gray Provincial Park, BC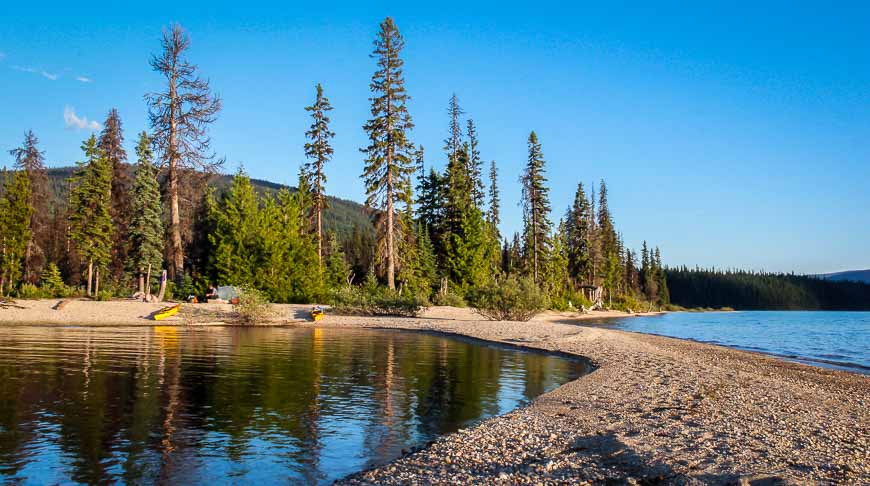 Pukaskwa National Park – one of the most beautiful places I've pitched a tent
Head to northern Ontario and stunning Pukaskwa National Park on the shores of Lake Superior for some superlative camping experiences. Over the course of 5 -6 days as you hike the Coastal Trail (one way) enjoy night after night of beautiful beach camping.
Perhaps I should rephrase that as on our first night out we camped on the only flattish ground we could find as we couldn't make the campsite at the pace we were going. What a view we found when we woke up.
Baker Lake, Banff National Park
Baker Lake is a beauty though unfortunately none of the campsites offer actual Baker Lake views. Start at Lake Louise and hike in for a night or two to enjoy the beauty of the Rocky Mountains.
Read: Backpacking to Baker Lake in Banff National Park
Tombstone Mountains, Yukon Territory
The Tombstone Mountain Range, especially in late August when the fall colours are in their full glory, is stunning in a way words can't begin to describe. There is the option to do an overnight hike to Grizzly Lake – and then onto Divide or even Talus Lake. We got caught in the snow on the second night out but it was still very beautiful.
Read: A Hike to Grizzly Lake in the Tombstone Mountains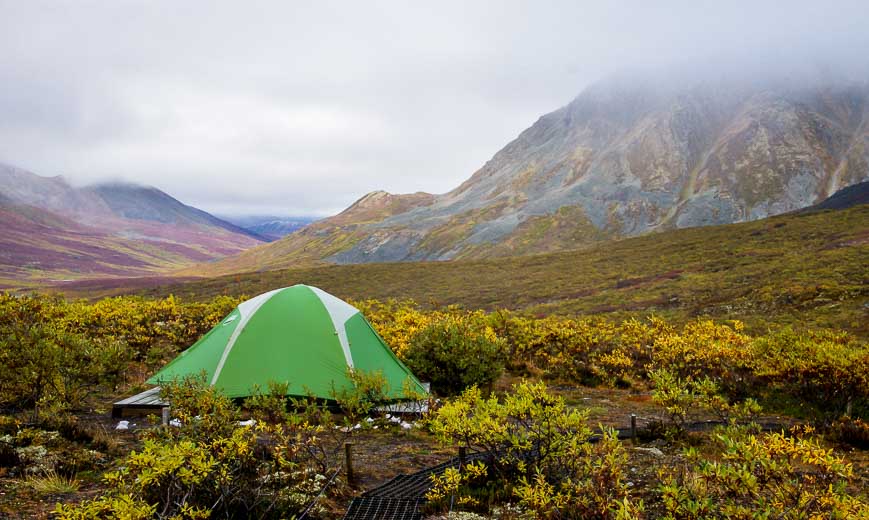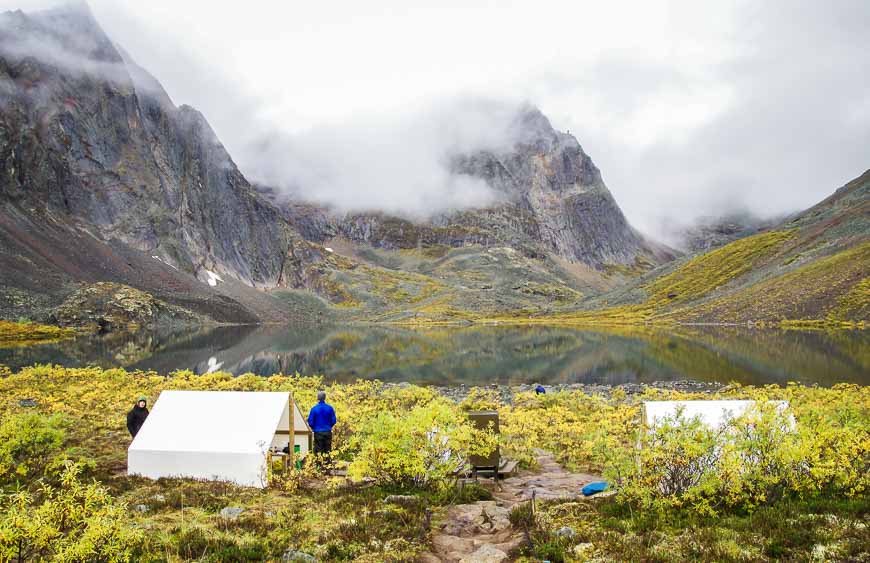 Skyline Trail, Banff National Park
The actual Skyline Trail is one of my favourite backpacking experiences in Canada. You hike for over 40 kilometres above treeline so views are exceptional. The campsites are average but if you go for an evening walk you get into grand country in minutes. This was the scenery on the second night out.
Read: Hiking the Skyline Trail in Jasper National Park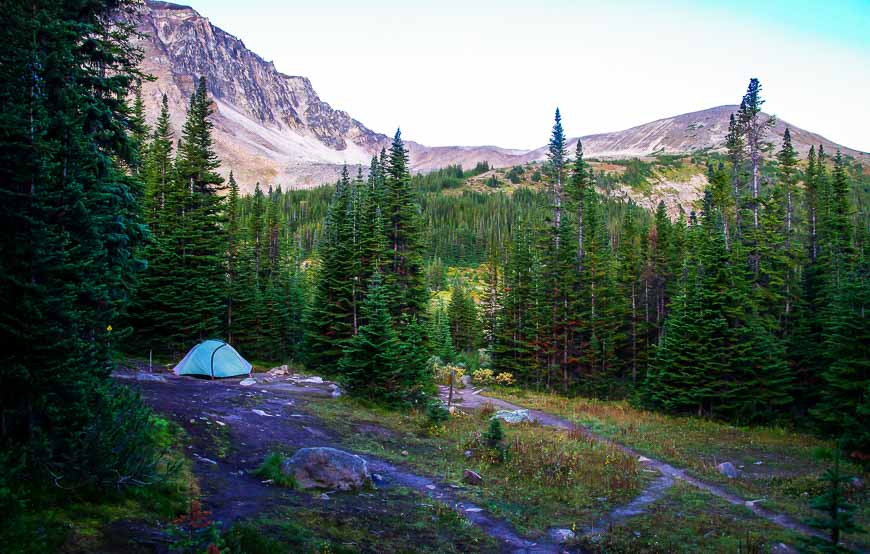 Sierra Nevada del Cocuy in Colombia – a spectacular place to pitch a tent
This mountain range is close to the Venezuela border. It's small and compact and absolutely stunning. In fact when the Lonely Planet published its first guide book on Colombia in 1988, it called the El Cocuy mountain range, identified by Christophe Didinsky, as being the most beautiful in all of the South American Andes.
Read: The Fabulous 6 Day Sierra Nevada del Cocuy Trek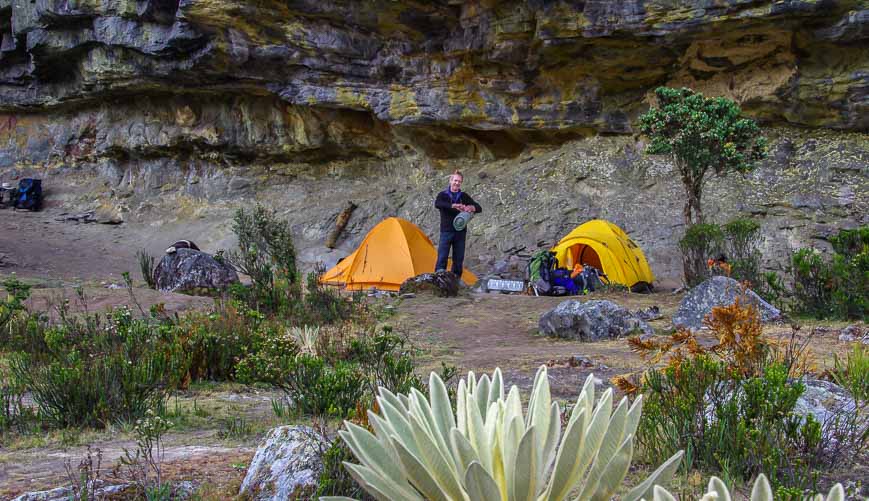 The Churchill River in northern Saskatchewan
The beauty of a northern Canadian canoeing trip is that you're in true wilderness and you rarely if ever need to share campsites with anyone. On a four day paddle on the Churchill River we had lovely spots expect for the last night. It was closer to Missinipe, the nearest town, and had obviously been used a lot.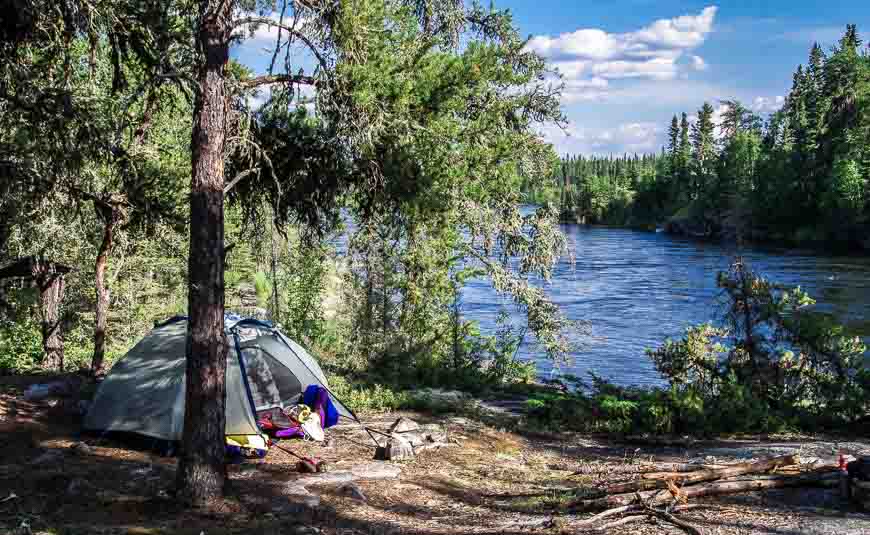 Juan de Fuca Trail, Vancouver Island, BC
The Juan de Fuca Trail is similar to the famous West Coast Trail but a little easier and shorter. They both follow the western coast of Vancouver Island – and that means that most nights – if you plan it right – you end up on a beautiful west coast beach. It was a pretty sweet view out my tent with the Pacific Ocean practically lapping on my doorstep.
Read: A Four Day Hiking Trip on the Juan de Fuca Trail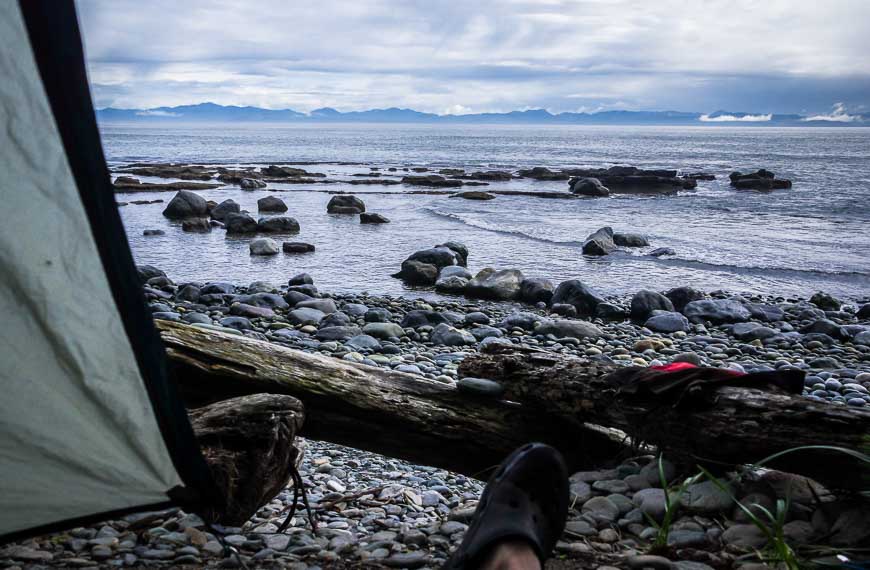 Camping on the Thelon River, NWT – the most remote place I've pitched a tent
The Thelon River is a remote fly-in river far removed from civilization. Campsites over the course of about 10 days were always gorgeous and pristine. By the time we finished the trip we had gone from patches of snow without a bug in sight to flowers blooming and loads of bugs when the wind stopped blowing. It's a remarkable adventure and one where you're likely to see muskoxen, caribou, bears and wolves.
Read: A Canoe Trip on the Remote Thelon River, NWT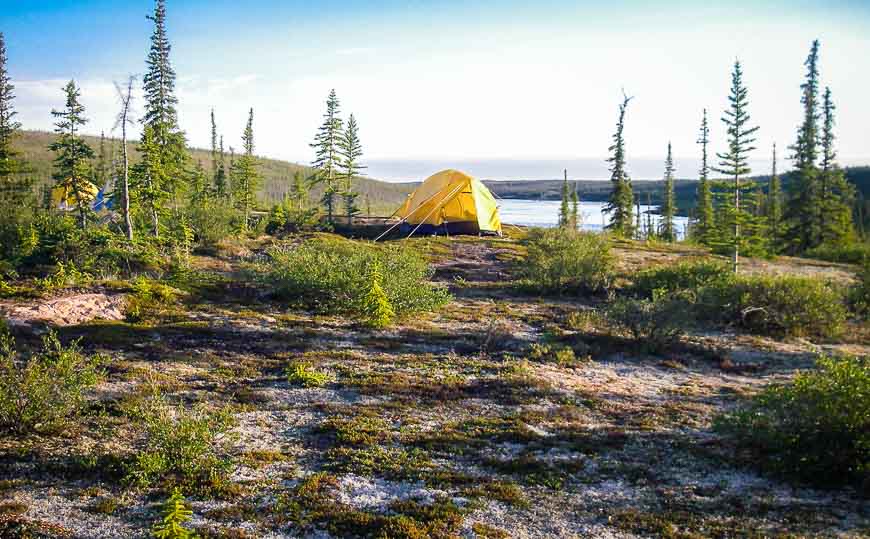 Kayaking in Gwaii Haanas National Park Preserve, BC
Head up to Haida Gwaii (formerly the Queen Charlottes) for a summer kayaking trip. Enjoy nights on remote island beaches and occasionally on mossy beds in the rainforest. At the campsite pictured below near Burnaby Narrows we had a whale show up over the dinner hour. It's hard to beat that!
Read: Trip Highlights of Kayaking Gwaii Haanas in BC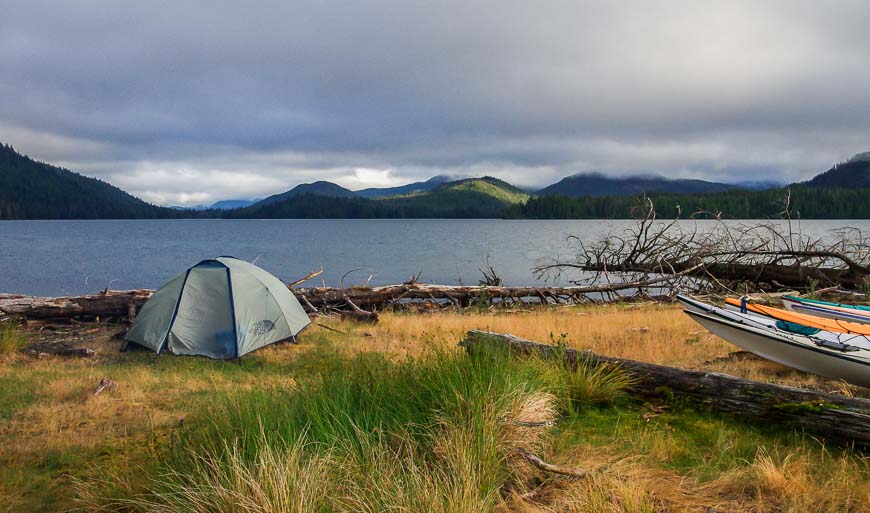 Georgian Bay
I love the myriad of islands in the Georgian Bay that make for perfect campsites. Throw in the beautiful white pine trees, cool looking cooked up rocks, glorious sunsets and lovely water for swimming and you have the makings of a great weekend to week-long holiday.
Read: Camping on Georgian Bay near Killarney Park
Canoeing the Cameron River to Hidden Lake Territorial Park, NWT
Canoeing in the Northwest Territories is usually an expensive affair as you have to fly into rivers or lakes. But the Cameron River is easily accessed from Yellowknife, as is Hidden Lake Territorial Park. It can be done on its own over a weekend canoe trip or part of a longer one like the one we did starting at the Cameron River Ramparts. Again, lots of Georgian Bay like islands, swimmable water and plenty of lake to explore.
Read: A Canoe Trip to Hidden Lake Territorial Park
Where have you pitched a tent that is in an unforgettable location?
Click on the photo to bookmark to your Pinterest boards.