My Czech lunch of fried cheese and potato finished, I'm ready to head out and burn off some of the 1,000 calories I've just ingested. The plan is to spend the rest of the day on a 37 km culinary cycling tour. Make that an ebike tour beginning in Prachatice, Czechia.
On this beautiful fall day I am biking with six guys – between the ages of 26 and 34. I don't usually feel my age but today I feel at a disadvantage. Fortunately on the first day of biking out of Prachatice, I've got the juice of the turbo setting on an ebike to ensure I don't arrive last with all the guys twiddling their thumbs and giving me the hairy eyeball.
I have heard many people trash ebiking – but if you haven't tried it, give it a chance. It's fun and although it feels like cheating on the hills, it allows people who would otherwise miss out, to participate. In Prachatice, an old town found in the second half of the 13th century, the ebike is a lifesaver for what we are about to do – though I don't appreciate that at the start of the ride.
Bed & Bike in Prachatice, Czechia
We get our bikes and a local guide from Bed & Bike. The company with an office on the town square, not only offers high end electric bikes but a luxury apartment with breakfast and fresh pastries delivered to the door in the morning. It's a pretty sweet set-up and even better – the people running it speak English!
We set off weaving our way through town on route to some trails through the woods. In all honesty I have no idea exactly where we went – except that it involved 3,000 feet of hill climbing, 3,000 feet of unbelievably fun downhill (except for one mishap – more later) and a whole lot of interesting stops along the way. I couldn't even show you on a map where we went, but that's why we had a local guide.
Initially we do a lot of singletrack biking through the woods – not something I am particularly good at. I try to follow the advice given to me by an expert mountain biker – "look ahead, lead with your eyes and your bike will follow." It does.
Goat Farm Výrov – first stop on the culinary bike tour
Eventually we end up on pavement and shortly thereafter our first stop on the culinary bike tour – Goat Farm Výrov in Husinec. This was no ordinary farm – but an award-winning one famous for their goat cheese. The farm was a big hit for all of us.
First we had a gaggle of large white ducks come to greet us. Then it was a handful of kittens. Then goats – with all 80 of them named! And finally a couple of the biggest, friendliest horses I have ever laid eyes on.
The woman who runs the farm (along with her husband) must work some ungodly number of hours a week – and yet she was incredibly hospitable. She toured us around the property, letting the animals check us out, each of us falling in love over and over again with a different goat.
The tour ended with a sample of a fresh goat's milk/yogurt combo (perhaps an acquired taste?) and freshly made goat cheese.
Ky.By Garden
Our next stop was the cute Ky.By Garden – a community run garden with a really good selection of flower species. Unfortunately, the skies opened when we were here so we ran for cover. A cup of tea, a chat with the town's mayor and we were off again.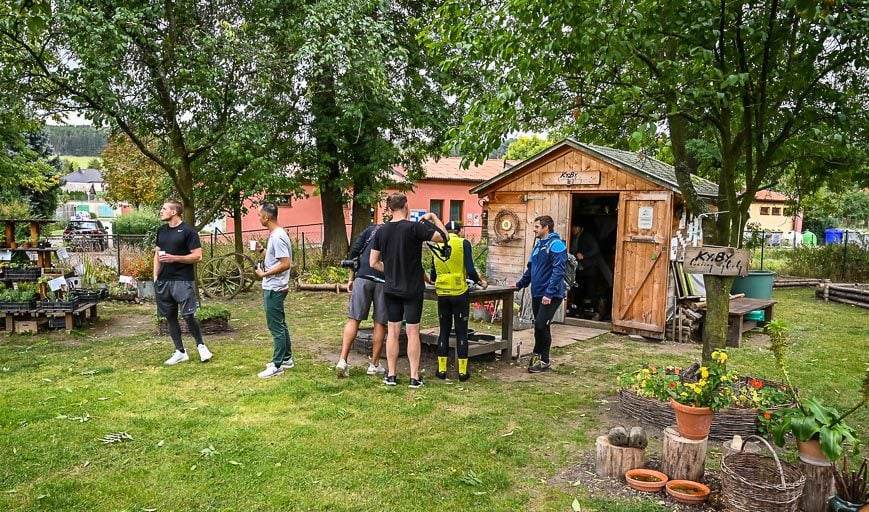 A stop at the butcher shop – Pavel Zdenek in Vlachovo Brezi
The sun reappeared shortly after leaving the gardens. It was a beautiful bike ride with great lighting through rolling pastoral scenery, ending in the main square of Vlachovo Brezi. While our host and guide ran off to get some locally cured meat from the butcher, the rest of us simply wandered around enjoying the colourful old buildings on the main square.
The meat – what's left of it – pictured below was quickly gobbled down by all of us. It was absolutely delicious and a fraction of the price of what we'd spend in Canada!
I'd say that inexpensive pricing holds true for food, meals and especially for beer. This part of the Czech Republic is a very affordable place to visit.
From the time-date stamp on my photos it looks like it was a lot of up for a very long time after our "meat stop". I had no inkling that there were hills with the sort of vertical we rode in Czechia.
By the time we reached the high point of the day's ride, I was really happy I was on an e-bike. I think all the other young men – save for one, were as well. Views as you can kind of see were great. From here on, it was pretty much downhill through stands of woods to our next stop – a creamery.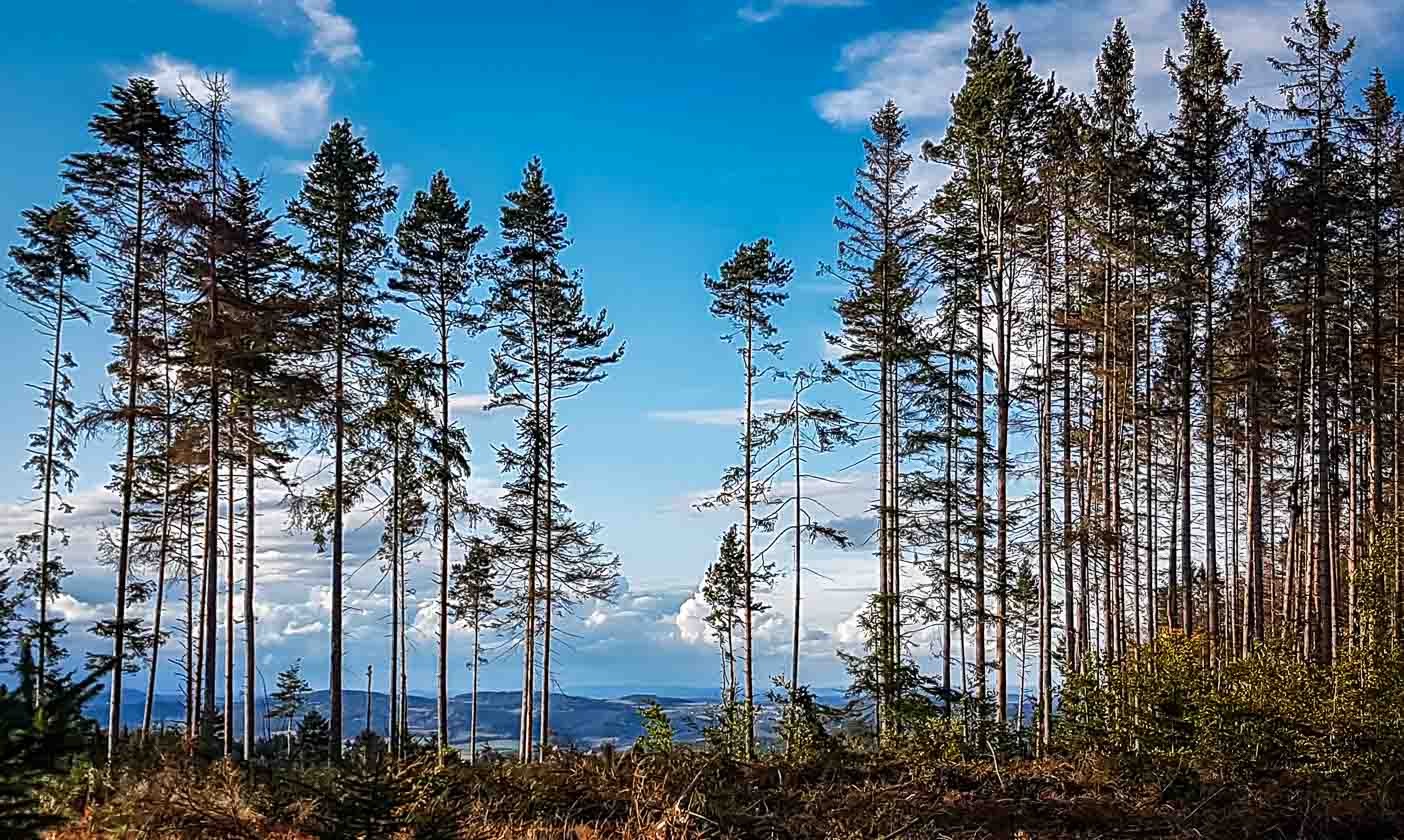 Creamery Škarez
I didn't know before a stop at the creamery that people traveled all over Europe, showing their cows. You read that right. These cows are an unusual breed (an unpronounceable name) and some of them from this very farm are winners in the world of show cows. It's actually a very big deal.
This was a fun stop as the cows had a lot of personality – and the byproduct of their milk – a cheese produced onsite was absolutely delicious.
The descent on our ebikes
After our stop to see the cows it was all about getting back to the B&B. Most of the cycling on the return was on good though narrow asphalt roads. Although I hadn't worked as hard as I would have without an ebike, I was getting tired and looked forward to the well-earned descent.
As a side note if you let the bike do all the work on the uphill, you burn out the battery. And ebikes are heavy bikes so it wouldn't have been much fun without any battery juice near the end of the day. And we did work – surprisingly hard at times.
I had a blast on the descent, leaning into the curves, with a smile plastered on my face. Until I saw the body lying on the ground beside a bike, not moving – and with a head thrown back at what looked like an odd angle.
Adrian, a fellow from Denver, who was out in front of me had hit a patch of wet, slippery, green pavement on a curve. He went flying off his bike and landed on his back. He looked dead at first glance.
Fortunately he wasn't! Just stunned and afraid of looking at the blood on his hand. He ended up with a good case of road rash – nothing serious – but very painful. To his credit he got back on a bike, the guides this time – as it still had working brakes and his was now down to one brake. How our guide got down the rest of the hills in one piece remains a mystery to me.
We arrived back at the B&B at about 6:45 PM – just as the sun was starting to set. It was an outstanding day of biking – and great fun unless you were Adrian. If you're in the area, the Bed & Breakfast will be happy to set you up on your own tour.
Where to eat in Prachatice
After a five hours out on the bike we were all hungry. Dinner, at the Brewery was a quick walk across the town square from our lodging.
We started with a beer tour and sampling followed by a truly delicious meal in an atmospheric setting. I had the ribs pictured below – that came with freshly grated horseradish, a really nice touch.
Where to stay in Prachatice, Czechia
This post includes some affiliate links. If you make a qualifying purchase through one of these links, I may receive a small percentage of the sale at no extra cost to you. Thank you for your support.
Our group stayed at Bed & Bike Prachatice. The main bedroom is roomy, well-appointed and very comfortable with a large couch for extra seating. There's a fridge loaded with goodies (cheese, yogurt, cold meats) and a full kitchen set-up. The bathroom is bright and airy with a large shower – but no tub.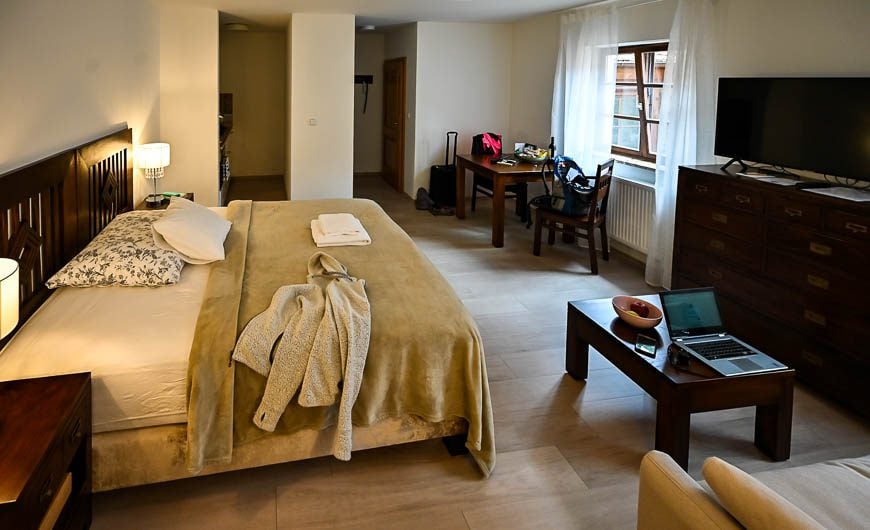 Further reading on the Czechia
A big thank you to Czechia and all their partners for hosting my stay.
Click on the photo to bookmark to your Pinterest boards.