Prairie Mountain – A Year Round Day Hike from Calgary
Prairie Mountain, located in Kananaskis Country Alberta, is a new hike for me and one I can see doing with great regularity to stay in shape all year round.
The trailhead is close to Calgary, just 45 minutes from my house via Highway 66 near Bragg Creek. Finding the trailhead is a little trickier than I thought it would be because it isn't well signed. See specific instructions below.
The Prairie Mountain hike is similar to Vancouver's Grouse Grind but offers better views and there is no sky tram at the top to whisk you to a Starbucks at the bottom. You have to hike down.
The hike climbs 726 metres (2381 feet) in only 3.8 kilometres one way. It's the middle section through the trees that is take your breath away steep. But once you pop out of the trees, not only are you rewarded with expansive mountain views, but the grade moderates all the way to the top.
I had no idea that there was a mountain of this caliber so close to Calgary. Now that I've found out about it I understand that many people hike it on a year round basis. Obviously you have to use some common sense on your choice of days in the winter months but if you're properly attired and prepared then it should be quite doable. Never forget the 10 essentials and starting when the snow falls I'd also recommend carrying Yactrax, especially for the descent and a pair of hiking poles. Take a thermos of something hot to warm you as well.
Finding the Prairie Mountain Trailhead
The trailhead is across the highway from Elbow Falls, just before the winter gates. There is a parking lot that holds about 15 cars on the south side of the highway, just past the entrance to the Elbow Falls parking lot. It's free. To get on the trail, cross the highway, cross Prairie Creek and look for the trail going up – just up on the left in the bottom photo. The Prairie Mountain trail climbs immediately. There is another trail that follows the Elbow River Valley, paralleling Highway 66. You do not want that one. There are no trail signs once you've begun your climb.
Details about the Prairie Mountain hike
Strong hikers should allow three hours to do the 7.6 kilometre return hike. Slower hikers could take upwards of five hours to go up and come down. It's a quick descent in the winter as the snow makes it easy to descend but it's rocky and more difficult the rest of the year. Poles come in very handy and icers/cleats if there is any ice.
The Prairie Mountain hike is a popular one and in all likelihood you'll meet many people going up and coming down.
Other Kananskis Country hikes you might enjoy: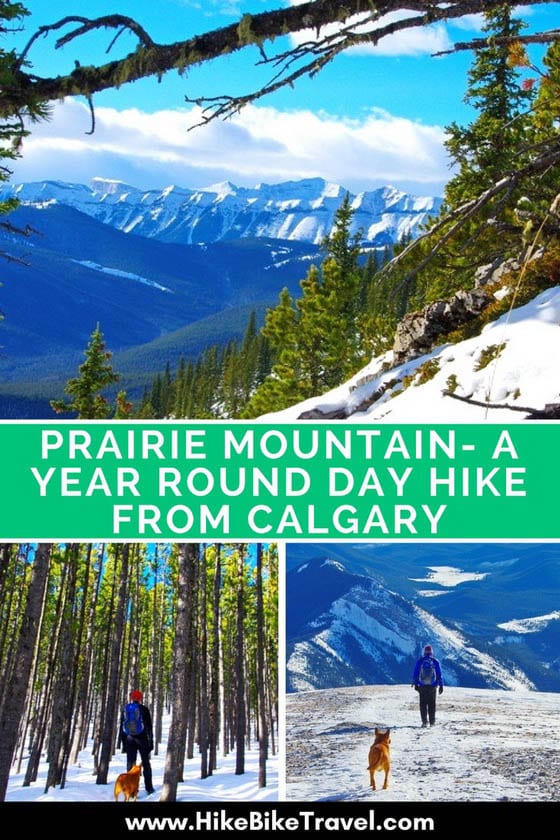 Leigh McAdam